Modern RV Interiors
Well before I even started this blog back in 2017, I have loved looking RVs; pouring over plans, scrolling through every photo available and picking out all the little details I could see.
My particular interest was always in the unique layouts, use of space and clever storage solutions, especially for the kitchen and bathroom.
But I had never really taken too much notice of the RV interior decor, except to note how brown and old-fashioned it is.
But a while back, my friend Ashley over at RVinspiration.com wrote about the moves that Keystone are making to upgrade their RV interiors. They've started with the Fuzion toy haulers and the Bullet travel trailers; and they look great! Click here to open up a new tab to read the article.
The response to these new RV interior decor colors and style has been overwhelmingly positive (we're not surprised by that, are we!) so hopefully that means more and more RV manufacturers will follow suit.
I'm pleased to be able to say that here in Australia, we don't have such a problem with old RV interior decor.
Most brand new caravans, motorhomes, fifth wheels and campervans are a light and contemporary style, with neutral tones. That's not to say that all of them have modern RV interiors, just most of them.
So I feel for my North American friends who have a cacophony of brown to choose from.
Just a look at one decor board for an RV interior reveals a lack of color (except brown) or lightness.
And, well, I'm no designer, but isn't that waaay too may patterns for just one space? It's kinda like wearing a polka dot blouse with a floral skirt… it doesn't work so it shouldn't be done!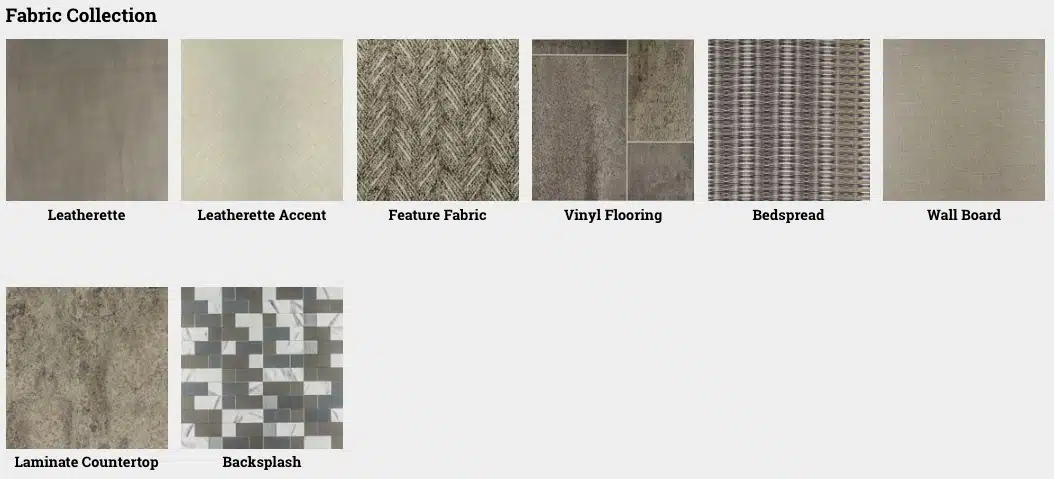 So surely, there are other big name manufacturers in the USA that have moved on from the brown / beige / all wood / swirls and patterns of the eighties?
I decided to search, and this post shows you the RV manufacturers that I was able to find.
There are not as many as I would have hoped.
I'm sure there are more, but that would mean I would need to look at ALL the models of ALL the RV manufacturers. I'd never get this post finished if I did that!
For this list, I've once again decided to limit the brands I look at, based on the RV length. We could explore some of the massive Class A motorhomes that cost half a million dollars, (and for that price, I'd demand a modern interior!) but I'm just going to look at the small to mid-range size of RVs. Let's keep it between 20-30 ft RVs.
Airstream – Timeless RV decor interiors
Have Airstreams ever been out of fashion?
With such an iconic shape, it would be easy for Airstream to 'rest on their design laurels' and not bother updating their interior.
But then, I think we'd fall out of love with them pretty quickly!
The sleek design on the outside, carries through to the RV interior, and they continue to incorporate the latest materials, design and technology.
Here are some examples: 
Jayco – providing new RV interior decor styles
Jayco have a section on their website called: True Interior Design (it's in the 'About Jayco' menu tab) where you can see the four decor styles they have available.
They are Modern Farmhouse, American Tradition, Cashmere Cottage and Vintage Washed Grey.
While these decor options are certainly a step in the right direction (and I'm super glad to see that there is no longer a cacophony of patterns) it's just not as new and exciting as I would have hoped.
Dutchmen – Farmhouse chic
Last year (2019) when I first wrote this article, I was a bit disappointed with the modern decor options in the RVing industry. 
Looking at Dutchmen, I could see that their Voltage line had contemporary decor, but the Voltage was marketed as a 'luxury' brand.
If you take a look at the Dutchmen now (January 2021) you'll see that they've really upped their game!
Winnebago – unique RV interiors
The Winnebago Brave came out in 2015 (well, the second version of it; the first was in the late 60's & 70's), and it was the first RV that made me think that maybe the RVing industry was willing to change their interior decor.
There were still some outdated elements, but at least they went out on a limb a little bit with some of their retro features like the bold color accents on the upholstery and frosted glass sliding door cabinets.
But the Brave is no longer in production. Maybe there weren't enough people that we into the retro vibe?
But all is not lost!
While many of the Winnebago lineup is still stuck in the 90's, some of their newer, smaller (and possibly appealing to the younger buyer) RVs are coming into the current era.
For example, the Era camper van…
And I couldn't resist sharing the unique look of the brand new Winnebago EKKO.
Forest River
Fleetwood RV
Ahh, the Fleetwoods have some quite nice interiors.
Roadtrek
You know, it seems like it's either the really big Class A motorhomes (that cost a small fortune) or the small Class B RVs that are the most likely recipients of an interior makeover. Anything in the middle is left to stay in whatever era it was first designed.
We have another Class B manufacturer here that has some really nice looking interiors.
Dynamax
www.dynamaxcorp.com


Dynamax | Isata 3 – Proof that it is totally possible to have dark wood cabinets, as long as you pair it with light walls/upholstery/countertops. It looks warm, yet contemporary.Does this give you a bit of hope that maybe the RV industry is listening to the hordes of RVers who have lamented the interior decor for the past 20 years?
So things are changing.
Just not as quickly as we would like, but there is hope that we'll be able to buy brand new RVs with modern interiors… soon.
In the meantime, you can always renovate a used RV or get some travel trailer remodel ideas here, and make the RV interior look exactly the way you want!
Save these 'Modern RV Interiors' to Pinterest