When renovating an RV one of the first questions you'll be asking is if you can even find replacement RV cabinets or should you just fix up and paint the current cabinets?
Well, as I've been searching for RV cabinets for my own caravan (travel trailer) I have VERY quickly come to the conclusion that either fixing the old ones, or getting someone to make new ones, is the only option available to me. This is particularly true for older RVs. Ours is 40 years old so unless I should happen to find somewhere to purchase rv cabinets that are from another caravan like ours, I will either need to fix our current ones, or ask someone to make some for us.
So let's have a look at those meagre options:
1. Buy Used
Search online
I would start by doing a search online for your specific RV Make and type of RV and approximate year of manufacture. I wouldn't go too specific with the exact model that you have, as that may limit your results too much. For example, you could try 'Keystone Fifth Wheel 2008 used cabinets'. And then depending on whether you get any results from google, refine or broaden your search.
For example, if you get loads of results that are almost right, but not quite, then be more specific with length or model number.
If you don't get any results at all, you might just try 'Keystone used cabinets'
There is no doubt, you are going to get a ton of 'used RV' results, but keep trying to refine your search to see if anything comes up.
Don't be too surprised if you don't find much though.
I couldn't.
I found lots of used RVs, and rv overhead cabinet hinges, doors and latches. But not much for the actual RV cabinets.
Side note: doing this search just led me down a rabbit hole of used fifth wheels on RV Trader and I was stuck there for the last hour!! Why do I do this to myself?
I'm so jealous of the number and variety of RVs for sale in the USA, and at an insanely reasonable price, compared to here in Australia. I mean I saw a 2008 Keystone Fifth Wheel for less than USD$9,000. I found a similar one available here in Australia (same year and length, a bit more wear and tear though as it's been used more) and it's AUD$45,000 (approx USD$32,000)
I know, I know: bigger market in the U.S, Keystone are made in USA and imported to Australia etc.
But I'm still jealous.
Locally made fifth wheels are even more expensive!
Anyway, side note over.
You might try doing a search on Craigslist or eBay for your specific cabinet.
The other place I would search is the manufacturers website. They will often have a parts section where they will sell used components.
There are also online retailers that you could try, like:
https://www.rvpartsnation.com/
http://www.discountvantruck.com/discountrvaccessories/rvfurniture.htm
https://rvinteriors.visonerv.com/cgi-bin/f/cabinets.pl?
I would like to think that buying (lightly) used cabinets would be the easiest option, but they're so hard to find that I don't really like your chances of that.
If you are able to find replacement RV cabinets, here's an article with steps on how to install those RV cabinets.
If however, you can't find anything second hand, you'll need to move to the next options of: 2) Fix the current cabinets, or 3) Get someone to make new cabinets for you.
2. Fix our current cabinets
I think I'm going to need to up-skill on my (non-existent) wood-working skills. As long as it's not too complicated I think I'll be fine.
Replacing doors
You may be able to find suitable replacement doors only at places like Discount Camper Parts.
If you're a handy wood worker, you could replace them yourself like this guy:
(Actually, if you were like this guy, then you certainly wouldn't need to be on my website looking for instructions! #amiright)
Replacing hinges
Okay, so this is one area where you're going to have no problem what so ever in finding replacements. Whther it's the RV kitchen cupboard hinges or the RV overhead cabinet hinges you'll find loads AND LOADS everywhere.
First stop: Amazon (see below)… and every other RV parts supplier online.
I found this video from the superstars RV Geeks for repairing the RV cabinet door lift strut, which I would imagine would be a pretty common problem too.

Replacing other hardware
Again, replacing the hardware on RV cabinets is gonna be easy. There are gazillions of places to get hardware to match what you've currently got.
Again, you could just start with Amazon.
Or The Home Depot. Soooo much to choose from!
Painting the cabinets
I have a very 'slap dash' approach to painting (i.e. I just paint… it's lucky if I even clean the surface first :-O) so I'm not the best person to ask about this! Luckily, my friend Ashley does know what she's talking about and here are her 9 Tips for Painting RV Cabinets.
She's got an awesome painting guide for painting the interior of your RV, including cabinets, which I recommend.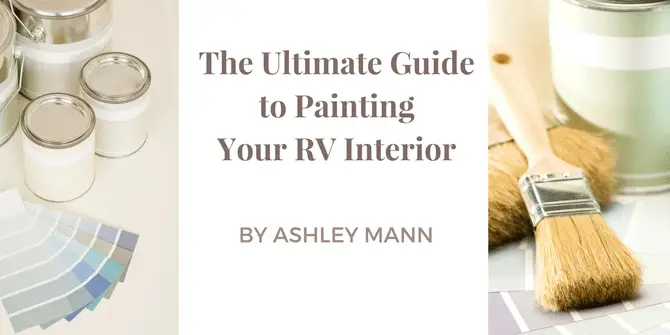 The Ultimate Guide to Painting Your RV Interior
3. Make new cabinets
Make them yourself
Clever and skilled people can make their own RV cabinets and furniture, so they can be exactly what you want. You can use whatever materials you want and make your own lightweight cabinets for RV.
Commission someone else to make them
I would start with your local RV manufacturers or dealers to see if they have a local craftsman that they could recommend.
Of course, you could ask any cabinet maker to do the work for you, but you would need to make sure they're comfortable with the sometimes curved walls and unusual obstructions (like wheel wells) of an RV, and the importance of lightweight cabinets for your RV.
Open Shelving
There's a new fad that's been doing the rounds of RV renovations. It's one of the trendy decor ideas that you either love… or hate.
Open Shelving in the RV Kitchen
Me? I LOVE it.
However… I also know that it would drive me a little bit nuts having to take the stuff down every time we move.
But the biggest reason it wouldn't work for us?
I don't have beautiful stuff to put out on display on those shelves. My cups are all mismatched, my cookware old and battered, and I know I'd end up putting the 'often used' things up there rather than the 'prettiest' things. Which would defeat the purpose of the open shelves for me. (I like pretty, I just don't do it very well myself.)
Here are some examples of people that have done it very right though:
 

 

 

View this post on Instagram

 

 
 

 

 

View this post on Instagram

 

 
If you can pull off the open shelving look, just think how much work that would save in replacing or repairing your RV cabinets!
If your cabinets are beyond repair… it may be your only option!
Have your replaced or repaired your RV cabinets? What did you do?
Want to save this post to read later? Save it to Pinterest.