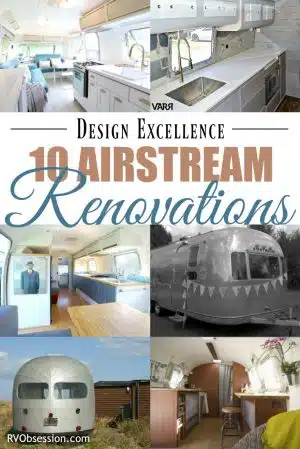 We don't have Airstreams here in New Zealand, I'm sad to say. I love the look of the Airstream and it seems like they never lose their style or go out of fashion. And that's why Airstream renovations are so popular.
You can take an used Airstream, totally renovate it with a mind to great design, and have a beautiful home that is unique and stylish, while being comfortable and practical.
Just google 'airstream renovations' and you'll see that there are dozens and dozens of examples for you to go through.
It seems that airstreams are particularly favoured by the design savy, with architects now devoted to the renovation of used airstreams.  That is a great development in my opinion. We're not all designers but many of us can desire, and can appreciate, beautiful design. I certainly fit into that description.
Below are some of my favourites:
Disclaimer – there's no doubt that I prefer clean, simple lines and that I love an uncluttered space that is more minimalist than it is rustic chic. I'm not one for knick knacks and definitely not keen on florals or too many patterns.
So the selection below really is all about MY favourites. If you don't like them, I get it, dif'rent strokes for dif'rent folks, yeah. But, I do recommend you have a look at the 'Check out these sites' section right at the bottom of this post, hopefully that will point you towards some designs that float your boat… or pull your airstream?
Renovated Just in Time for the Honeymoon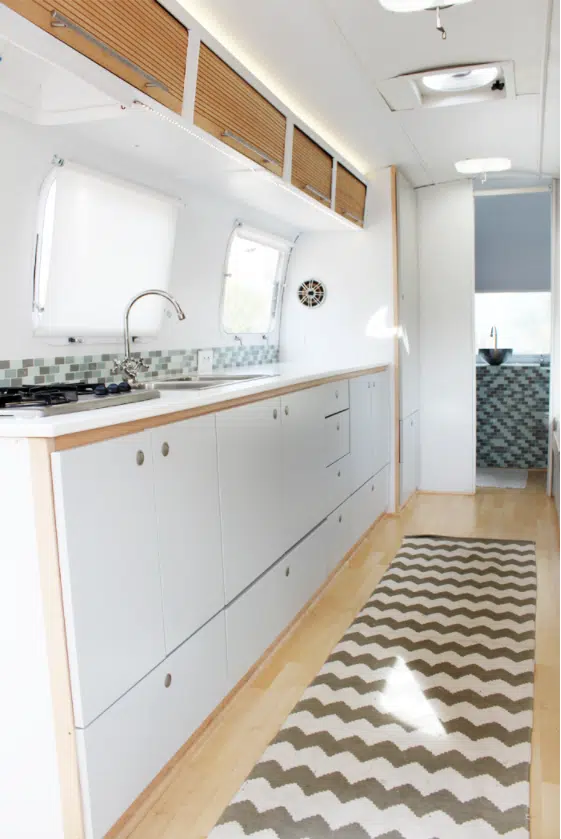 From Morea Seal
This couple were dating when they decided to buy an old airstream and renovate it. In the ensuing two years that they renovated the airstream, they got engaged. And the renovation was completed just in time for them to head off on their honeymoon in the finished rig.
All the Necessities for Living and Working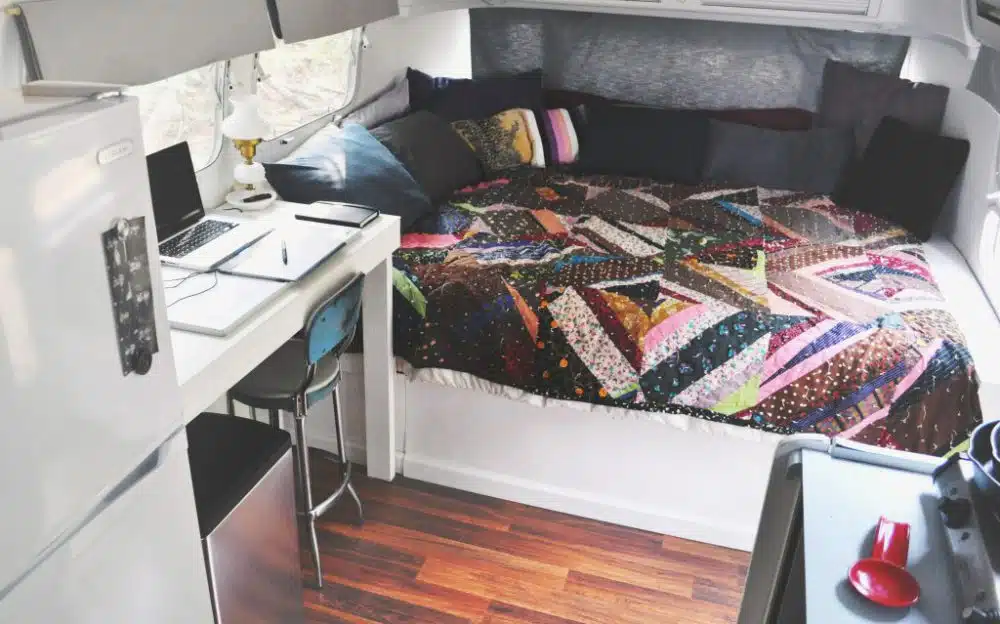 Melanie and her husband George, decided to buy a used Airstream and renovate it. It was a toss up between this or building a tiny house. I"m so glad they decided on the airstream because it looks so lovely and homely. You can read all about their airstream renovation and how they like living in it, on Melanie's blog A Small Life.
Retro Wood Panelling… that Looks Modern?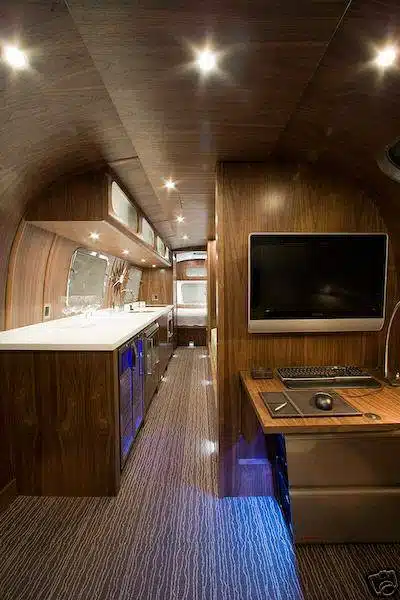 I don't know how, but this renovation has managed to include 70's wood panelling while still looking modern and stylish. Check out more photos (including a very cool and very 70's clock above the kitchen sink) over at Vintage Airstream.
If you're interested in renovations, check out these other awesome renovations:
Creating a Zen-like Space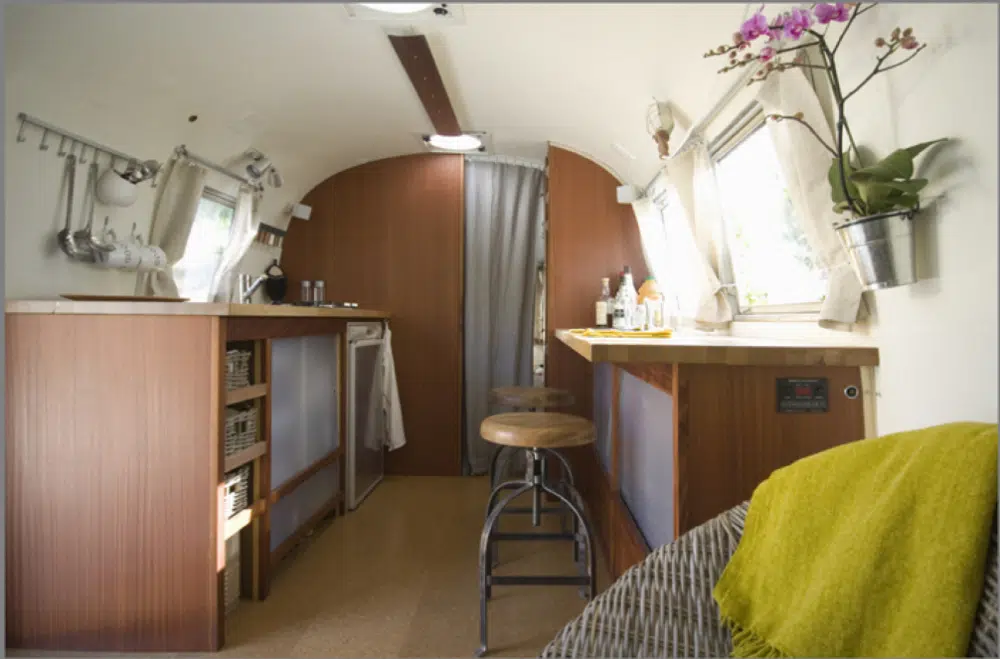 Check out the renovation pictures, from start to finish, on Dwell.
Set up for Full-time Living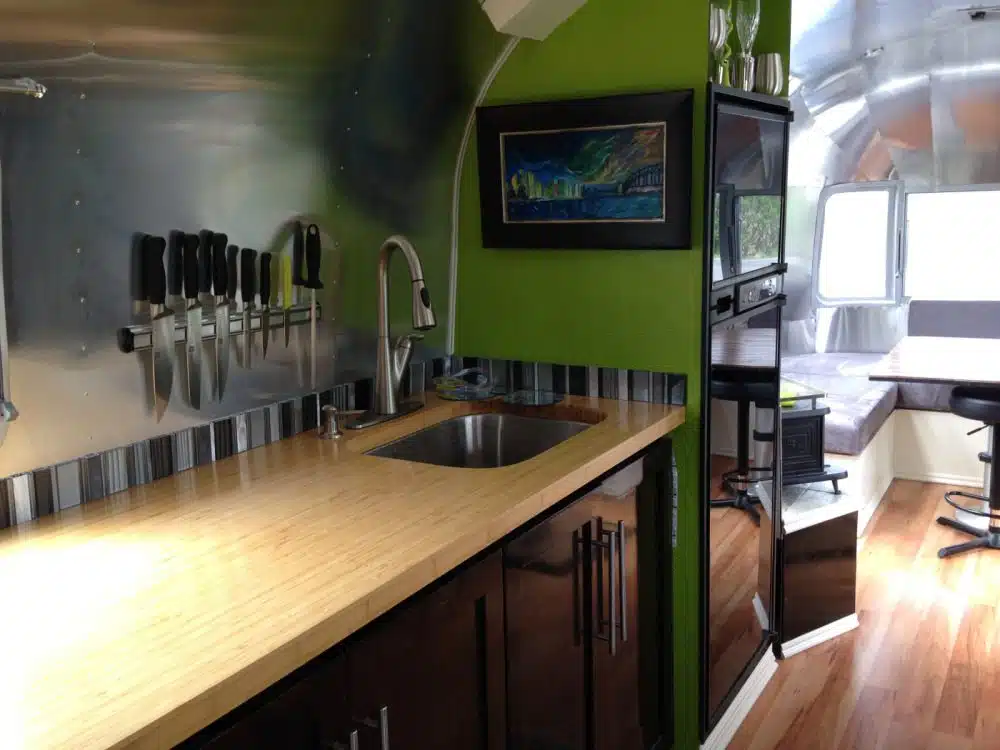 This airstream renovation has been set-up for full-time living and has been serving it's owners well through the last 3 years of harsh Canadian winters and summers. Now for sale, you can view all the details over at: Silver Stream Renovations
Timeless Elegance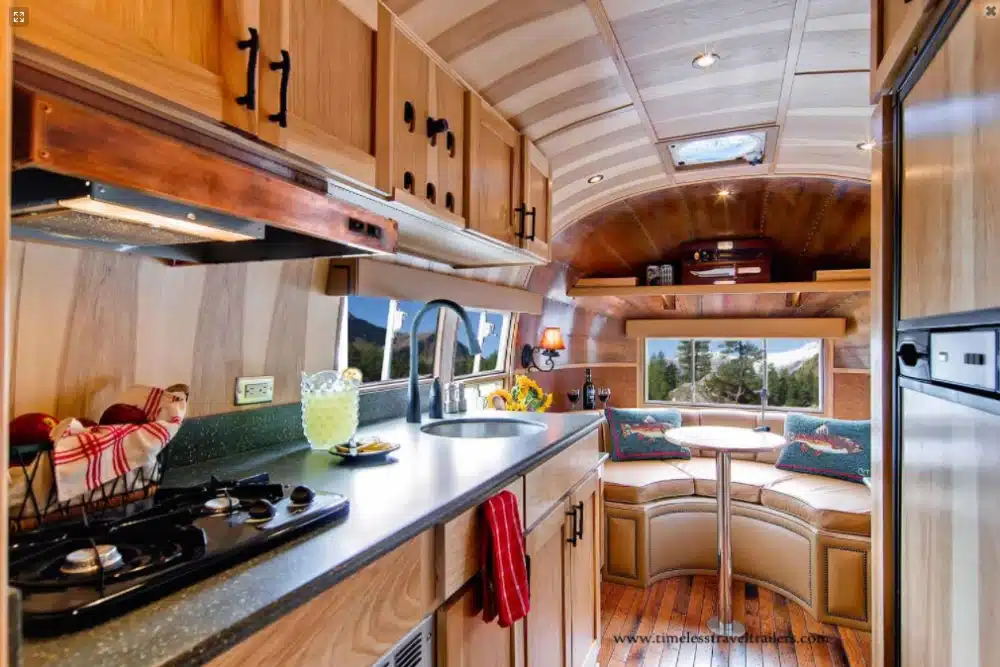 Beautifully restored by Timeless Travel Trailers, this airstream renovation is wonderfully restored with such a high level of workmanship. Seriously, check out the photos on the website, I think you'll agree with me on this one.
Architecturally Designed Work and Living Space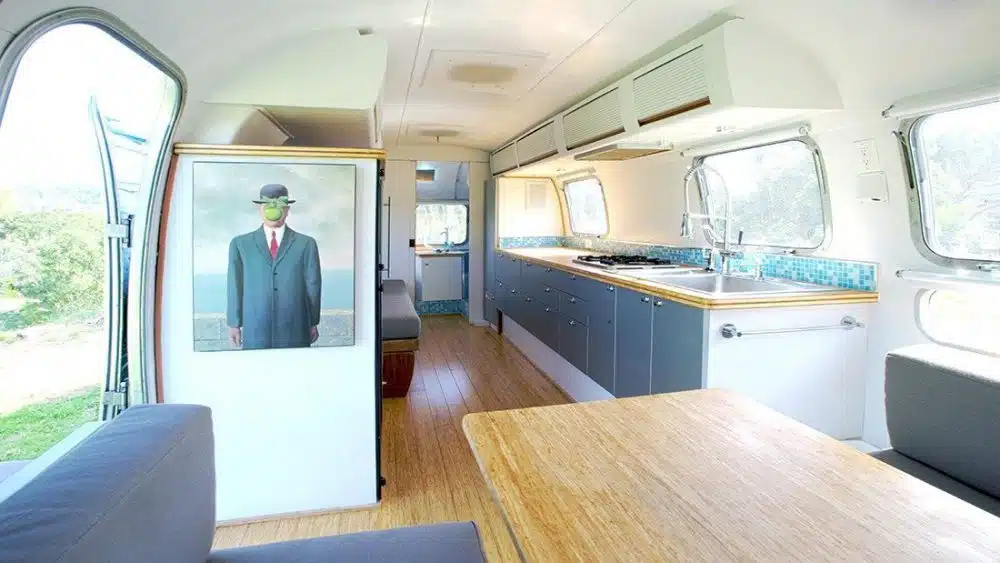 Architect Matthew Hofmann renovated his own airstream first (the airstream above); a place where he could live and work. His firm Hofmann Architecture now specialises in small space mobile design.
Beauty and Freedom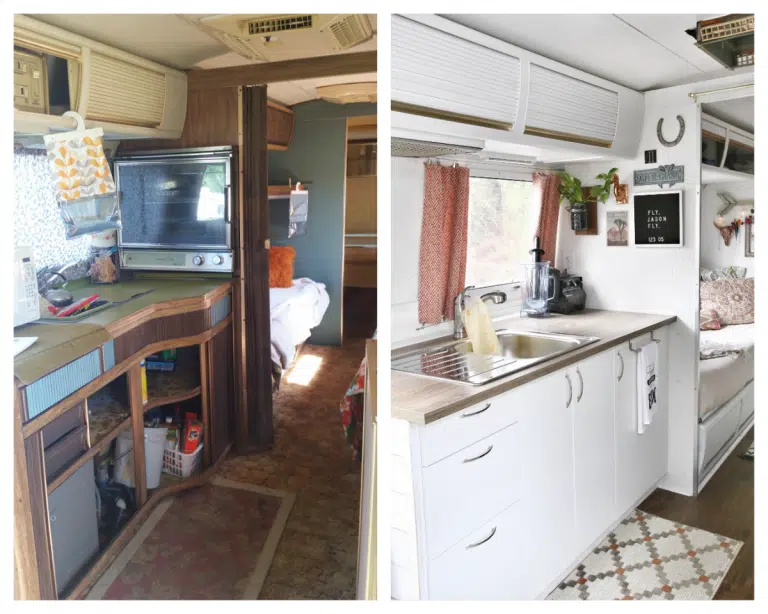 Mavis the Airstream is a lovely remodel of a 1975 Airstream Overlander by a couple in their 30's. They now live in the airstream, and apart from seeing their airstream renovation, I love reading about how they are pursuing a life of freedom.
Clean Lines and Sleek Design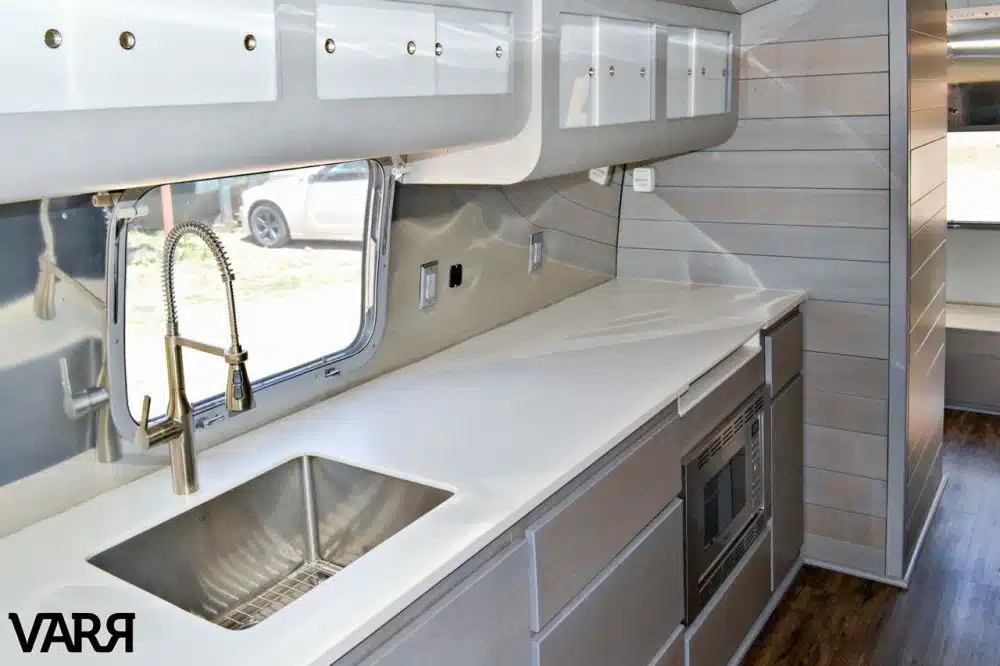 This renovation by VARR – Vintage Airstream Restoration and Repairs, looks ideal to me. I love the clean lines and minimalist approach. (I think it looks minimalist because in the picture it is not yet fully finished.)
Light and Breezy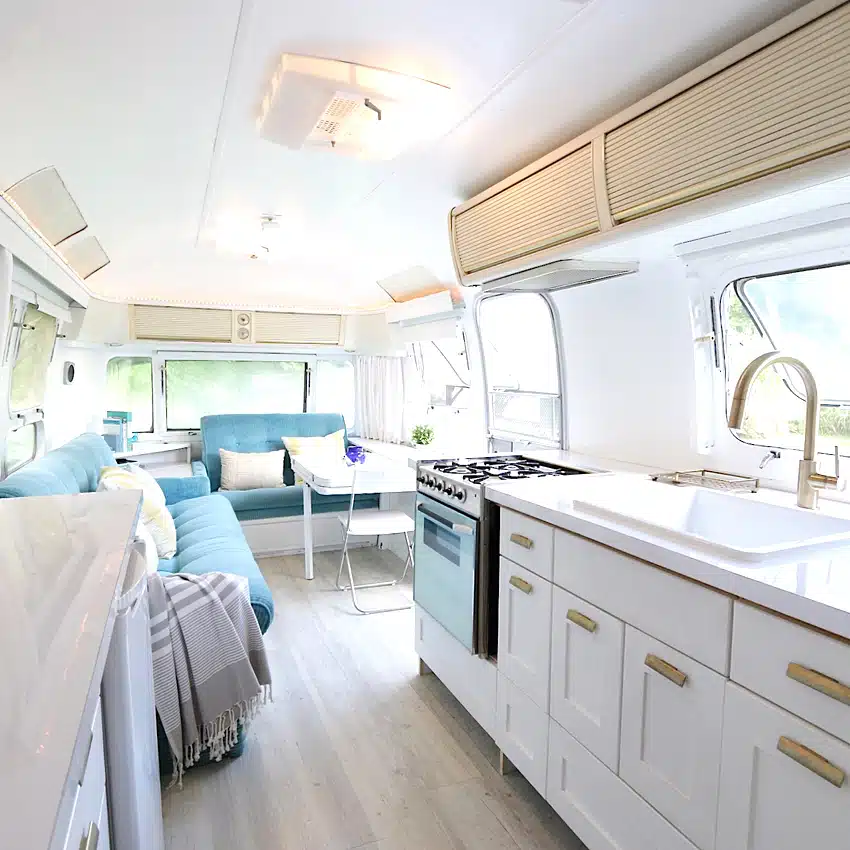 This vintage restored airstream is light and breezy and styled with beautiful decor; and it's for rent. Check it out on Lynne Knowlton
So did those renovations / restorations whet your appetite for some more Airstream glorious-ness?
Check out these sites
Below are some of the websites that I have found that I think you will really enjoy too. They specialise in either designing or renovating airstreams, or they're simply a great site with HEAPS of renovations for you to look through. Say goodbye to your family for at least a couple of hours… you're going to get sucked into a world of airstream renovations. 🙂
---
If you love Airstreams (I mean, who doesn't!) then I'm sure you'll love checking out these Instagram accounts, they're all about lovely Airstreams!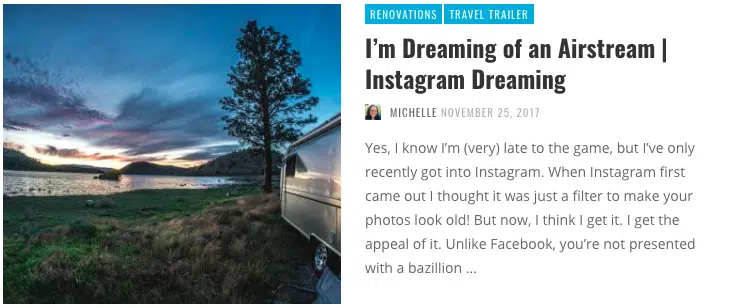 ---