Okay, time for something a leetle bit different… this time I'm going to take a look at vintage trailer restorations.
I have my reservations about restorations… I only like them when they're done well. I'm not such a fan of those restorations that just give the interior a sparkling clean, but then don't improve the travel trailer in some way. Like, when the stainless steel railings are polished to remove decades of grime, but they still look lack-lustre and you can tell they're still 50 years old. To me, a vintage restoration involves restoring a trailer to how glorious it looked when it first came out of the factory.
I could be deluded. But that's just my personal opinion.
And more of my opinion… I love restorations that look like the genuine article, but have hidden within them, technological advances that we can now take advantage of. For example, LED lights. If the light fittings look the same, but have energy saving LED in them, I'm all for that.
And why would you have an uncomfortable sponge mattress, when you can enjoy a decidedly more comfortable memory foam mattress?
So let's just get started then, shall we?
1936 Masterbilt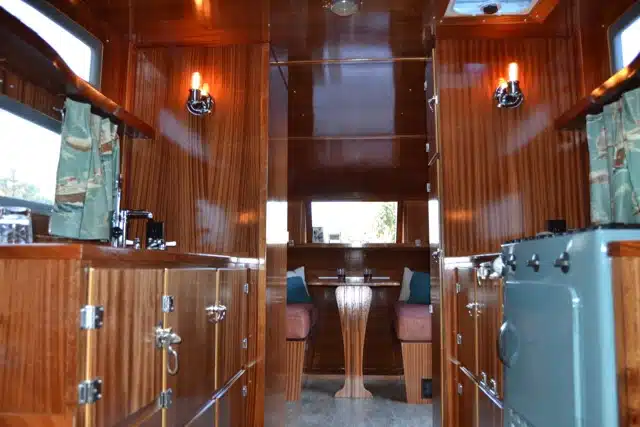 This beautiful vintage trailer restoration can be found at Flyte Camp. And you know what? They've got an LCD TV hidden in one of those cabinets. 🙂
1958 Shasta Airflyte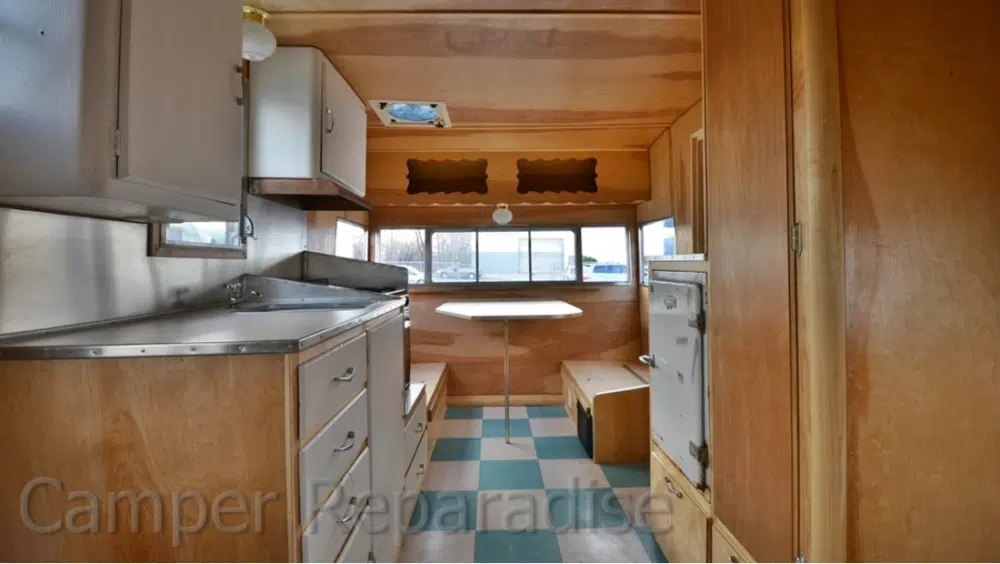 Wow! This restoration by Camper Reparadise took this travel trailer riiiight back… to the trailer chassis! Check out the restoration here.
If you're interested in renovations, check out these posts about awesome renovations:
1947 Robin Hood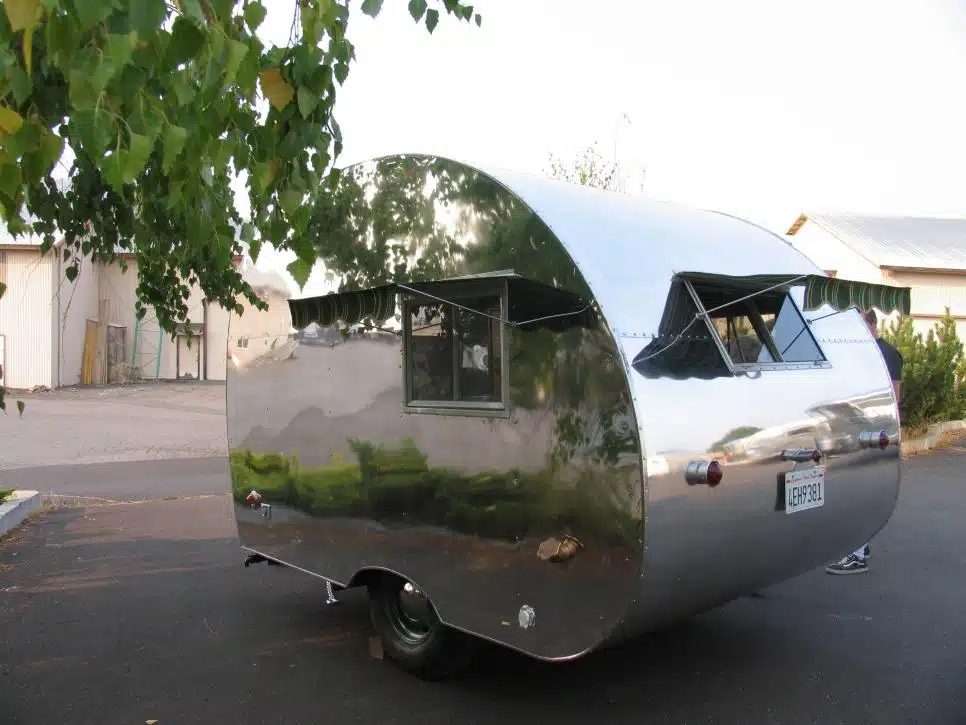 Look at that shiny exterior! It's hard to believe how beautiful this caravan looks, especially when you compare it to how it looked before! Check out the before and after photos on the Flippin RVs website.
1962-ish Dalton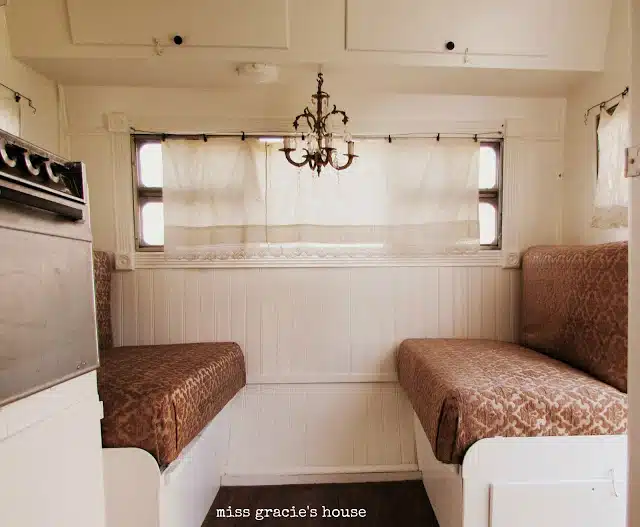 I don't think this is really a restoration… but it looks old and kindof in keeping with the times? I dunno. I just really like this one. You can find out all about this restoration (renovation… I need to stop calling this one a restoration, cos I hardly think the original trailer would have had that delightful little chandelier above the dinette) at Miss Gracie's House.
1967 Scotsman.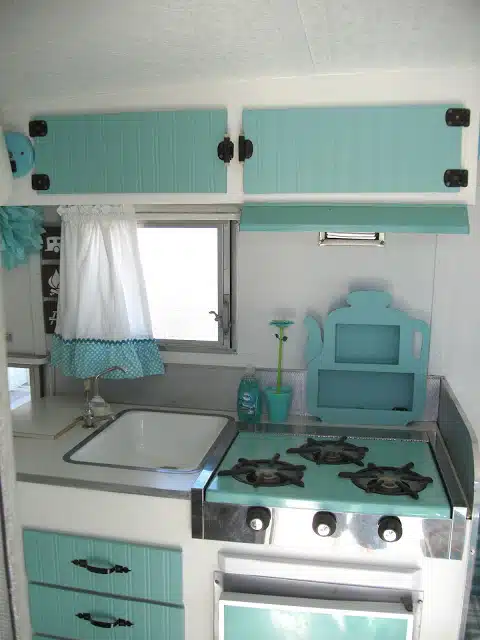 This restoration has kept true to the original style and colors and managed to look light and modern(ish) in the process. This little trailer (Maizy) can be found at Little Vintage Cottage along with all the photos and details of the restoration.
1957 Honorbuilt Romer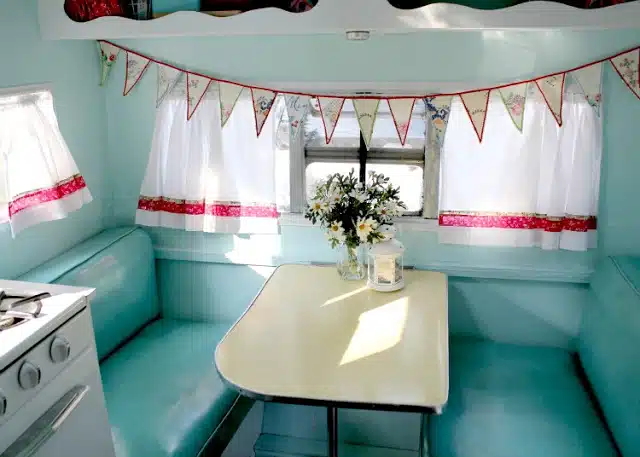 Look at those vinyl benches of the dinette! They're original. This vintage trailer restoration was completed by Rachel over at House of Noise.
1970s Rancho El Rae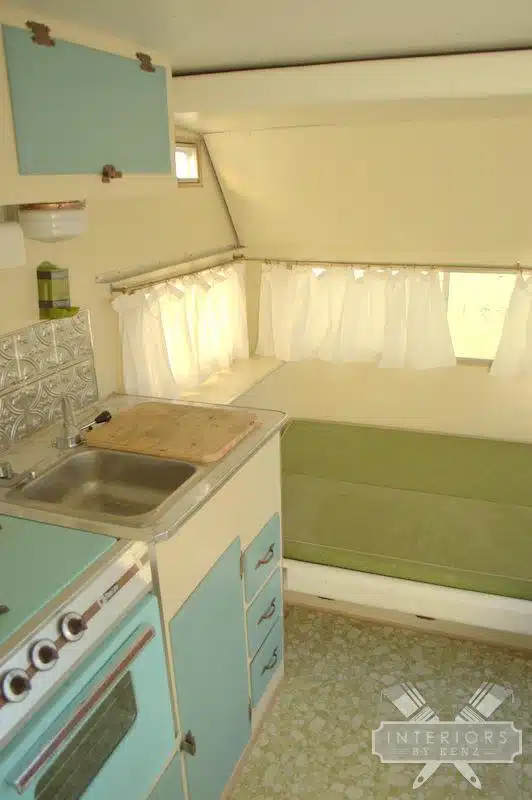 I couldn't find any before photos of the decor of this trailer, but this restoration looks pretty true, don't you think? By Kenz at Interiors by Kenz.
Vintage Caravan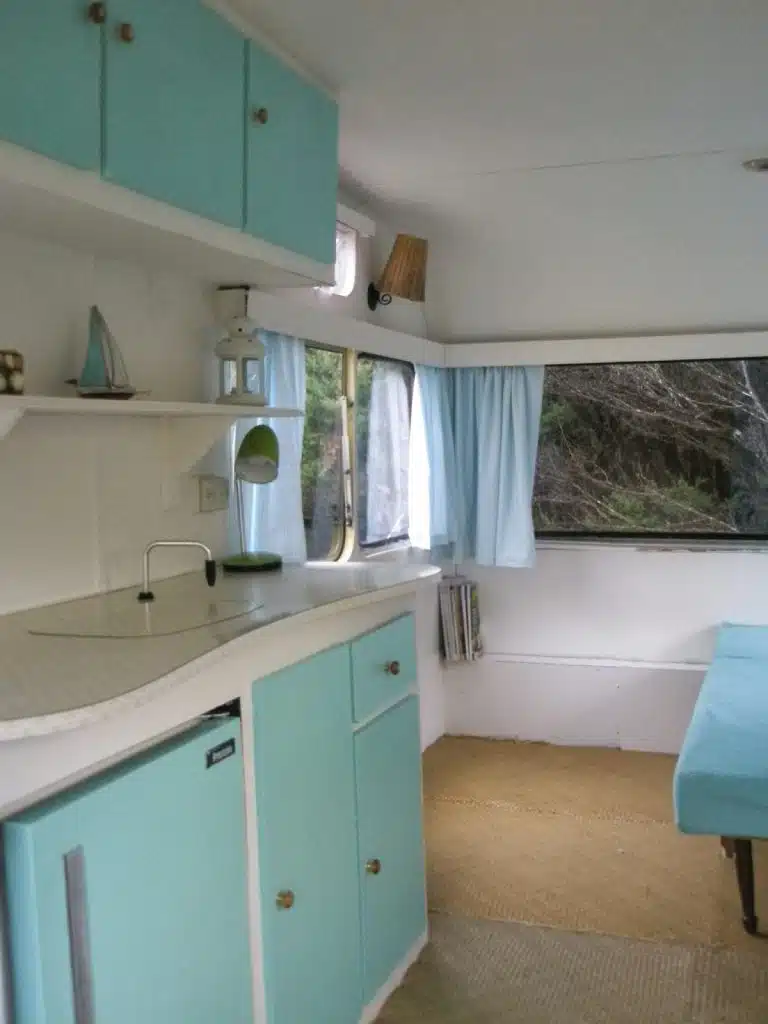 Anne from Arty Green in Paradise restored this vintage caravan as extra accommodation for her family. Isn't she pretty?
(Is it just me or is there a definite light blue/aqua trend going on here?)
1962 Shasta Airflyte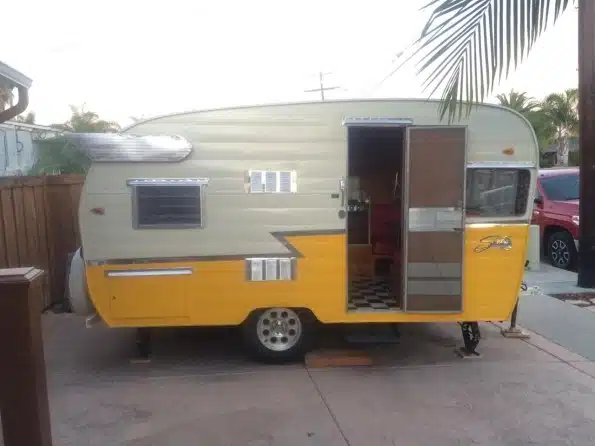 While I tend to focus on the interior restoration of these vintage trailers, there is no doubt that it's often the outside that is the most stunning and visually appealing. You have a look at this 1962 Shasta above(more pictures over at Little Vintage Trailer) and compare it to the travel trailers of today… boring, white fibreglass. Or at best, a hideous cacophony of brown and beige swirls and stripes. Give me silver lightning bolts and yellow any day. And wings!
Would you rather have a vintage trailer restoration (looking like the original) or a renovation / remodel that gives you all the modern conveniences in the shell of a vintage trailer? I'm still a bit torn to be honest…