I got to thinking about (and looking for!) a teardrop camper for sale last night, when a tiny home-built teardrop pulled into the show ground… it was a windy, blustery afternoon so they had to find a sheltered spot so they could cook their dinner without the wind whipping out the flame.
We managed to find them a good spot, but it also got me thinking about teardrop campers, and whether I would ever buy one for us.
So, of course, I start thinking about the pros and cons, and looking for a teardrop camper for sale online!
The pros and cons are pretty very easy to define and they're at opposite ends of the spectrum, but each of the pros and cons are pretty compelling!
Pros
Small – okay, this is obvious, but being so small means that they can go almost anywhere
Super light weight – you can pull one of these with almost any vehicle
Have most things you need – a warm bed, cooking facilities, somewhere to retreat in the rain
Price – these things are cheap… well, compared to a travel trailer they're cheap. But not as cheap as a tent!
Cons
Small – can't stand up in them, so you may get cabin fever if the weather is bad
Outside living – it's basically just a bedroom so you'll be doing most of your living outside (which can also be a 'pro'!)
No bathroom – so you may be limited to staying in campgrounds that have facilities
I immediately go online and start searching (as I do) and came up with this list of teardrop campers for sale that you could buy now.
It's funny how in the RV industry we have some pretty vague classifications. My idea of a teardrop camper is basically a bed on wheels, with the added benefit of a kitchen on the outside. Oh, and in the shape of a tear drop, of course.
But some manufacturers call anything that's in the shape of a teardrop, a teardrop camper. Even though they've got a kitchen inside, and a bathroom! I suppose, they are actually correct, it IS in the shape of a tear drop.
But for this list, I'm just looking at those that have the bed inside and the kitchen outside.
You know, those tiny ones…
Teardrop Campers For Sale
Here goes:
The Teardrop Camper Company
Let's start with an Australian manufacturer (since that's what comes up first in google, for me).
The Grand Tourer 'GT' by The Teardrop Camper Company comes with all the standard teardrop stuff.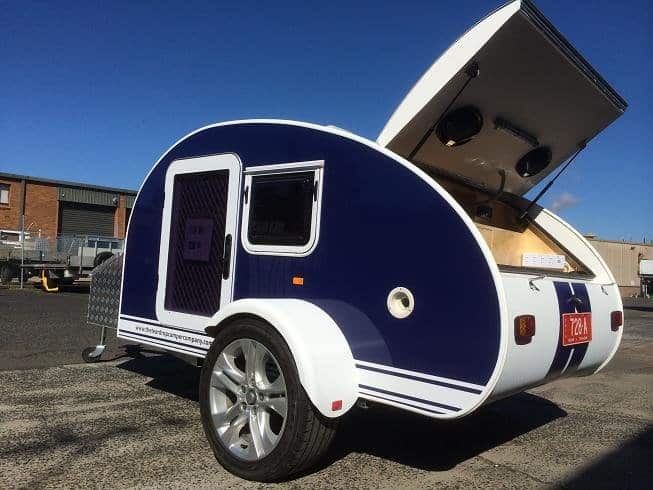 See more pictures and different models on their website.
nuCamp
You may already be familiar with nuCamp. I've already swooned over their T@B trailers over here, but they also have the T@G tear drop trailers.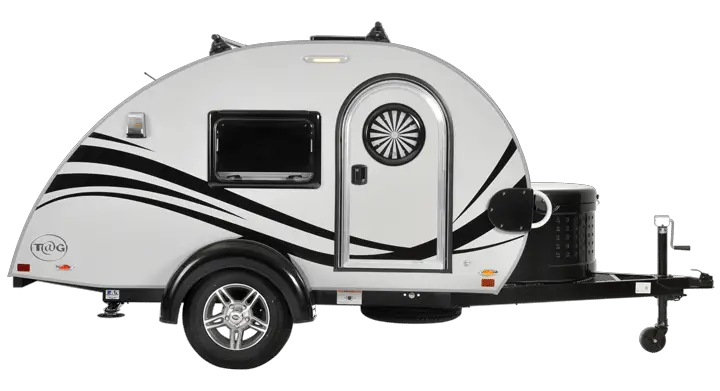 These are very stylish little campers, with luxuries like TV and air-con! And plenty of upgrades for going off-grid if you want to.
You can see lots more photos and models, over on the nuCamp website.
Tiny Camper
Now across to Lithuania where they're building these great, little Teardrops.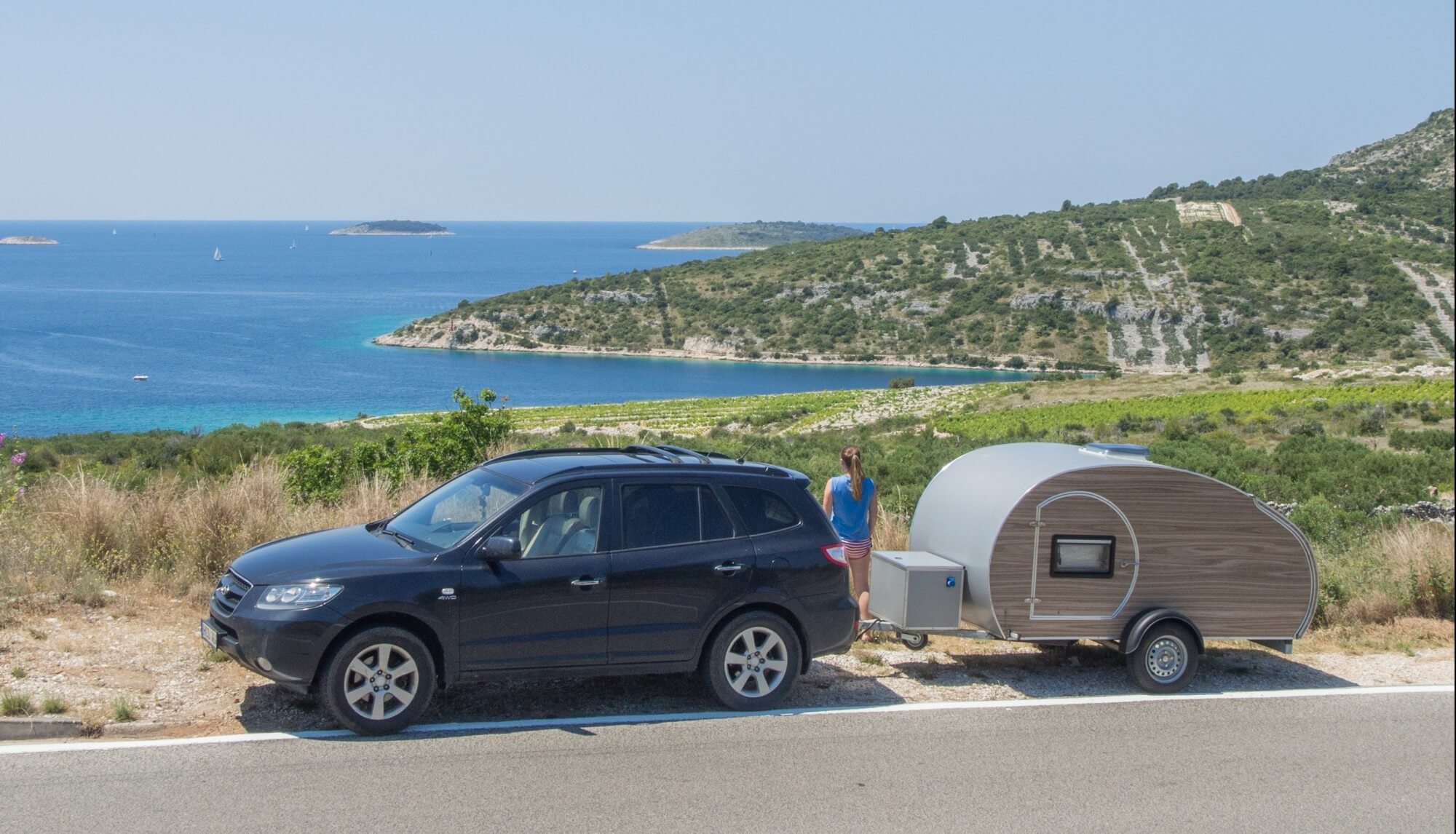 They have just two models, the Mini and the Off-road
OR
you can order a DIY kit from them, and build your own teardrop camper!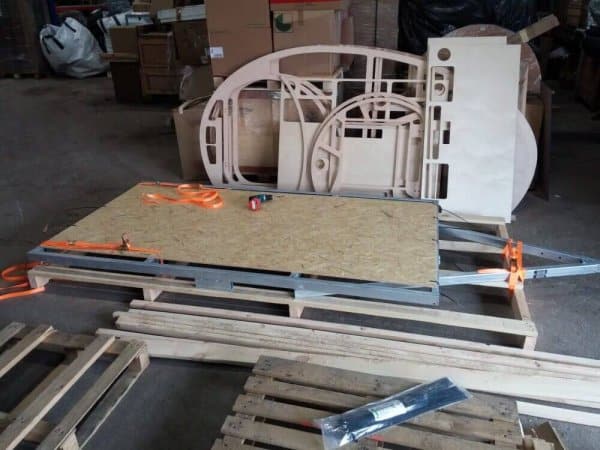 How cool is that!
Get all the details over on the TinyCamper.eu website.
Timberleaf Trailers
The beautiful Classic Cabin from Timberleaf Trailers makes me feel like you're really experiencing the rough and rugged outdoors… without too much of that uncomfortable rough and ruggedness!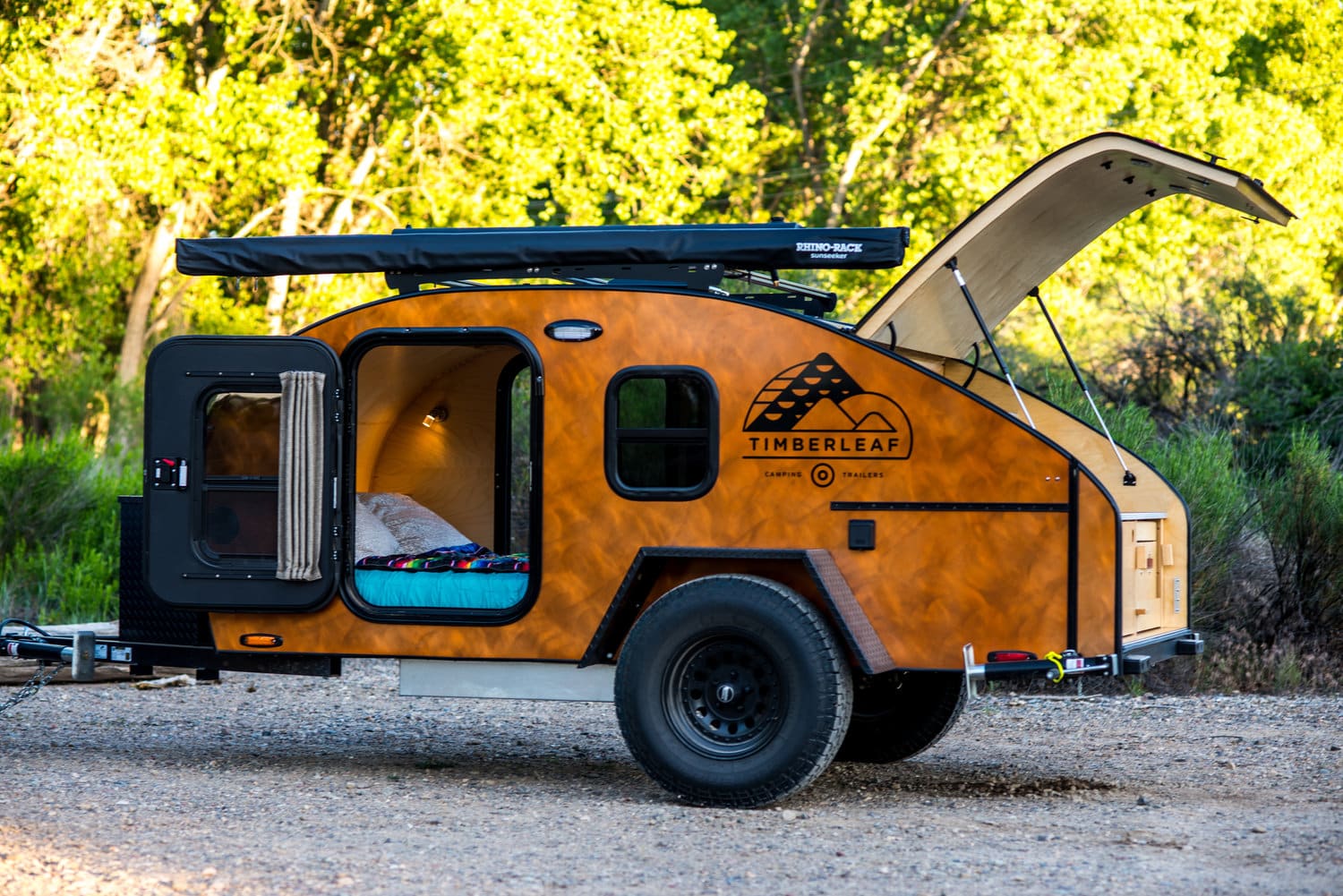 She looks a beauty, doesn't she! And fit's right into her natural environment.
See more pictures, details and specs over at Timberleaftrailers.com
Vintage Overland
You can tell just from the pictures that Vintage Overland take great pride in crafting each of their teardrop campers.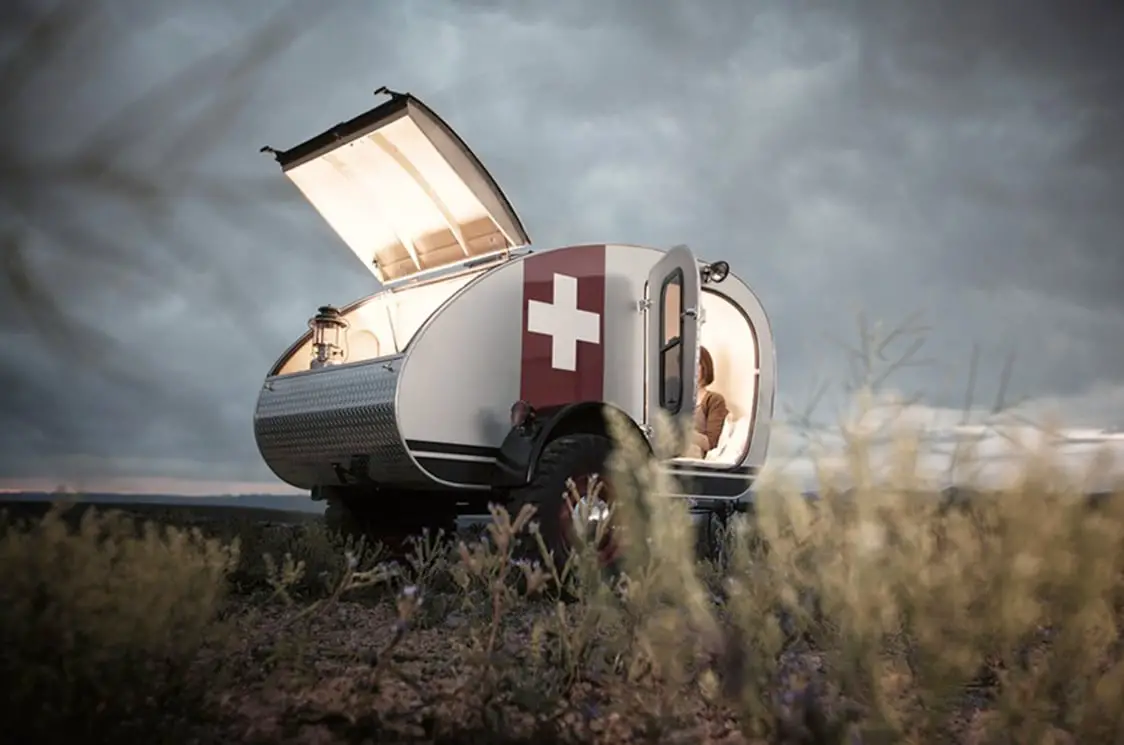 See these beautiful designs and read the story of how they got started over at: www.vintageoverland.com
Are you inspired to consider your RV travels in a teardrop camper?
Why I love teardrop campers
I love the fact that teardrop campers are so small.
They enable you to have a comfortable and warm bed for the night and you don't have to put up a tent.
You have the convenience of a kitchen, even if it is outdoors.
Yet it's small enough to be towed by almost any vehicle. You can have comfort, without having to upgrade to a gas guzzling beast.
I would consider a teardrop trailer perfect for us if we were on a short vacation or, a longer vacation if it was in mild temperatures.
But definitely not for our full-time RV life.
Does this make you want to hop straight online and look for a teardrop camper for sale?
PIN FOR LATER