The idea of renovating or remodeling a travel trailer is less frightening to me because generally a travel trailer is not as expensive as an RV / motorhome. Because I'm not mechanically minded, I have visions of renovating an RV and then finding that the engine has some huge (and expensive) part that needs replacing and I'm going to have to sink even more money into it. A travel trailer seems like a safer bet for a newbie like me.
I may have mentioned on this blog before, that RVs in New Zealand are horribly expensive. Even second hand (used) trailers will run you into thousands of dollars. And there's very little variety in the second hand market; no airstreams, no fibreglass.
So when it comes time for me to get inspiration for travel trailer renovations, I certainly don't look close to home; I look everywhere but home!
Note: in this post I have stuck to only travel trailers (caravans).
I hope you get as much delight pouring over these beautiful renovations as I did.
Drab to Fab
Will and Cam found out the hard way, that it really pays to do your research before taking on a project like this. Even though there was lots (and lots) more work than they had anticipated, they have still done a wonderful job of renovating this trailer to a little camping home on wheels.

Check out Our Little Life for more pictures of Will and Cams wonderful trailer renovation.
Boring to Beautiful
Drew and Jenae completed this transformation of their 2006 Keystone Zepplin II travel trailer in just seven weeks. It's now set up beautifully for their full-timing life.

Source: Traveling Triads
Outdated to Outstanding
Laura is an interior designer and I think the renovation of her little caravan shows off her skills perfectly. I think one of the things that makes this travel trailer renovation perfect for Laura and her family is that she knew exactly how she likes to camp. It's a time of relaxing and rejuvenating, doing the things that she enjoys. So she created a space where she could read, watch movies and be totally comfortable in a space she enjoys.

Source: Laurie Jones Home
Grimy to Glowing
Mandi and her husband converted this little travel trailer (which they nicknamed The Nugget) from a dirty brown box to a glowing white picture.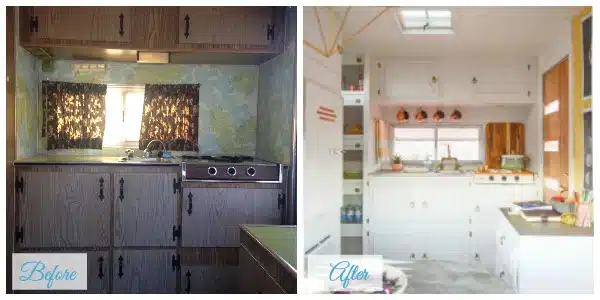 Mandi has lots more pictures of the whole renovation process over at her blog Vintage Revivals
Dull to Daring
For this project Ruthie took this 28ft toy hauler and transformed it into the perfect tiny home on wheels for her family.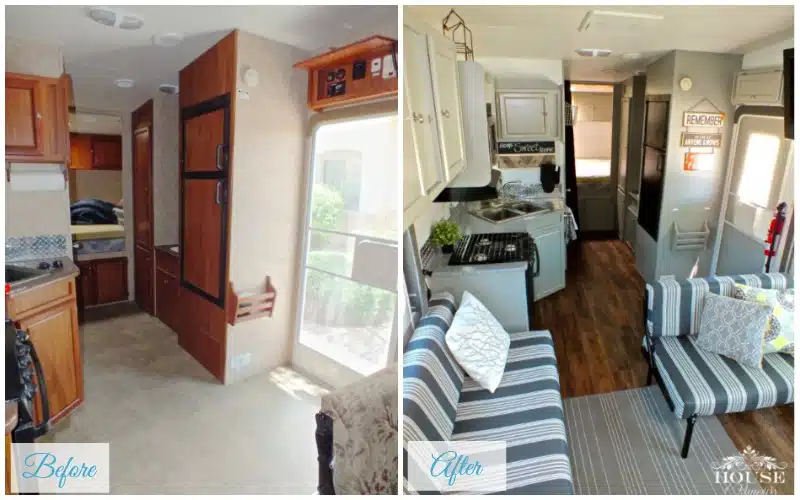 See all the photos at House of Rumours
Brown to Bold
Dave and Charlotte are lifestyle photographers who took on the task of restoring a vintage caravan. They've take what was a very tired and very brown caravan and painted it a bold turquoise and turned this into a holiday home on wheels.

See more of their fantastic photos (of their caravan and their portfolio of photography) on their website.
If you're interested in renovations, check out these other awesome renovations:
Shabby to Chic
Caro hated touring caravans when she was younger… but she's changed her ways now and delighted in the years of happy memories that her caravan Dolly gave her.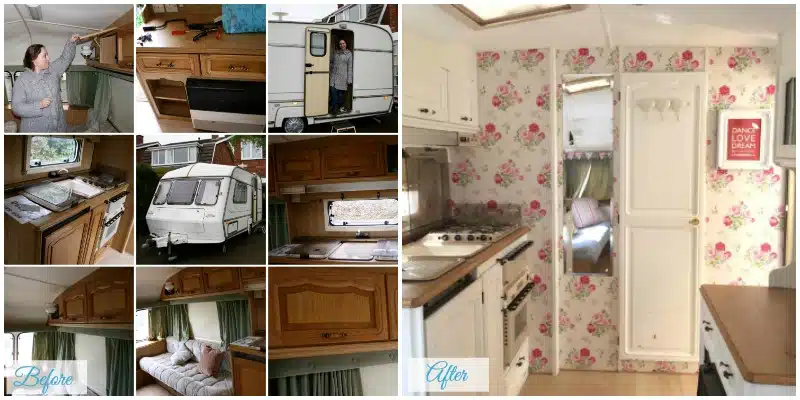 Caro shares pictures of the before and after over at her blog, The Twinkle Diaries
Taupe to Twins
Caro (from The Twinkle Diaries above) had to sell the chic caravan when the arrival of their twin boys meant two more beds needed to be accommodated. And she set her design skills to work again: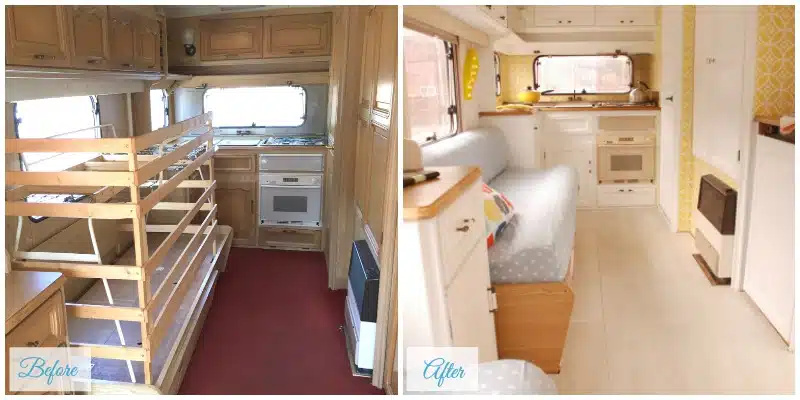 See this renovation here.
Camper to Glamper
When Meseidy and her husband decided to downsize, they renovated a 150 square feet camper trailer into a beautiful haven.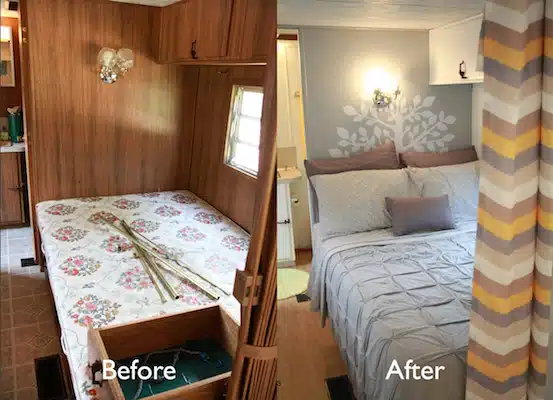 You can see all the before and after pictures over on Meseidy's blog, The Noshery.
I can't believe how much brown was used in the older travel trailers. Brown everywhere! In some brands I notice that there's still quite a dependence on browns and beiges, but the newer, modern looking trailers are just so much nicer (in my opinion). The light decor and limited use of florals and patterns just seem to make the spaces more open and airy, rather than claustrophobic.
Have you ever renovated a travel trailer?