Here we go again. More RV renovations that have captured my attention and my imagination!
In case you're wondering, the reason why I have such a fascination with renovations, is because we'll be embarking on our own little renovation in the very near future.
My husband and I started our road trip around Australia in a camper trailer (I think it's called a trailer tent in North America & Europe) and very quickly we realized that we want to live like this forever.
But in order to do that, we need something more robust than a tent. I mean, solid walls would be a good start.
With the budget being as tight as it is though, we can't afford what we want, so we'll have to create it.
The plan is to buy an old caravan (travel trailer) RV and renovate it. Something a bit like these.
To help with the inspiration I've been trawling the internet (well, pinterest, let's be real) for ideas of what can be done. But mainly it's for reassurance that we could handle a renovation ourselves!
Check out these four renovations for a bit of inspiration… ahhh, and a little bit of envy. :-O
Heath and Alyssa
This young couple are becoming quite the powerhouse in the RV community. With their RV Entrepreneur Summit coming up at the end of February (they're sold out, but you can watch the sessions via Facebook live, check out the website for details, if that's your jam) and loads of information and a podcast on their website.
But it all started with Franklin, their 1994 Class C Motorhome. They did a renovation prior to embarking on a honeymoon tour to all 50 states of America.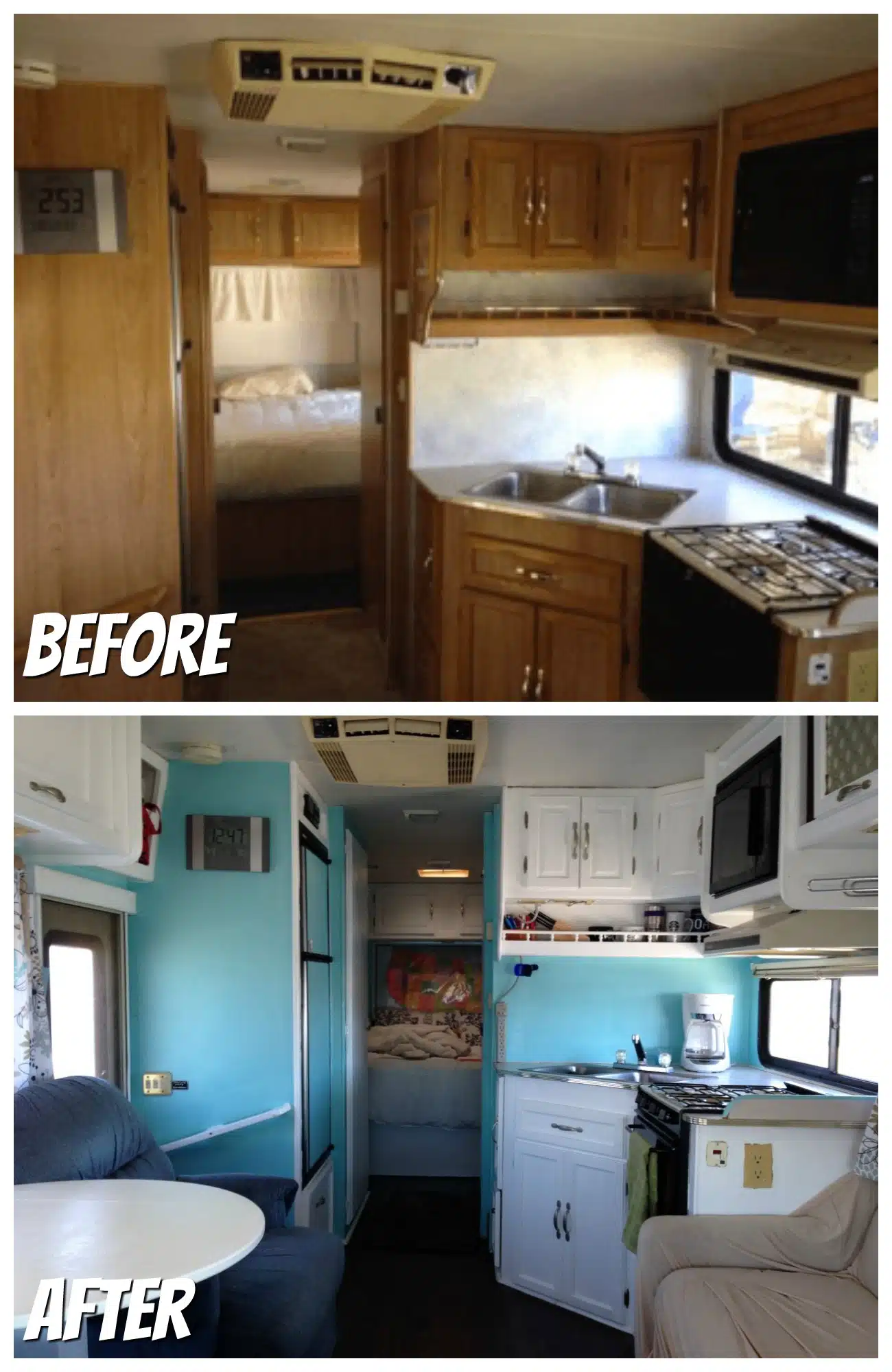 You can see all the photos of the renovation over on their blog: HeathAndAlyssa.com. While you're there, get your fill of all their resources including plenty of helpful blog posts, the awesome RV Entrepreneur Podcast, the summit, their youtube channel AND their newly released RV Entrepreneur School (which is free!). In case you hadn't noticed, I'm a bit of a fan of theirs.
The New Lighter Life
Julie and Mark decided that life in an RV would help them live a simpler, more minimalistic life with their family (4 children) and it would help them to become debt free. So they renovated their RV and made it into a cozy little home for their family.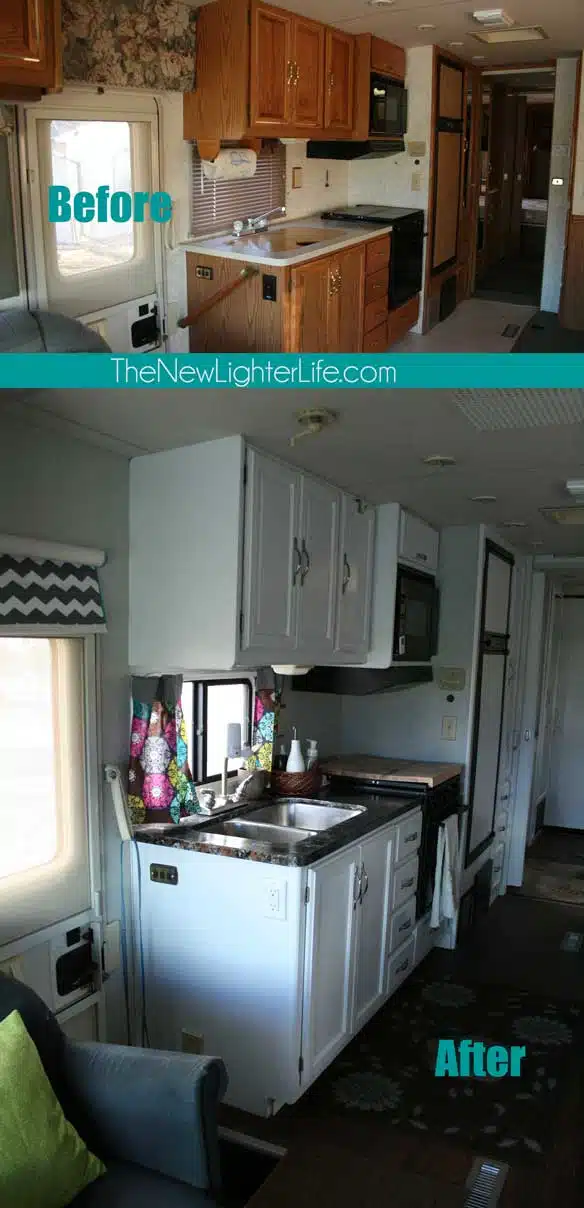 There are more photos over on Julie's blog, and you've got to check out the great bunk room they have designed for their four little ones.
If you're interested in renovations, check out these other awesome renovations:
Mountain Modern Life
This renovation by Katie and Eric is the type that has my eyes popping with delight. The change from the old to the new, is dramatic. Yet somehow they still manage to make this home on wheels look comfortable, practical and homely. These two certainly have skills!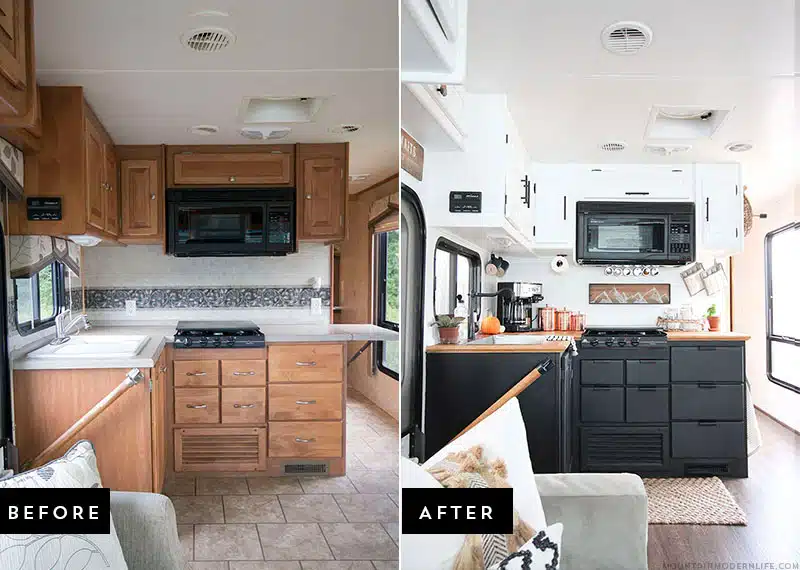 This is certainly one of those special renovations where the use of some clever design, innovative thinking and classy decor has come together to create a truly modern RV home. Katie and Eric have A LOT more photos on their website: MountainModernLife.com along with lots of renovation videos, helpful tips and tricks. Please go and check them out, you won't regret it.
Deb's Heart And Home
Deb and her husband have transformed their 1990 Winnebago Chieftan 32ft Class A Motorhome from a cacophony of browns and blues, to a relaxing and chic haven of dark cabinets mixed with pops of colour.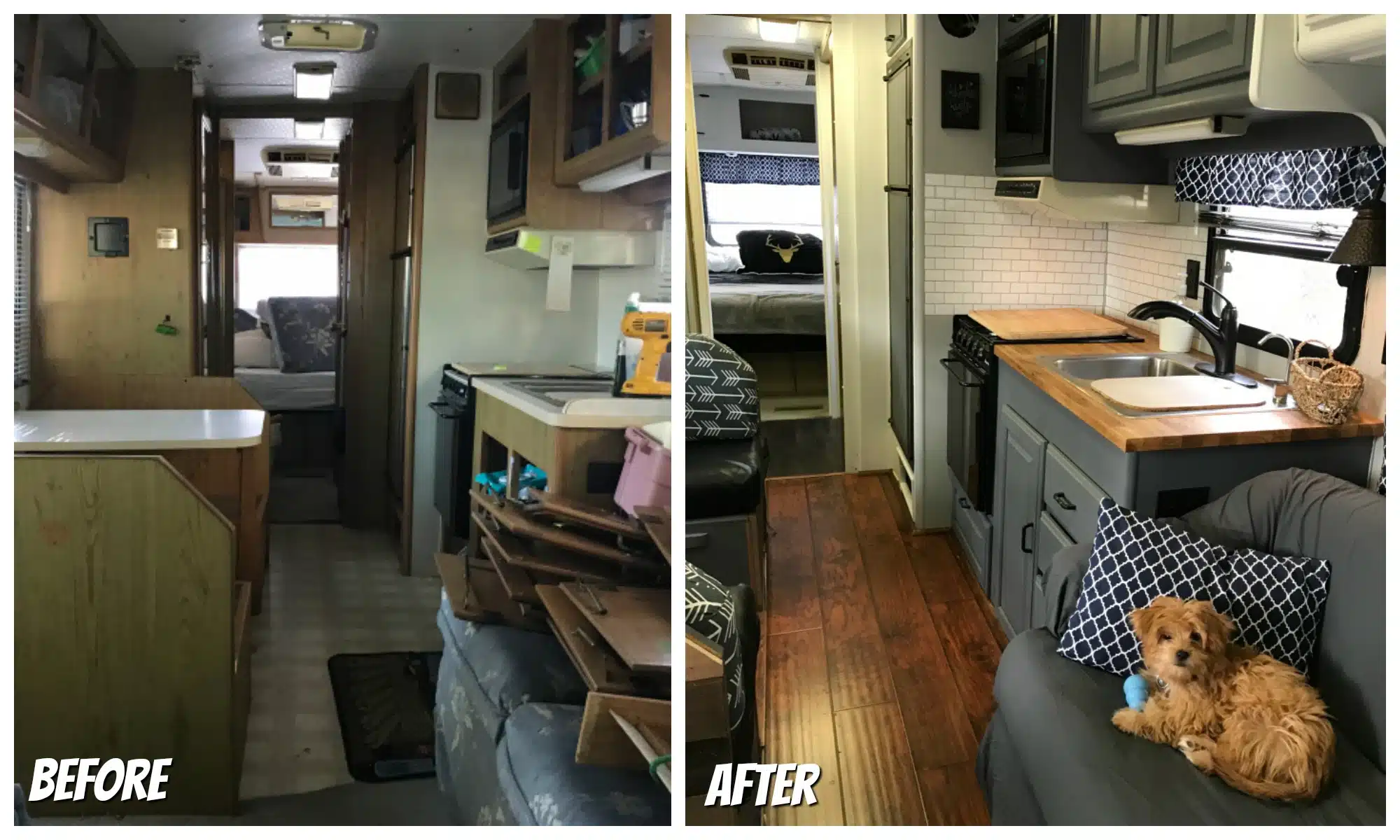 Go to Deb's website to see all the photos. She's also outlined all the products she's used in the transformation.
As I find more RV renovations that I love, I'll add them here. If you have an RV/Motorhome renovation that you'd like to share with us, then send me a message as I'd love to include yours!
While the space that we'll be renovating will be MUCH smaller than any of the RV renovations above, they still give me design inspiration… and impatience to hurry up and get started on our own renovation project!
Is anyone else in the same boat as us and preparing to start their own RV renovation?