Looking for a lightweight travel trailer?
Lightweight travel trailers are quite popular here in Australia. We've got one and we love it.
We love how we have no concerns about whether our SUV can tow it, and it adds negligible costs to our fuel consumption.
However, what our small travel trailer lacks… is a bathroom. (Yes, it's true!)
So when it comes time for us to upgrade our small travel trailer (i.e. when we can afford it) we'll be going with another small and light pull behind trailer.
But this time, with a bathroom.
Since I'm always looking for small RV travel trailers, I thought I'd compile a list of what I find here.
Here's our criteria:
Small Travel Trailer
'Small' is obviously a subjective term. So in regards to these small travel trailers, I'm going to be looking for anything under 20ft (6 metres, for those of us on metric)
Lightweight Travel Trailer
Did you know that small and lightweight travel trailers are sometimes called lite weight and ultralight travel trailers?
But no one has defined what makes a camper lightweight, or ultralight weight!
So I'm going with lightweight. And I'm saying that lightweight is under 4,000 pounds GVWR (approx. 1800kg)
A note about travel trailer weights
GVWR (Gross Vehicle Weight Rating) – is the maximum permissible weight of the unit when fully loaded. 
UVW (Unloaded Vehicle Weight) – is the typical weight of the unit as manufactured at the factory. It is sometimes referred to as the Dry Weight.
CCC (Cargo Carrying Capacity) ** – is the amount of weight available for fresh potable water, cargo, additional optional equipment and accessories. CCC is equal to GVWR minus UVW. 
How much do ultra light travel trailers weigh?
If you're interested, I would say that an ultra light travel trailer weighs under 3,000 pounds. (Approx 1,360kg) Totally arbitrary, but based on the few articles I've found online.
Sleeps
Sleeps two people. This can be either a double bed or two single beds.
Ideally it would be a permanent bed, not one that has to be made up from the dinette or sofa every night, but I think that might be getting a bit too fussy. These are small travel trailers we're looking at, after all.
With a bathroom
This can be a separate toilet and shower, or a wet bath (toilet and shower combined) 
And inside kitchen
I've seen some lite travel trailers where the kitchen is outside, like on the teardrop campers. But I'm not looking at those, just ones where you can cook, eat, sleep and use the bathroom all inside the small travel trailer.
Please note: I've included the length (in feet) and maximum trailer capacity GVWR (in pounds) where it's been available for me to see. But please don't take this as law! Do your own research to ensure the specs given are correct.
What are the best lightweight travel trailers?
Figuring out what are the the best lightweight travel trailers is something that only YOU can determine based on what YOU want and need in a light travel trailer.
What I've done, is compile a list of the best light weight travel trailers that I could find online. But what is best for me, will probably be different to what is best for you.
So here we go... 
Airstream Basecamp 2.0
We start off with a bang! At just 16ft this great little Airstream Basecamp 2.0 fits beautifully into our criteria. 
It's not that classic Airstream shape that we all know so well (and they've now stopped production of the Airstream Sport... unfortunately 🙁 ) but it's still a stylish design and sleek aluminium finish.
They're sturdy little campers too, perfect for those that want to hit the outdoor adventures. 
https://www.airstream.com/travel-trailers/basecamp/
Length: 16ft
GVWR: 3,500 lbs
Price: starting at $46,000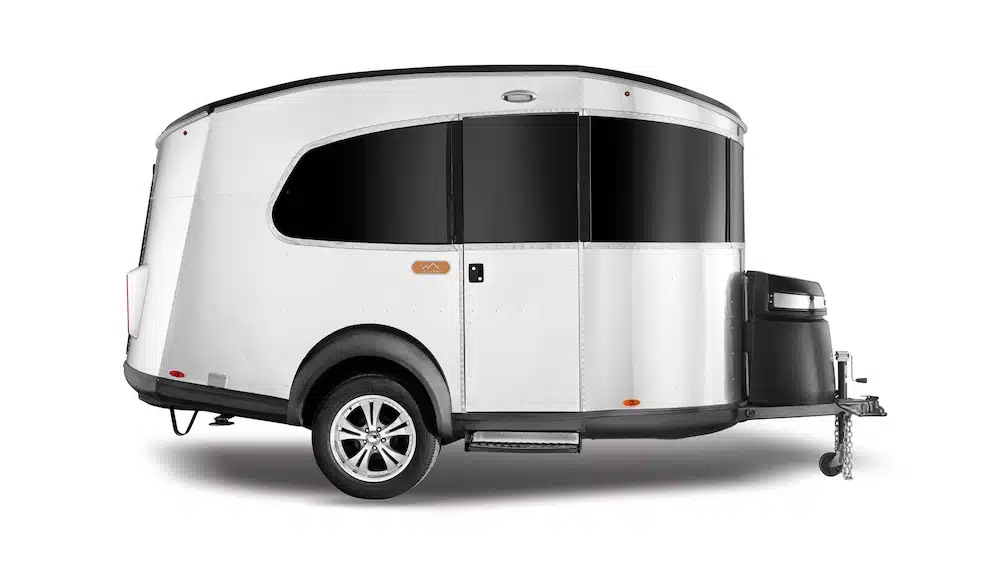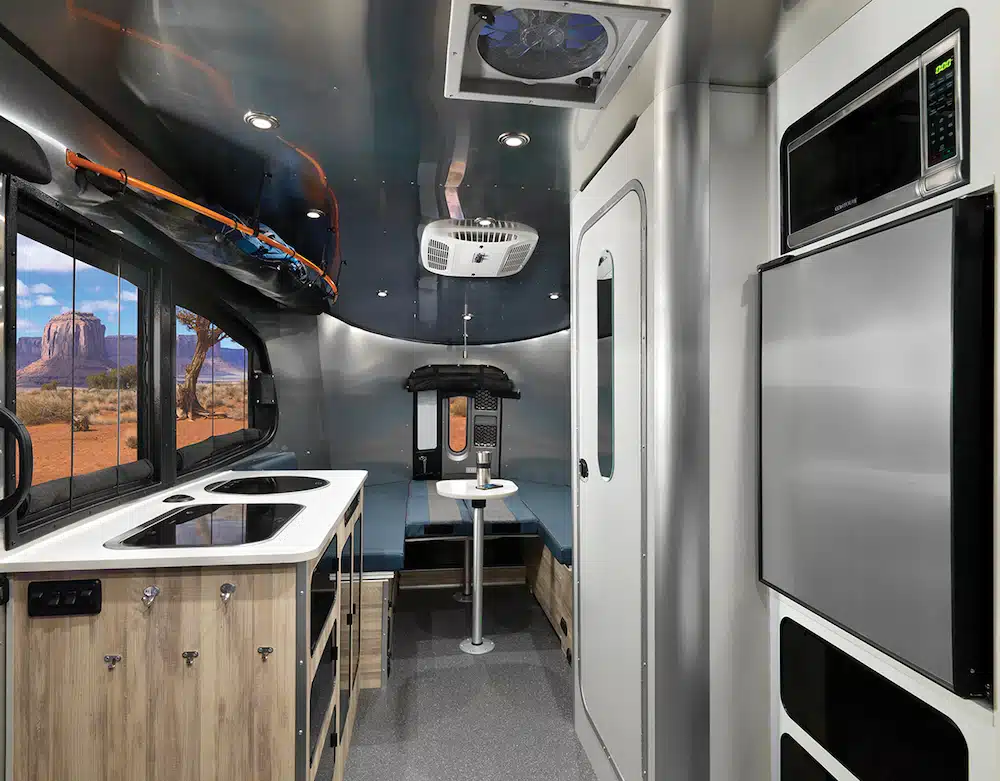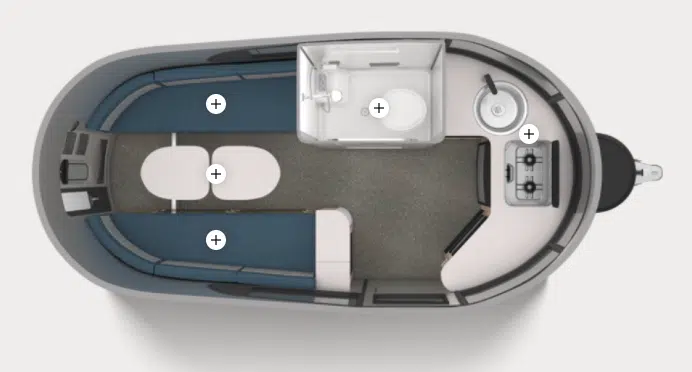 Airstream Bambi 16RB
But if it's that classic Airstream shape you're after... well you're going to LOVE the Bambi as much as I do! With her little rounded ends, sleek silver and diminutive size, she's a stunner.
And then when you look inside, you see a practical layout (with, I will admit, the worlds smallest bathroom :-O), tasteful decor and modern conveniences.
https://www.airstream.com/travel-trailers/bambi/
Length: 16'1
GVWR: 3,500 lbs
Price: starting at $59,300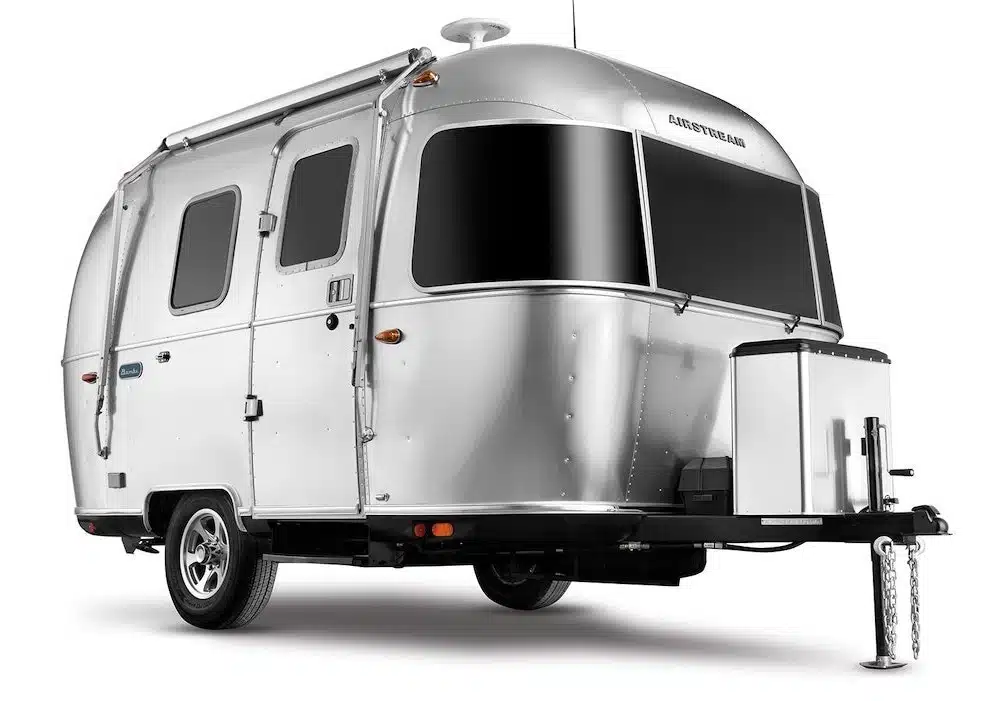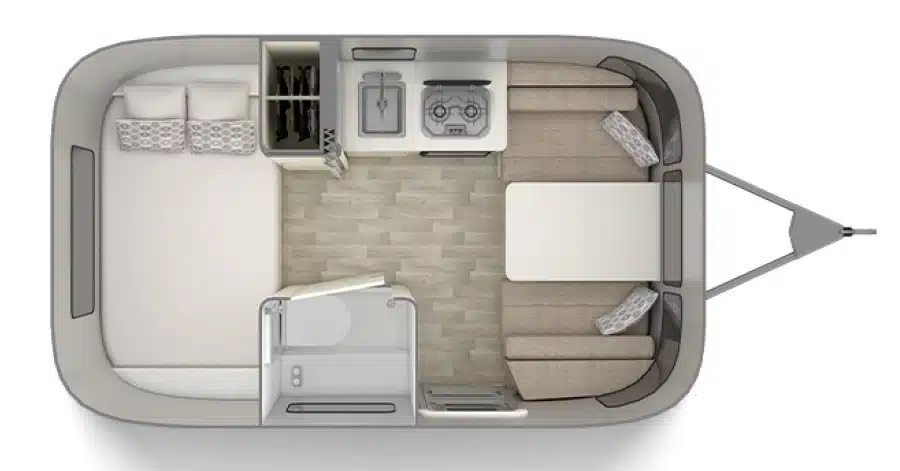 Aliner LXE
This little guy manages to fit everything into one tiny little package!
The toilet/shower combo would take some getting used to (it's tiny, and it folds up from what is basically a box) and would not be something I'd like; but it does fulfil the criteria of having a toilet and shower, so we're keeping it in here.
https://aliner.com/campers/lxe/
Length: 15ft
GVWR: 3,000 lbs
Price: $27,999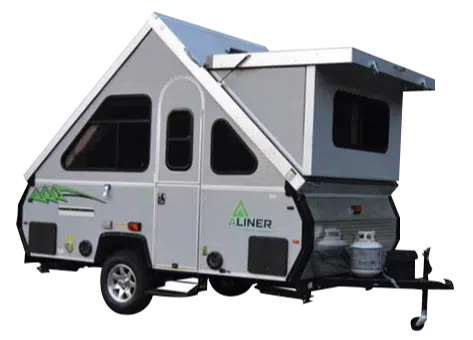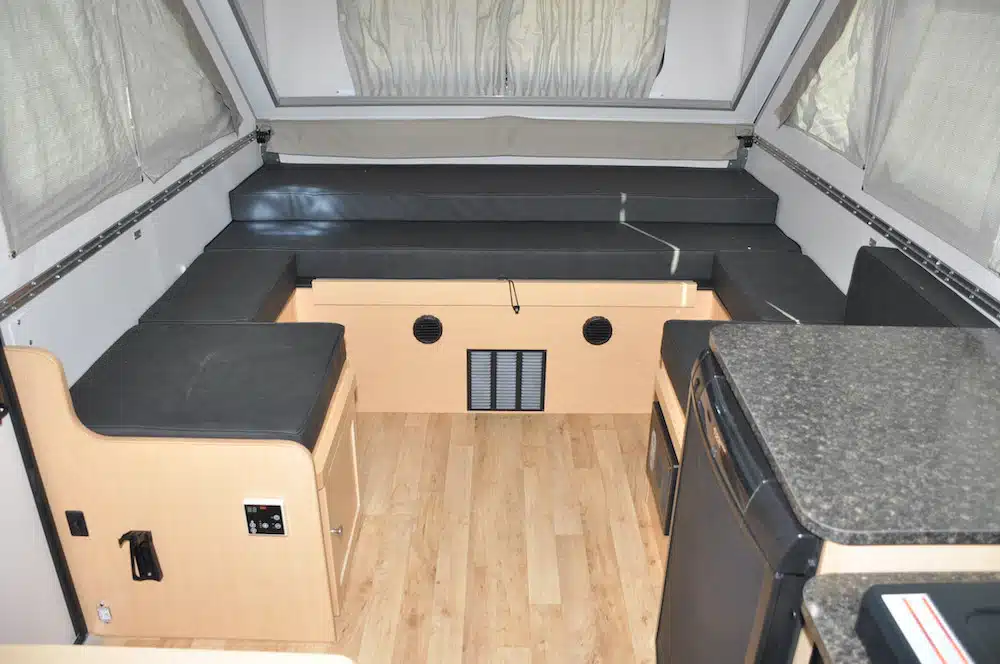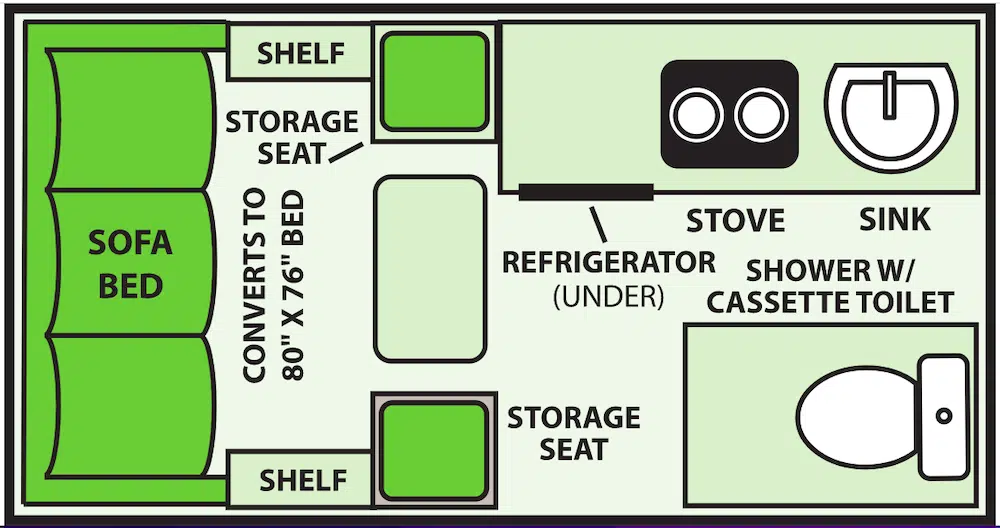 Also check out the 'Expedition' and 'Family', as they are the other two models from Aliner that include a bathroom.
Atia RV GU147
We call these pop-top caravans in Australia, and they are super popular. Small, light and with the roof being able to be lowered down, they fit nicely into a garage or carport when not in use. 
That's what the 'GU' stands for, 'Garagable Unit'.
http://atia-rv.com/atia-rv-garagable-unit-gu/
Length: 14ft
GVWR: 2,700 lbs
They have a few other floor plans and lengths (right up to 18ft), all of which would fit into our lightweight category.
Braxton Creek Bushwhacker Plus
Everything you need and want, all in this lightweight travel trailer package.
https://www.braxtoncreek.com/model/bushwhacker-plus
Length: 15'6
GVWR: 3,000 lbs
Price from: $14,990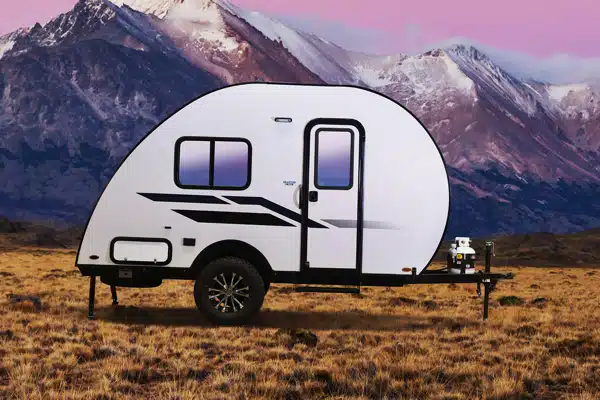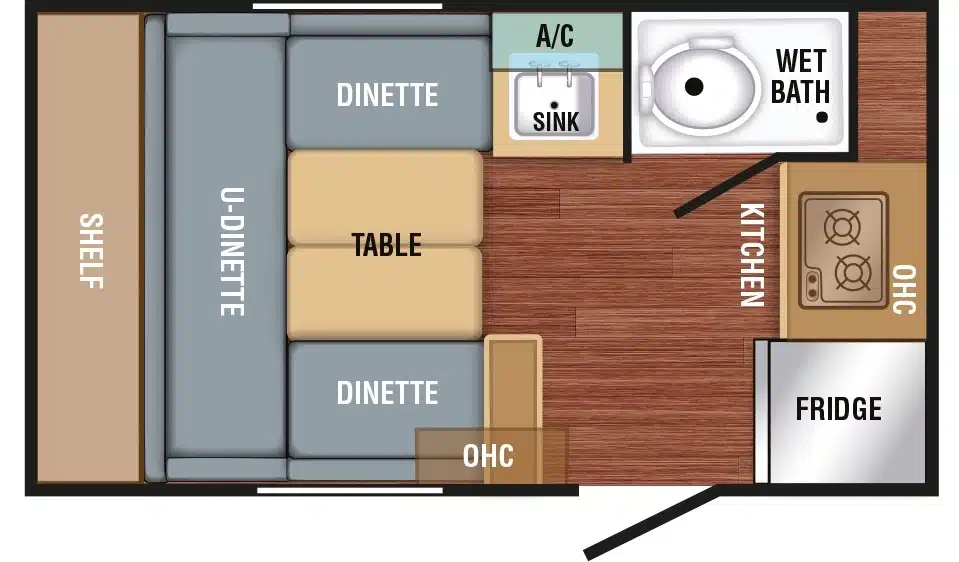 Casita Spirit Deluxe
I'm sure you knew this one was going to be in this list. Am I right? These little fibreglass travel trailers are known for being small and light travel trailers.
I'm so, so, so glad to see the upgrade in the interior decor too!
https://casitatraveltrailers.com/spirit/
Length: 17ft
Dry Weight: 2,480 lbs (Only the dry weight is shown on their website)
Price: $32,694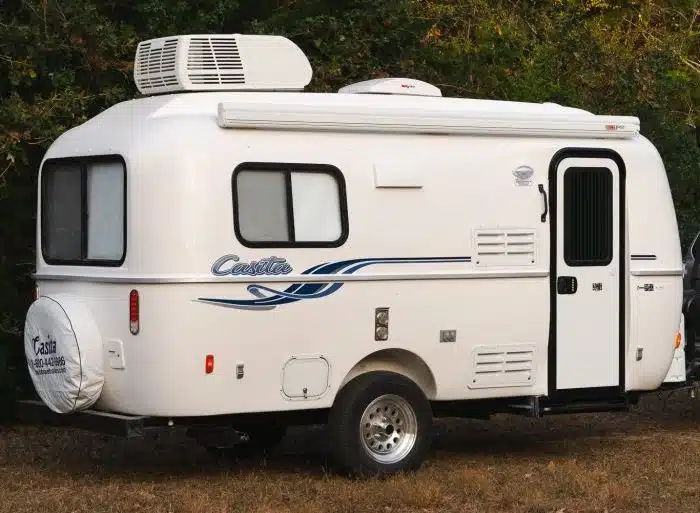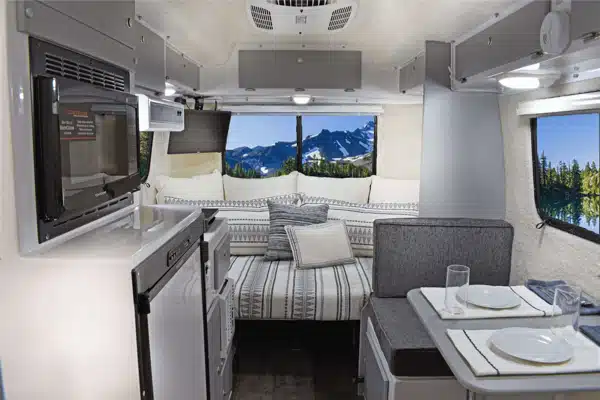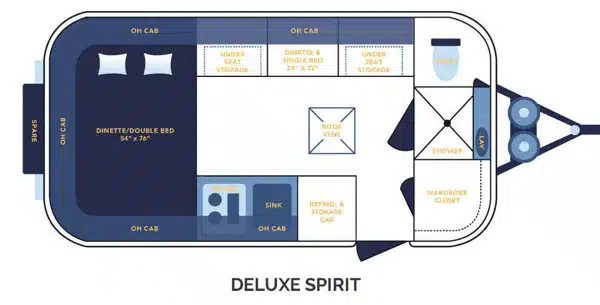 Casita have a number of different layout options, some with bathrooms, some without; but all of them would fit in the 'lightweight travel trailer' category.
Coachmen Clipper Travel Trailer 14CR
Having the dinette convert into the bed is what really gives this little trailer lots of space inside. Even though the bathroom is still tiny, at least it's not a wet bath so the shower is seperate from the toilet.
https://coachmenrv.com/travel-trailers/clipper-travel-trailers/14CR/7485
Length: 16'6
GVWR: 3,750 lbs
Price: $26,484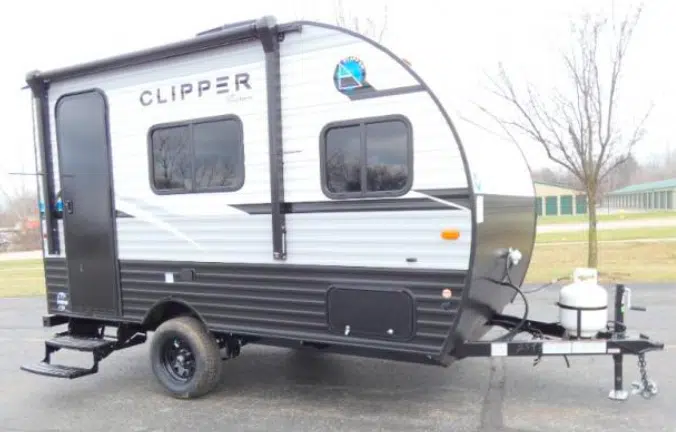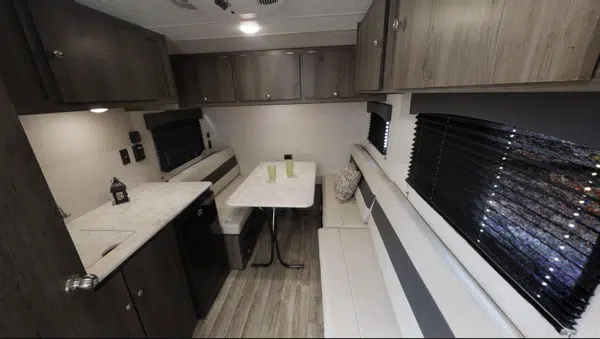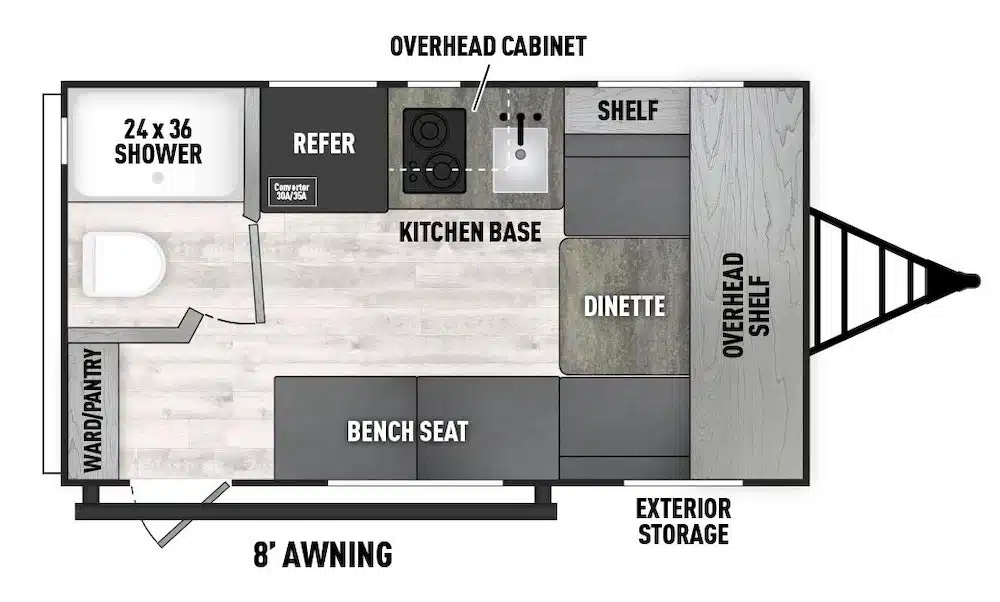 Forest River R-Pod 171 Ultra Lite Travel Trailer
Having everything you need in one tidy little package like the R-Pod… I would be very happy with this set up! (Admittedly, I do change my mind every third travel trailer or motorhome I look at. :-/)
https://forestriverinc.com/rvs/travel-trailers/r-pod/RP-171/968
Length: 19ft
GVWR: 3,252 lbs
Price: $22,900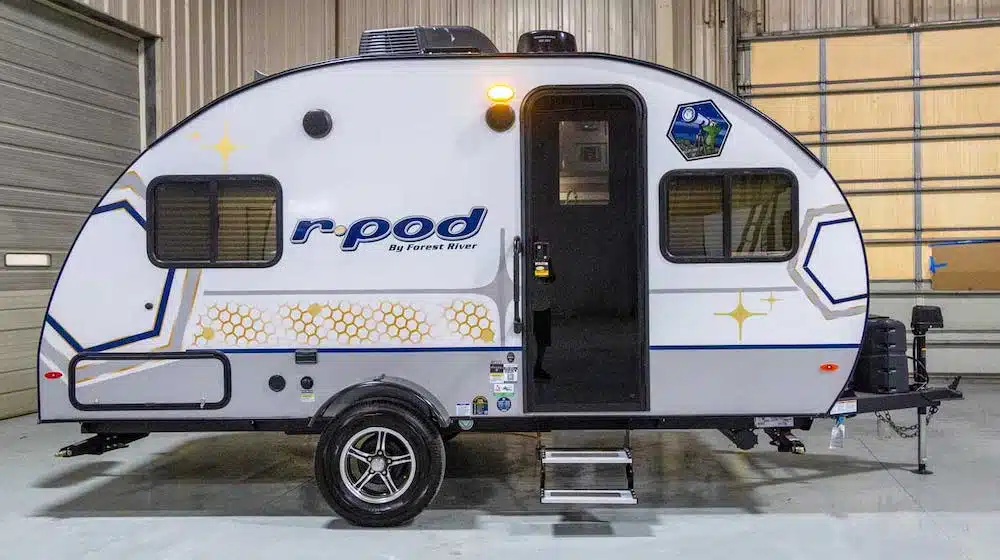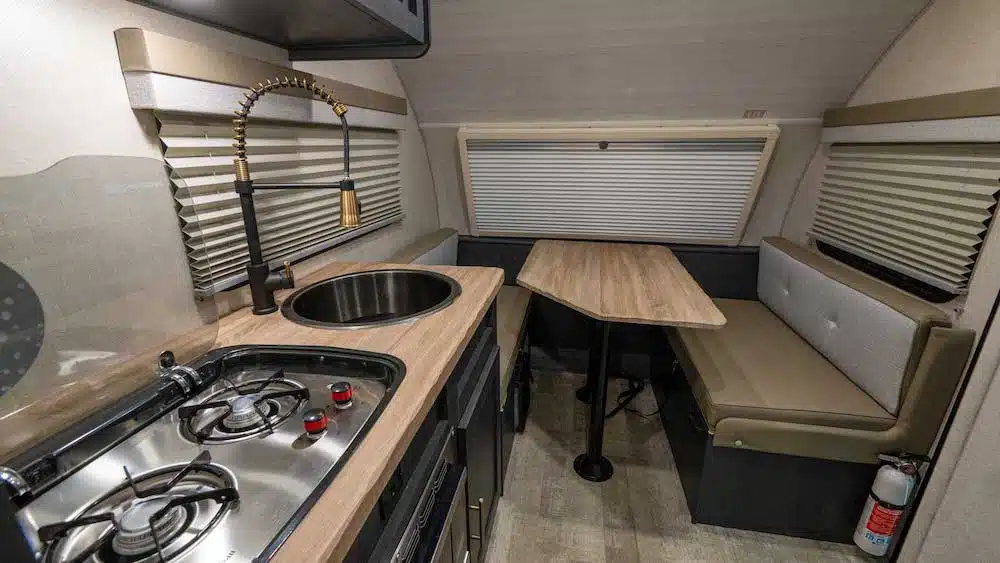 There are lots more R-Pod layouts for you to check out on their website too.
Another Forest River product to look at is the Flagstaff E-Pro. A bit heavier at 3,866 lbs GVWR but is still a lightweight. You can see the Flagstaff E-Pro here.  
Gulf Stream Ameri-Lite 14RE
Gulf Stream call this model a super lite weight travel trailer, and compared to most travel trailers with all these features, that name kinda fits!
https://www.gulfstreamcoach.com/products/light-weight/amerilite/model/14re
Length: 15'10"
GVWR: 3,800 lbs
Price: $25,963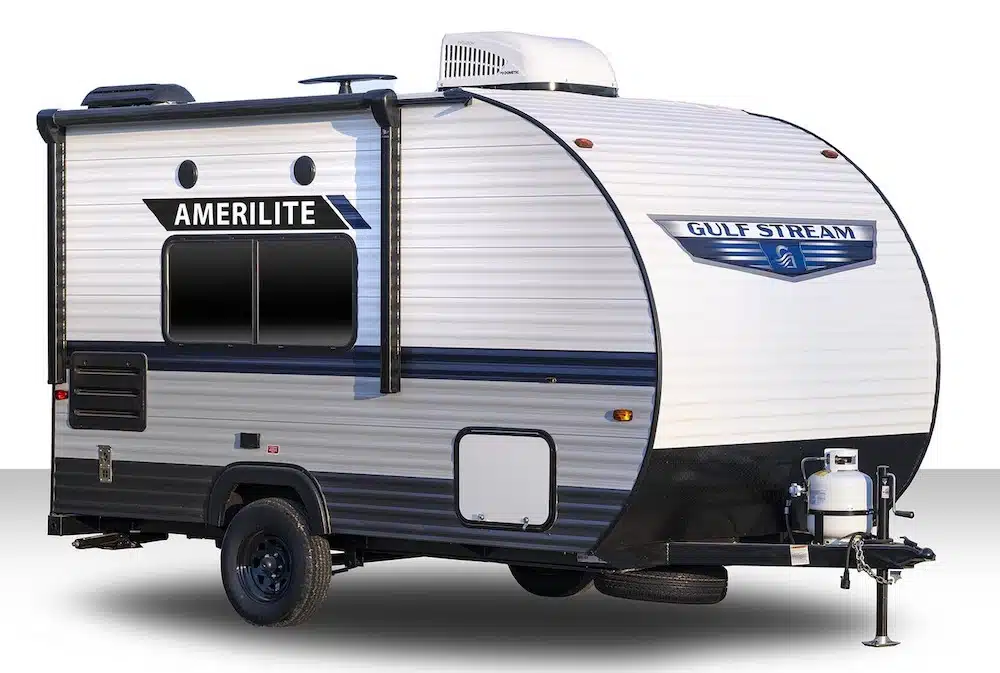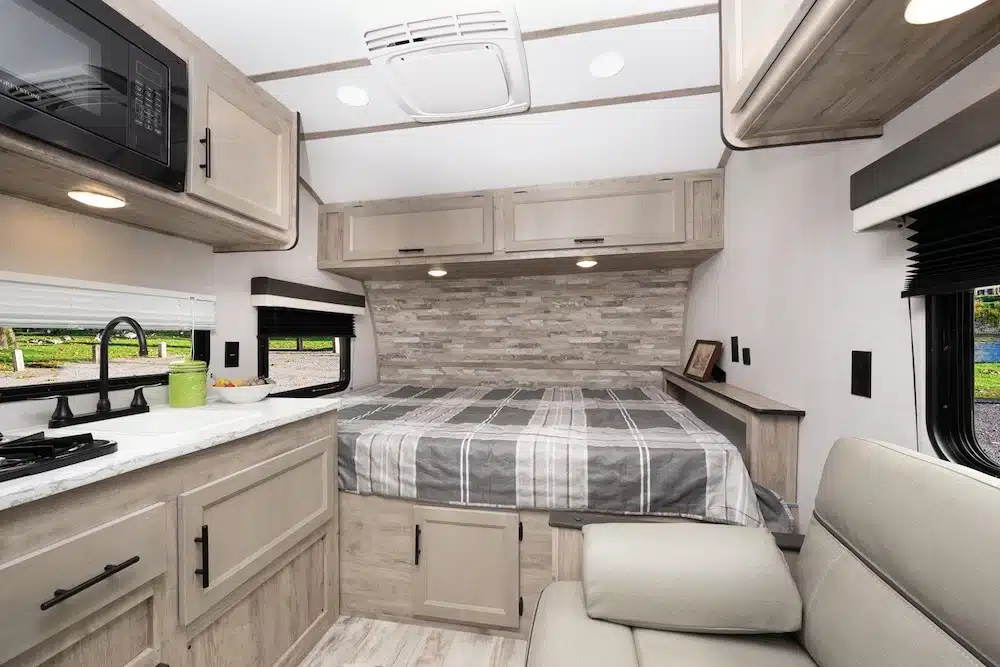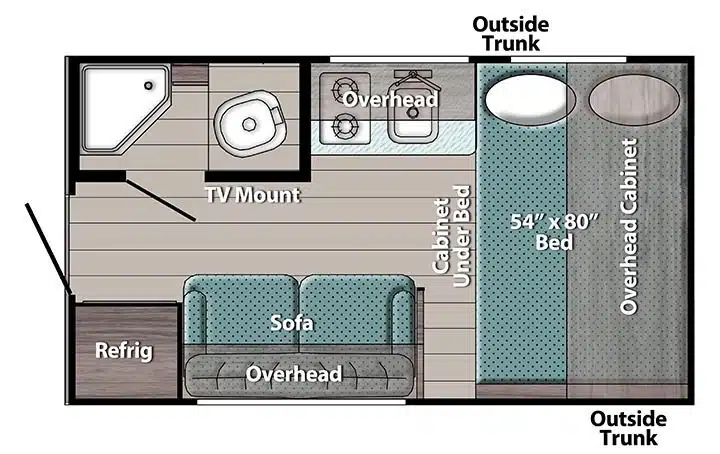 Gulf Stream make it quite easy to find all their lightest travel trailers. This overview page shows all the Ameri-Lite lightweight travel trailer plans and their weights.  
Helio O Series
These little travel trailers look like teardrop campers that have grown up! Still small and still cute, but these have the required bathroom and internal kitchen.
https://heliovr.com/ultralight-travel-trailer/
Length: 14ft
GVWR: 2,000 lbs
Price: $25,995
InTech Sol Dawn
With that huge panoramic window, it's easy to imagine living and working in a space like this. Maybe it wouldn't feel like such a small box when you can let so much of the outside in!
https://www.intechrv.com/models/sol/dawn/
Length: 16ft
GVWR: 3,500 lbs
Price: $26,900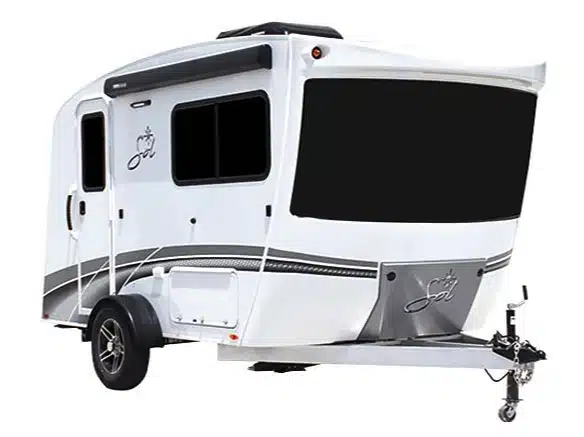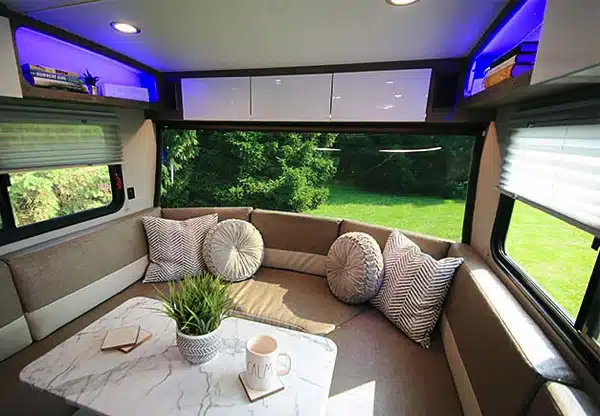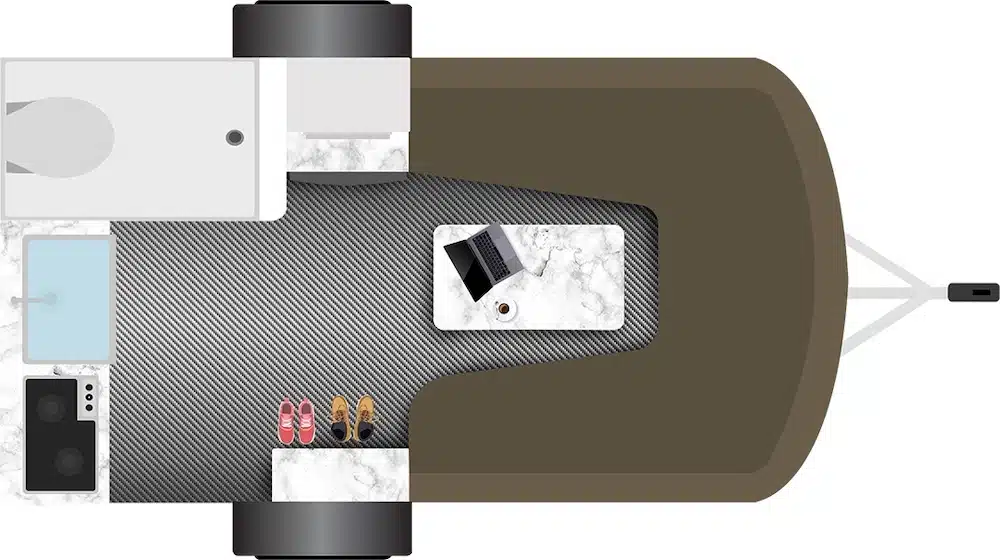 Jayco Jay Flight SLX 154BH
Here's one that could be perfect for families. The Jayco Jay Flight SLX has a dinette that converts into a double bed, plus bunks. There's even a small tub in the bathroom (with shower over) so little one's can have a bath if wanted.
https://www.jayco.com/rvs/travel-trailers/2023-jay-flight-slx/154BH-west/
Length: 18 ft
GVWR: 3,600 lbs
Price: $28,322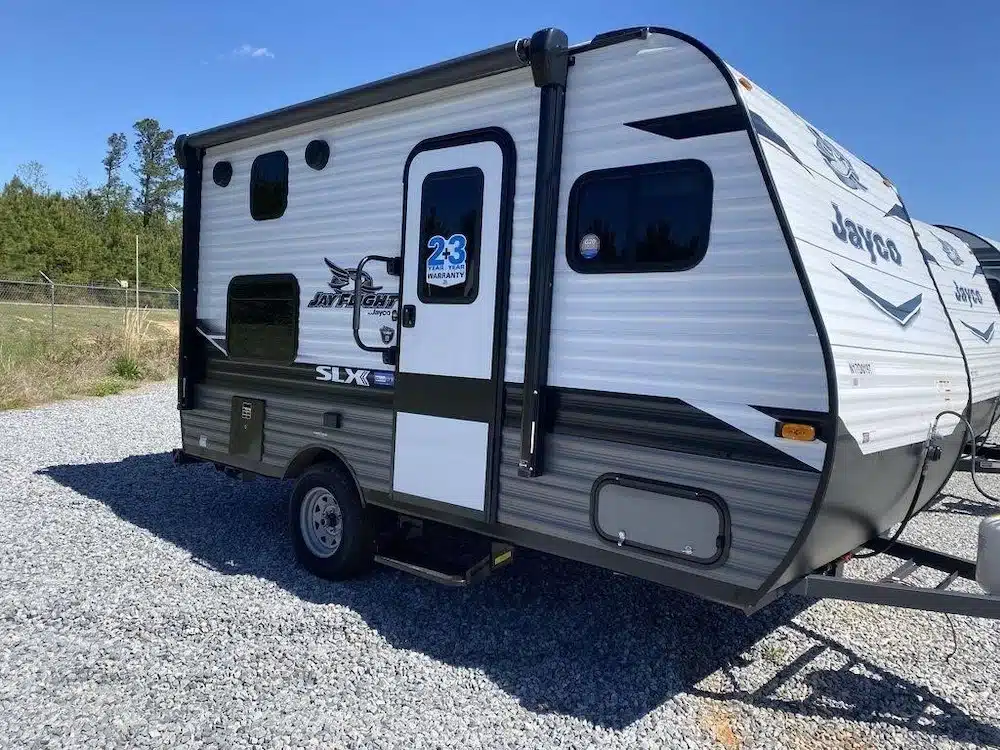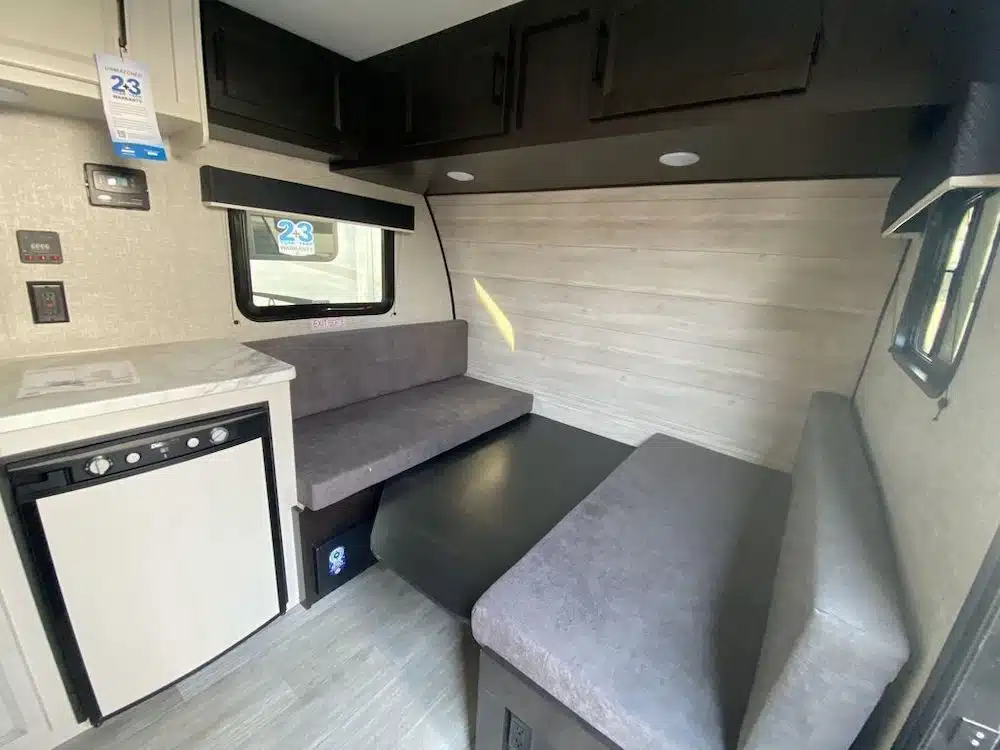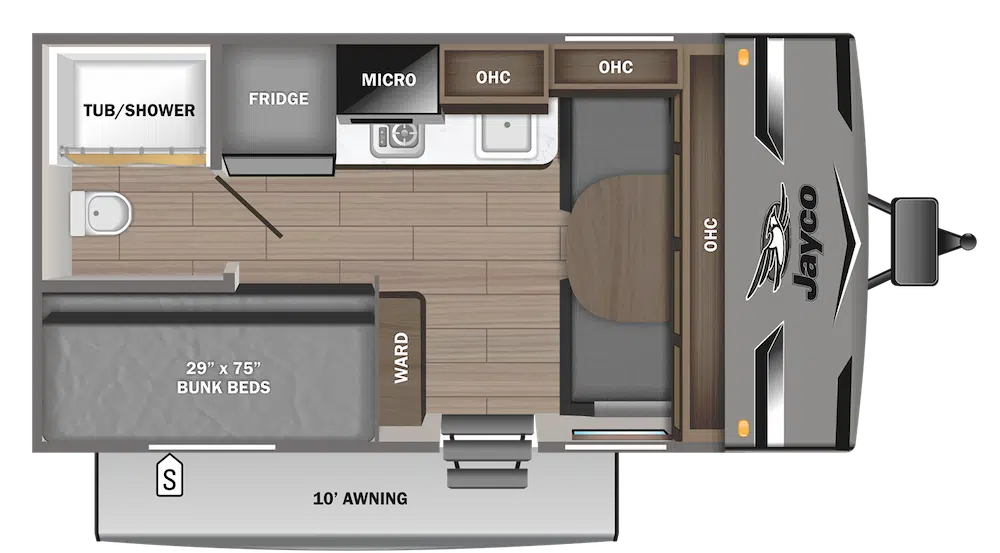 KZ RV Sportsmen Classic 130RB
With a layout that is familiar across many of these small travel trailers, the KZ RV Sportsmen packs it all in. A dining area that converts to a bed, a sofa/relaxing area, and a bathroom with a seperate shower and toilet.
https://www.kz-rv.com/products/sportsmen-classic-travel-trailers/130RB.html
Length:16'9"
GVWR: 2,800 lbs
Price: $26,777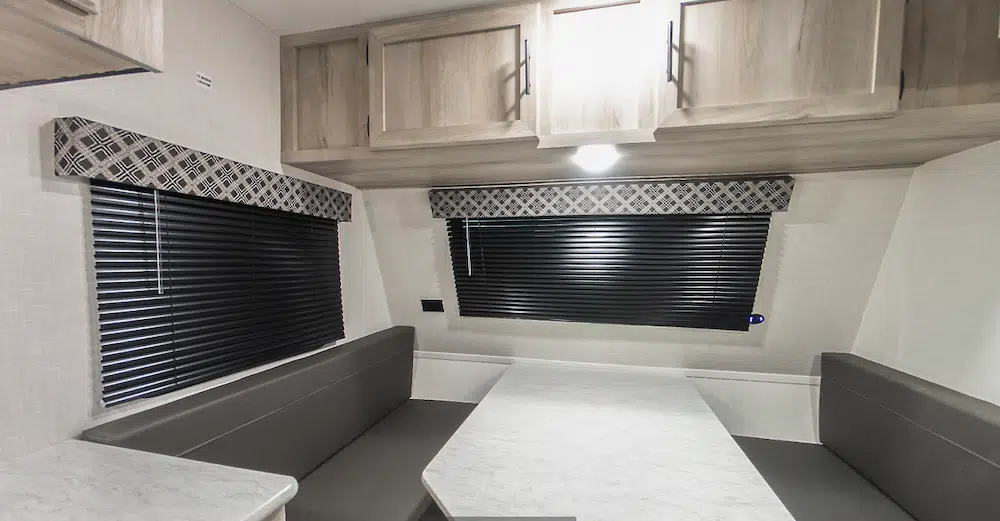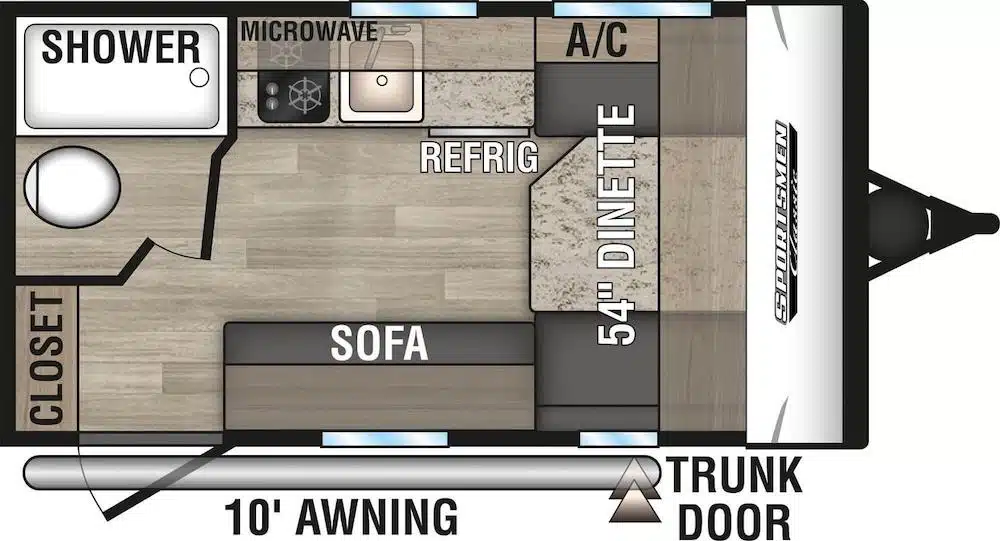 Lance 1475 Travel Trailer
It's quite refreshing to see the updated decor options on the Lance 1475 travel trailer. I'm sure there will be people who hate the new grey palette just as much as I hate the old brown palette, but I'm very glad to see some updates.
And those swivel captains chairs look for comfy!
https://www.lancecamper.com/travel-trailers/1475/
Length: 19'8"
GVWR: 4,500 lbs
Price: $37,000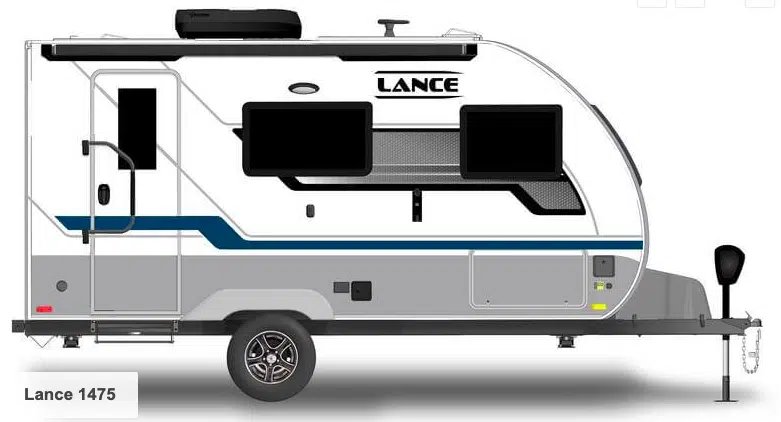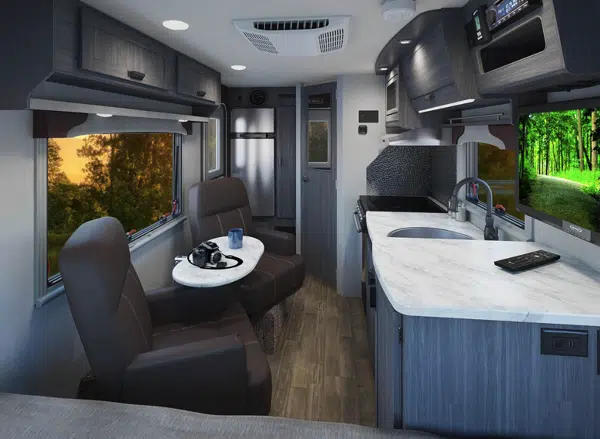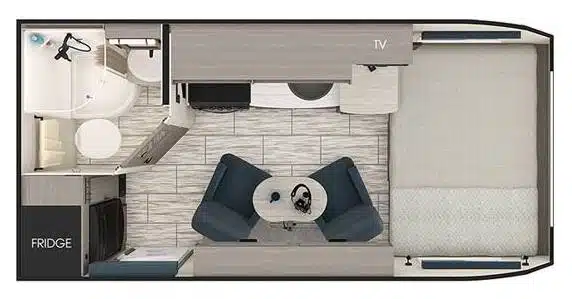 nüCamp TAB 320S
Now this is a tiny little number. But it's got the shower and toilet, and the inside kitchen, so it's on the list!
Length: 15'3
GAWR: 2,900 lbs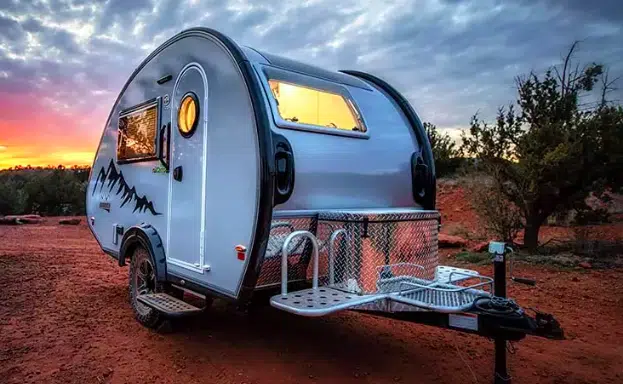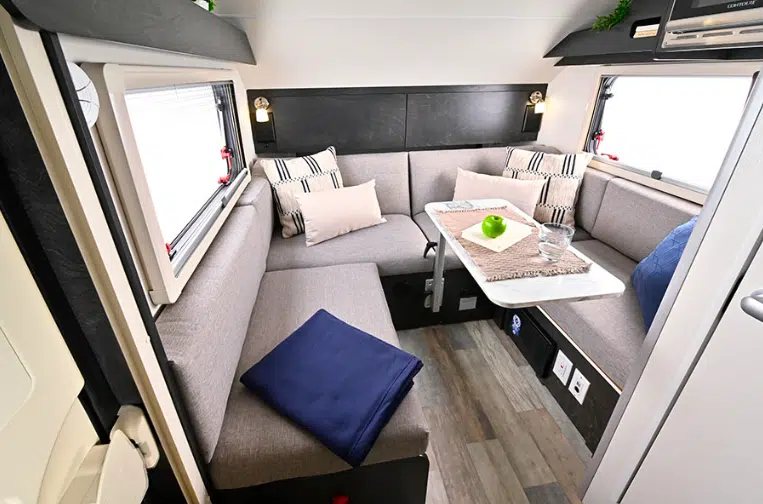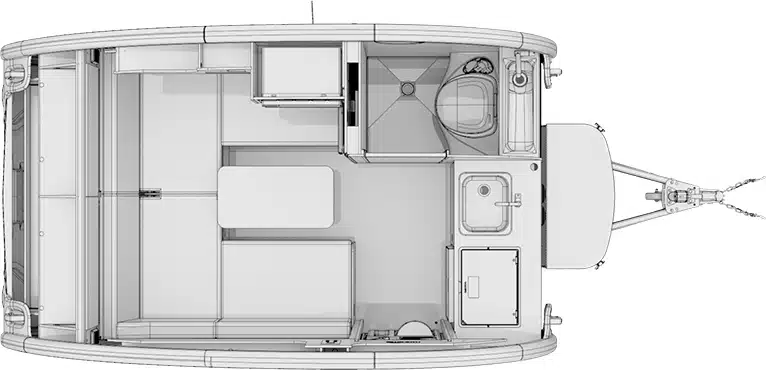 I really love the Tab 400 as well (which I wrote about in a post called: Small Campers that have everything you need) and it fits into the small and light criteria as well. 
Scamp
I am sorry if you're a Scamp lover… but I think the Scamps might just be the ugliest little campers I've ever laid eyes on. Both inside and outside they look horrendous! (Personal opinion, of course). 
BUT - I can't help but acknowledge just how compact, functional and practical everything is. 
These fibreglass trailers are just 16ft yet manage to contain everything you need. And being made of fibreglass, I'm guessing they're insulated pretty well too.
https://www.scamptrailers.com/showroom/16-deluxe-trailers
Length: 16ft
GVWR: 2,600 lbs
Price: $18,795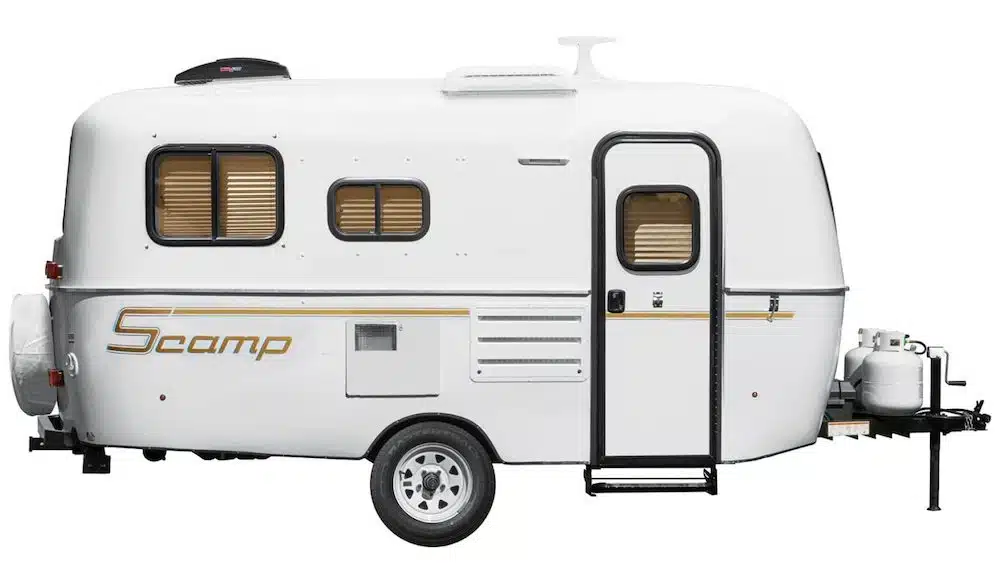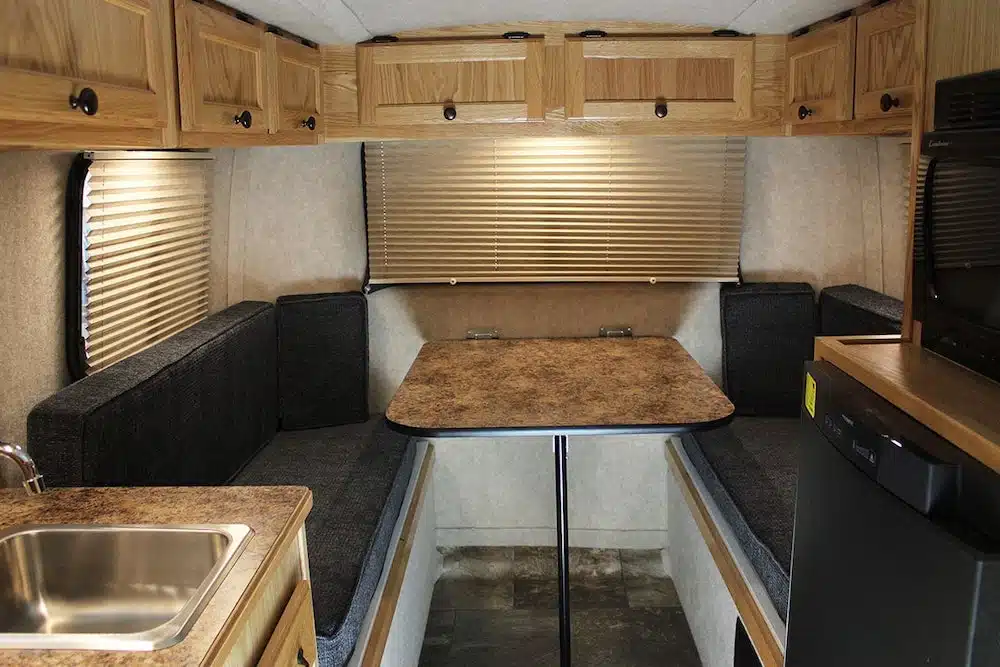 Travel Lite Rove Lite
Now that we're at the end of this list, there's not too much left to say about the  Rove Lite. 
It has a nice modern-ish interior and everything you need.
https://travelliterv.com/rvs/2023-rove-lite-travel-trailers/
Length: 16'6"
GVWR: 2,500 lbs
Price: $24,064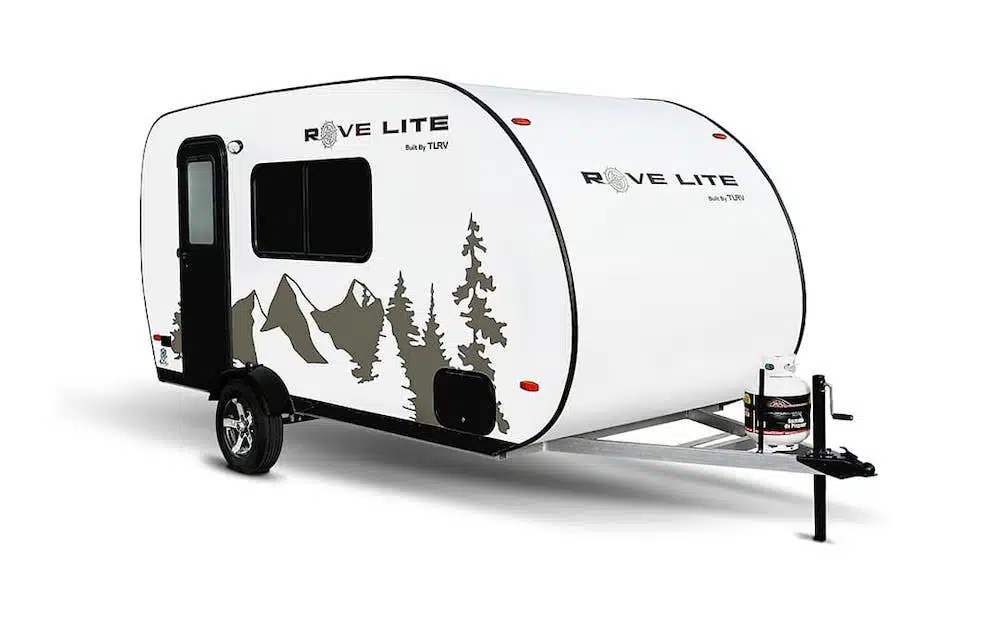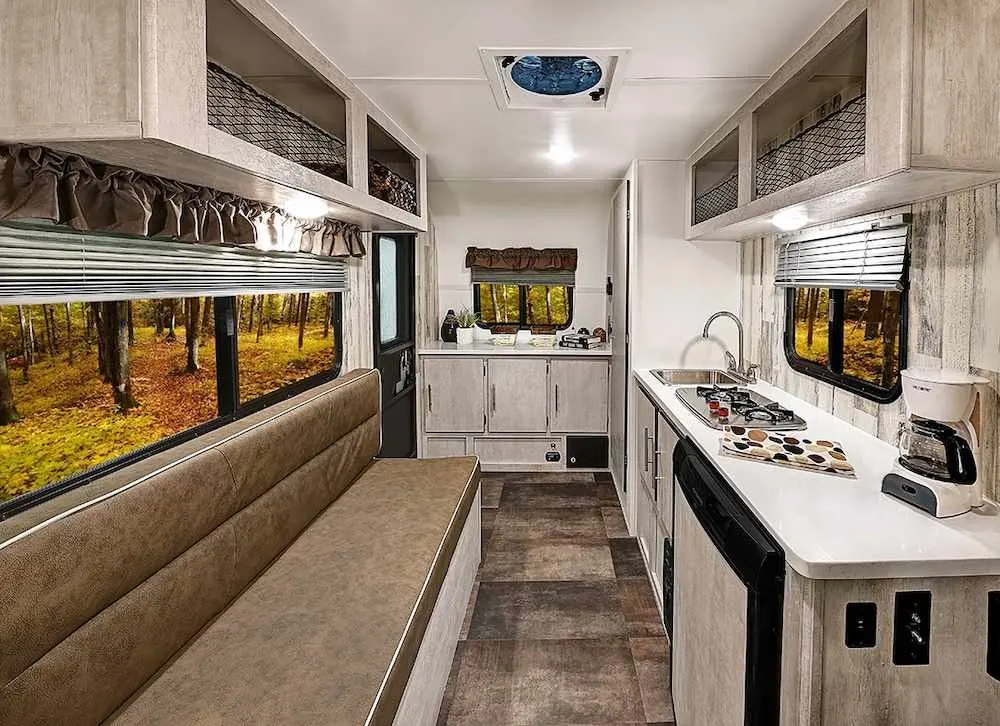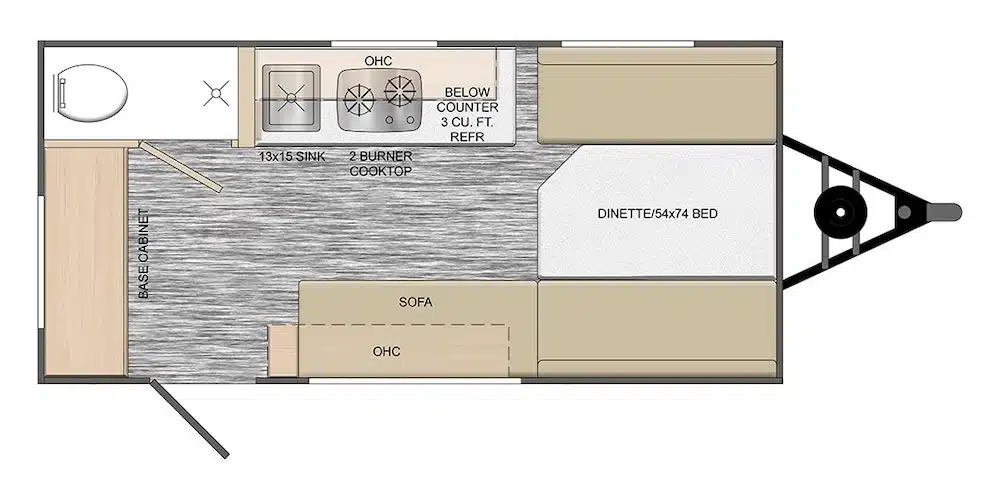 What is the lightest travel trailer with a bathroom?
According to this list, the lightest travel trailer with a bathroom, is the Helio O Series. It's a teeny tiny wet bath, but heck, in a trailer this small there's no way it could be any bigger!
And there we have it. All the lightweight travel trailers with a bathroom, that I could find online.
Do you have others that I should add to the list? Don't forget, they don't have to be ultra lite travel trailers, but they should be under 4,000 lbs GVWR and less than 20ft long.