I'm so jealous of the owners/designers/creators of these fifth wheel renovations.
I'm totally impressed with fifth wheels, they look spacious (oh so much space) and have designs to make sense.
The reason I'm jealous?
Here in New Zealand and Australia, we don't have very many fifth wheels. They're much bigger than anything that almost anyone has here. At a guess, Austalia is all about the caravan (travel trailer) and New Zealand is all over the motorhomes and campervans… mainly campervans. (New Zealand is FULL of narrow, windy roads; I mean the longest straight stretch of road in New Zealand is a mere 13.7km (8.5 miles) and small campervans are more suited to the terrain than large fifth wheels or Class A motorhomes.)
So when I see a fifth wheel… I can't help but be impressed by them. When I look at renovations and realise that these fifth wheels were purchased for a bargain and renovated on a budget, I go all googly-eyed with jealousy!
But just because you won't find any of these in Australia, doesn't mean I can't compile a list of my favourites and share them all with you.
Prepare to be impressed…
FiddyStates.com
Megan & Drikus are a young couple from Perth, Australia that decided to take six months off work, go to North America and buy a fifth wheel and truck and travel to all 5o states of the USA (including a stop off in Hawaii on their way home). If that isn't enough, they also decided to renovate the fifth wheel before heading off on their travels. This is a fabulous looking renovation, and it only took them three weeks.THREE WEEKS!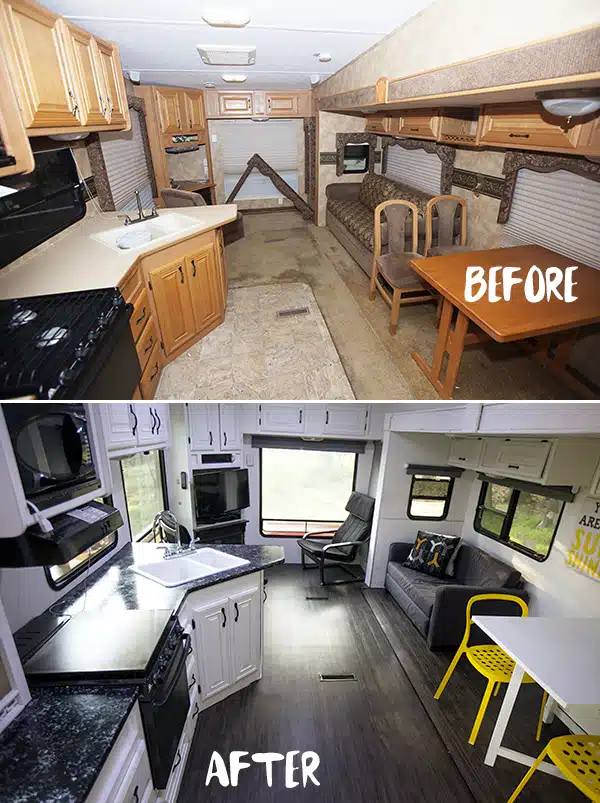 See all the pictures over on their website: FiddyStates.com, where you can also read about their journey.
188sqft.com
Kevin and Mandy took the plunge back in late 2015 to forgo the conventional life path of newlyweds in their twenties. Wanting to travel, but also wanting to rid themselves of student debt, they decided that a fifth wheel allowed them to own their own home (for a fraction of the cost and paid for in cash!) and still not be tied down to any one location.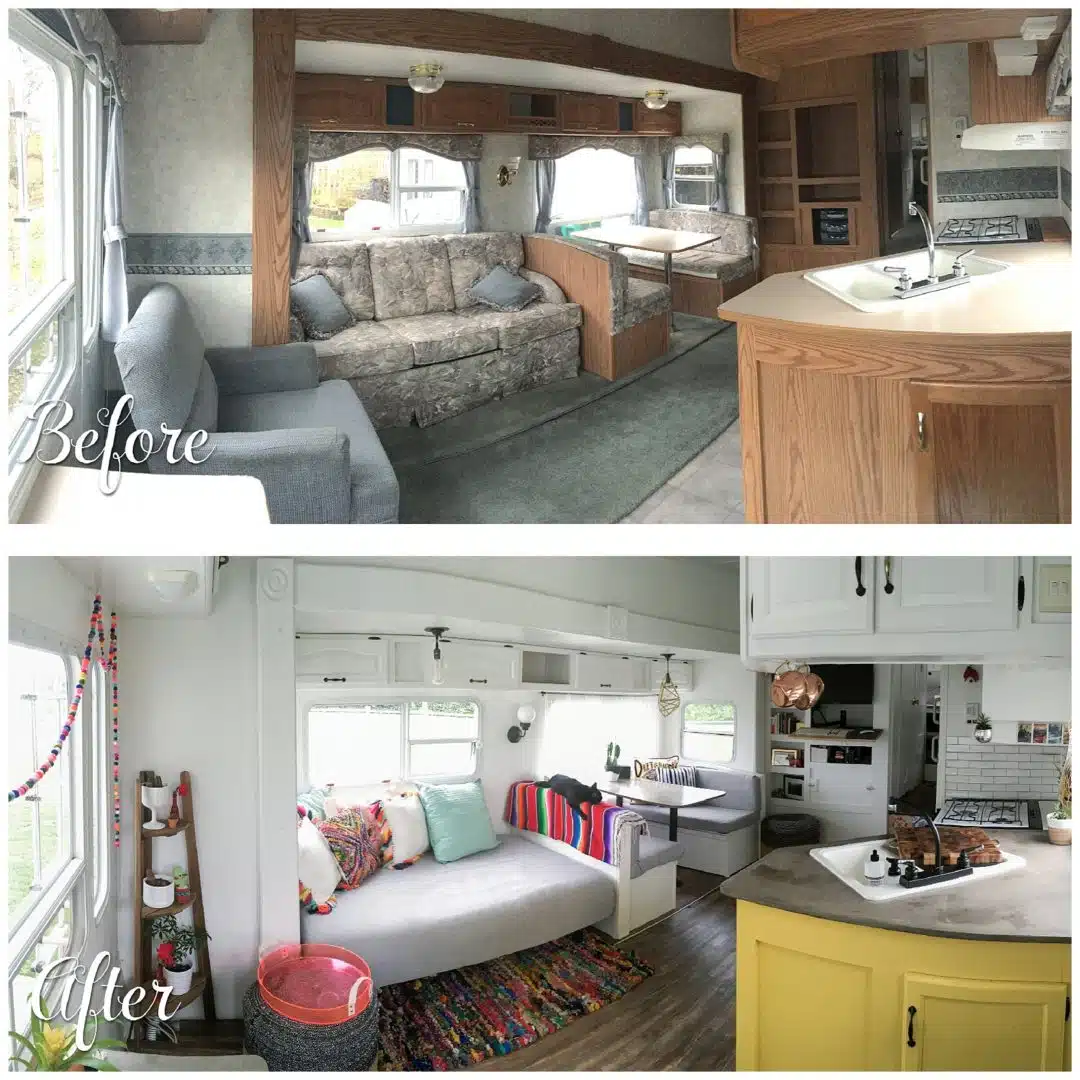 Head on over to Mandy and Kevin's blog at 188sqft.com where you can see lots more pictures of this cool renovation… and their delightful family of four furry kids.
DownEmoryLane.com
Although Lina and her husband are now exploring the sights of northern Italy (their new, temporary home) they first bought and renovated a fifth wheel camper to live in while they built their dream house on land in North Carolina.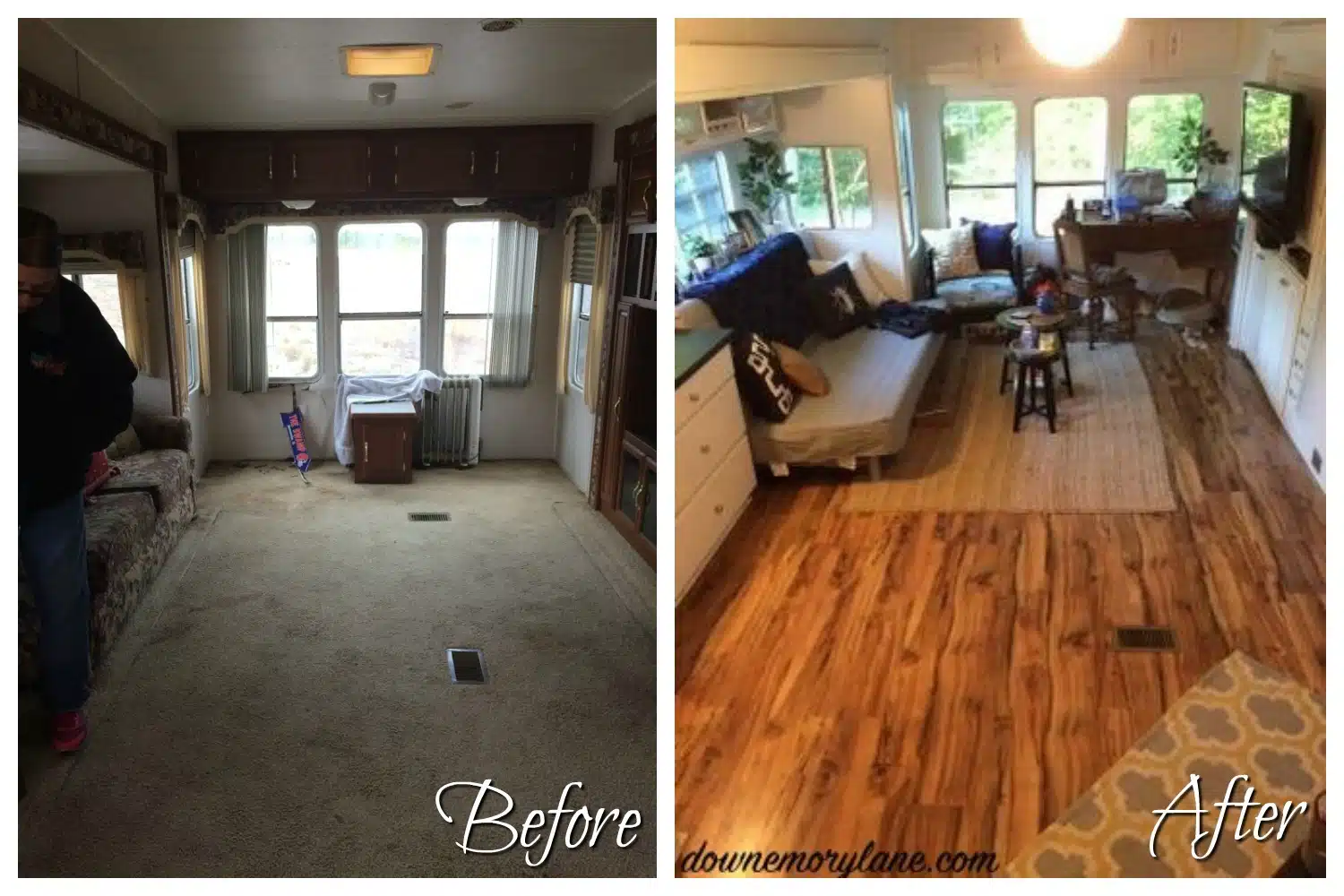 They've turned a pretty boring looking fifth wheel into their own home and added some really innovative ideas to make the space their own. Check out Lina's blog at DownEmoryLane.com for more pictures of the renovation and some great storage ideas.
If you're interested in renovations, check out these other awesome renovations:
ChelsieAntos.com
Chelsie and Ryan decided to spend 8 months travelling around USA and  sharing the story of their amazing enterprise TradesofHope.com (a company that empowers women out of poverty). To do this trip they renovated a fifth wheel into a chic and stylish home on wheels.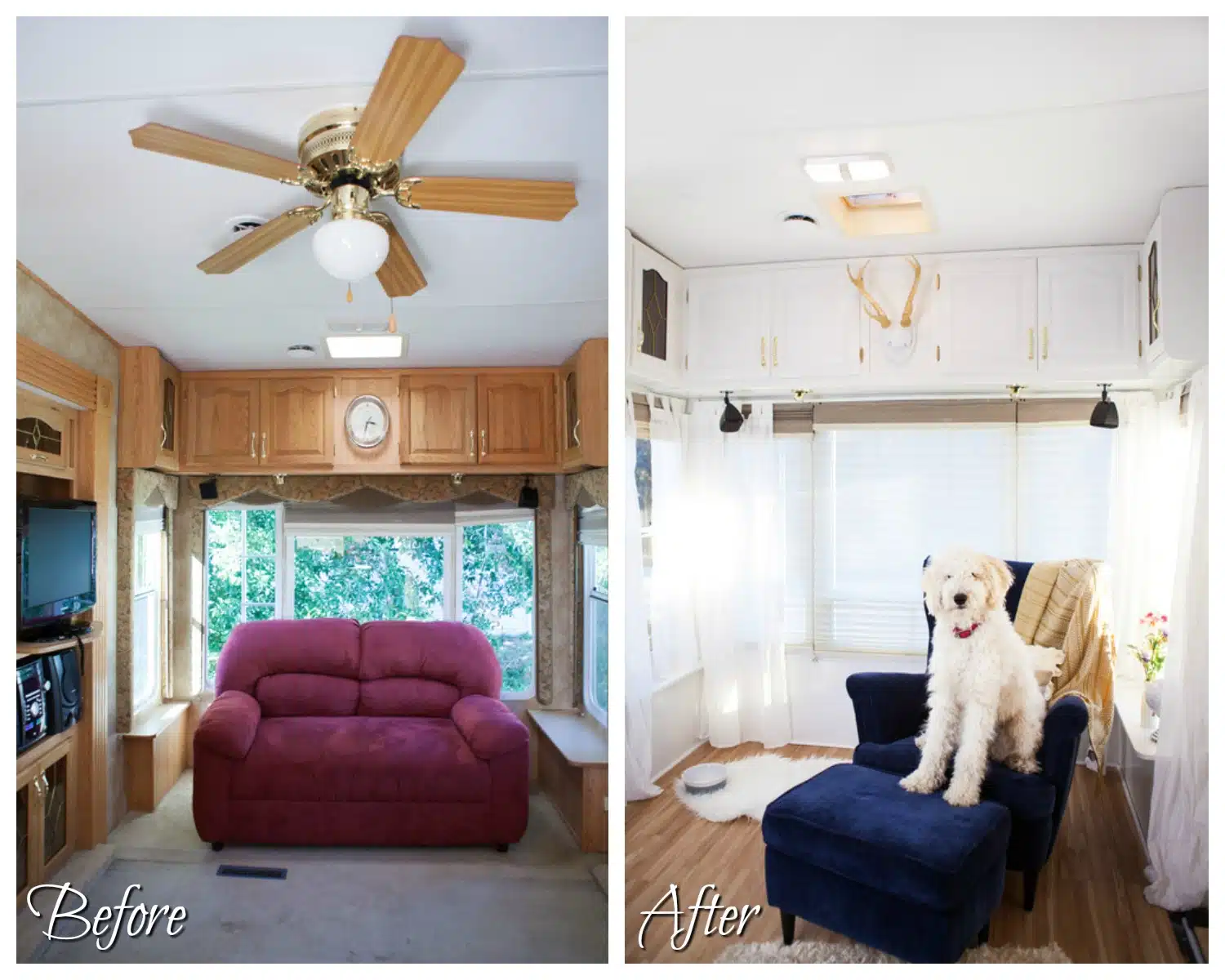 They've got a lot more delightful photos over on their website, so be sure to check them out at ChelsieAntos.com.
FollowTheHighLineHome.com
An unconventional couple, with an unconventional love story, living an unconventional life. That's the life of Stephanie and Jim, who live full-time on the road, following Jim's job around the country as he works as a Journeyman Lineman. They've renovated their fifth wheel into their own haven on wheels.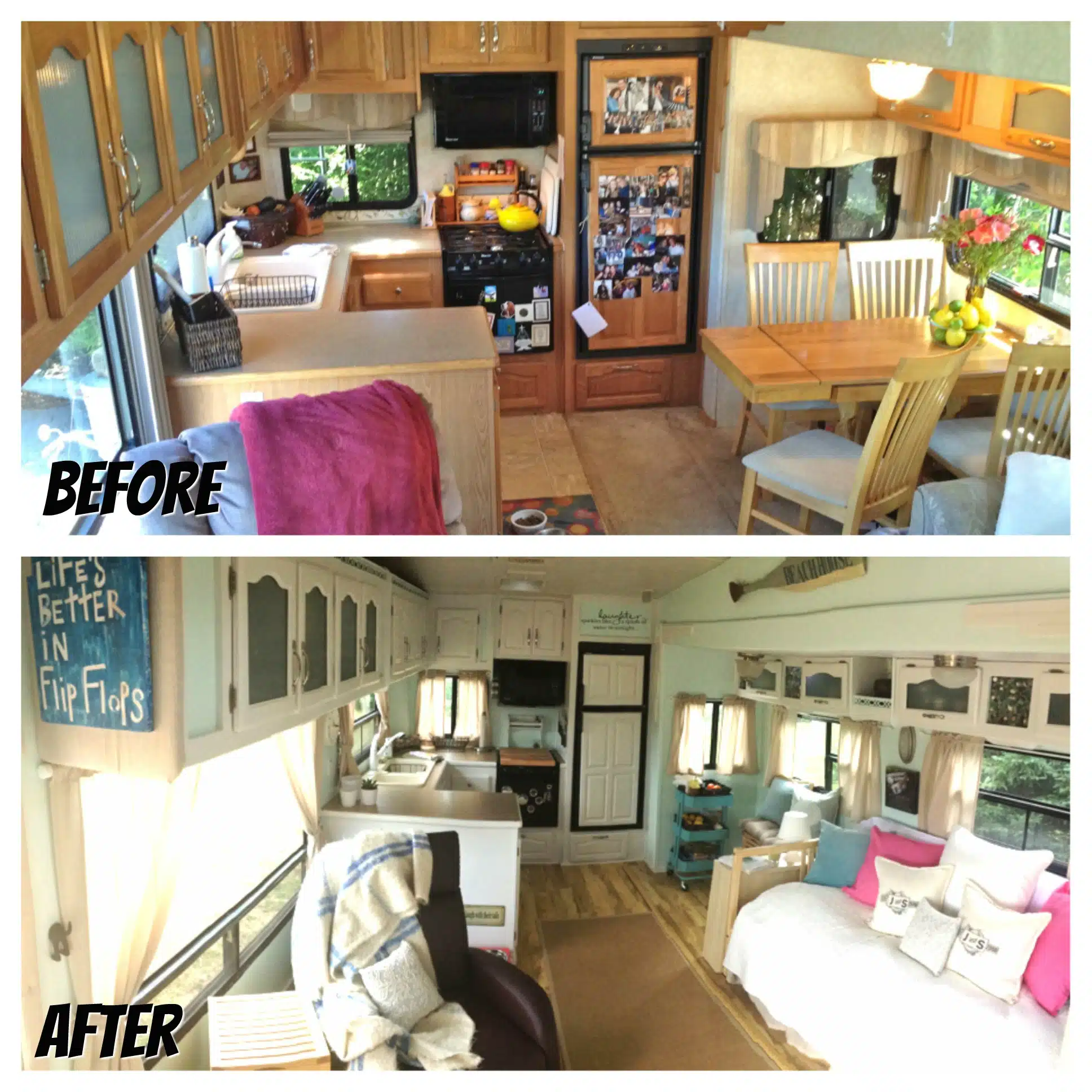 You can follow their journey as they travel around the country, and see more photos from this renovation. Check out their blog: FollowTheHighLineHome.com
NewSchoolNomads.com
Jenn and Brent decided that a stationary life was not the life for them. So they set off with their two sons for a year on the road in their fifth wheel. Prior to leaving, as you do, they renovated the second hand fifth wheel, and transformed their brown camper into a bright and cheerful home on wheels.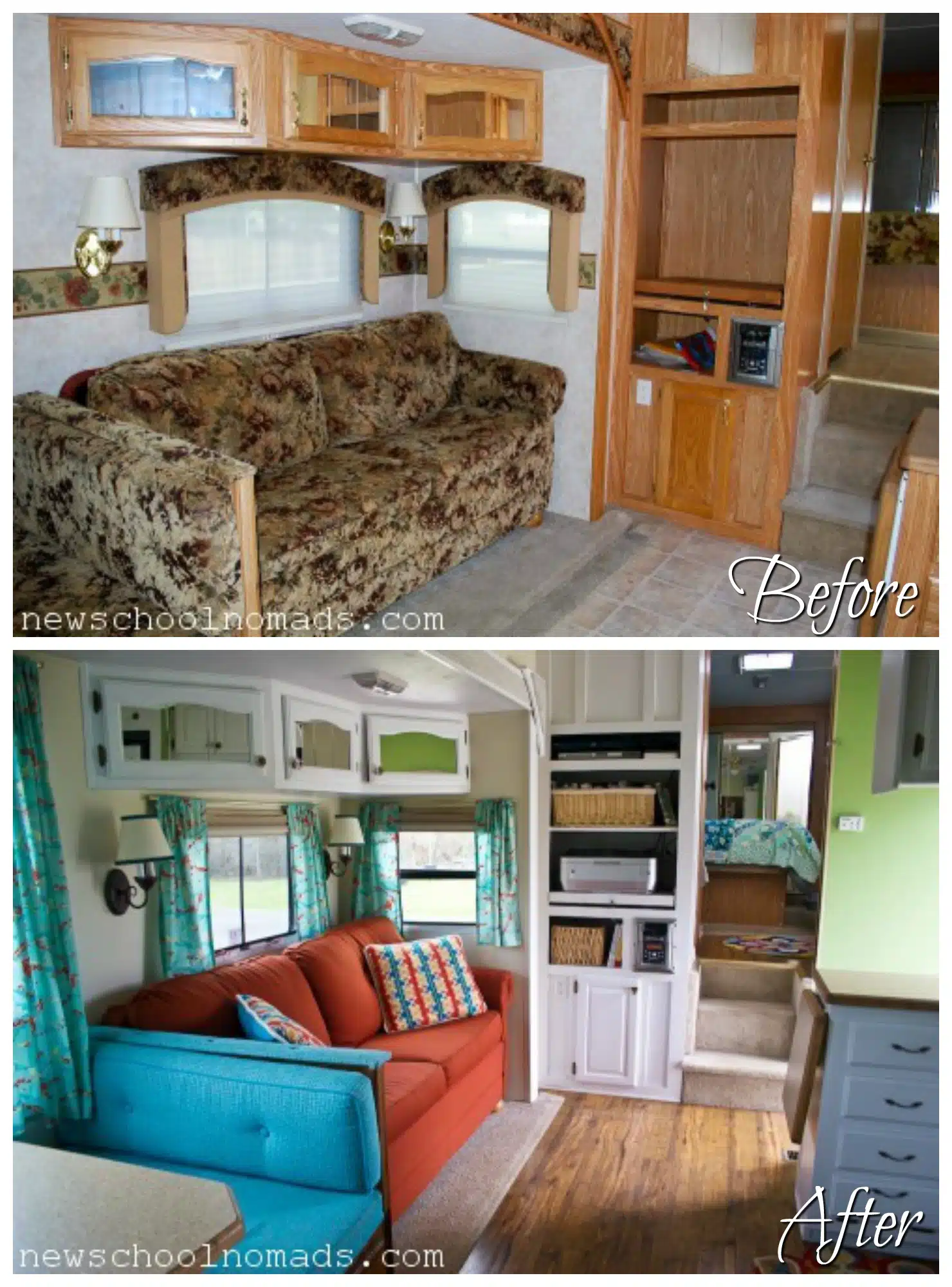 You can see more details about their renovation, and follow their amazing journey over on their blog: NewSchoolNomads.com.
How do you like them renos, huh?
I love the idea of living in something as big and spacious as a fifth wheel, they really do look like an apartment on wheels to me. And when you're able to design the space to suit your lifestyle, and change the decor to suit your tastes, it just seems too perfect!
But like I said, they're a rarity here in NZ/Australia so it's going to have to be another time, another place.