Just the other week, someone emailed me and told me about the T@B 400, the new offering from nüCamp that is one of those small campers that have everything you need.
It got me thinking, since we set off on this road trip around Australia I've been totally focussed on what is available here in Australia. There's a big difference between what we can get here in Australia and New Zealand, compared to the rest of the world.
But it was the dream of RVing around the USA that first got me excited and, well, obsessed with RVs. And so here, I'm going to look at what I think are the best small campers that have everything you need.
(Side note: I've also delved into small campers from the rest of the world. You can check out that post here.)
So that we have an even playing field, here is my criteria:
My idea of 'everything you need' includes a toilet, shower, kitchen sink, stove, fridge, somewhere to sit and somewhere to sleep (Preferably separate so one of us can sleep while the other stays up binge-watching 3 seasons of Gotham … <cough cough, Ben> )
For two adults (a couple)
As small as possible. In Australia and New Zealand we don't do anything as big and spacious as the rigs in America, so we're used to small and nimble, and prefer it
Tall enough to accommodate my 6'2″ husband
No slides (or if they do have slides, everything must still be able to be fully utilized while the slides are in)
Available in the USA
New
Off-grid ability (boondocking, free camping, freedom camping or whatever you call it in your country)
Note: I'm not limiting it to one type of RV. I've included travel trailers, truck campers, Class B & C and campervans. (Mainly because we don't know which one we'd prefer yet)
Small Campers That Have Everything
And so here we have my favourites:
T@B 400 by nüCamp RV
As I mentioned, I only found out about this a couple of weeks ago when a reader emailed about how small but rugged they are and how perfect they'd be for testing out in our harsh Australian environment and roads. I couldn't agree more!
At just over 14ft this is a little number that fits in a surprising amount. So often I see RVs where style has given way to functionality, but this little beauty manages to have both!
I love how the dinette is tucked in behind the wet bath, but it's shaped so that you can still slide in and out of your seat without too much contortion.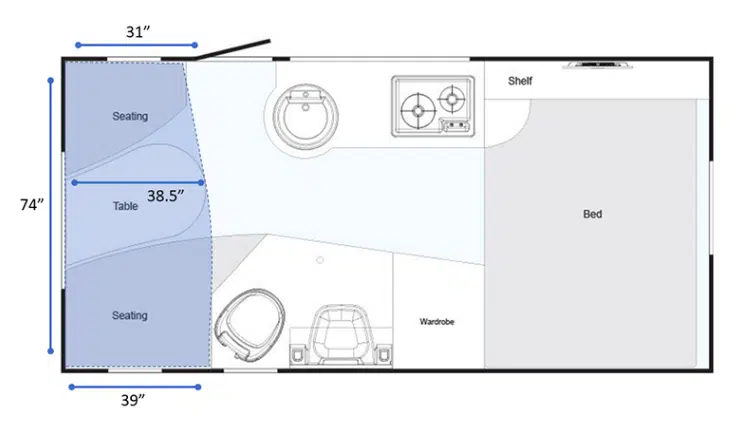 Check them out on the nucamprv website.
While you're there, totally check out their Cirrus Truck Campers too. I'm a bit 'up in the air' about whether I would go with the trailer or the truck camper, as both allow you to plonk your home down and use your vehicle for daily adventures. What would you do?
840SBR Truck Camper by Travel Lite
How about being able to take your home anywhere that your truck can go?
This truck camper by travel lite manages to pack in everything that I would deem important, into a small, well-thought out space. It's a bit hard to gauge the space from an internet connection on the other side of the world, but it looks like this camper would be adequate to fit both my husband and I, without too much squishing past each other.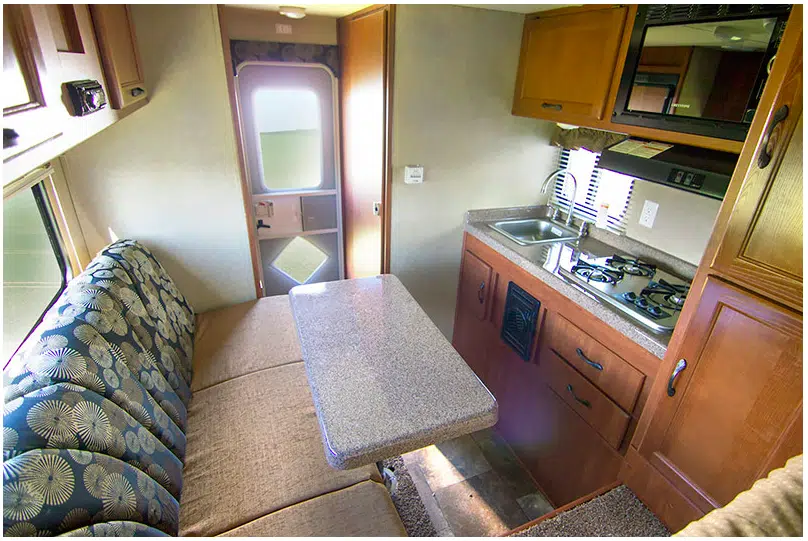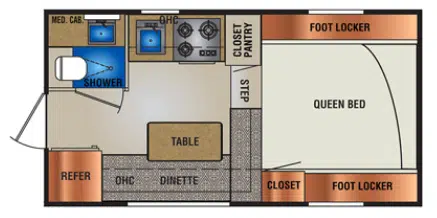 I like how the decor is non-fussy (although, it could still do with being brought into the current decade <sigh>) and the layout simple.
You can see this rig and quite a few others (including larger, smaller, with slides and everything) over on the Travel Lite website. Go check them out.
Sport by Airstream
Ah, that classic airstream shape and shine. The smallest model in their range (but that still has that beautiful shape I adore) is the Sport and it has a fairly common layout. But that's where the similarities to other small campers end. Airstream manage to look so freakin stylish while packing all the mod-cons into their well-made vehicles.
I have looked at their two others offerings for the small RV market, the Nest and Basecamp, but both are a departure from the silver bullet and since you're paying the Airstream prices…I'd be wanting the classic Airstream shape.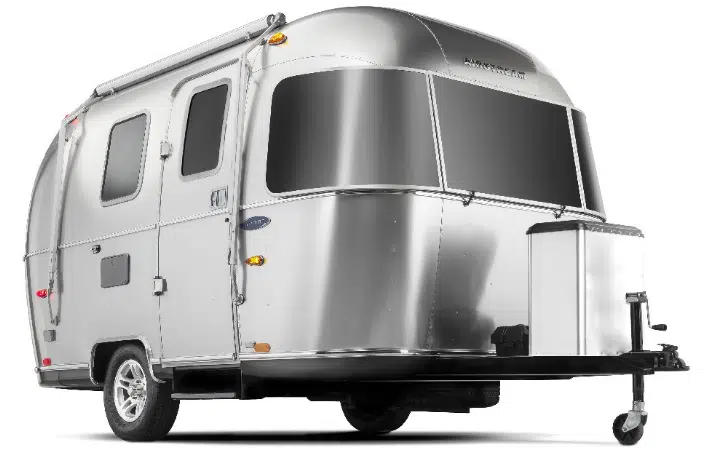 You can see the Sport over on the Airstream website.
On a side note… Airstream are now in Australia! airstreamaustralia.com.au
Sportsmobile Custom Camper Vans
Unless I'm missing something, there really doesn't seem to be as much variety available in these smaller Class B /Camper Van vehicles. Yes, there are the new models being brought out by the big players, like:
Winnebago Revel
Hymer Aktiv and the
Airstream Touring Coaches
And then you've got:
Leisure Travel Vans and
RoadTrek
And that's it.
It seems that one of the most popular options for this size vehicle, is to buy a van and convert it yourself.
Well, for those who love the idea of being able to design their own perfect layout, but not having to do all the work yourself, check out the Sportsmobile website where you can choose your van and design your own layout and order it from them. Awesome!

You can either choose one of their standard layouts, or you can log into their online builder and play around with every layout your heart desires. Like I said, awesome.
Check out Sportsmobile here.
Hummingbird by Jayco
Here we're getting into much the same layout as we see in many, many other RVs. Obviously it's a layout that works; you can have your seperate bed and sitting area, a bathroom, kitchen and storage space. TBH, I'd be pretty darn happy with this layout.
What I wouldn't be happy with though? That cacophony of browns and swirls and patterns.
Please, please PLEASE, would the RV industry in America please catch up with what the rest of the world is doing? You don't have to subject yourselves to these hideous colours and patterns that leave us all wanting to close our eyes till it's over.
Back to the Jayco, here it is: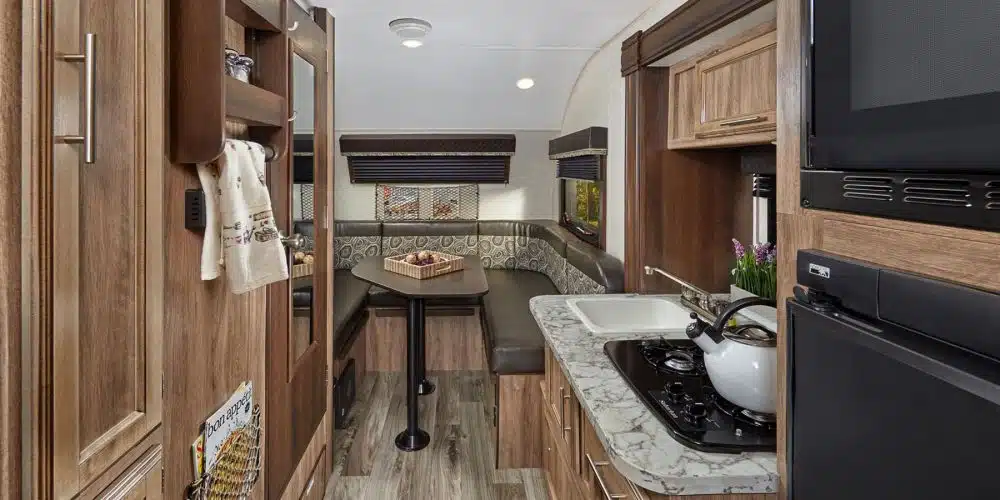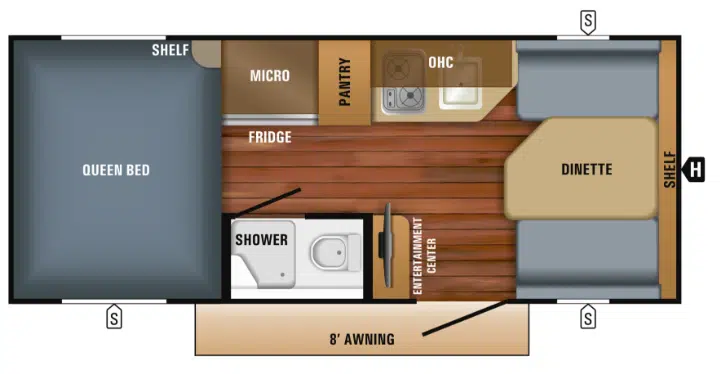 See the new 2018 Jayco Hummingbird over on the Jayco website (and peruse all the other models they've got).
Spirit by Winnebago
After doing all this research, I'm quite surprised at the limited options for the smaller RVs. Maybe I'm just kidding myself about how many other people want as small as possible, but still having all the features (IMO, necessities) of an RV?
I suppose this is why you have power players like Winnebago, they give people what they want. An example is the Class C Spirit. The 22M model is the shortest Class C in their range (that I can see) and it has everything that is important to me.
While I would prefer not to have a slide, the bedroom slide does create a cozy little sleeping nook that would be perfect for the way that we live our lives. But, again, the decor could do with a big shake up.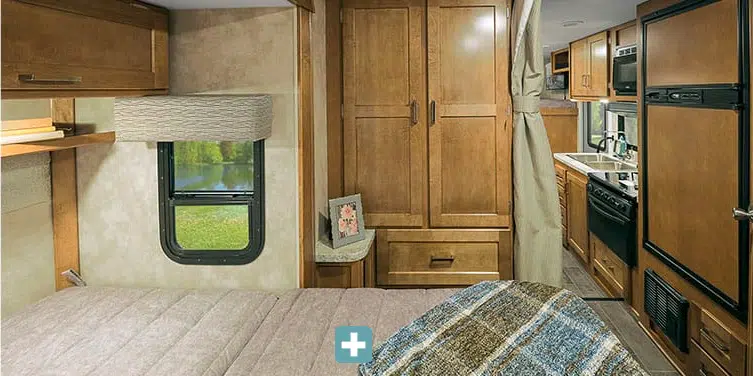 You can check out the Spirit and the rest of the Winnebago product range over on the Winnebago website.
Are you also looking for small campers that have everything you need? How has your search gone? Has it been as frustrating as mine?? 🙂