Depending on the layout of your motorhome, the RV captains chairs (i.e. the drivers seat and the passengers seat) may just be the most sat in chair in your rig.
If you travel a lot (rather than staying in one location for a while) then you may be spending a good portion of your day in those seats. I mean, the drivers seat is going to be used the whole time! Heck, I hope it is, anyway!
And if you have captains chairs that swivel around to face the living area, they'll be getting used while you're stationary too.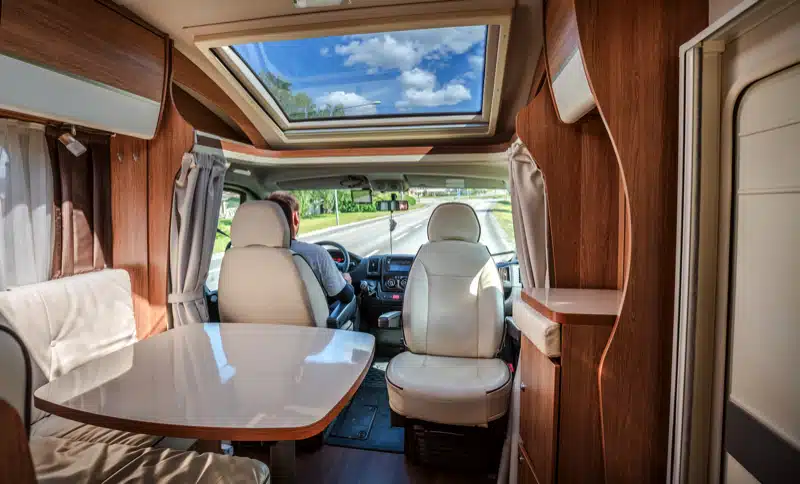 That's why it's important to have comfortable and supportive seats that can stand up to the rigors of a long driving day, as well as being comfortable for an evening with friends. They need to be functional, hard wearing, good looking and comfy.
So let's take a look at RV captains chairs.
This post contains affiliate links. Please see our disclosure for more information.
RV Replacement Captain Chairs
Obviously your RV already came with RV captains chairs but you may want to replace them if you're renovating your RV or the seats are broken and can't be fixed.
When looking for a RV replacement captains chairs you'll want to take these points into consideration:
If possible, it's always best to get the same chair as you already have (if that model was comfortable for you). That way you'll have a chair that you already know will fit perfectly into place.
Upholstery that will match with your current (or intended) decor
Base placement – check that the base plate of the chair will fit in the right spot and be able to be anchored correctly to the floor.
Check that the swivel mechanisms and any chair electrics will fit in your RV
Try before you buy. If you're buying a motorhome captains chair from an online retailer, and it's not exactly the same model as you already have, then see if you can test out the chair somewhere. There are plenty of cheaper captains chairs out there that I have heard are not the most comfortable, especially after a long drive. So see if you can test out the chair you want first… maybe try the chair of a  fellow RVer, a local RV manufacturer or a dealership. It might be a bit hard to do, but if you can test out the chair before buying it, that would be best.
RV Captains Chairs Manufacturers
When it comes to RV furniture captains chairs is one of those areas that you don't want to skimp on. Being comfortable and safe while you drive, is obviously the most important thing!
My 'go-to' place to find, well, everything, is Amazon; but they're not the right kind of supplier for an RV replacement captains chair. You really need to go to a specialist RV furniture manufacturer for these.
Below I've listed some RV furniture captains chairs manufacturers that may be able to help you find the perfect replacement chair.
https://shop4seats.com/rv-captain-chairs
www.braddandhall.com/Captains_chairs
www.coachsupplydirect.com/rv-products/rv-class-a-captains-chairs/
www.discountvantruck.com/rvhighbackcaptainsseats
https://store.mastertechrv.com/collections/captains-chairs
RV Captains Chair Seat Covers
In the interests of keeping your RV captains chairs in as good condition as possible, your easiest and cheapest option is to get RV captain chair covers.
This will help protect the upholstery of the chairs from UV damage, excessive wear and tear and damage from pets.
Using captain chair seat covers are a good option if your upholstery is already starting to show signs of deterioration and you want to halt any further damage.
RV seat covers are also an excellent option if you want to change the decor in your motorhome but  don't want to re-upholster.
If you're going to use covers, just be mindful of dimensions and make sure you measure correctly.
Below are some options for RV captains chair seat covers

One of the reviewers of this seat cover used these to cover his Flexsteel RV captains chairs (see the section below where I talk about this) and he's been very happy with them. They did require a bit of jiggling to get the arms in, but once he figured it out he was happy.
One of the reviewers of this products notes that you should measure carefully to make sure these ones will fit your chairs.
Flexsteel RV captains chairs – a note
It seems that Flexsteel have a reputation for being the most comfortable captains chairs, even if they are somewhat more pricey than the imitations. And many RV manufacturers use Flexsteel RV capatins chairs as standard.
However I have read quite a few comments online about some Flexsteel captains chairs that were upholstered in an imitation leather that has deteriorated a lot, and well before its time.
Apparently it's affected a number of Flexsteel products made between 2013-2015.
Here's a blog post from Chris & Cherie from Technomadia about the issues they had with their captains chairs, and what they've done about it. (Just scroll down to nearly the end of this post)
Have you replaced the RV captains chairs in your rig? Or did you opt for an RV captains chair seat cover instead?
Pin 'RV Captains Chairs' to Pinterest