Finding the perfect 4×4 camper van for your off road adventures
Are you looking for a vehicle that combines the ruggedness of a 4×4 with the comforts of a fully-equipped camper van? Luckily, as more and more manufacturers create off road capable RVs, adventure seekers have found their perfect home on wheels with these compact, 4×4 camper vans.
The blend of off-road capabilities and cozy (sometimes luxurious!) living spaces is a boon for those yearning for both excitement and comfort.
What makes 4×4 camper vans so appealing, is their ability to traverse tough terrains that are off-limits to regular RVs. With their upgraded suspension, powerful engines, four wheel transmission and higher ground clearance, they can take you to those beautiful, remote locations… perfect if, for you, 'getting away' means getting away from people and man-made structures.
With their compact size, self-contained living spaces, and off-road capabilities, these vans provide the opportunity to venture into uncharted territories, creating cherished memories along the way. They embody the spirit of adventure and inspire a new generation of explorers to embrace the road less traveled.
Advantages of 4x4 Camper Vans
I've found, that when you have a 4x4 vehicle, adventures become a lot less stressful. You have confidence that you will be able tackle any road, and many non-roads, that you encounter.
Everything you need is already with you
Having a fully-equipped kitchen, comfortable bed, and a bathroom onboard means that you've got everything you need to enjoy all the comforts of home while on the move. It's great knowing you can go on spontaneous adventures and even change plans at a moment's notice, as everything you need is already in your vehicle.
You can get to locations that others can't
4WD camper vans offer the freedom to get to remote locations and campgrounds that are off-limits to traditional campervans or RVs. This freedom to get off-the-beaten-path allows you to get right into nature and create some unforgettable experiences.
You can camp year round
Part of that versatility of 4x4 camper vans is their all-season capability; these vans are designed to handle various weather conditions, making them suitable for year-round use. This capability extends the travel season and opens up opportunities to explore destinations that may be inaccessible to standard campervans during certain times of the year. Rain or shine, winter or summer, 4x4 camper vans allow adventurers to embark on thrilling journeys regardless of the weather conditions.
You can park anywhere
Whether it's the parking lot of a busy city grocery store, the driveway of a friends' suburban home, or a tight spot between trees on the edge of river, the compact size of a campervan makes parking nightmares a thing of the past.
Compared to other RVs, camper vans are small and easier to maneuver, making finding suitable parking spots less of a hassle. 
That also makes easier to store during the off-season, whether it's in a garage, driveway, or dedicated storage facility. 
Disadvantages of 4x4 camper vans
Space
The small size of campervans is a major benefit… but it's also its biggest disadvantage.
Living space, storage space, counter space… it's all in short supply. 
However, even though they are small, a lot is packed into these vans. But you don't need to have everything inside. You could prioritize what is going to be inside (like the bed) and move other functions outside.
For example, if you hate cooking smells in your bedroom and don't mind cooking outside, then have an outdoor kitchen.
If you don't want to take up a big portion of space with a shower, consider having an outside shower and a portable toilet under the bed.
Height
Keep in mind that a 4WD version of a campervan is going to be taller than the 2WD version. With superior suspension and higher ground clearance, you add a few inches to the overall height.
Fuel consumption
A taller vehicle will also produce more drag, and therefore more fuel consumption. Driving in 4WD uses more fuel than if you were just driving in 2WD, but also the additional power and weight of a 4WD also makes it use more fuel.
Popular 4x4 Camper Van / Class B Models
So let's have a look at some of the 4x4 camper vans / Class B's that I've been able to find.
Winnebago Revel
The Revel exploded onto the Class B RV scene just 5 years ago, and it's cemented itself as the 4x4 Mercedes Sprinter of choice.
I can totally understand why it's so popular though. It's got everything. And it's all in a rather diminutive less-than-20' van!
Winnebago also builds the Era and Boldt campervans on the 4x4 chassis, so you might want to consider either of those.
The Winnebago Revel price starts at $210,292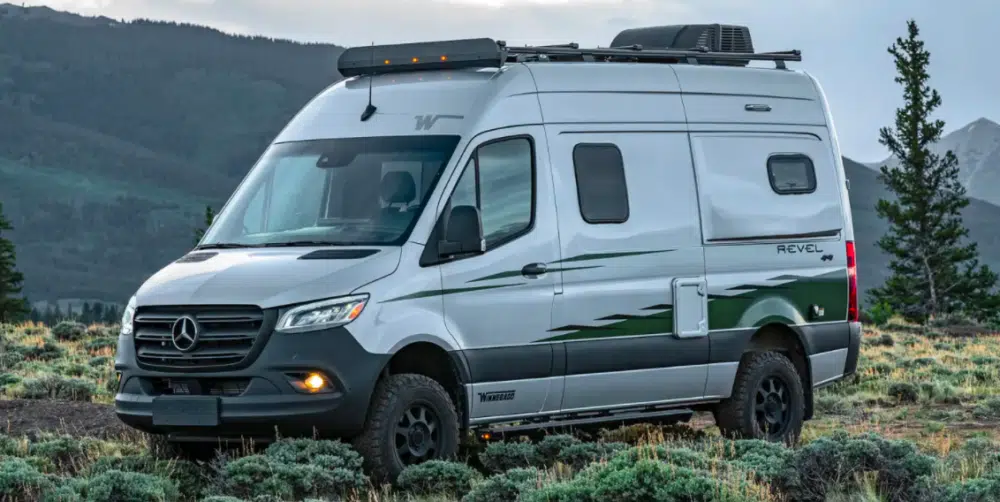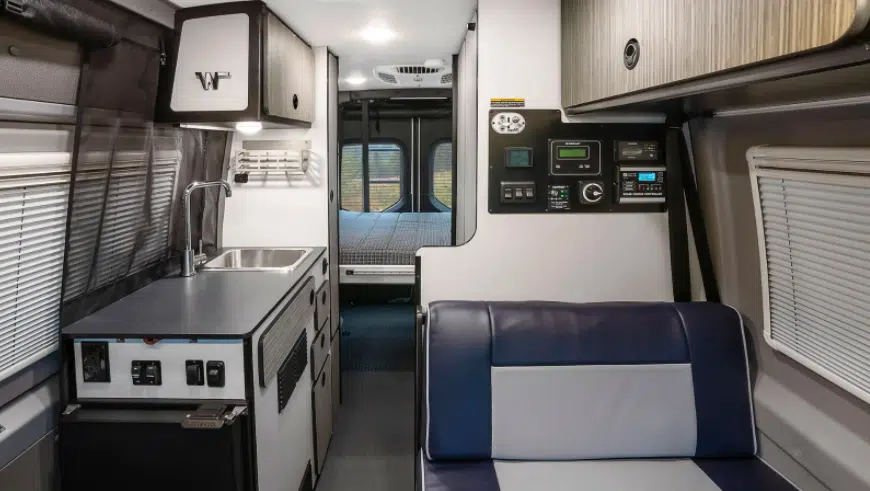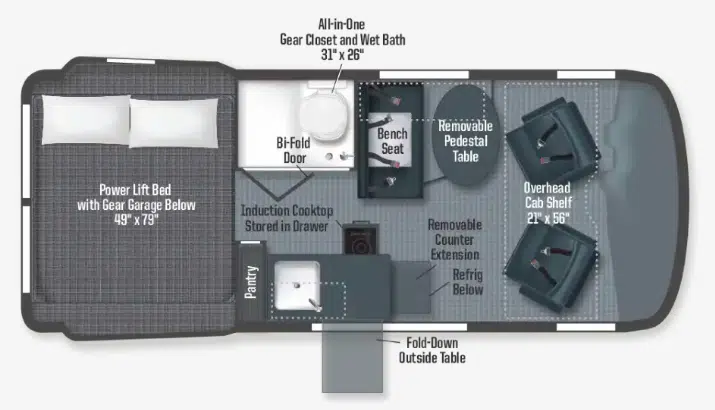 Winnebago Revel
Chassis: 4WD Mercedes-Benz Sprinter
Length: 19'7"
Height: 10'
Fresh water: 21 gal Grey: 21 gal Black: 5 gal
Price: starting at $210,292
https://www.winnebago.com
Thor Tranquility 19P
The Tranquility (and Sanctuary) 19P is also built on the Mercedes-Benz Sprinter 4x4 144' chassis, but has a different layout style. If you prefer to have seats that convert, allowing you to use the van as a passenger van as well, then this might be a better option for you. (The only difference between the Tranquility and Sanctuary, as far I can tell, is the interior decor style).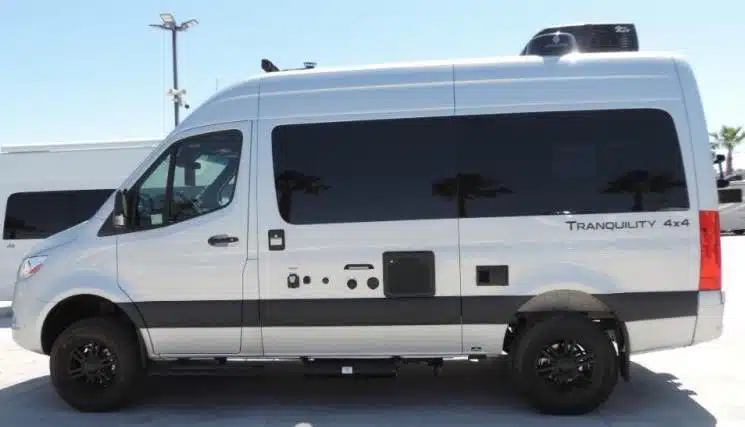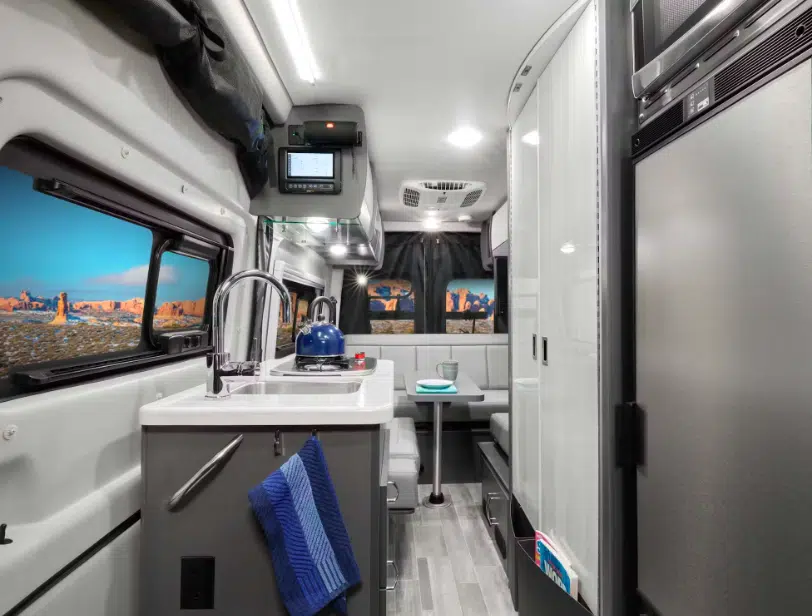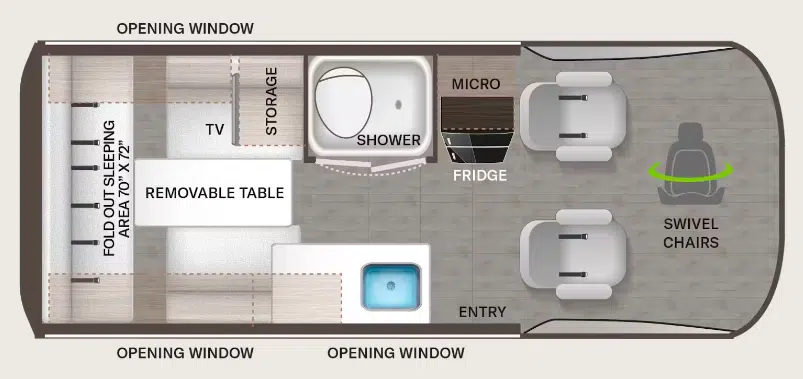 Pleasure-Way REKON 4x4
I really like how the Pleasure-Way REKON 4x4 layout is different to most other campervans. Built on the Mercedes-Benz Sprinter 2500 4x4 MWB chassis, its compact size calls for something different. 
The designers have opted for putting a chest fridge where others would normally put a little kitchen with an upright fridge underneath. But chest refrigerators are more efficient that upright fridges and this may be the right compromise for some. Although that does mean that there is only kitchen counter space when the bed is in the folded up position.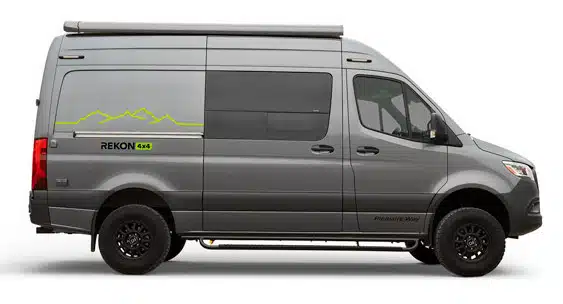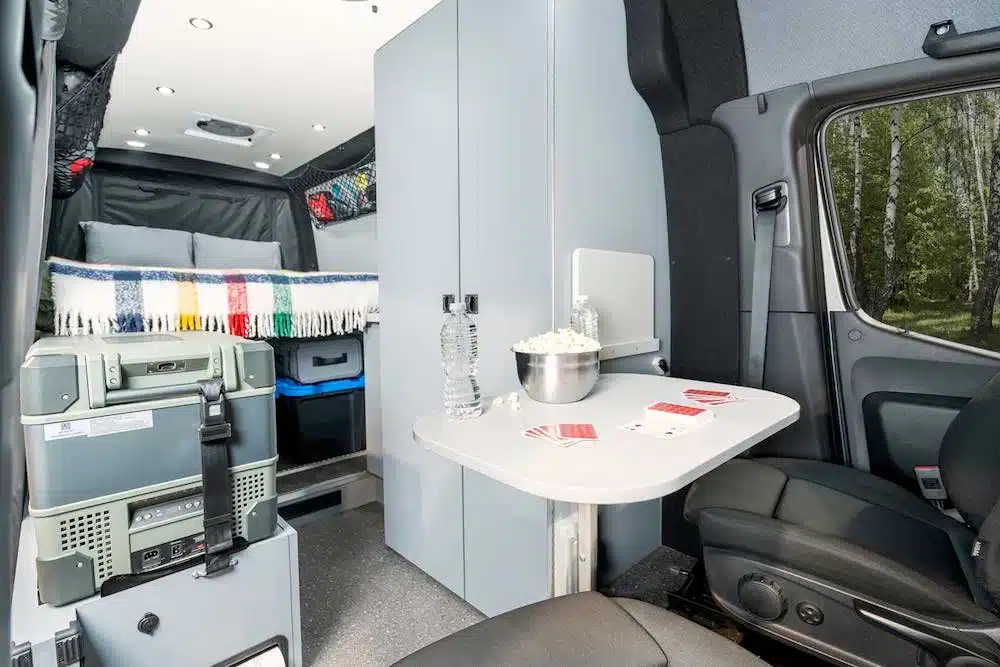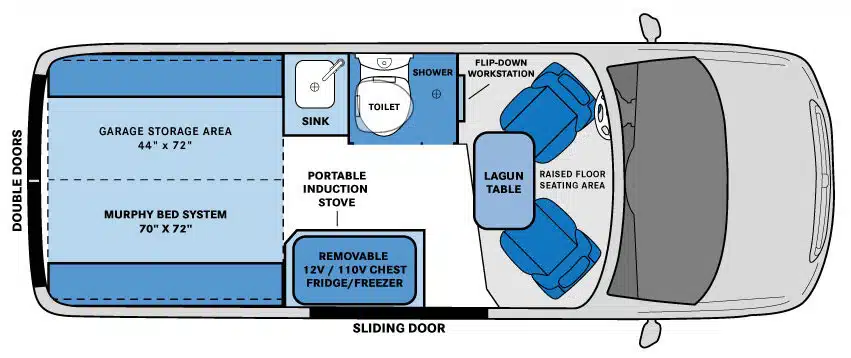 Pleasure-Way REKON 4x4
Chassis: Mercedes-Benz Sprinter 2500 4x4 Chassis
Length: 19'5"
Height: 9'11"
Fresh water: 40 gal Grey: 10 gal Black: 5 gal
Price: starting at $182,000
https://pleasureway.com/models/rekon-4x4/
Jayco Terrain
This layout really seems to suit a lot of buyers. The electric bed in the back which can be easily raised to access the garage space and flared sides to add a bit to the width, a multi-function bathroom / gear locker, and sitting space up the front, the Terrain makes a great adventure vehicle while still being small enough to go almost anywhere.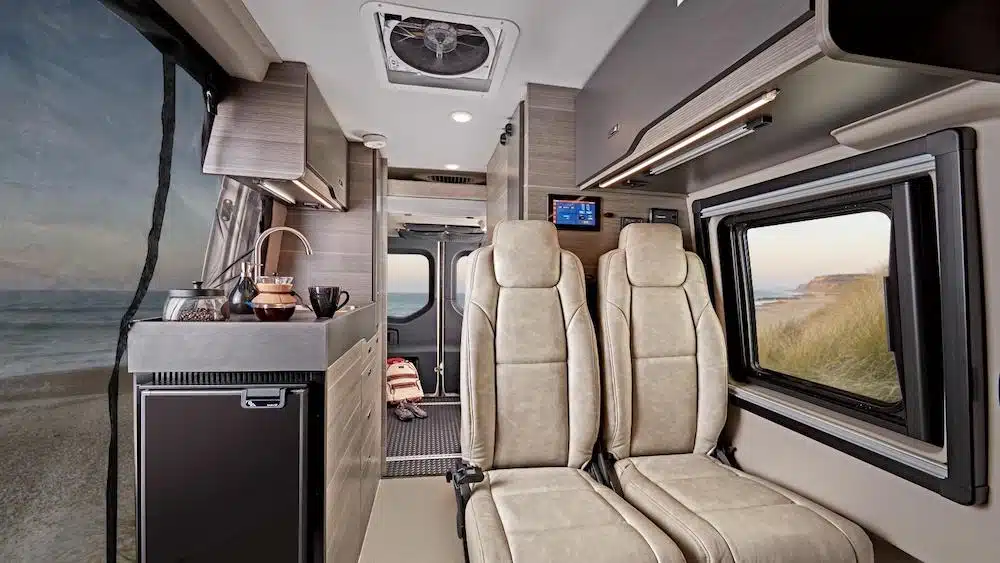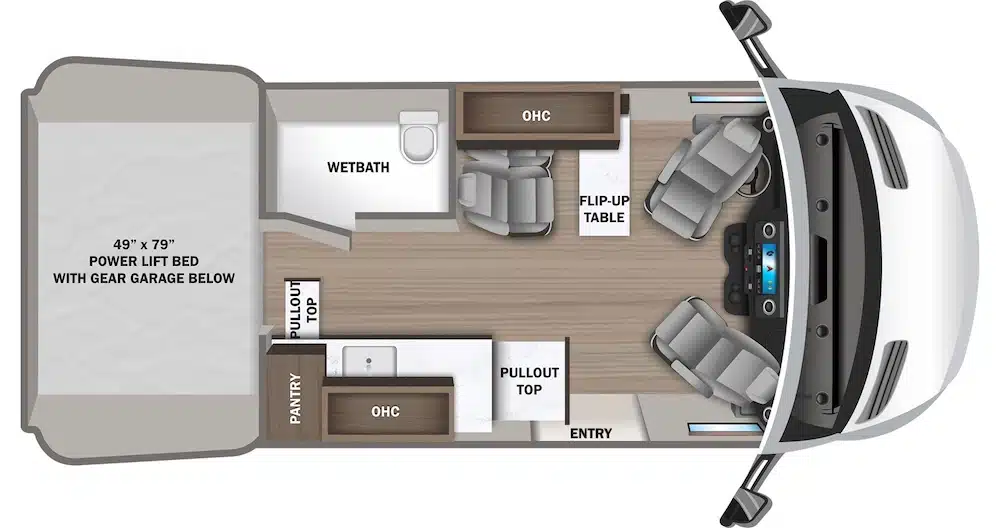 Entegra Coach Launch
I've mentioned in previous posts that the Jayco and Entegra campervans are essentially the same vehicle. They even use the same photos!
The Entegra Coach Launch, is the same as the Jayco Terrain, so just refer to the photos above. :-/
Grech RV Turismo
https://grechrv.com/model/turismo-4x4/
Grech RV have 4 models in their 4x4 range. The Terreno, Terreno-ion, Turismo and Turismo-ion. Just looking at the photos of the Turismo, I would say that these are geared more towards the those that are looking for a luxurious, rather than a rugged, 4WD vehicle. The interior looks plush!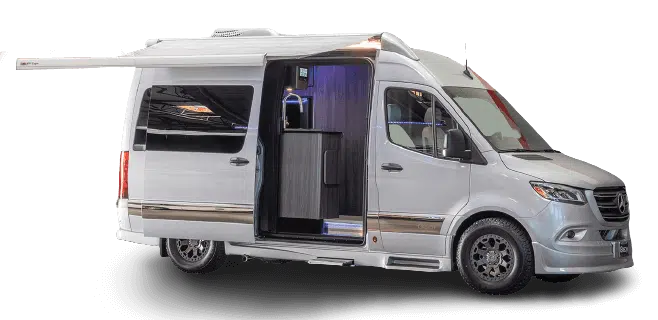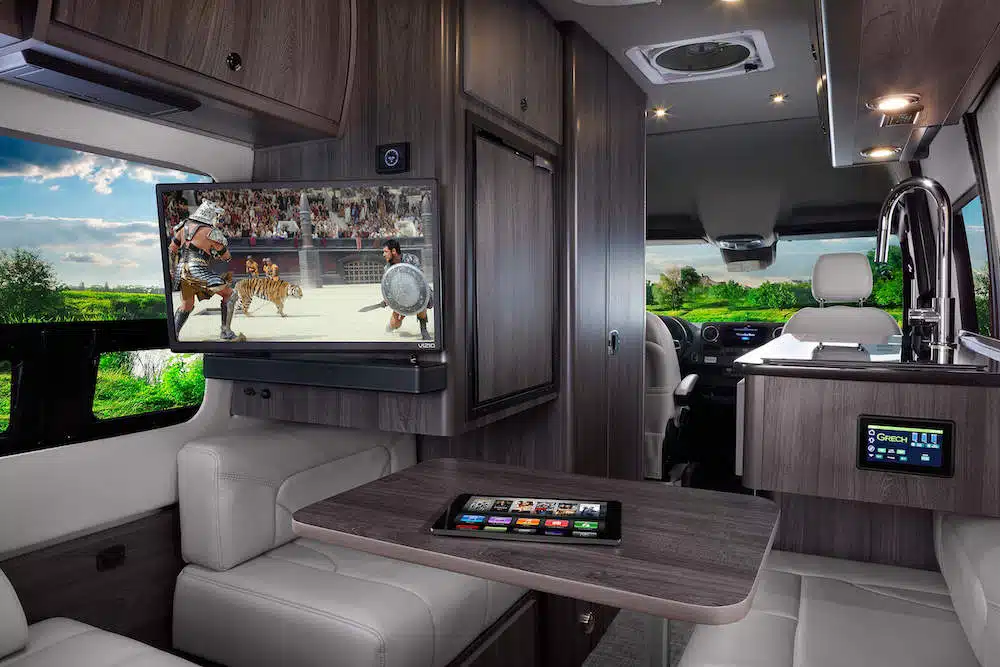 Grech RV Turismo 4x4
Chassis: Mercedes-Benz Sprinter 2500 144"
Length: 19'6"
Height: 10'2"
Fresh water: 16 gal Grey: 26 gal Black: 13 gal
Price: starting at $209,900
https://grechrv.com/model/turismo-4x4/
Airstream Interstate 24X
https://www.airstream.com/touring-coaches/interstate-24x/
Airstreams Interstate range of Class B vans includes three 4x4 models: 24X, 24GL and 24GT. 
Built on the extended Mercedes-Benz Sprinter chassis, this is one of the larger camper vans at 24'6". But all that extra space allows for a well appointed interior, with all the extras you could wish for.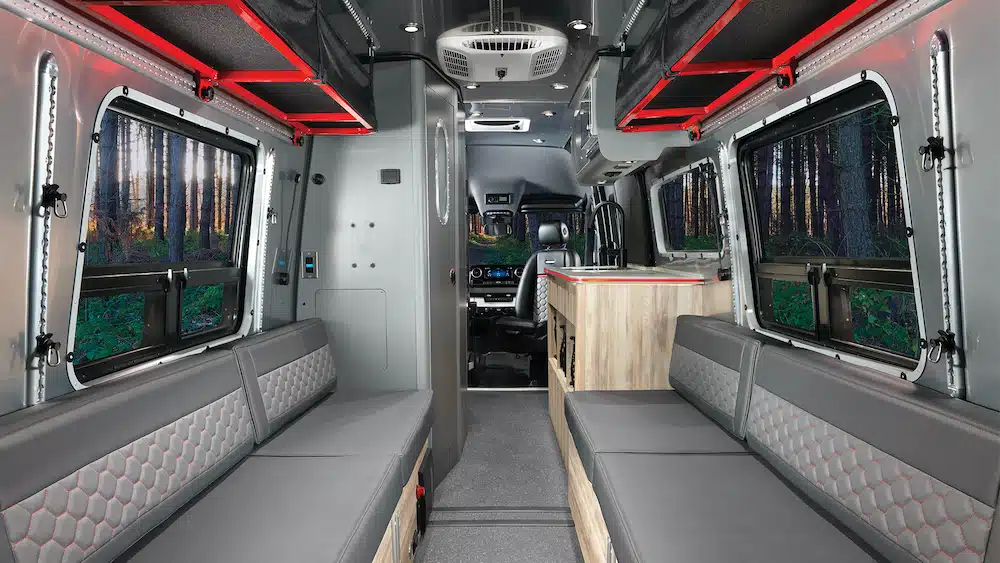 Tips for Choosing a 4x4 Camper Van
My recommendations for choosing the right 4x4 campervan is not too dissimilar to choosing any other RV. Here's what you need to keep in mind:
Budget
For most people, including me; the number one factor that limits your campervan choices is budget. You can determine all the features that you want, but if you can't afford it, then features will mean nothing.
Figure out your budget first, then you'll start down a long list of compromises you're going to have to make. The smaller your budget, the longer your list of compromises!
Assessing Off-Road Capabilities
Understand what's important to you, so you'll need to become a little bit familiar with 4x4 / off roading terms. 
If you're after a versatile beast that can handle even the roughest terrain, you're probably already well versed in four wheel driving and know exactly what you need in terms of suspension, ground clearance, tires and transmission. 
But if you're just after a vehicle that can handle some washboard corrugations and will get you out of a boggy campsite after a night of rain, then maybe you're not so concerned with how off road capable the vehicle is.
Evaluating Size and Layout
My favorite part of any RV research, is evaluating layouts.
You need to start with knowing what you need (first) and want (seond). Start with a list of non-negotiables.
Your list could look like this (it's actually MY list), but you get the gist:
Bathroom - must have indoor toilet in separate room. Shower is optional.
Bed - must be permanent so that one person can be sleeping while the other sitting at a table.
Power - must be off-grid with enough power (batteries and solar) for lights and laptops (minimum).
And then think about the nice-to-haves. Again, this is MY list:
Access to cab from the back
Swivel captains seats
Diesel heater
Insect screens on main openings
Drinking water filter
Understand that this list may change as you learn more about what features are within budget, but it gives you a really good starting point.
Self building your own 4x4 camper van conversion
As you can see, there are not too many 4x4 Class B campervans on the market, and there are even less layout options.
If you can't find the layout that suits you, you may want to look at doing your own sprinter van conversion.