I just love these travel trailer bathroom remodel ideas and since I'm doing so much research looking for RV bathroom renovation inspiration, I thought I would share them all with you here.
Here in Australia, it's quite very rare to find a vintage caravan with a bathroom, and it's mostly vintage caravans that get renovated here. (Check out these travel trailer renovations to see what I mean).
So I love to be inspired by the amazing bathroom ideas that I see on Instagram. 
Let's take a look!
This post contains affiliate links. Please see our disclosure for more information.
Simple, practical … and simply lovely
Stephanie has a clean and simple decor style, which I love. It's not fussy, there's room to put things on the counter, and it still looks pretty and lovely to look at.
Stephanie shows us more of her trailer over on Instagram at @olsonhousehome.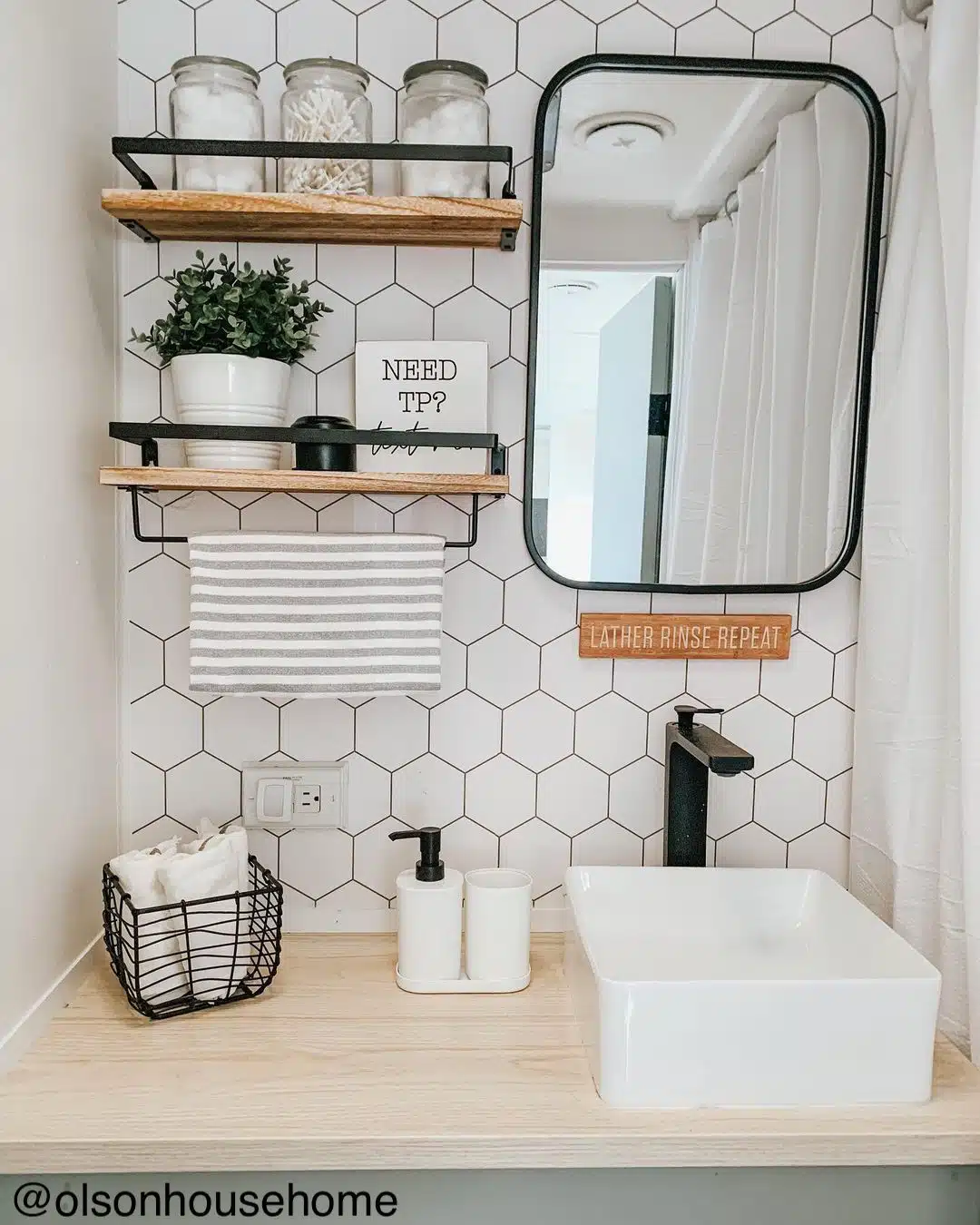 Shop the look
Before and after – see the transformation!
This RV bathroom renovation by Bethany looks amazing all by itself; but when you look at the before photo (swipe or click to next photo) the transformation is just amazing!
Bethany shares lots of photos of her travel trailer life over at @simplecatlady on Instagram
Shop the look
Simple elegance
What an elegant bathroom by Feather! She shares lots of photos of her tiny home over on Instagram at @ourstormyskyy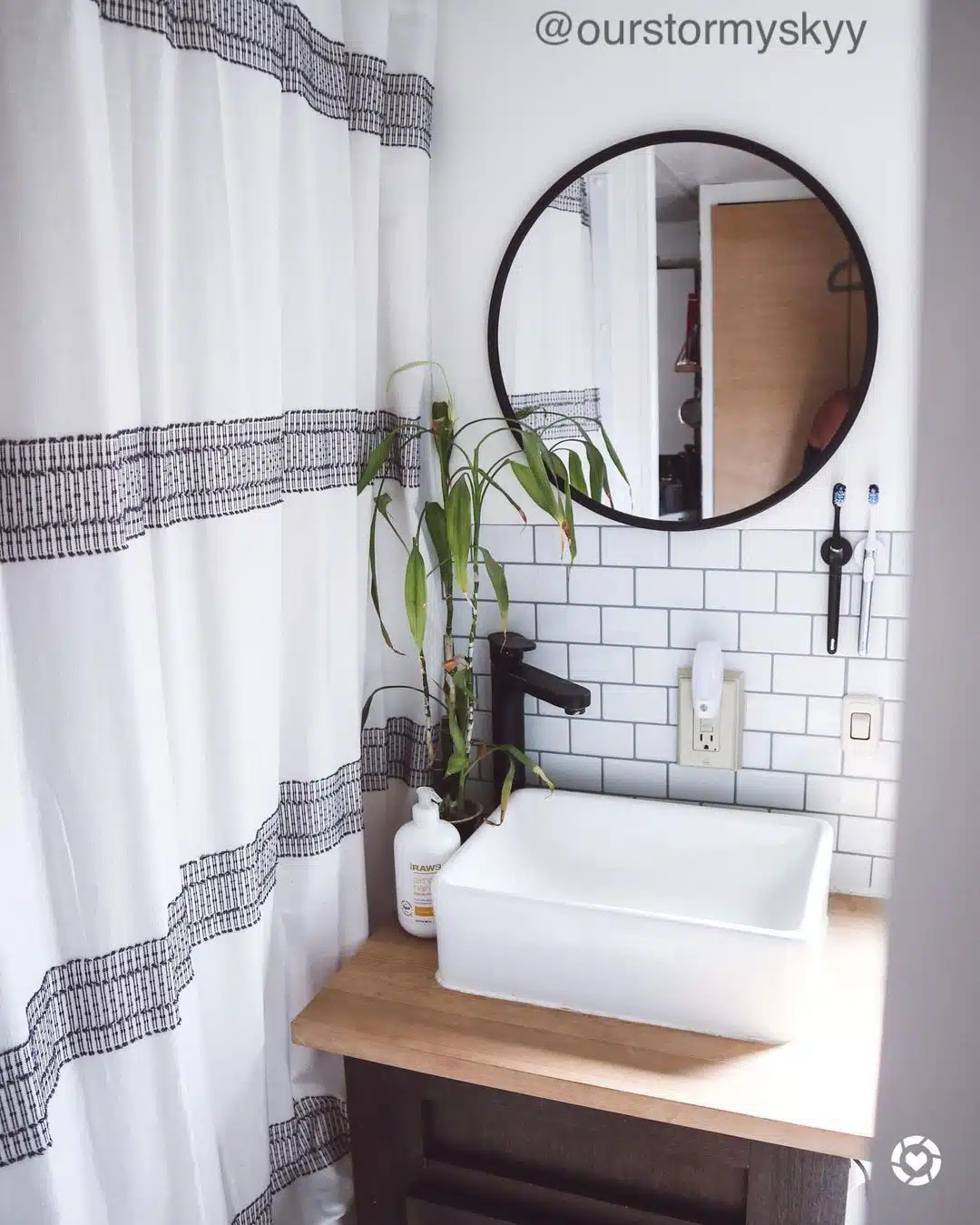 Shop the look
Removing the dull and boring
Another fantastic RV bathroom transformation! Just swipe or click to can see the 'before' of Jessica's RV bathroom and how she's managed to turn it from quite dull and boring, to smart and stylish.
Shop the look
Clever storage while still looking cute
Kendra's RV bathroom may be small (I mean… they all are!) but she manages to pack in a powerful punch of practical functionality while still looking stylish and smart. There's clever storage, counter space and room to move. @kendiez7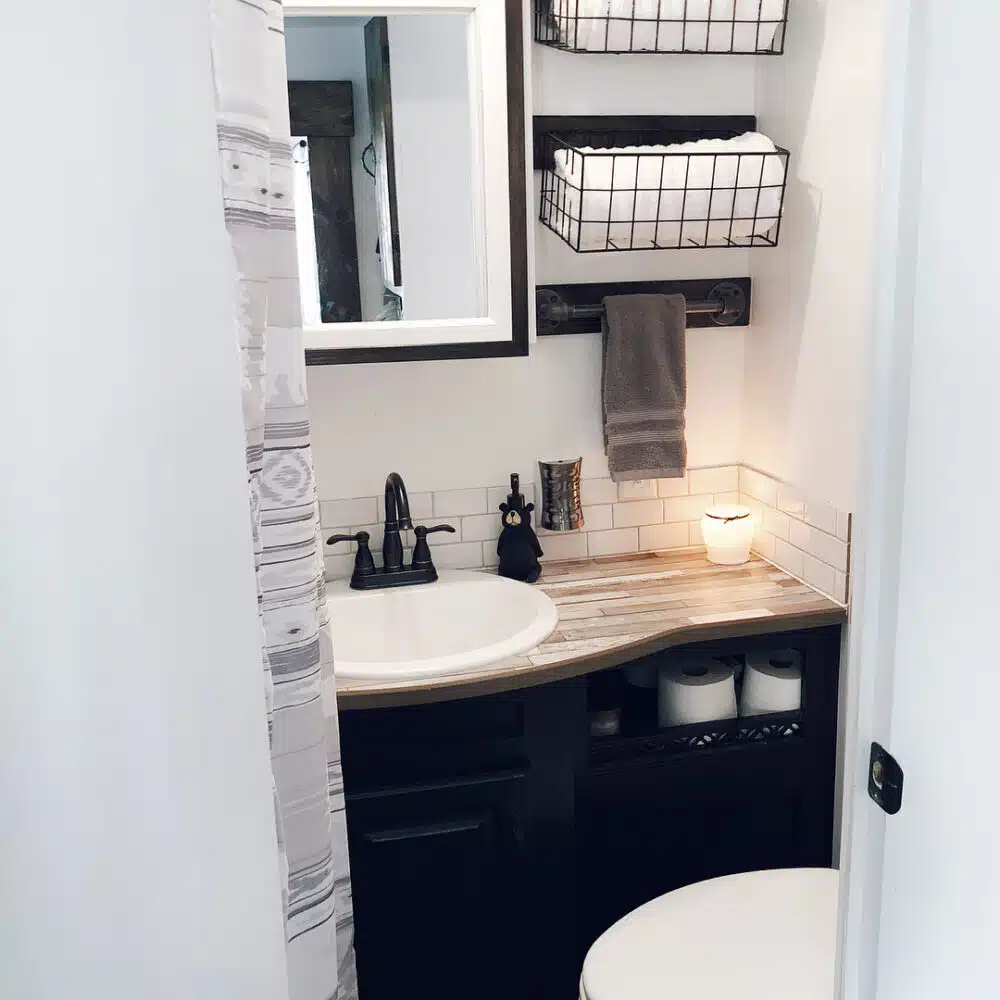 Shop the look
An inspired space
Courtney's done an amazing job in transforming this bathroom, and she did it all for under $125. And lucky for us, you can read all about her process over on her blog post here, or you can see more of her lovely decor (both travel trailer and 'real' house) over on her Instagram @e_inspiredhome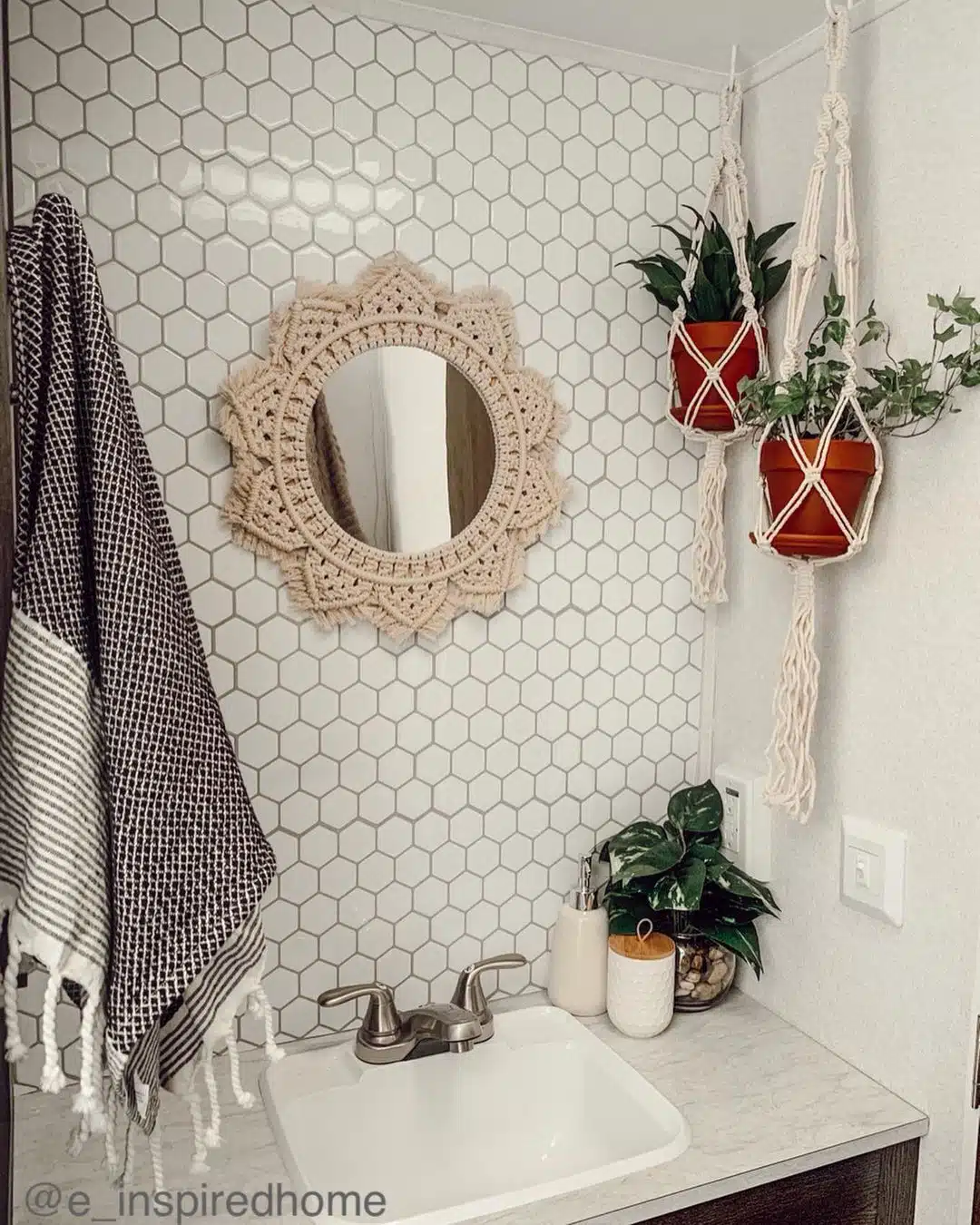 Shop the look
A getaway like no other
Joey and Stephanie have completely renovated their 2019 Palomino Puma travel trailer (from brand new!) and it is now a chic space to relax and vacation. And you can have a vacation there yourself! It's available on AirBnB.
Shop the look
The Navarro Pack
We only have a little peek of this swish bathroom, but doesn't it look fly! You can see more of this family's decor style over on Instagram @thenvarropack where they share lots of photos of the rest of their camper.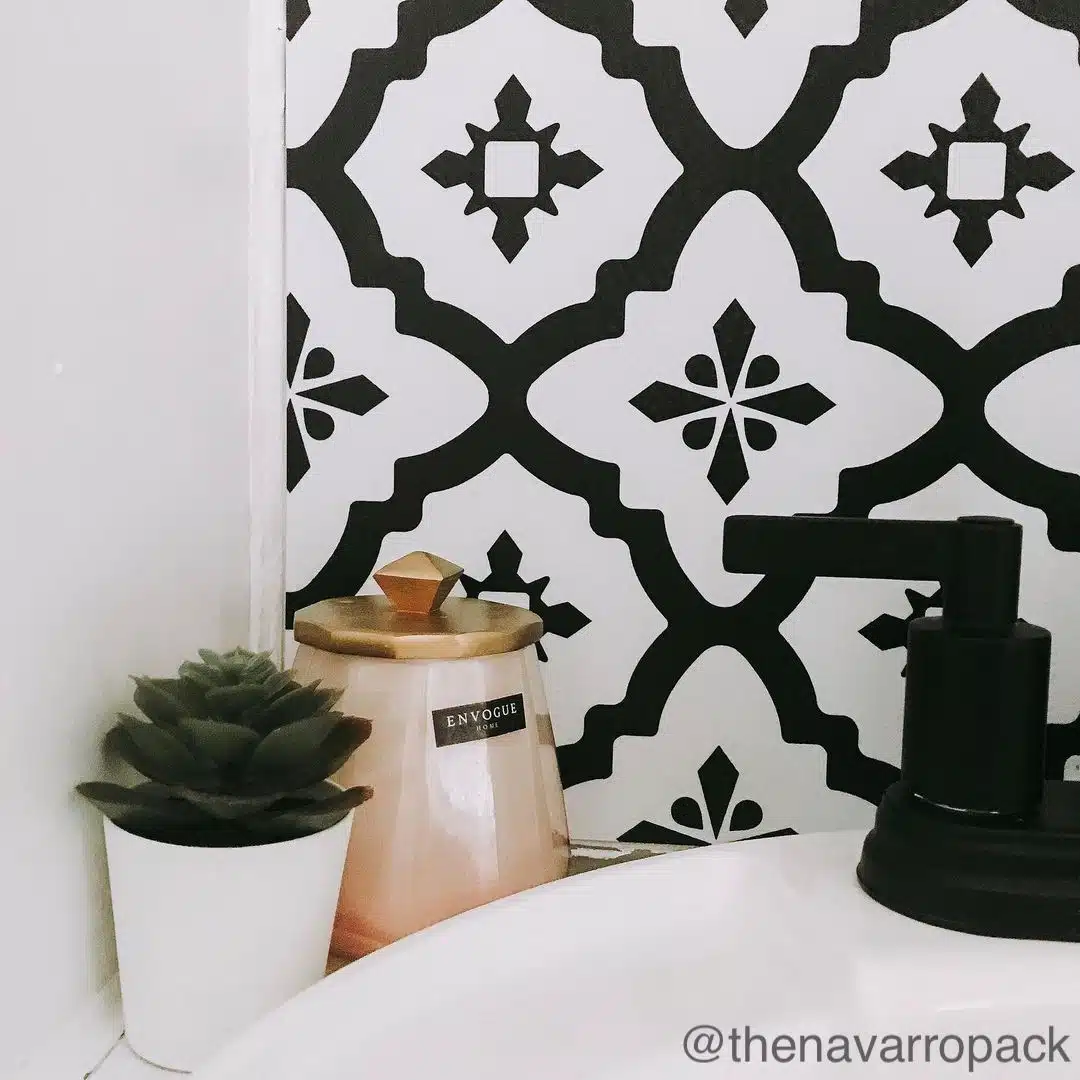 Shop the look
This Little Airstream
Miranda has taken her love of renovating Airstreams and turned it into a business, Tennestream Renovations. So if you love all things Airstream (who doesn't?) then you'll want to check out here Instagram @thislittleairstream.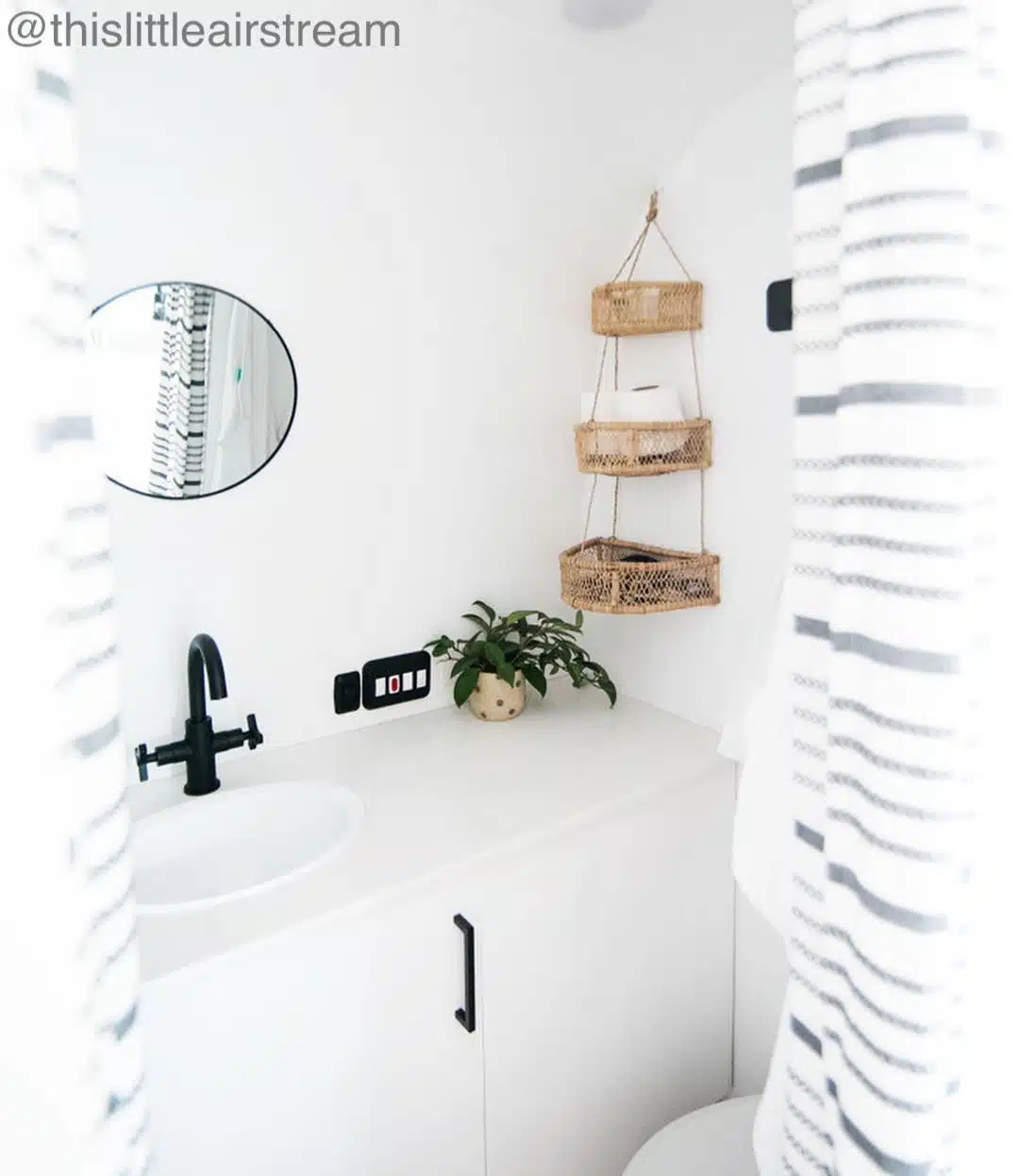 Shop the look
Dolly the Airstream
Another lovely Airstream bathroom renovation! Don't you just love the those curves! (Although I'm sure it makes renovating this space a little bit tougher?)
Shop the look
Native Being
This RV bathroom by @native.being makes me feel like I'm at a fancy hotel somewhere in the tropics!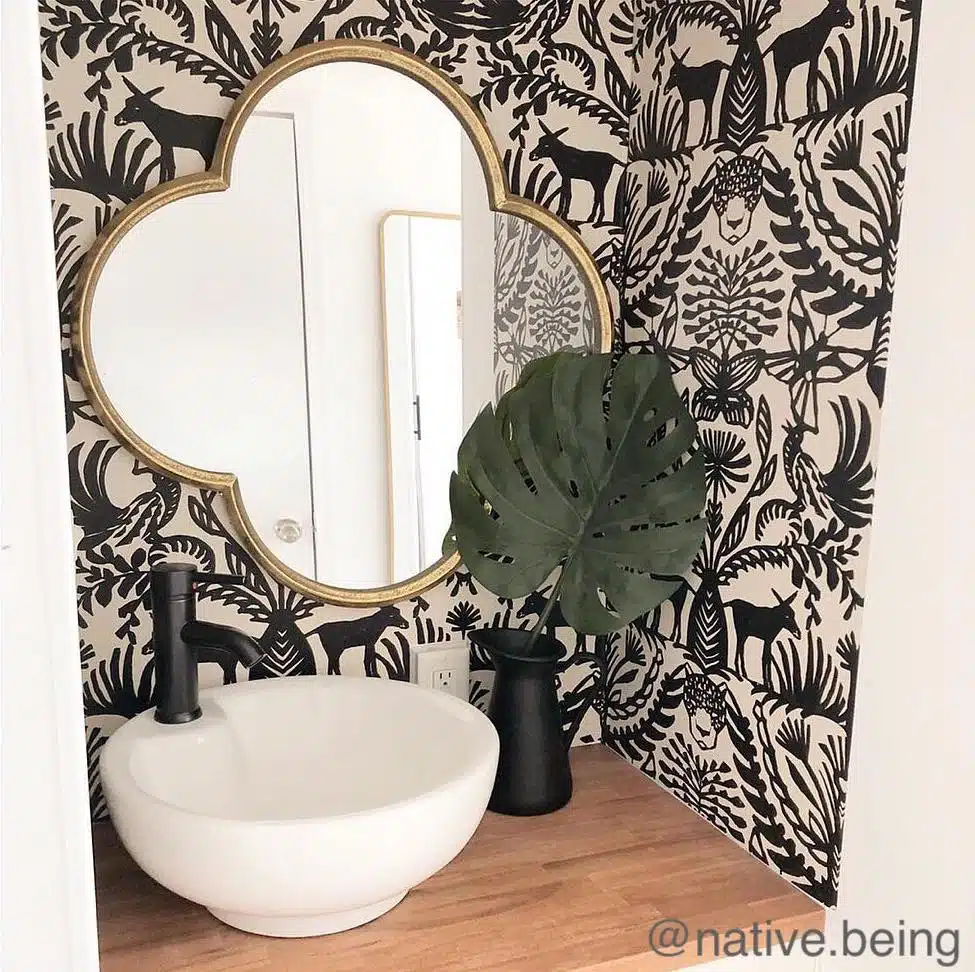 Shop the look
The Crafty Voyager
I like how Chris and Christine describe themselves as 'she likes crafting, he likes craft beer'; and together they are @thecraftyvoyager. (Check out their etsy store if you're on the hunt from some fun camper decals: MasonMade2015.)
But I also love how they've renovated their travel trailer bathroom into a space that is cool and classy!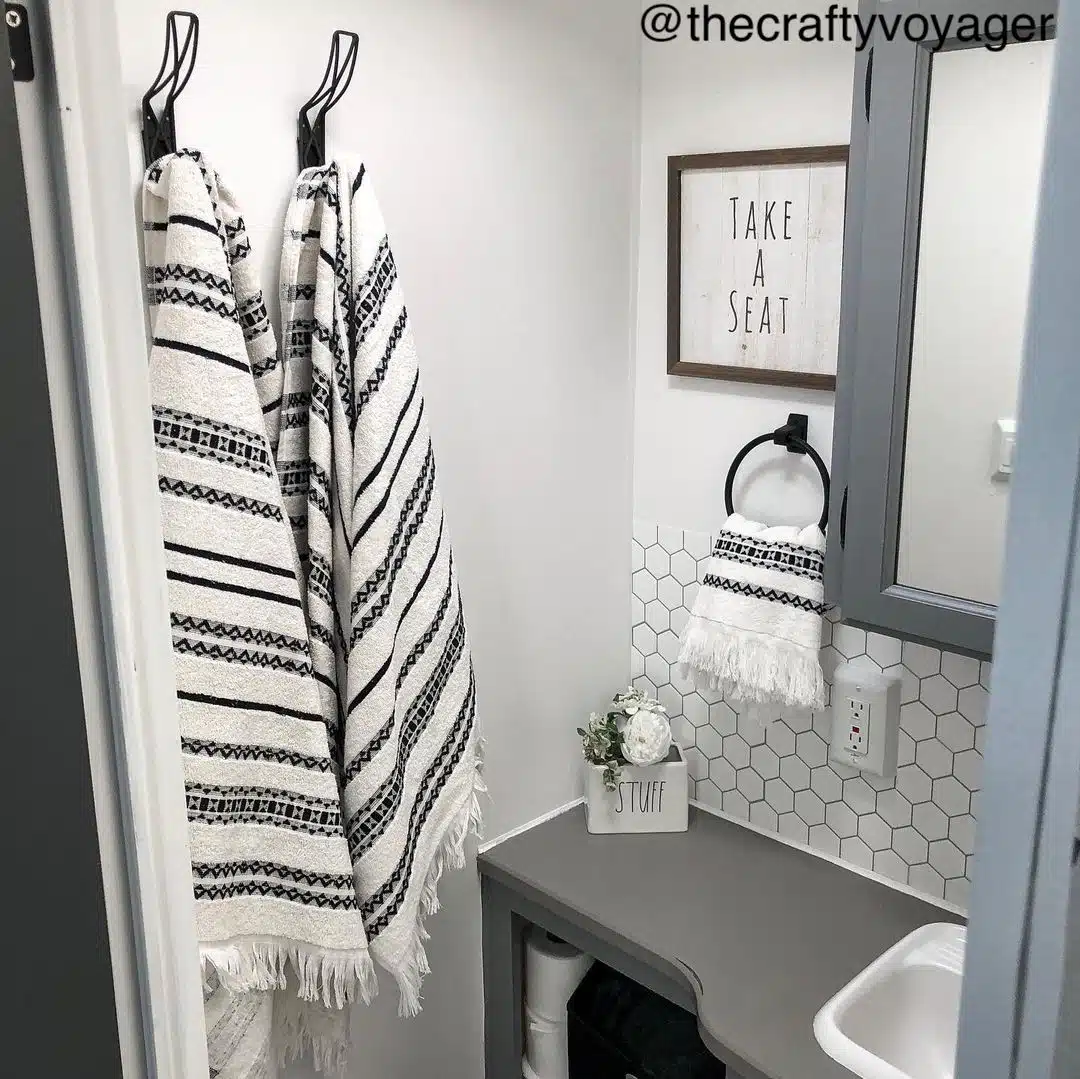 Shop the look
Summit to shore project
Even though the Aspenson family only have a teeny tiny bathroom in their travel trailer, they've still managed to include some quirky art and classy flooring!
Shop the look
Ikea Inspiration
A medicine cabinet and corner cabinet from Ikea gives this little family plenty of storage for such a small space!
On her Instagram @treeoflife_wellnesscoaching Elizabeth shares about health and wellness, but if you scroll back a bit there are lots of pics of this fabulous trailer renovation (which they've now sold)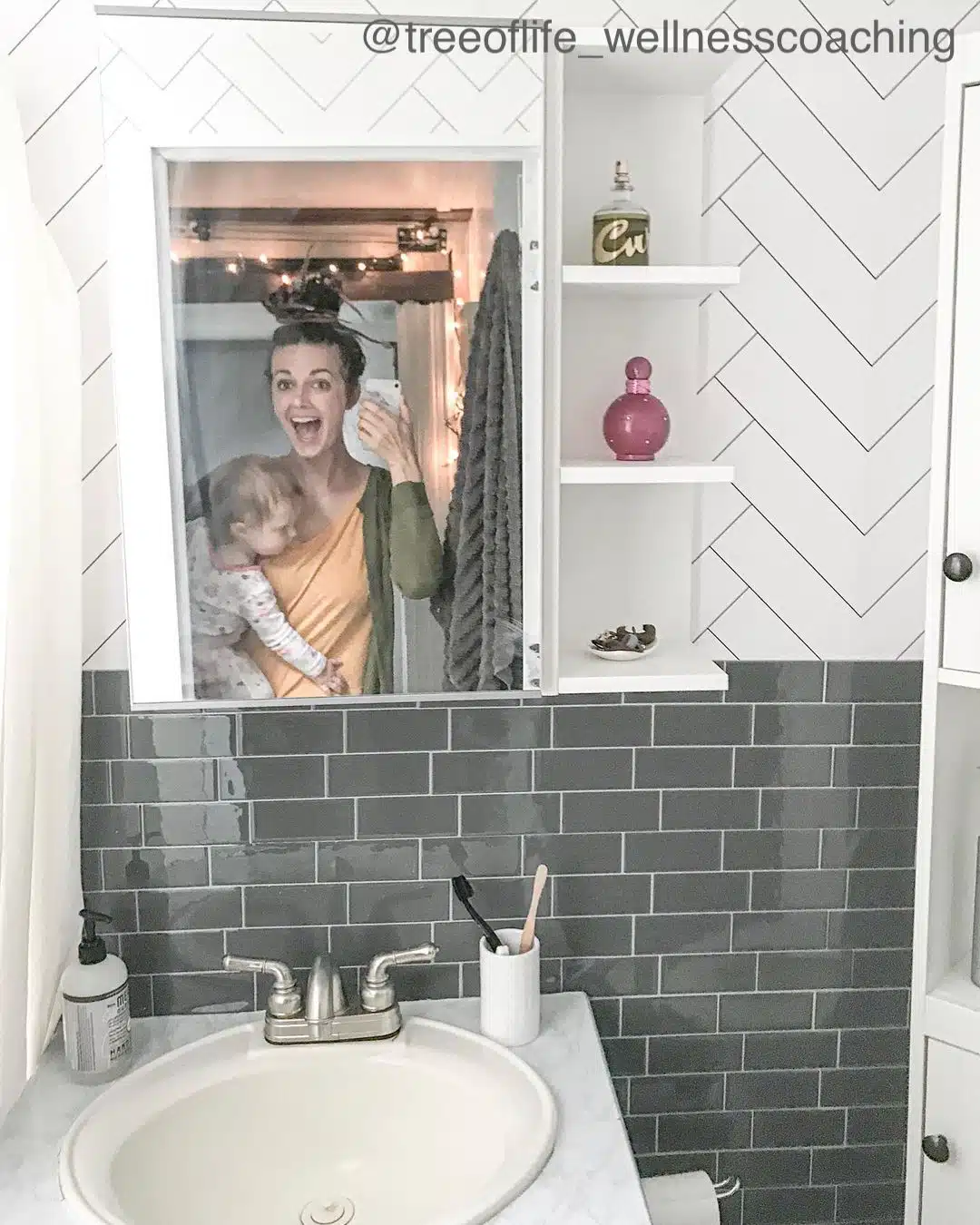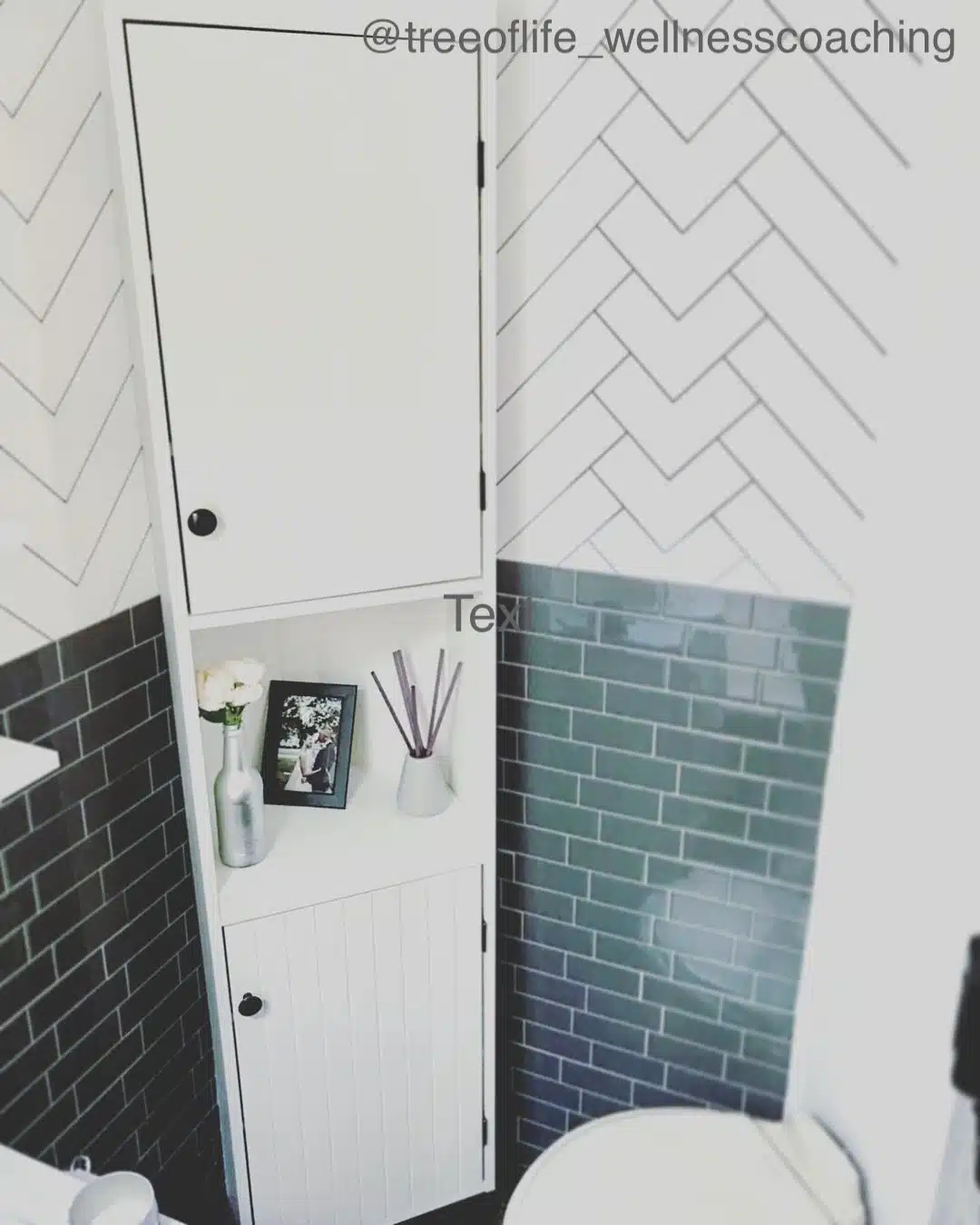 Shop the look
Do these fabulous renovations inspire you? Do you have an RV bathroom renovation that you'd like us to share with everyone?
Pin these travel trailer bathroom remodel ideas to Pinterest