If you're considering exploring the country, seeing the sights, visiting friends or family that live hundreds or thousands of miles away, then there's no better way to travel than to rent an RV.
There's a number of reasons why a motor home is perfect for travelling long distances, many of which, most people don't realise.
For example, the fact you get to take some of the comforts of home with you.
Now, that all sounds fine to those in the know, but for someone who's fairly new to world of RV travelling, there's a few things that need to be taken into consideration.
The most obvious of those is the actual cost of buying one. But don't worry… there's an easy way around that.
If you really want to travel by RV but don't want to hand over your life savings, you can always rent one.
You may be asking how do I rent an RV? So here's a list of 5 things you need to consider when you rent an RV
1. Be aware of all the 'rent an RV' options available to you
Start with gathering a list of all the RV rental companies in your area, or wherever you plan on starting from. This will be very handy when planning how you're going to get to and from your rental when you pick it up and drop it iff.
Now make another list of all the different types of RV's and motorhomes, keeping in mind the specifics of what you need and how you will be using it, for example: how many people you need to sleep, how many seats, and things like whether or not you need a TV, BBQ, etc.
2. Price comparison
Now that you know what features you require for your trip, you should have a list of the type of RV best suited for you, and then put together a list of where to rent an RV… so now you can begin comparing the prices.
You never want to just go with the first one you come across. You gotta shop around a bit so you know whether you're being taken advantage of or not.
Keep in mind, you can often save a bit of money if you're prepared to give up one or two luxuries that you can easily live without.
3. Make sure to read the fine print
This may seem a bit obvious to most, but you'd be surprised how many people just sign on the dotted line and end up paying all sorts of hidden costs and even penalties for rules they were unaware of because they didn't read the fine print.
Make sure you are aware of things like, how many passengers you're allowed to carry, the minimum age of passengers, how you're charged for petrol and miles travelled, what kind of fuel is required when filling up, etc.
Again, this may be obvious to some, but the last thing you want is to be handed a bunnch of extra costs you weren't expecting when you bring the RV back.
4. Punctuality
This is another seemingly odd thing to point out, but if you're not used to renting motorhomes, whether you own one or not, a common mistake, that is easily avoided, is miscalculating the time taken to drive all the way back from your destination and arrive back at the rental place on time.
Your maps app may have told you that you're only 5 hrs and 45 mins from the depot… but half way there you encounter unforeseen roadworks, traffic, or any number of delays that your phone app could never have predicted.
5. Secure your load
You may be asking "What load? It's just a motorhome, not a truck."
But again, there's certain things that "RV Lifers" never have to think about because they're used to the routine, that new RV drivers can often forget…
In particular, we're talking about the common mistake of forgetting to put away all the loose items in the kitchen and cupboards.
For example, leaving dishes in the sink, or empty coffee cups on the dinette table, or saucepans on the stove… then jumping in the drivers seat and driving off, causing everything to be tossed around like a salad.
This comes back to knowing the rules of your rental agreement and what damages you are liable for, should anything like this happen.
Once again, going back to reading the fine print, this can be a costly mistake that could easily be avoided with just a little planning ahead.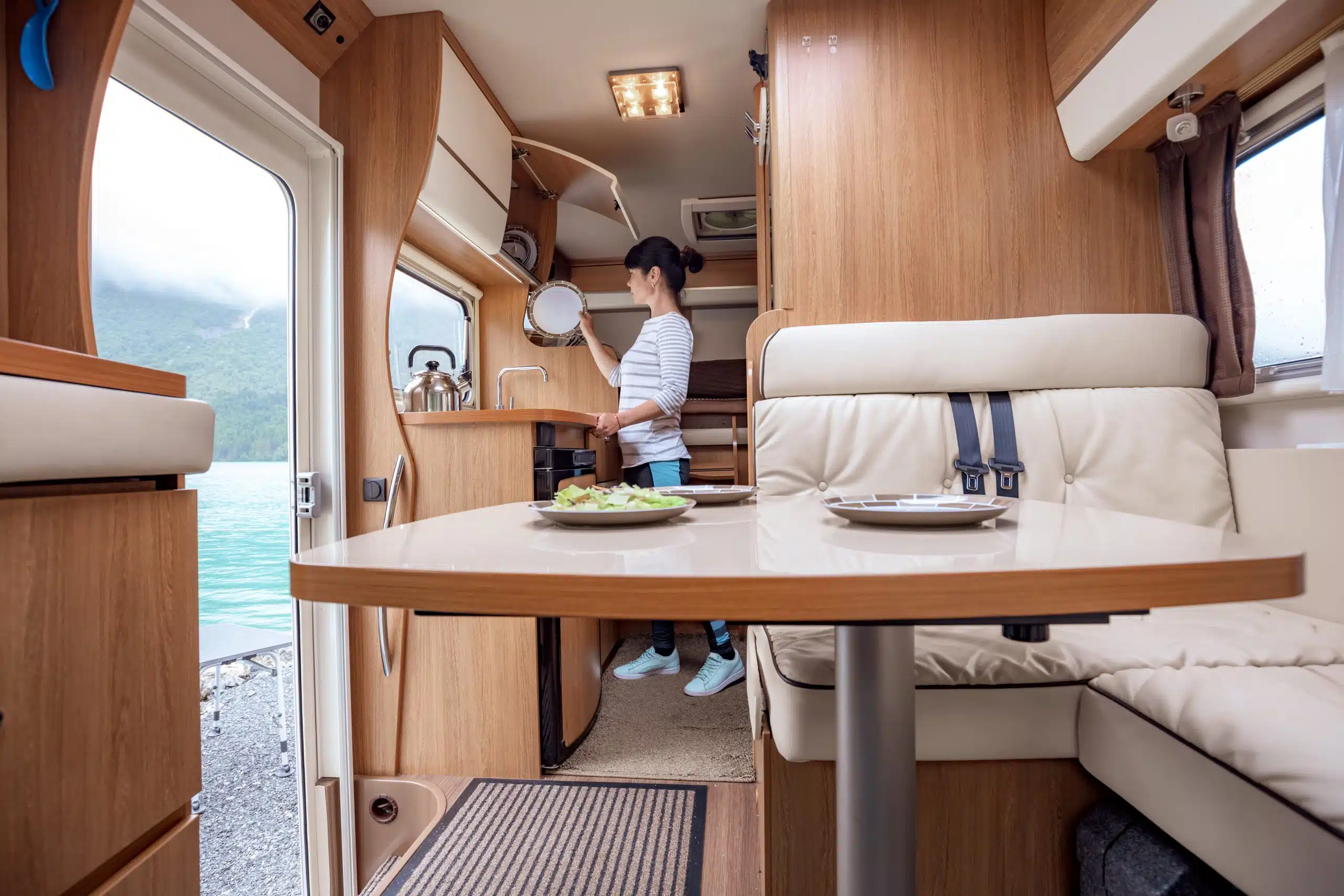 Some further questions…
Can I rent an RV for a week?
You can rent an RV for as long as you want. Whether it's for just the weekend, or for three months. If  you're going to be renting the RV for an extended period of time, you may want to consider buying an RV, rather than just renting an RV. 
How much is it rent an RV?
The cost of renting an RV is going to vary a lot, based on how long you're hiring an RV for, the type of RV, motorhome or travel trailer you're renting, the time of year you're renting, and the pick-up and drop-off location of the RV.
Is renting an RV cheaper than a hotel?
As with above, the cost of renting an RV will vary a lot. So it's worth doing your research to see if renting an RV will be more cost efficient for you, than staying in a hotel.
So let's recap.
Firstly, think about the things you will need from an RV and make sure you're aware of all your options. From there you can begin to gather pricing and quotes from various rental companies to get the best deal. Once you settle on a company, make sure you read all the fine print and know what is expected of you and the treatment of the vehicle. This includes returning the vehicle on time.
Lastly, and probably the most comical of all, yet just as important… make sure you put everything back in the cupboards before you hit the road!
Save to Pinterest