Yes, I know I'm (very) late to the game, but I've only recently got into Instagram. When Instagram first came out I thought it was just a filter to make your photos look old!
But now, I think I get it. I get the appeal of it. Unlike Facebook, you're not presented with a bazillion photos of things that your friends have liked (even though you're not the slightest bit interested), but only see the photos of the people that you have specifically chosen to follow.
With that in mind, I started following a couple of instagrammers that specialize in airstreams – whether it's renovating and restoring airstreams, or just drooling over them!
If you're in need of some visual inspiration or airstream eye candy… here's some great 'grammers I've found:
The Modern Caravan
 

 

 

View this post on Instagram

 

 
Kate & Ellen at The Modern Caravan sure know how to renovate an airstream with style and class. Their instagram is full of dreamy airstream pics… and a few of the 'rough as guts' (is that the Aussie/Kiwi coming out?) in-the-middle-of-ripping-everything-out pics as well!
 Mountain Modern Airstream
 

 

 

View this post on Instagram

 

 
Damien and Anna aren't afraid of hard work. Just as well, because gutting an airstream and rebuilding from scratch looks like my definition of hard work! You can follow their progress and see their projects on their instagram or their website: www.mtnmodernairstream.com
Airstream Dreams
 

 

 

View this post on Instagram

 

 

Hey, there's a couple of Aussies in the mix! I'm happy to present to you a Melbourne based airstream company that hires out their airstreams for a unique glamping experience. You can find them at Wanderlings.com.au but better still, follow their instagram for some serious vintage airstream inspiration.
NuAbode
 

 

 

View this post on Instagram

 

 

Okay, so this account is for you hardcore airstream renovators out there who want to work on your own home on wheels. This instagrammer will show you all the nuts and bolts, nitty gritty, details. Don't expect any visual inspiration here, just hardcore this-is-what-you're-in-for reality. See more info at: www.nuabode.com
Tin Can Homestead
 

 

 

View this post on Instagram

 

 

Natasha and Brett renovated a vintage airstream and then wrote a book about it! You can pick up their book here: Tin Can Homestead: The Art of Airstream Living
Kut Ltd
 

 

 

View this post on Instagram

 

 

The young guys over at Kingston United Trailer take old and tired airstreams and give them a new lease of life. While they do show some in-progress shots, there's plenty of airstream to drool over. Kut.Limited
---
Love looking at Airstream? Check out these stunning and stylish Airstream renovations: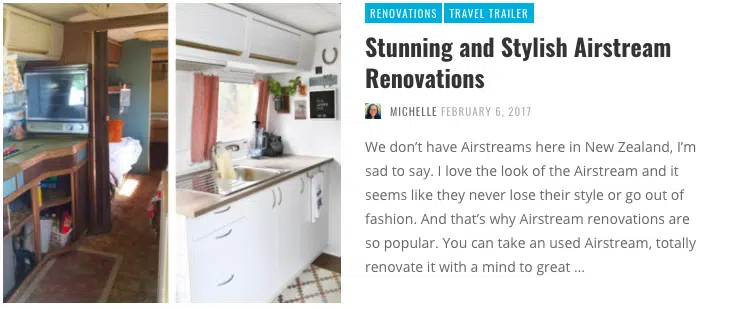 ---
Silver Bullet Customs
https://www.instagram.com/p/Bbp3dCOF1zA/?taken-by=silver_bullet_customs
Lots of great pics on this account. But there doesn't seem to be any more info about how to contact them or anything. I've found their facebook page but they haven't added anything since 2014. But follow these guys if you're just wanting some airstream eye candy.
And now for some smaller players in the Instagram world; these people are showing their progress through an airstream renovation or their life living in an airstream. Either way, it's fuel for your own airstream dreaming. Give them some love…
Stormy the Airstream
https://www.instagram.com/p/BYUXyTal01a/?taken-by=stormytheairstream
A Bodhi Road
https://www.instagram.com/p/BaxSQK9lwOP/?taken-by=abodhiroad
Liberty the Airstream
https://www.instagram.com/p/BbcsSpSnKFr/?taken-by=libertytheairstream
Airstream Inc
Update: Oh! Ahhhhmmm… I can't believe I forgot to put the actual Airstream company instagram account on here! I think that because a brand new airstream is (currently) not even a reality, I forget to even think about it. But to be honest, I personally, would prefer brand new to renovated. Most of that is due to the fact that I have zero renovation skills/experience.
But here, look at Airstream, they're definitely getting the dreams fired up with these pictures.
https://www.instagram.com/p/BcVU7h0HaaW/?hl=en&taken-by=airstream_inc
Do you have any instagram accounts that you follow purely because you're dreaming of an airstream? Share them with us in the comments below… so we can all spend waaaay too long dreaming about these magnificent beauties. 🙂