Looking for a Class A RV with bunks?
Since we don't have any children ourselves, I've never really had a serious look at RVs with bunk beds, as I'm more inclined to be looking for the smallest RV we could comfortably fit in.
But whenever I have looked at them, I've imagined being a child again and how excited I would be to have a little space of my own in an RV.
While there are lots of RVs with bunk rooms, loft and toy hauler garage bedrooms and even second bedrooms; you cannot find these features in a Class A motorhome.
But you can find dedicated bunks, usually tucked away in the corridor leading to the main bedroom. And that's what we're going to take a look at today.
So I'm only going to look at Class A's that have a dedicated bunk space. One that does not have to be made up each night.
What Class A motorhomes have bunk beds?
Following are the Class A RVs with bunks from the large manufacturers.
I haven't included those RV manufacturers that essentially allow you to design your own motorhome, just those that have a Class A with dedicated bunks as one of their standard layouts.
Note: I've included the price, where I've been able to find one. But please use this as a general guide only. 
A.C.E. Class A Motorhome 32.3
$142,200
Thor has really taken onboard the notion that many more RVers are young families, so have a couple of layouts that include bunk beds.
The A.C.E is also designed to accommodate the family pet, with pull-out kibble stations, PetLink tie-downs and birds eye windows at the passenger seat.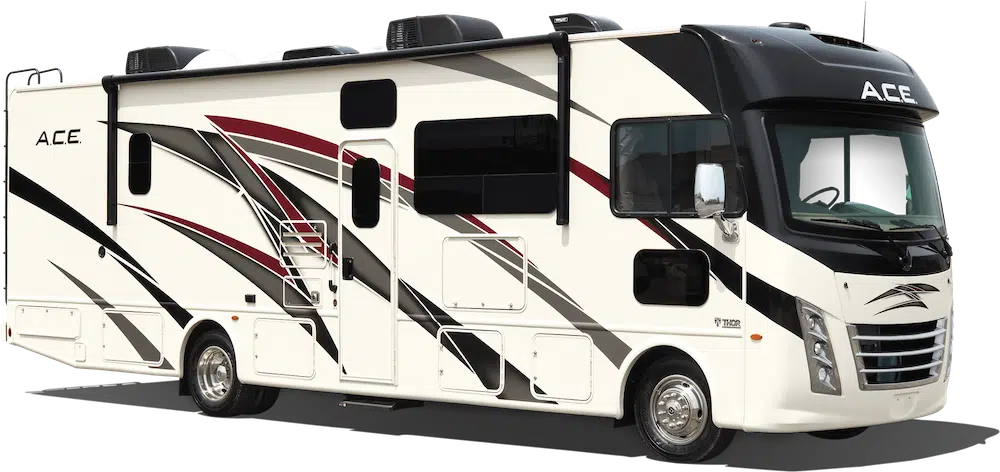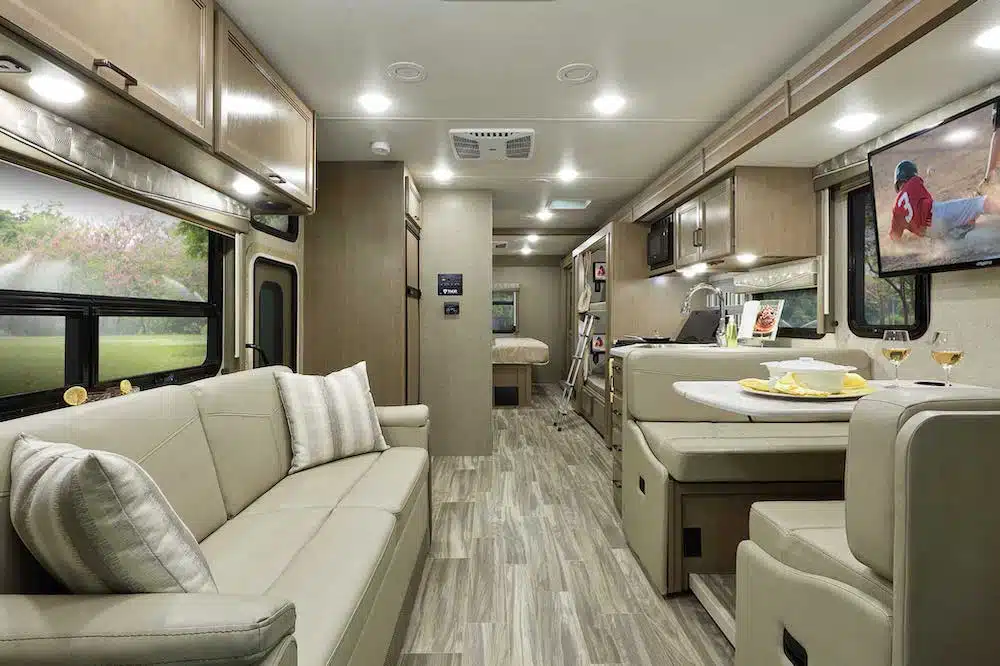 The video below goes through the stills already on their website, but the narrator does explain a lot of the features and benefits of this RV.
See all the details of the A.C.E. Class A Motorhome 32.3 over on the Thor website.
Winnebago Vista 31B
$146,872
As I'm sure you are aware, Winnebago has a large range of RVs so I've just found one with a layout that I like, that includes the bunks.
At 31'2" this Class A looks like it would be great for a travelling family; enough space for everyone to relax and be together, but not too large to get into many RV parks.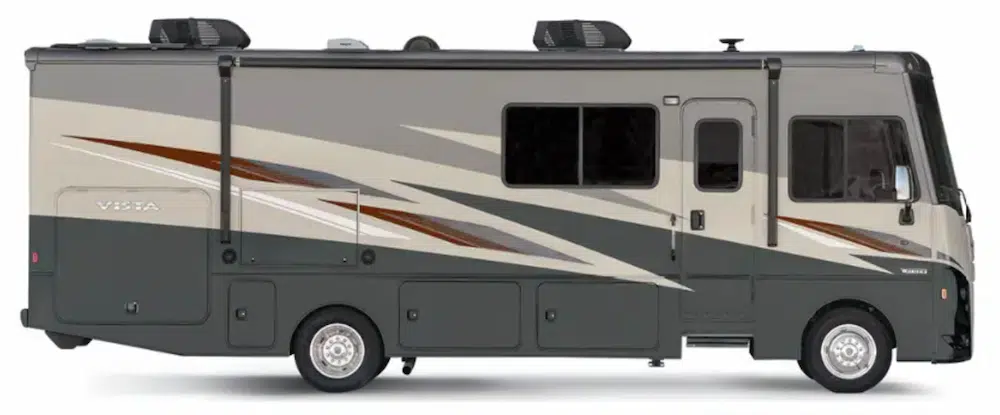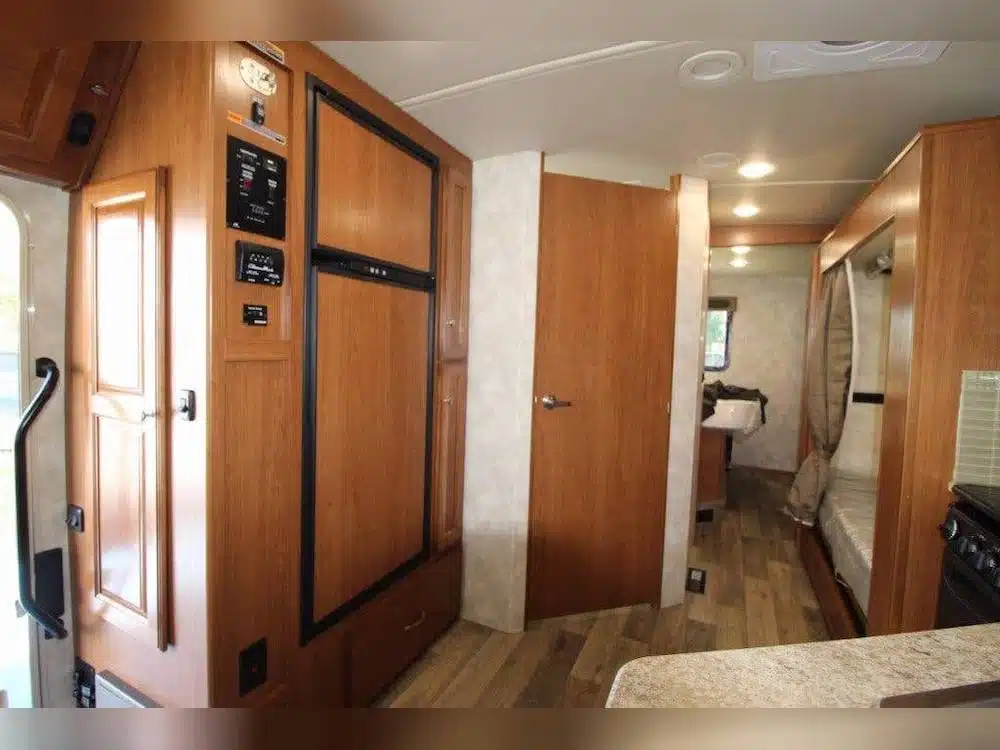 Here's a video walkthrough of this model of Winnebago from General RV Center. It's a bit strange as the lady doesn't talk, but she does show you all the parts of the motorhome and you can get a read sense of the size of this RV.
Lots more pictures and the full specs over on the Winnebago website.
Jayco Alante 29F
$139,831
With just the few Class A's we've shown you so far, you can see that the layouts are pretty much the same.
The set of bunks in the hallway of the RV, leading to the main bedroom. The space could easily have been another wardrobe or a desk, so that may help with long term planning if you want to keep the same RV for a long time.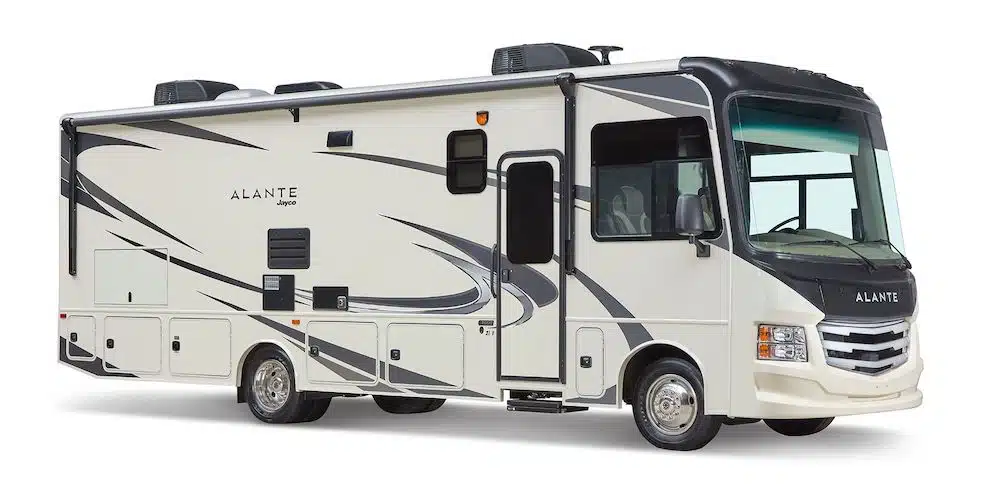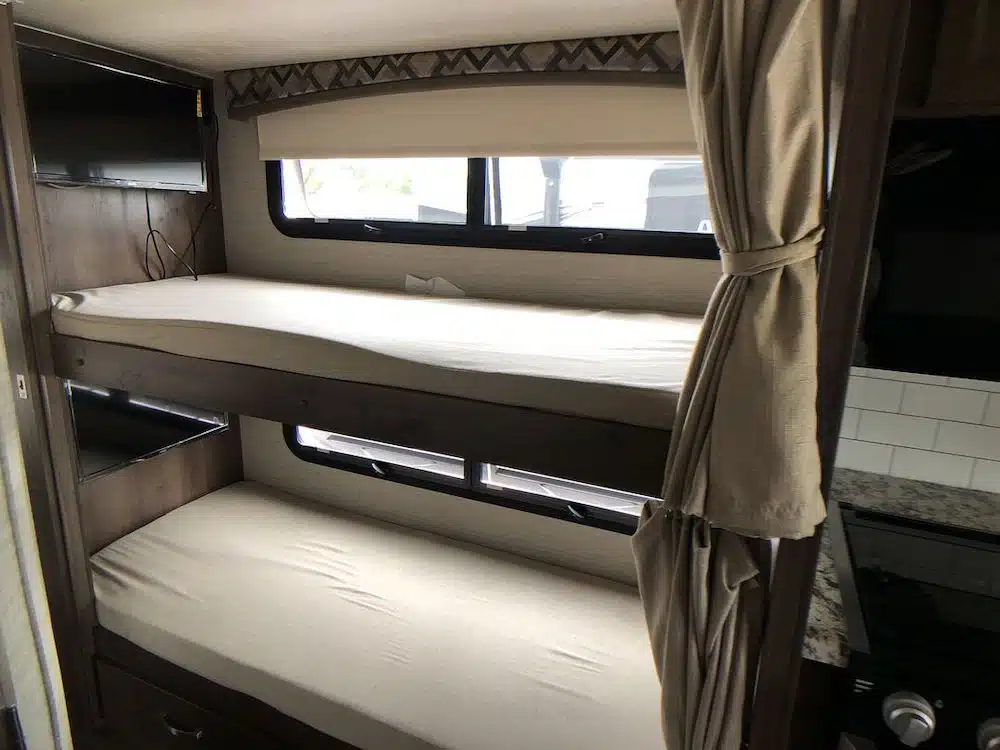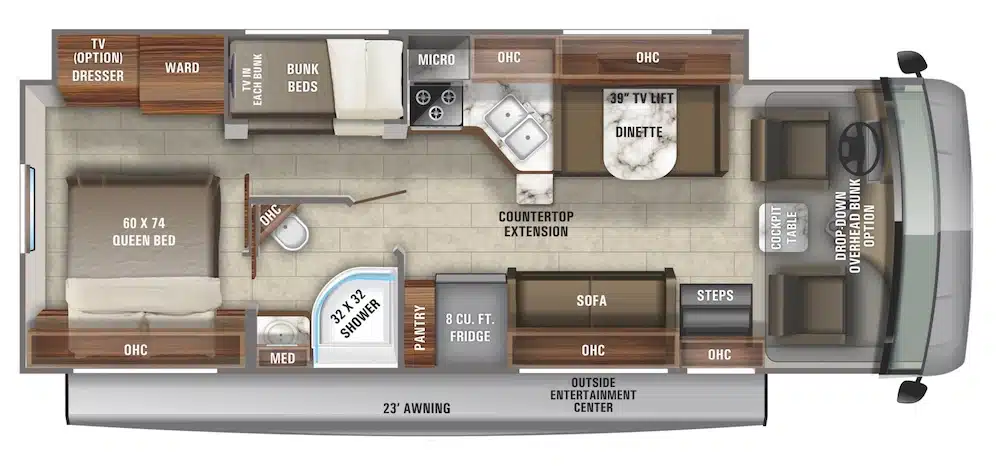 Here's a video walkthrough of the Jayco Alante 29F
Head to the Jayco website for more details on this model of RV with bunk beds, and to see what other models they have.
Fleetwood RV Flair 34J
$111,999
With all these RVs having a similar layout, it's the small things that catch my eye. 
I like the 'barn door' that closes off these bunks; a much better option than the curtains, in my opinion.
However, it does mean that both beds have to have the door open or closed. I can see a lot of sibling fights over this one.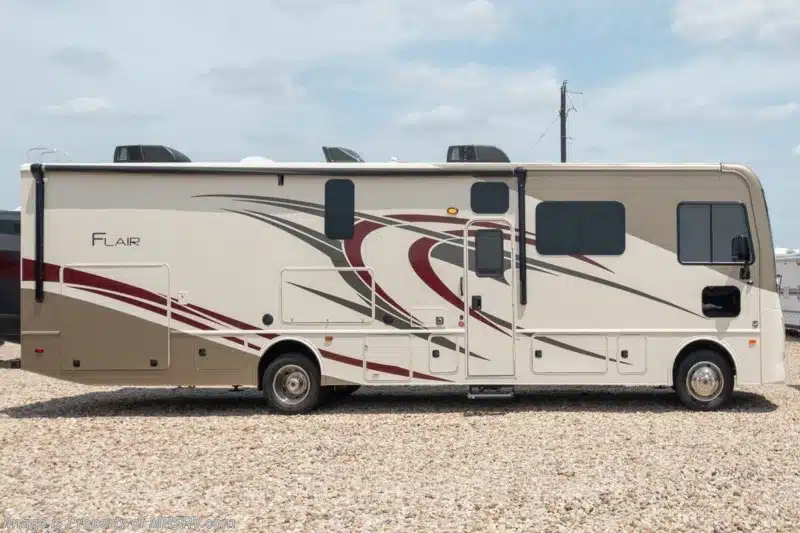 This video walkthrough shows bi-fold doors closing off the bunks, which makes the space look like cupboards. You could totally hide away all the kids mess in there!
Check out the Flair over on the Fleetwood website.
Tiffin Open Road Allegro 36UA
$179,000
I'm liking the solid doors on the bunk beds more and more. It just seems tidier overall, and I'm sure older children will appreciate being able to close off the rest of the family (i.e. their parents) for a bit of privacy.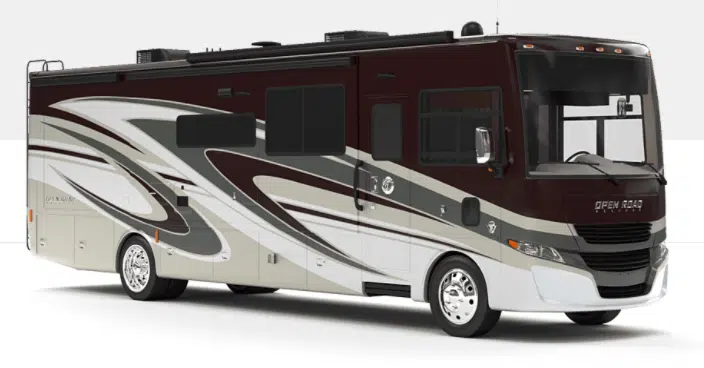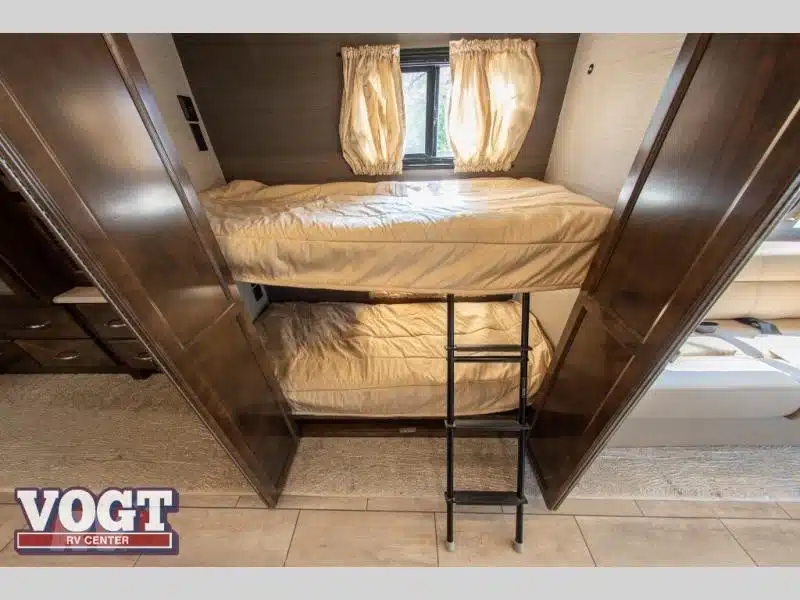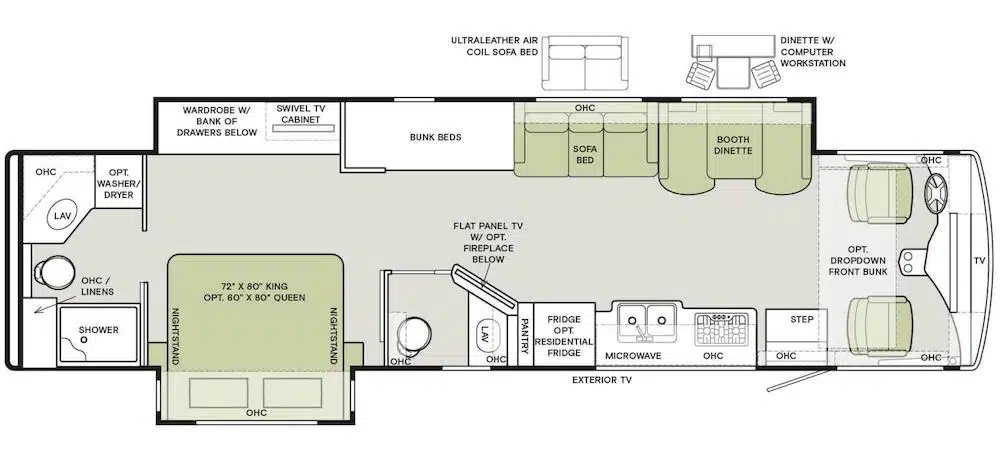 This video walkthrough is really comprehensive. She goes through all parts of the RV and shows all the details that you need (or want) to know.
See the Tiffin website for all the specs and more photos of this wonderful RV.
Holiday Rambler Nautica 35QZ
$229,000
And we finally have a different layout! Nautica is a brand new line by Holiday Rambler and with the bunk beds tucked down the back of the RV, this layout makes a lot of sense to me.
Parents can put young children to bed early, but still stay up later without disturbing the sleeping babies too much.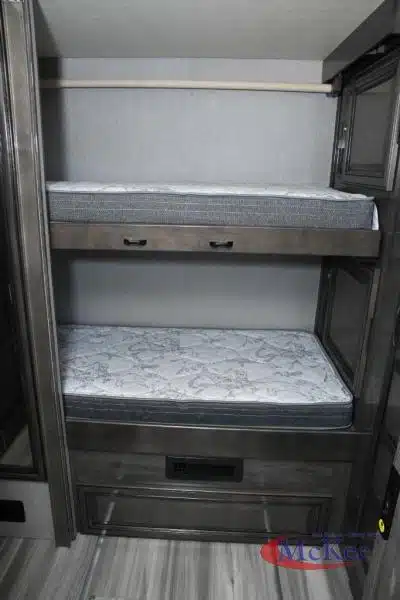 Head the the Holiday Rambler website for all the details and specifications.
Newmar Kountry Star 4045
$272,812
Back to the same layout, with the bunks opposite the bathroom.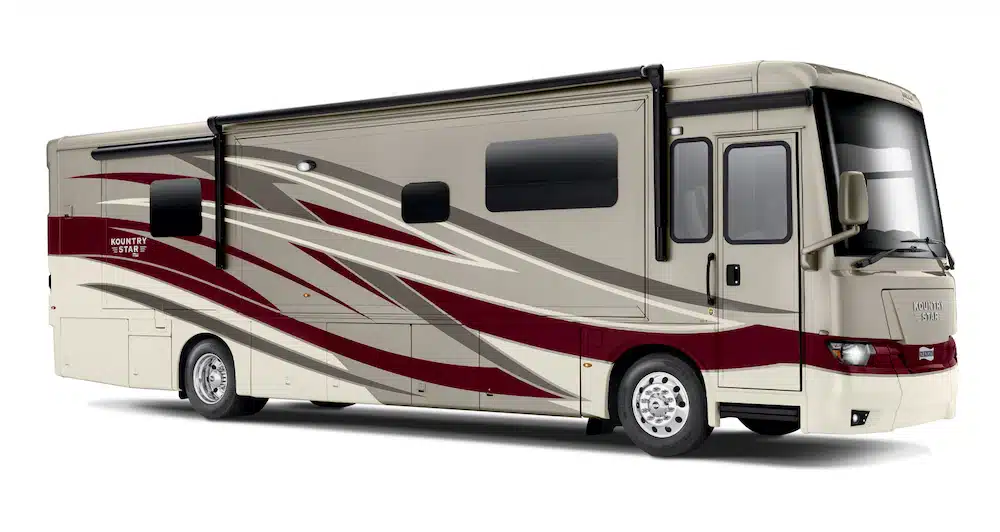 This is a good walkthrough of the RV, showing you all the parts of the RV.
The Newmar website has lots of different models, including more motorhomes with bunk beds.
Entegra Coach Vision 29F
$101,900
This one, and the Jayco Alante 29F above, are the only ones in this list that are under 30ft. 
It seems pretty rare to have bunks in these smaller RVs, but there's definitely enough room in there for a young family.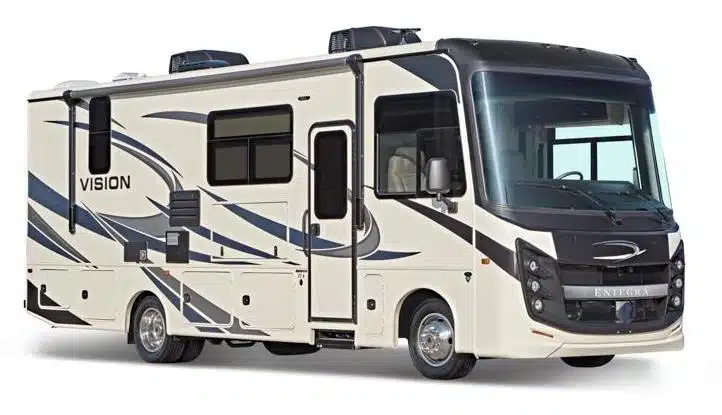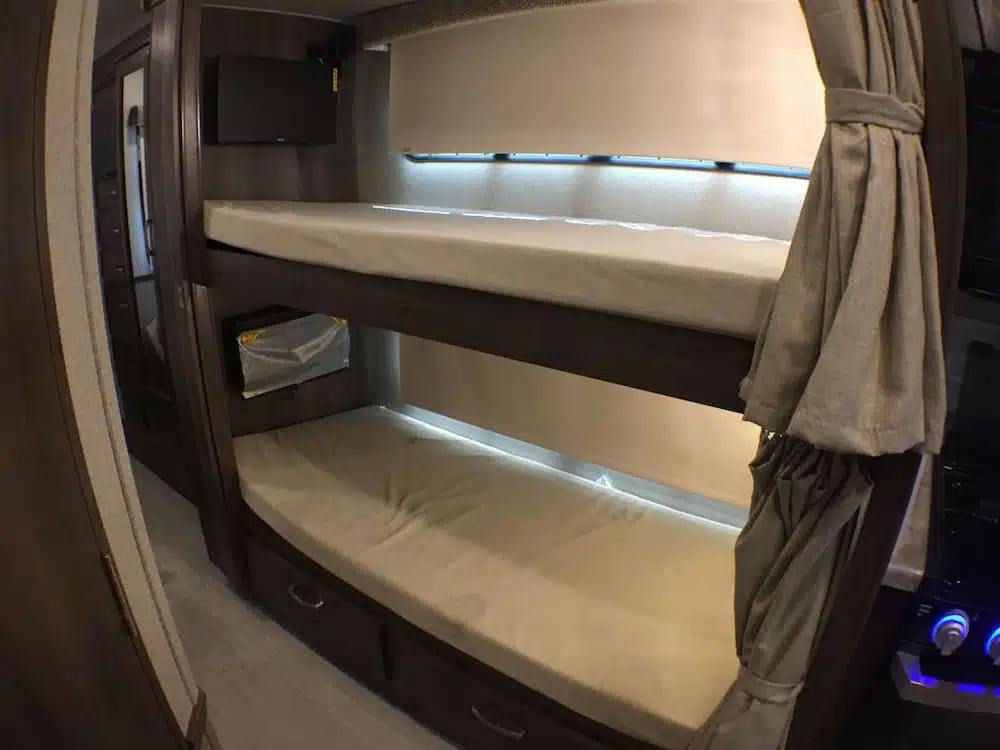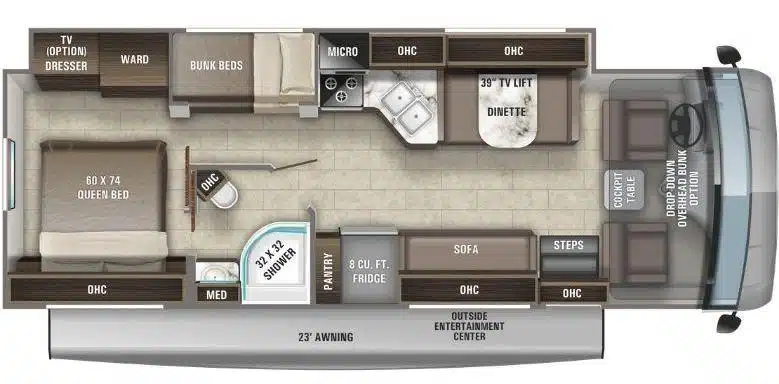 Another good video walkthrough of this RV. It's a little bit dark in some parts, but gives you a really good iea of the space.
More details about this RV, and their other models, over on the Entegra website.
Coachmen RV Sportscoach 402TS
$205,000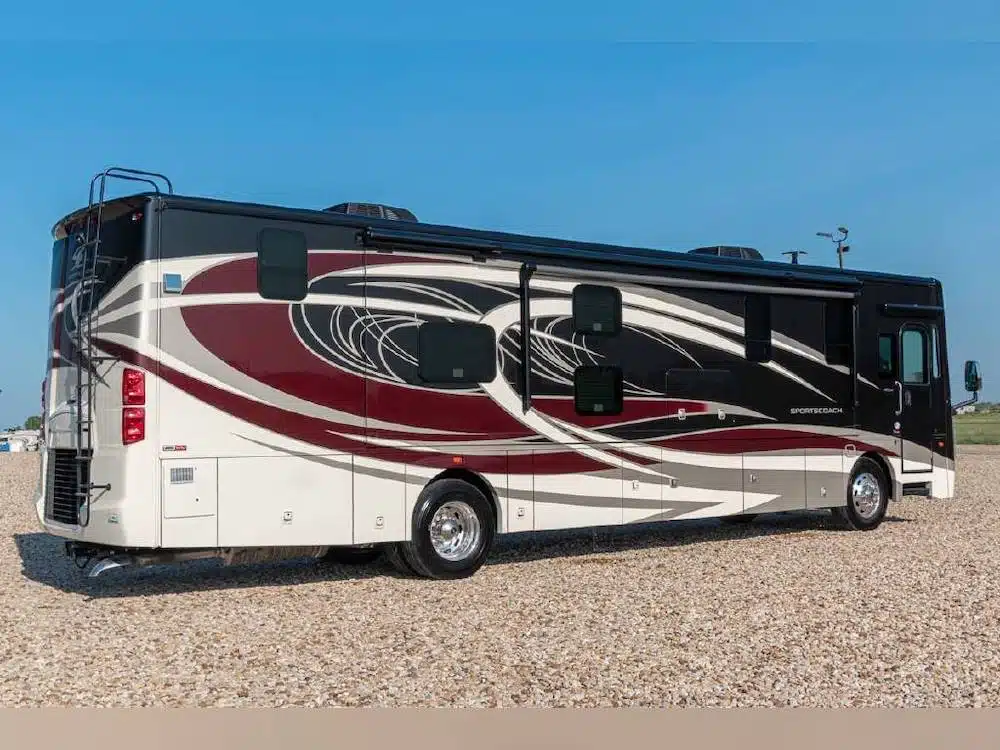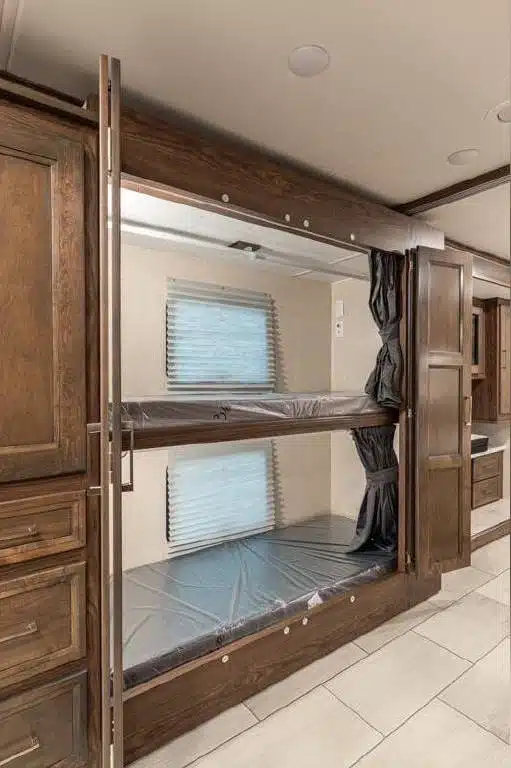 This walkthrough is good and when he gets to the bunks, the presenter talks about the options of having the bunk space for a wardrobe or an office instead. Some good versatility of space there.
Go to the Coachmen RV website to find out more about this model, and the other bund bed models they have.
Conclusion
So there weren't nearly as many Class A RVs with bunk buds as I thought there would be; but it does look like there are some really good options for those families that really want to be in a motorized RV.
If you don't necessarily have your heart set on a motorhome, or you have a large family (more than 3 children), then you may find that a fifth wheel or travel trailer is a better fit for you all.
But hopefully, looking at these Class A RVs with bunk beds has given you a good starting point for finding the right RV for your family. 
Pin these ' Class A RV with bunks' to Pinterest