Some of you would have already realised that when it comes to RVs, for me, smaller is better. I've harped on about how here in Australia we just don't have many large RVs, but we've got tonnes of smaller RVs (including small fifth wheel campers), but big enough to live in comfortably even if you are full-time.
There's just not the infrastructure in place here to accommodate large rigs. While there are caravan parks in every city and town across the country (even those blink-and-you'll-miss-it small towns). They are often set up as back in sites, where you've got enough room to back your caravan in place (so you better get good at backing), a little patio area beside your caravan, and if you're lucky, a spot beside that to park your tow vehicle (otherwise you have to park it across the front of your site… or in your patio area.)
There are not a tonne of pull through sites, and not every caravan park can accommodate a long rig. I'm sure it's the same everywhere, that's why I see so much chatter about 'going-smaller' on RV blogs.
Oh, this morning I took a picture of the fifth wheel beside us at the showgrounds we are at currently. Not very big huh! But compared to our teeny tiny caravan it's a huge beast that I would totally love to call my home! Although we've scored the jackpot with our shady spot under the tree. 🙂 
So if you are also in the same situation, where you like the idea of a fifth wheel trailer, but are not keen on anything too large, this post is for you!
---
Want to see all the RVs in one place?
We've created a spreadsheet with all the RVs in the USA, and we'd love to send that spreadsheet to you. Just subscribe to our newsletter below, and we'll send the spreadsheet to you immediately.
Why a small fifth wheel camper?
One of the reasons you might be looking for a fifth wheel is that your tow vehicle can tow a bigger, heavier rig if the load is centred on the bed of your truck as in a fifth wheel, compared to the weight being on the tow bar like a travel trailer.
So it may seem counter-intuitive to have a small RV as a fifth wheel. I mean, if it's small, you may as well just have a travel trailer. But there are other reasons to consider a small fifth wheel, such as more stability (less sway) while travelling at speed, and a bit easier to reverse (apparently) into your site.
Since the word 'small' is a bit subjective, I'm limiting this search to anything under 25ft and must include a bathroom (toilet and shower).
Okay, here goes:
Small fifth wheel campers
The Escape 5.0TA
We start off with a fiberglass fifth wheel from Canadian company Escape Trailer Industries. They do have 7 fiberglass trailers in their range, but Escape 5.0 is their only fifth wheel and is 21'2".
The layout packs a punch with everything that they fit in there, and while it's not my favourite layout, it does have everything you need… as long as you're cool with a wet bath, of course.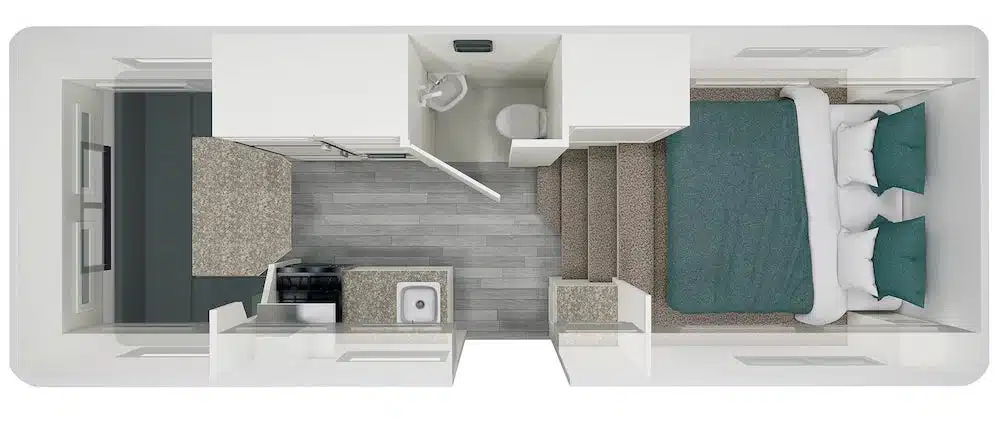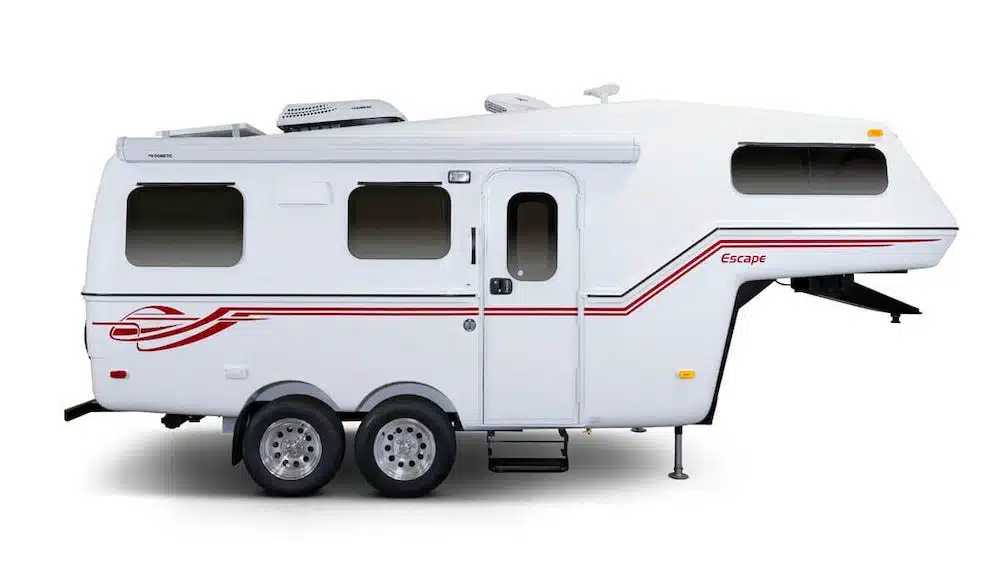 And they've updated their decor offerings to include something a little more contemporary. But they do still have the more traditional wooden interiors, if that is your preference.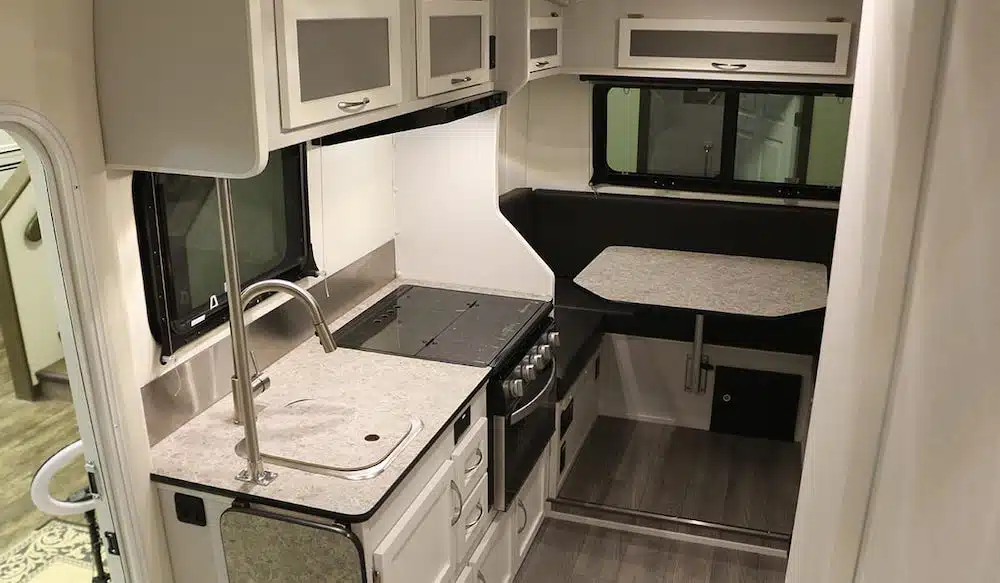 Length: 21'2″
Sleeps: 4
Dry Weight: 3,910lbs
GVWR: 5,000lbs
Price: $44,510 USD
KZ Sportsmen
The 231RK model from KZ comes in at 24′ 10″, it's the smallest of their fifth wheel range but has all the bells and whistles that we have all come to expect from the much larger rigs.
I really like the layout with the kitchen on the back wall, it makes the most of the entry being straight into the kitchen, rather than having a separate entry area. This rig fits in everything I could want in a home, and nothing more, keeping it short and probably light.
Decor is a little more contemporary than other RVs I've seen.
Length: 24'10"
Sleeps: 5
UVW: 6,200lbs
GVWR: 7,5000lbs
Price: from $36,999 USD
Scamp
You know we couldn't go past this one, right? Another fibreglass fifth wheel, the Scamp already has the 'small, light' niche covered.
At just 19', it is the smallest of the small fifth wheel campers; but thankfully, it still manages to fit in a small wet bath.
Everything is downsized, as you would expect, but that's what you get when you want small.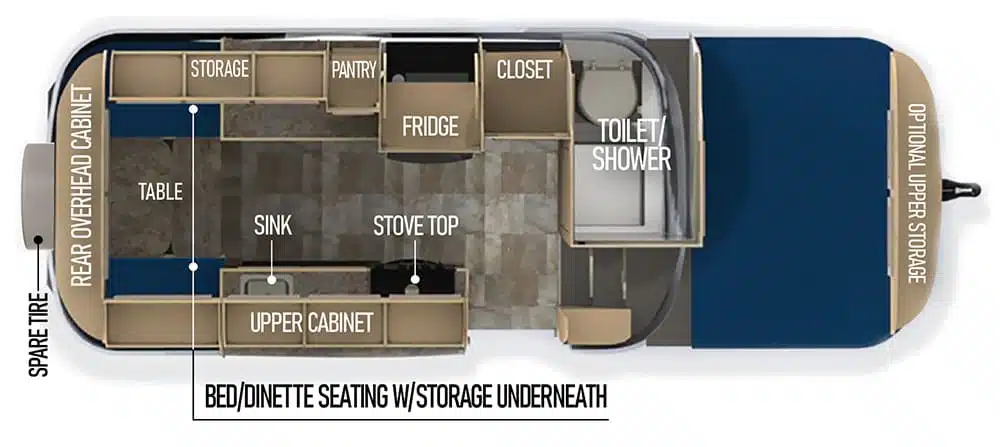 But… boy is she ugly! I know that beauty is in the eye of the beholder, but… just look at her! There's something about the shape, the uneven roof and different sized windows, that just make it look unbalanced and, well, odd.
And I gotta admit, the interior ain't much better either. More brown, but at least it's a lighter brown?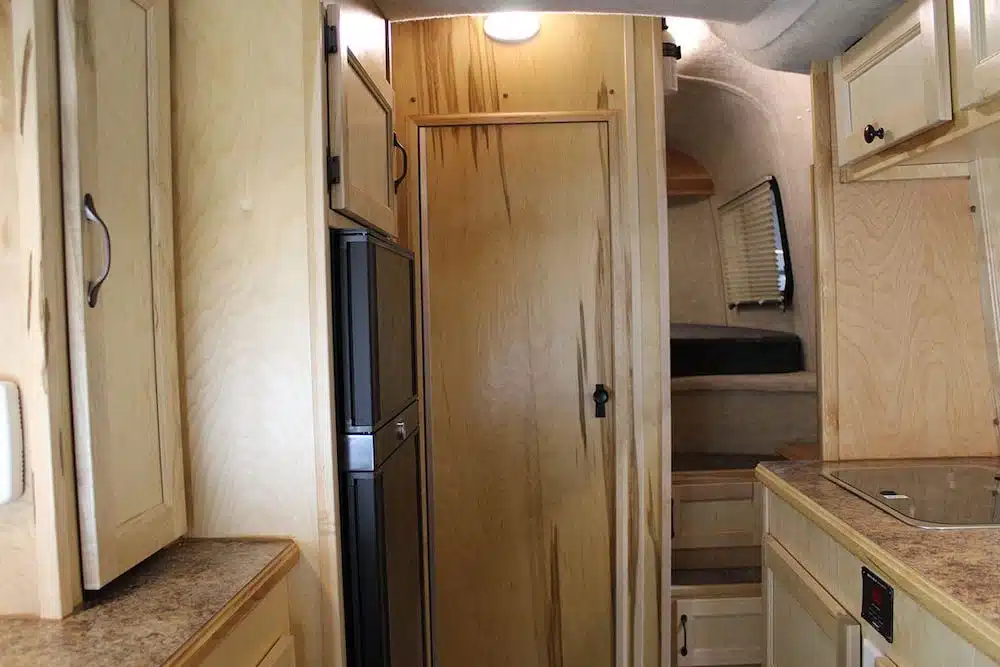 I know I'm being harsh, but when a manufacturer spent so much time, money and effort in getting the important things right (size, weight, length, structure, layout etc) it's just so disappointing to be let down by something that's so easy to change… the color of your decor. It's just a color (okay, and maybe texture too) but surely it's the easiest thing for any RV manufacturer to change?
Length: 19′
Sleeps: 6
Allen Camper Manufacturing
Here's an offering from one of the smaller manufacturers. This company, based in Allen OK produces a small range of travel trailers and fifth wheels. 
The 199RB model is their smallest… and I LOVE it! 
At just 20'10" this is what I mean when I talk about small… the bed takes up only as much room as needed, but everything fits just nicely.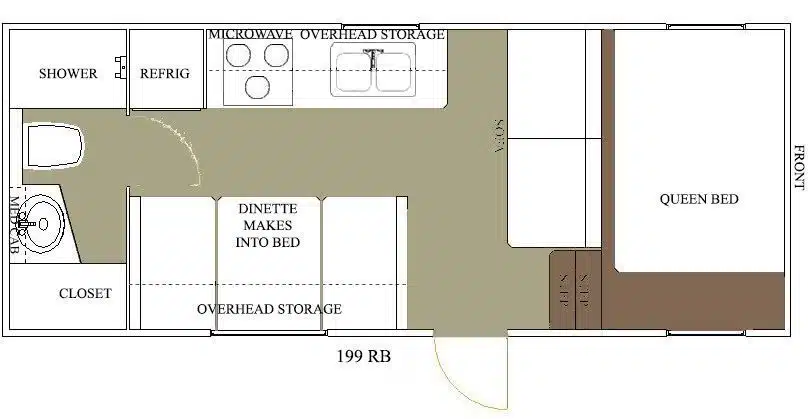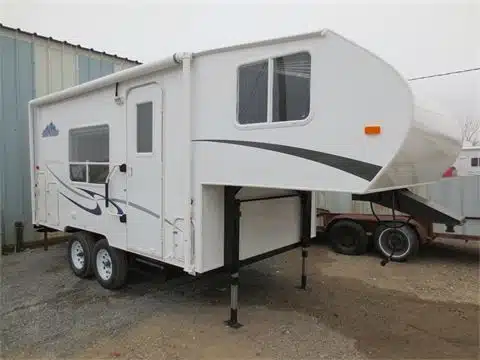 The decor is somewhat dated, but this practical layout manages to fit a lot into under 21′.
https://www.allencampermfg.com
Length: 20'10"
Sleeps: 4
UVW: 3,450lbs
GVWR: 4,500lbs
Aaaaand… that's it for North America. Not much selection, so I've broadened my search to Australia and Europe.
Every US based RV manufacturer: Save yourself hundreds of hours of research and download The RV Master List containing links to every single RV model in the US, including links to the manufacturers websites.
Fifth Wheels from around the world
Sunliner Houston
Brand new on the market, is the Houston fifth wheel from Sunliner. With 6 layout options, the smallest one (5H461) measures just 7.18m (23.5ft).

As seems to be our standard here in Australia, the decor is rather understated. Plain, if you will. But that means it's ready for whatever embellishments you wish to add to make it your own space.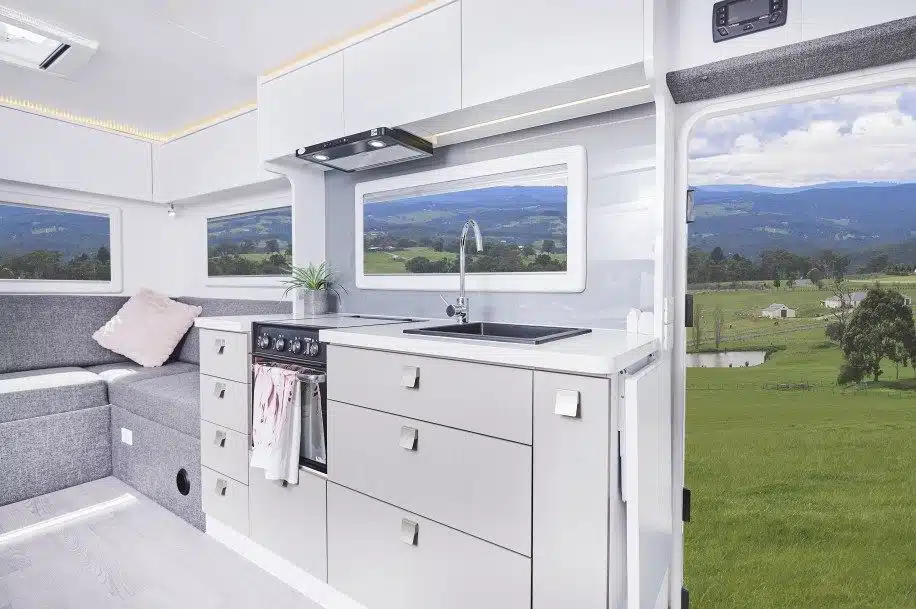 Travelhome Macquarie
The Travelhome Macquarie has a small selection of fifth wheels, ranging in length from 23ft to 29ft.
The Macquarie 23ft Series II has a great layout with a lounge/dinette across the back window, which allows for a great view which enjoying your meals. Though the layout shows single beds, they can actually be converted to a queen bed.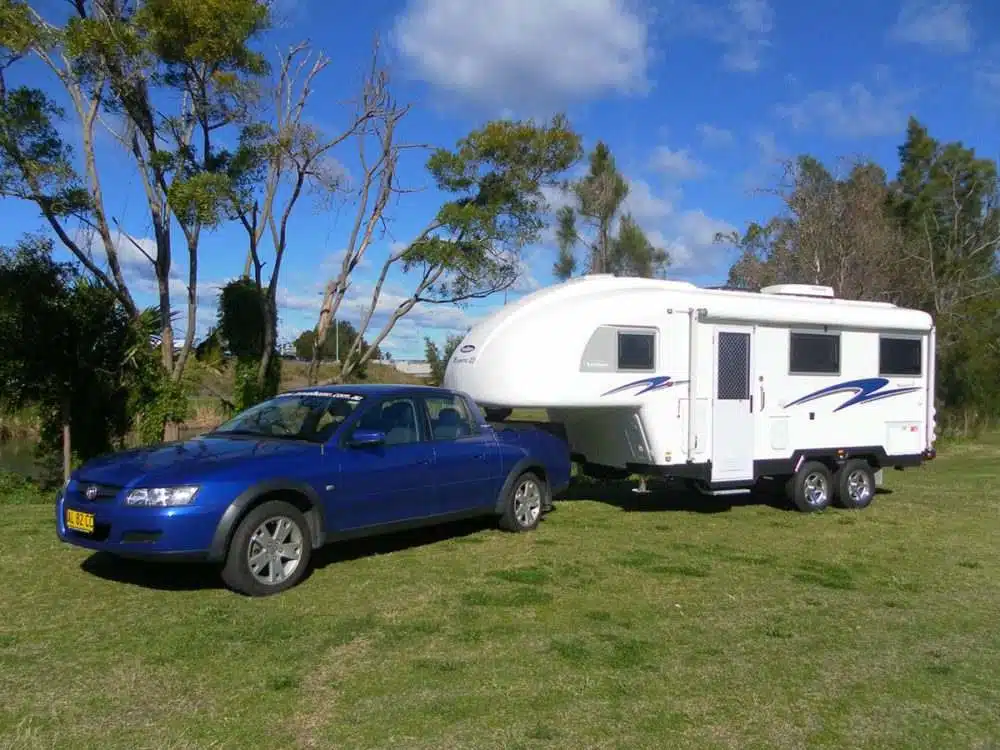 I notice that all the Aussie fifth wheels don't have a high roof over the bedroom area, so it's more like a sleeping space as opposed to a bedroom, I s'pose.
I'm liking the decor too. It's a bit bland (which is good, because you can jazz it up however you want) but it's certainly not ugly!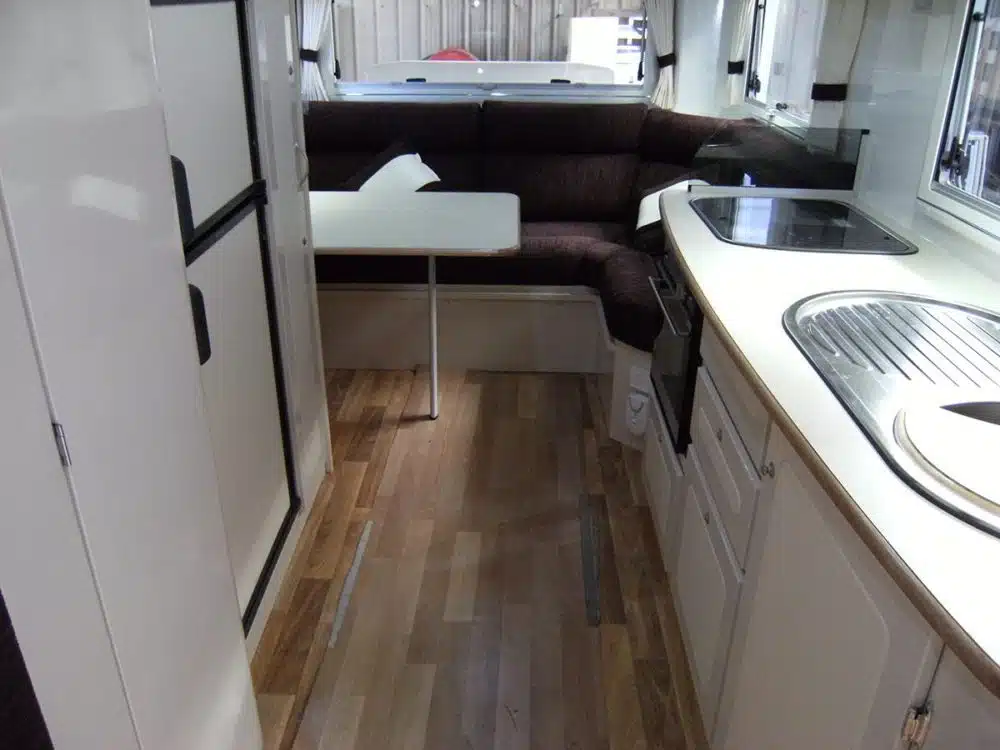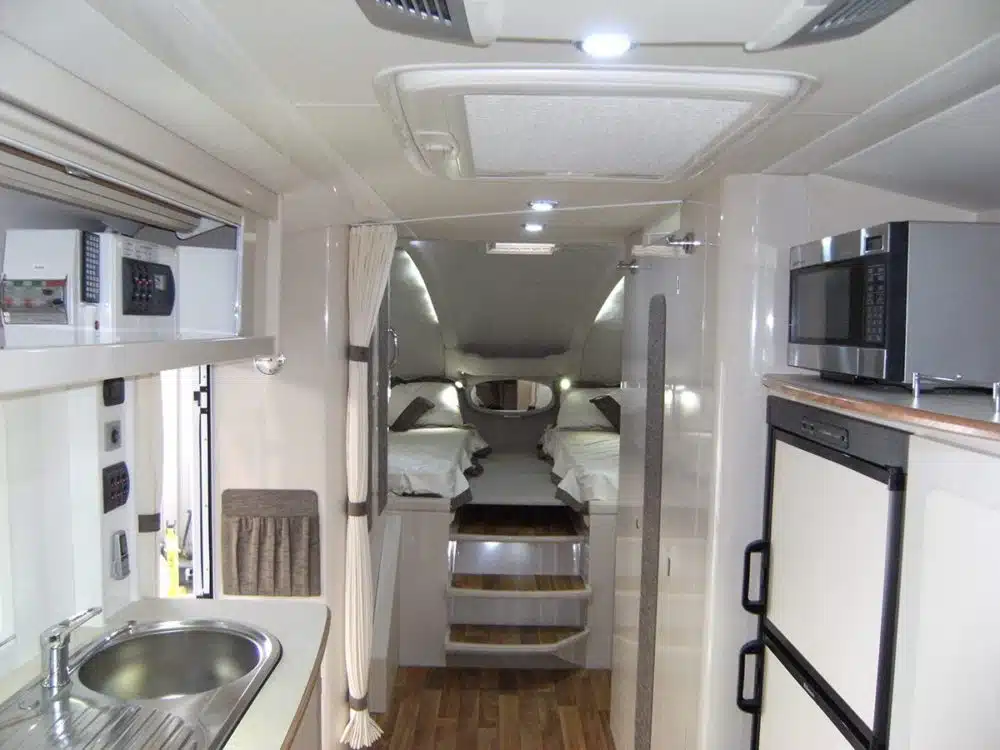 Winjana Strzelecki
Winjana have 4 fifth wheels and they're all under 26'; their smallest one is only 19'5" but I don't think it has a bathroom (hard to tell cos there's no layout plans).
So we'll have a look at the second smallest which is still tiny at just 6.95m (22.8ft)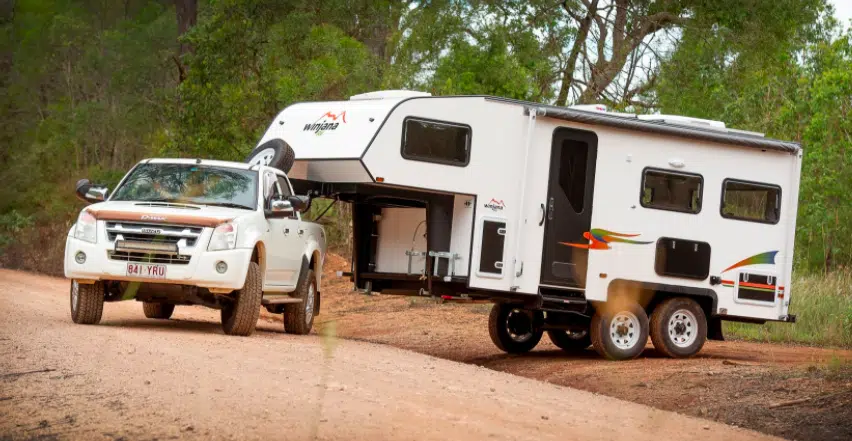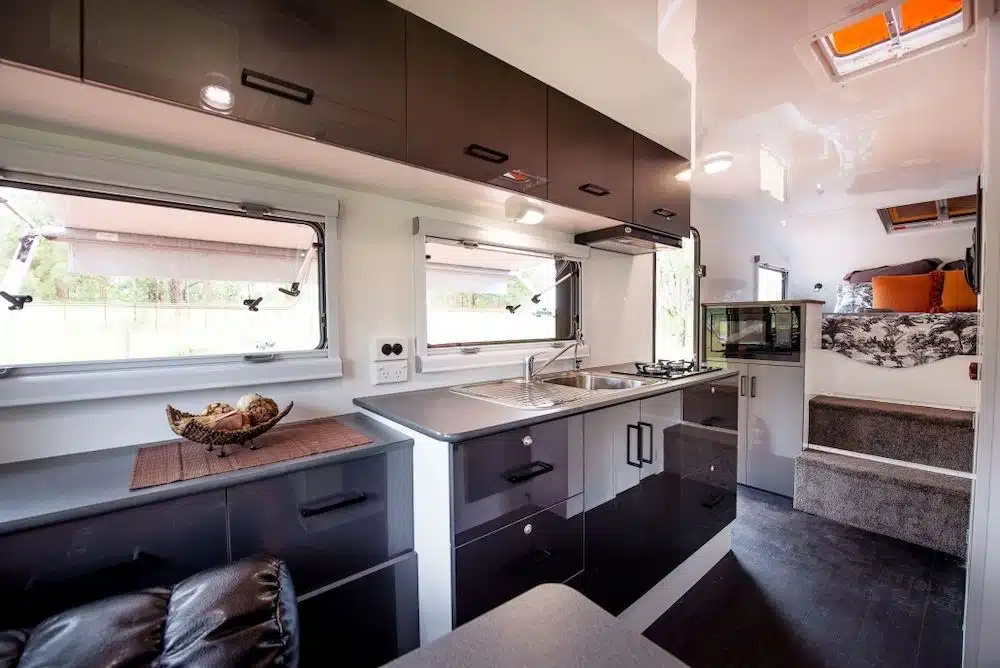 Their website is not updated regularly (I mean, they're only a small manufacturer) but the models don't seem to change all that often.
https://www.winjana5thwheelers.com.au
Fifth Wheel Co Dreamseeker
The Fifth Wheel Co is a British built brand has a small range of fifth wheel campers and one of them fits our small category nicely.
The Dreamseeker is a petite 24'11" and manages to fit in a full (walkthrough) bath and a sofa as well as the dining area.
That dining room slide sure does open up the space in there.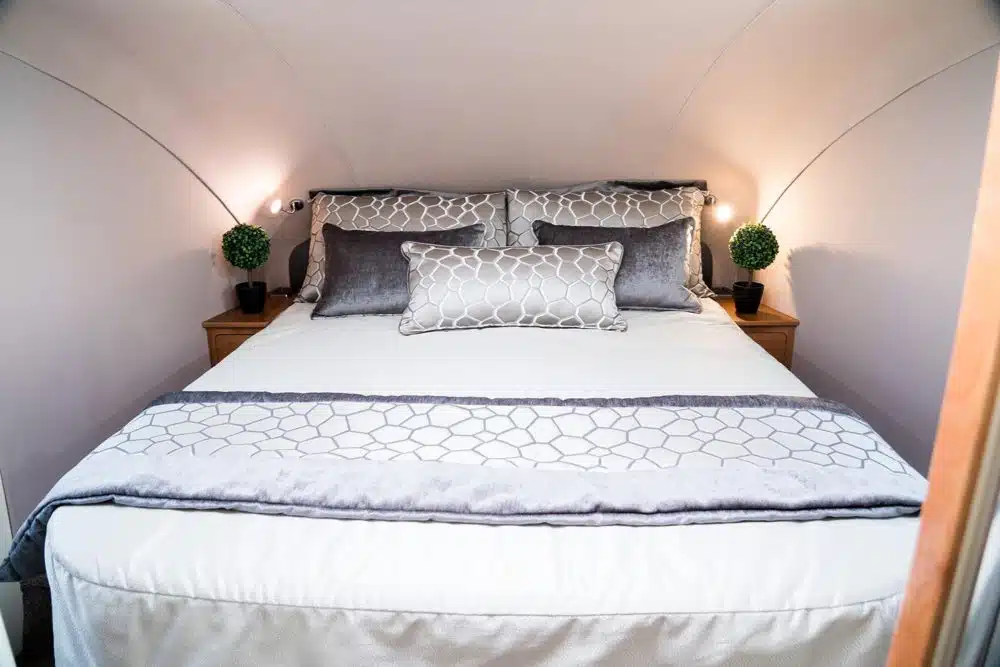 Is anyone else breathing a sigh of relief at this lovely interior decor. Leave it to the British, huh!
---
The smallest fifth wheel camper available now is the Scamp 19′. This fiberglass model is small and light, but still manages to fit in everything you need to be comfortable.
The Scamp 19ft is the lightest fifth wheel camper on the market at just 2,400 to 2,900 pounds.
So there we have it my friends, a selection of small fifth wheel campers 25ft and under that have a bathroom with a toilet and shower.
You'll see that I've added a link to each of the fifth wheels so you can go and check out all the latest details for yourself. I hope you've enjoyed this little look at the little fifth wheelers.
Are there any that I've missed? Let me know in the comments below. Just fifth wheels (less than 25ft) mind you!
---
Don't forget to subscribe to our newsletter below and we'll send you The RV Master List.
---