QUICK SIDE NOTE: Save yourself hundreds of hours of research and download The RV Master List of every single RV model in the US, including links to the manufacturers websites.
Of course, any 'best' list is subjective, and this list of the best small RV camper vans is no different! Following is a list of the best small RV campers from around the world, that are available in 2022.
I've made no secret of the fact that I love small RVs, and one of my favourite RV types is the camper van.
I dream of being able to go anywhere I want while taking my whole life with me.
Whether it's pulling up to a beautiful beach for an afternoon swim and then deciding to stay there for dinner and a few wines, before snuggling into my comfy bed for the night.
Or heading across country to spend time with family. 
There is something so romantic about the nimble-ness, yet comfort, of a well-designed and well-made camper van.
In this list, I've included only new 2022 campervans. 
No Class C's, definitely no Class A's, no truck campers, travel trailers, fifth wheels or tear drop trailers. No one-off van conversions either. (Click the links if you want to see those types of RVs)
Just the best small RV campers that you could go out and buy today.
Just to be clear, a Class B and a camper van are the same thing. Just a different way of calling it… like every other RV type, it has multiple names.
You'll no doubt know that most manufacturers have multiple models of RV, and since I'm looking at 'small' campervans, I've decided to show the smallest camper vans of their available models. 
Oh, and only models that include a bathroom.
Revel – by Winnebago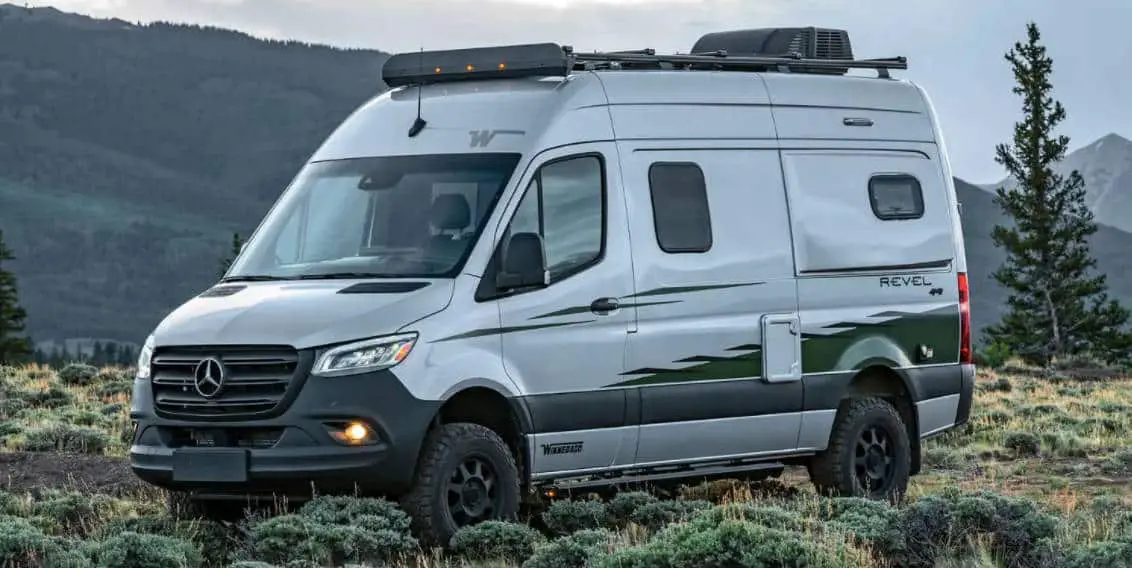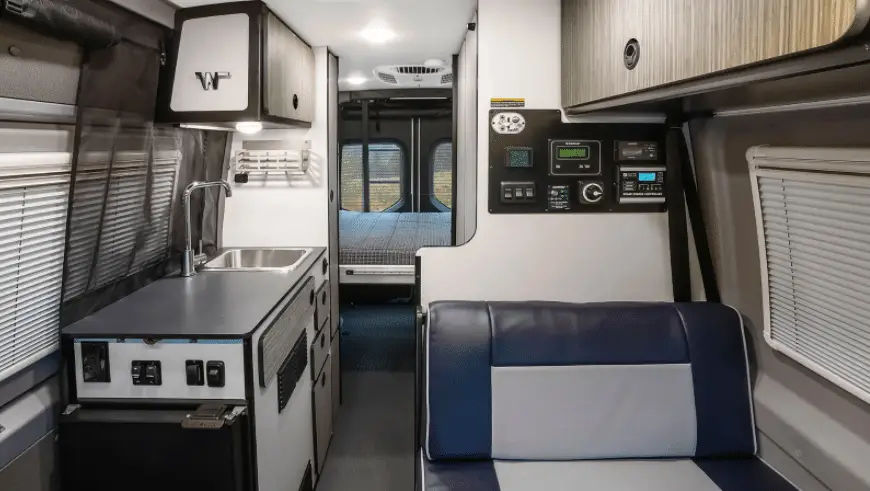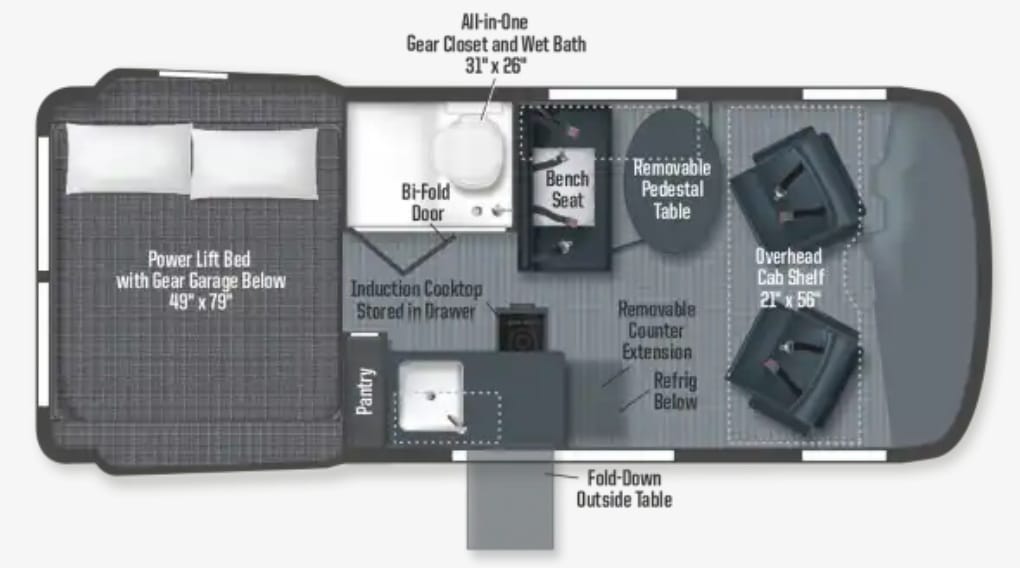 Let's start with the big guns of the RV world; the Revel by Winnebago. I've seen lots of other bloggers write about how much they love this little number. Here's some blog posts that give you a look at how this camper van works for RVers in real life.
How we're living in a van – MakingSenseOfCents.com
I love the layout of the Winnebago Revel, and it's obviously positioned as an adventure vehicle for those that like to get out and enjoy outdoor activities. 
Here's a great walkthrough of the van by Colonial RV:
Price: from $196,506
Click here to see more of the Winnebago Revel
Interstate Nineteen – by Airstream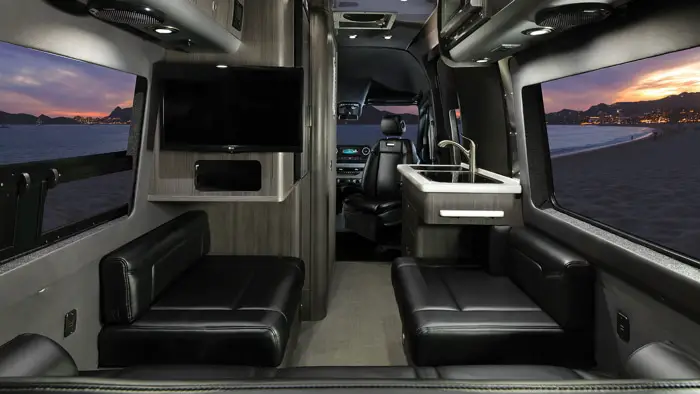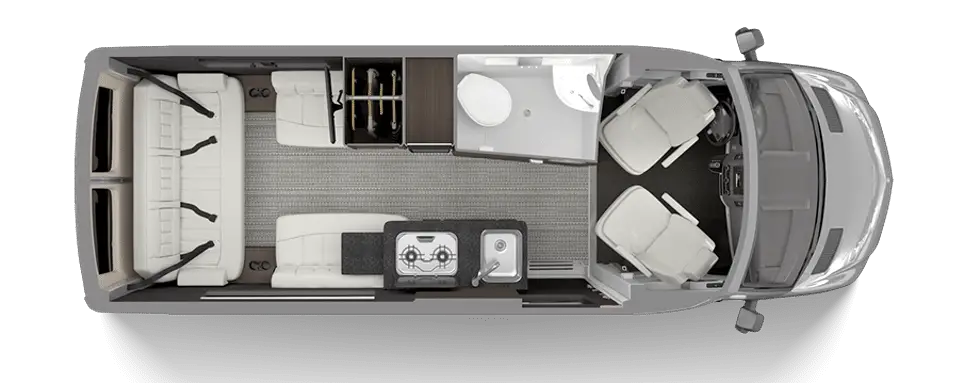 Hailed as a luxury campervan the Interstate Nineteen is the smallest of the Airstream camper vans. Measuring just, you guessed it, 19ft, it packs a luxurious punch in the camper van market. It seems weird to call it a camper van… in my head, camper vans look more like VW Kombi's with flowers painted on the outside. 
While I'm not totally keen on a seating / bed combo (I always feel like the joins in the cushions must be a bit horrible to sleep on) it does make this van quite multifunctional.
Below is a comprehensive walkthrough of the 2022 Airstream Interstate Nineteen
Price: from $184,903
Click here to see more of the Airstream Interstate
SS Agile – by Roadtrek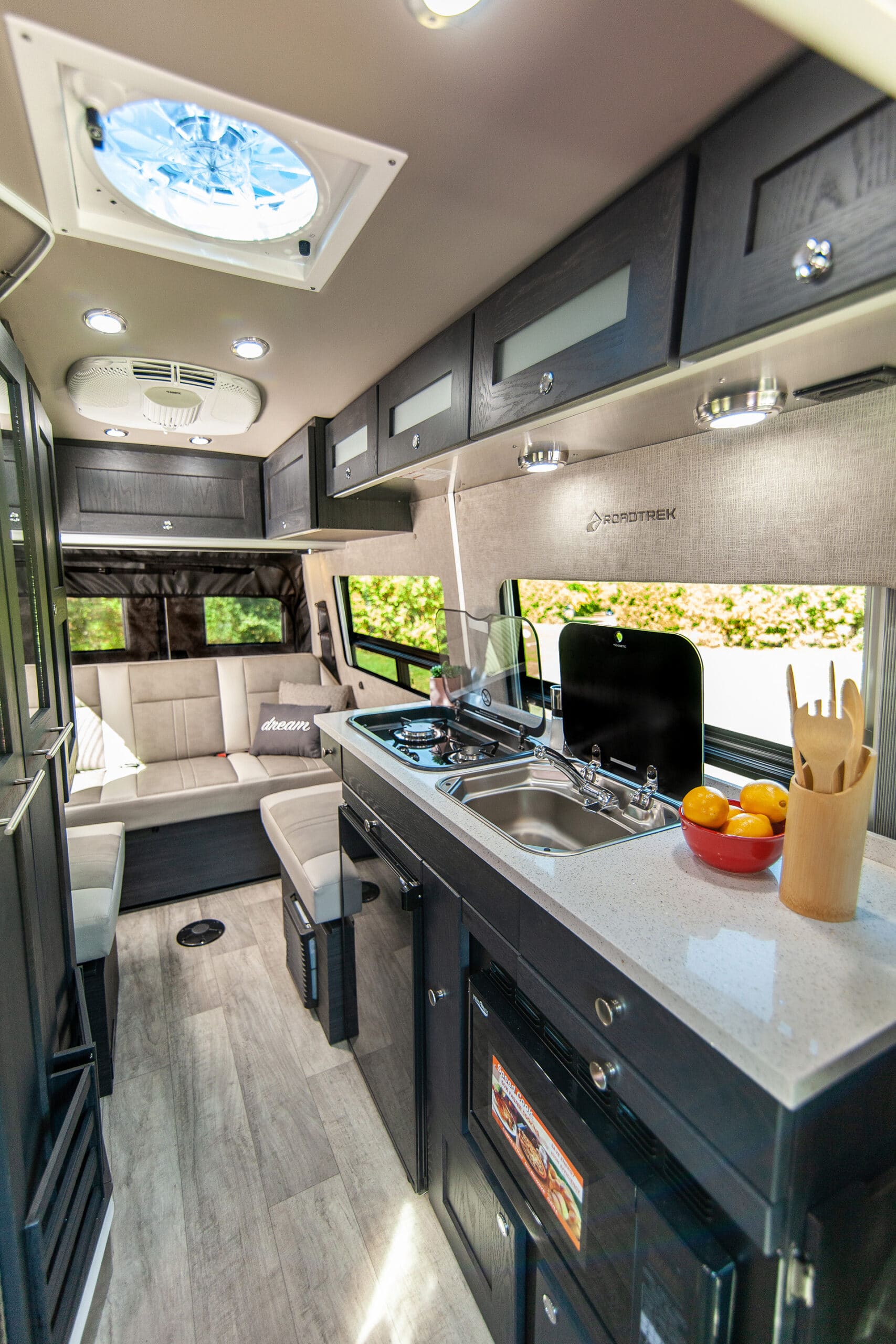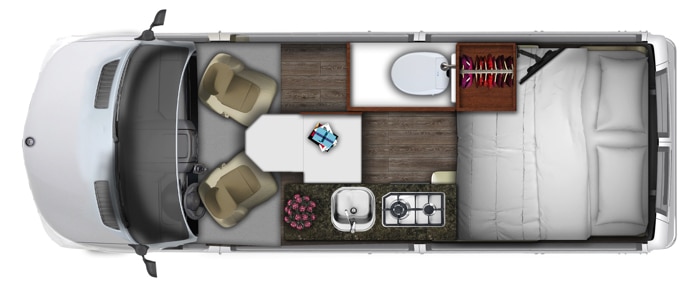 What an appropriate name 'Agile' is for this little van. Another diminutive 19ft van with all the normal stuff of these camper vans, including the bed that converts to a seating area.
Below is a walkthrough of the 2021 Roadtrek SS Agile; last years model, but still similar.
Price: from $181,860
Click here to see more of the Roadtrek SS Agile
Nova – by Coachman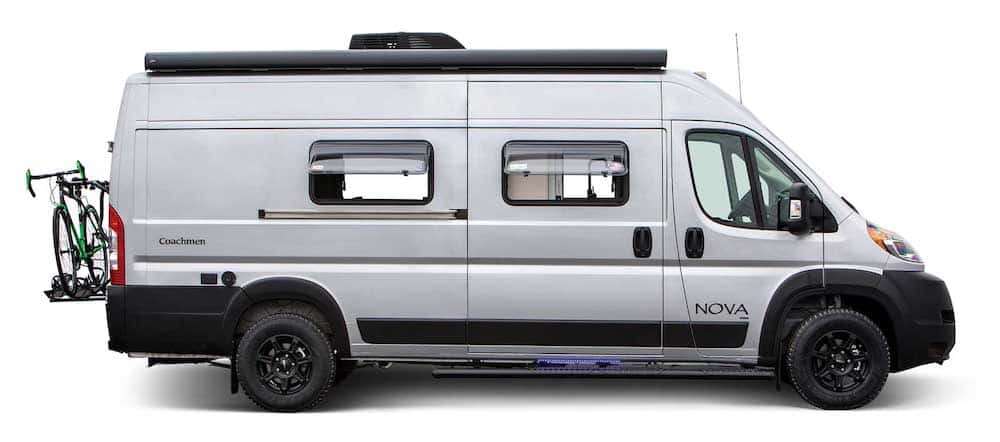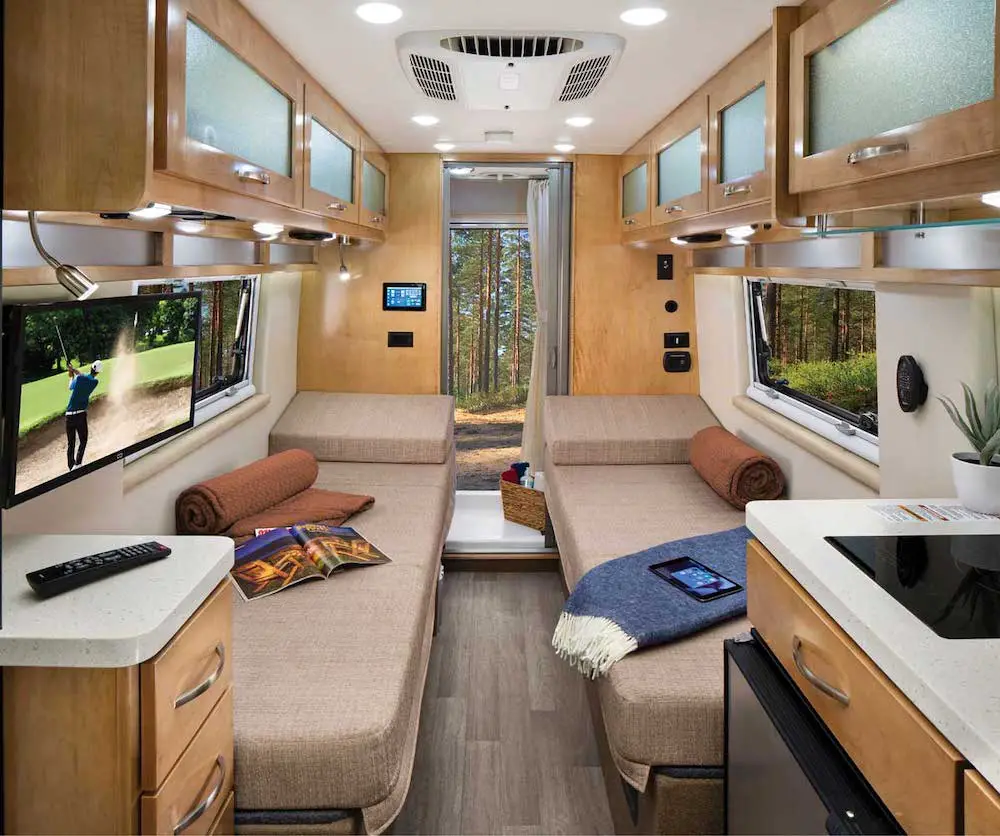 The Coachman Nova is another camper van that seems to be trying to appeal to the outdoor adventurer (I make this assumption totally based on their exterior van shots which show rear bike racks). But it's not 4WD like other 'adventure camper vans' such as the Winnebago Revel
It also has a very clean and minimalist interior which would appeal to those who don't like fussy interiors.
Price: from $134,856
Click here to see more of the Coachman Nova
Irok – by Fleetwood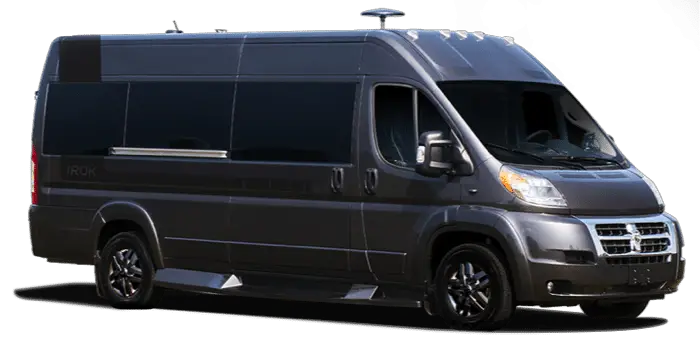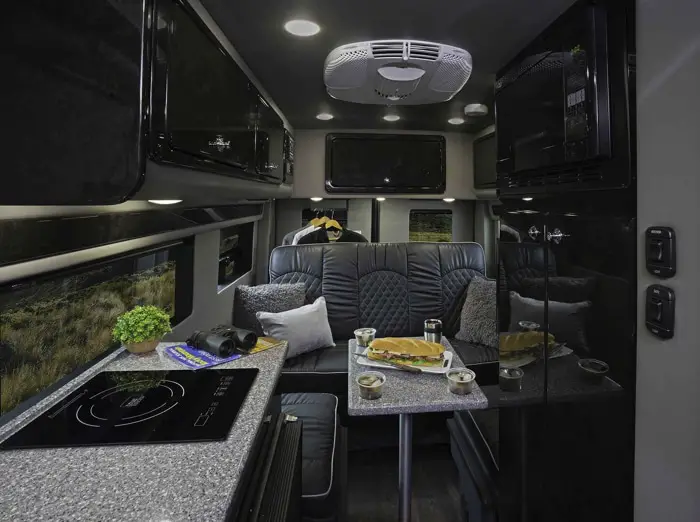 In my opinion, the Irok fits perfectly in the luxury camper van category, especially with those plush leather seats.
They seem to have done away with the electric loft bed from previous models. The bed would lower down from the roof and it was a feature that I loved!
It looks like I may have 'jumped the gun' and updated this post a little too early. Again, I only have a video walkthrough of the 2021 version of the Fleetwood Irok. 
Price: from $114,988
Click here to see more of the Fleetwood Irok
Patriot – by American Coach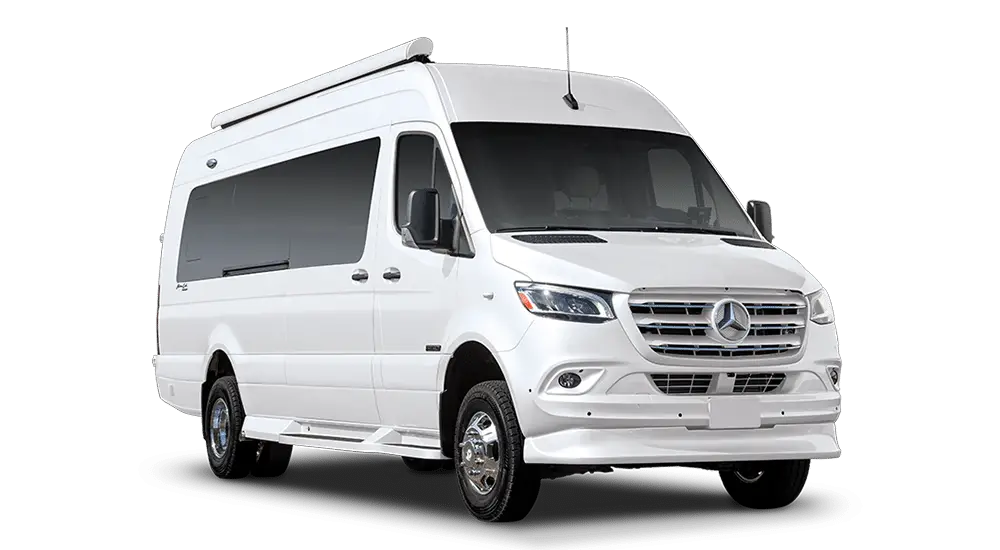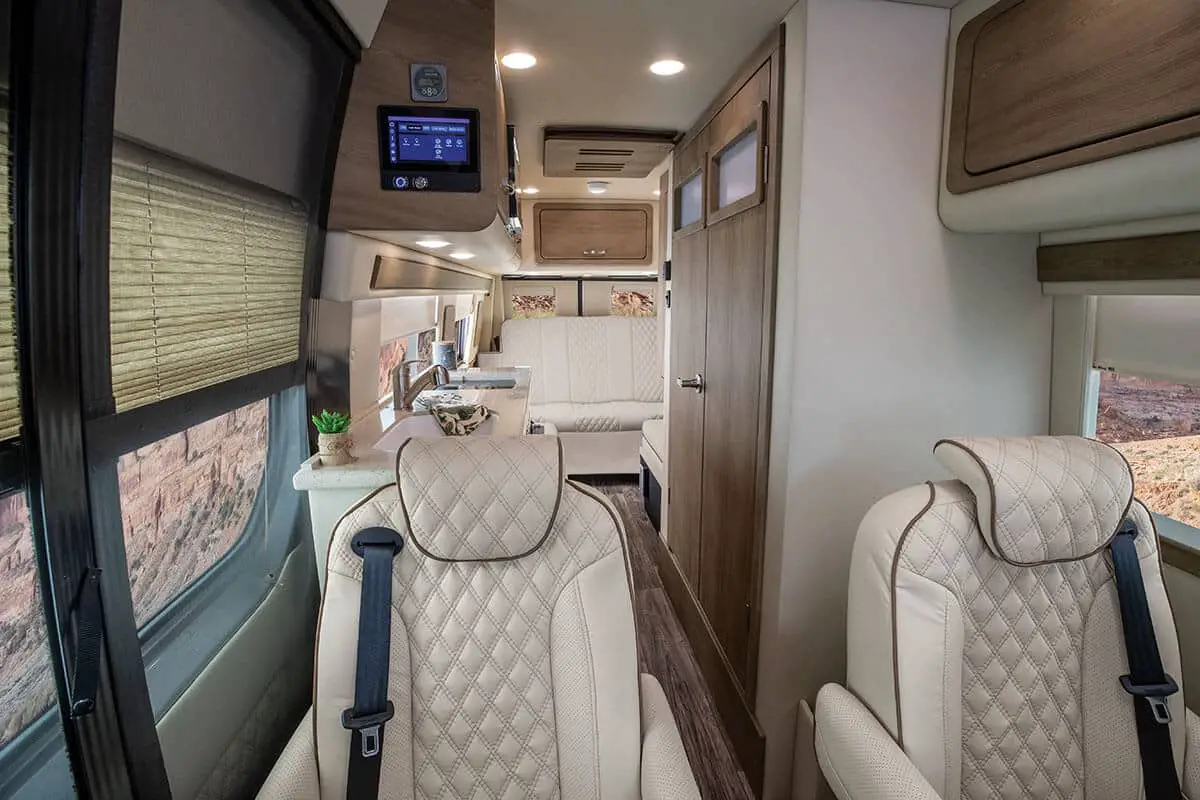 This model of Class B appears to be very similar to the Irok (well, they're all pretty similar, aren't they), and American Coach have also done away with the loft bed. 🙁
However, the feature that will make this campervan even possible for families, is the ability to add two more passenger seats upfront. 
Price: from $175,493
Click here to see more of the American Coach Patriot
So the Class B / Camper Vans that I've listed above are all available in North America. For those of us in the rest of the world there is not a lack of choices either!
I'm going to have a look at the two other big markets for the RV industry, Australia and Europe.
Let's start with the Europeans, as they're already great at making smaller RVs and, in my opinion, they have great styling.
Small Camper Vans | Europe
Select – by Swift Motorhomes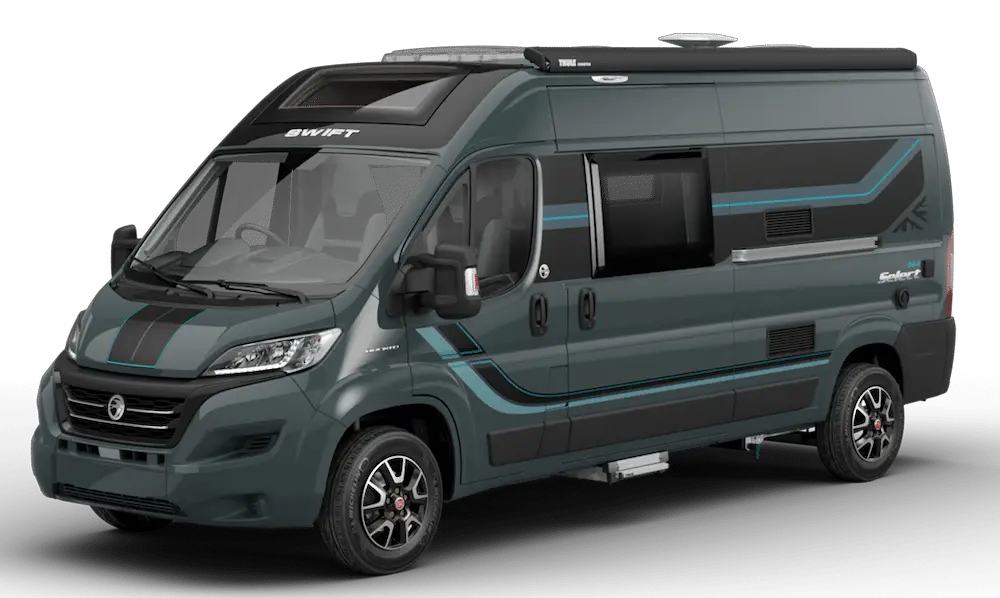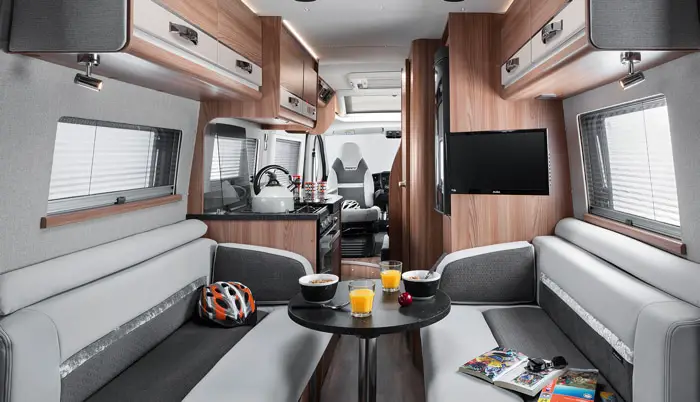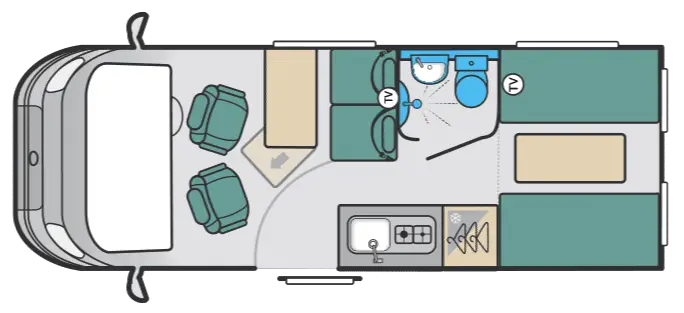 At 6m long (which is 19.6ft) the Swift is not too dissimilar to the North American Class B's we've featured above.
Here's a video walkthrough showing all the features. 
Price: from £55,395
Click here to see more of the Swift Select
V-Line SE by Auto-Trail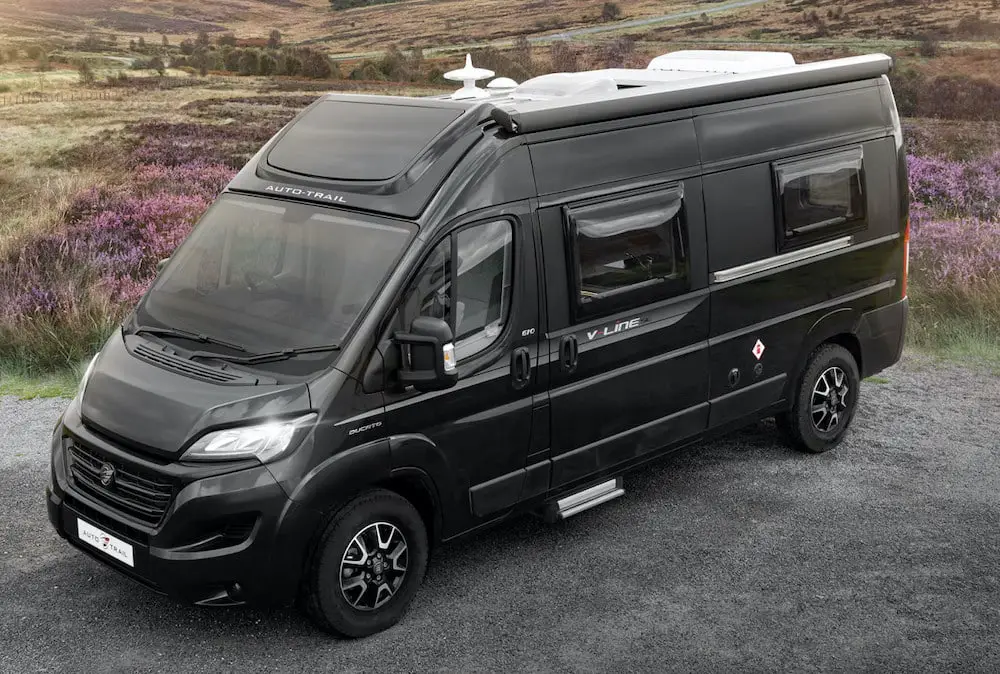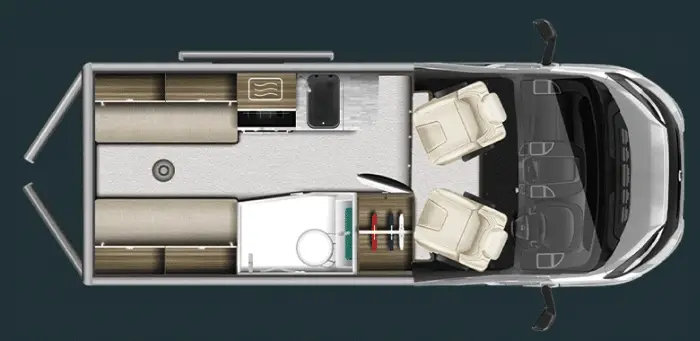 This little beauty is only 5.4M (17'9") so it's the smallest of this group. But it has all the 'campervan' requirements including a bathroom.
Price: from £55,907
Click here to see more of the Auto-Trail V-Line
Twin Axess – by Adria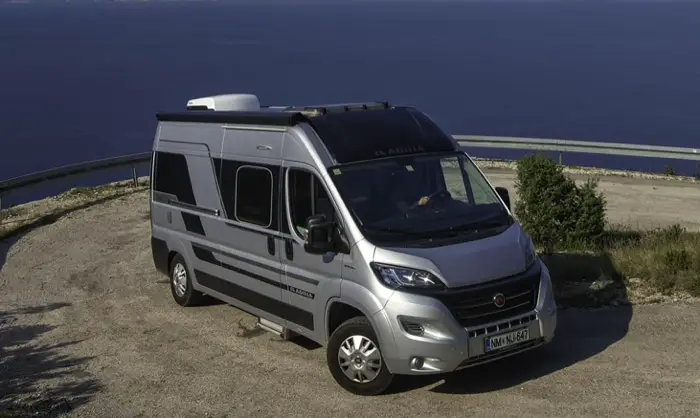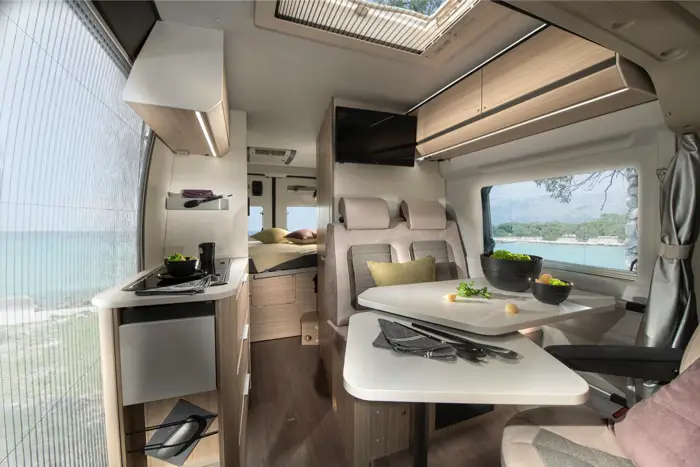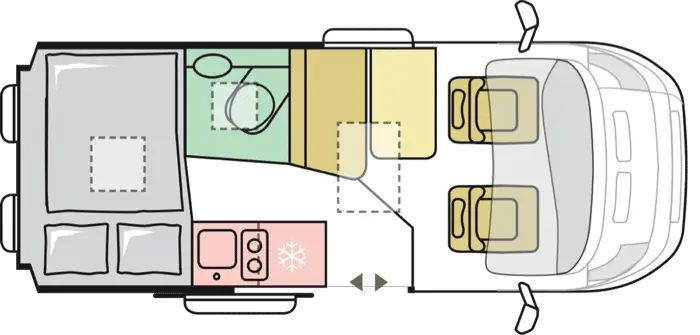 Another small campervan by the Europeans, the Twin Axess 540 by Adria is also only 17'9" but, to me, it looks more luxurious than the V-Line above.
The video below is not the same layout as the 540 above, but you get to see the workmanship and what this campervan is like in real life. Oh, and the commentary is not English either. 
Price: from €45,900
Click here to see more of the Adria Twin Axess
Small RVs and Campers | Australia
Wattle – by Horizon Motorhomes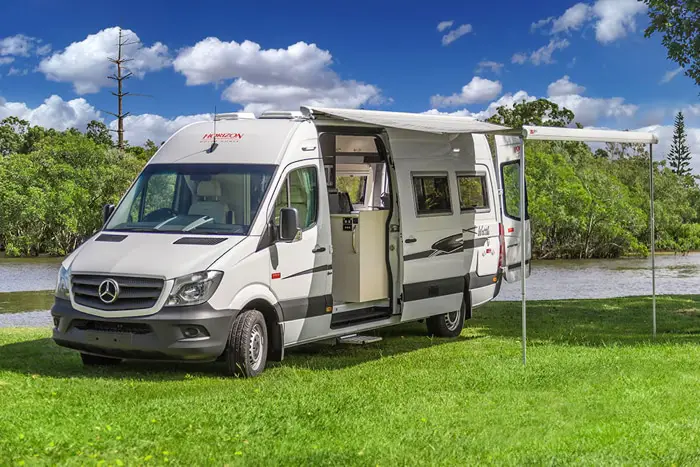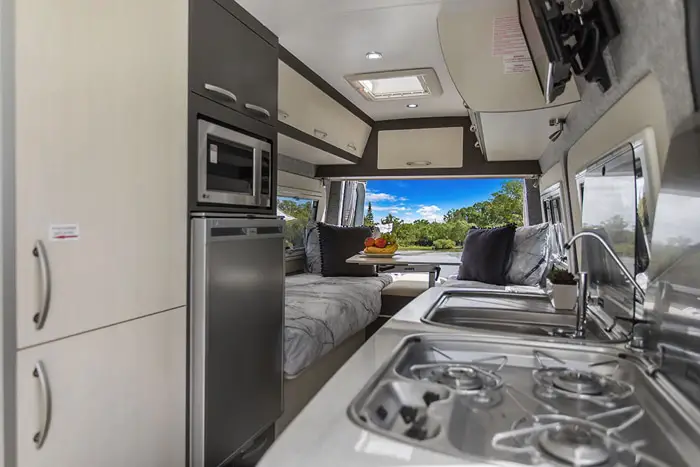 I love these Class B campervans by Horizon Motorhomes.
I think it may be because I follow the Horizon Instagram page and they show pictures of people out in the Australian landscape, just enjoying all the beauty on offer. It totally makes me want to be out there too. And it makes me want one of their vans. Good marketing I s'pose.
While I don't have a video walkthrough to share with you, I do have this pretty comprehensive magazine review (by Ballina Campers) of the 2019, that may be helpful to you.
Price: from AUD $162,000
Click here to see more of the Horizon Motorhomes Wattle.
JRV Campervan – by Jayco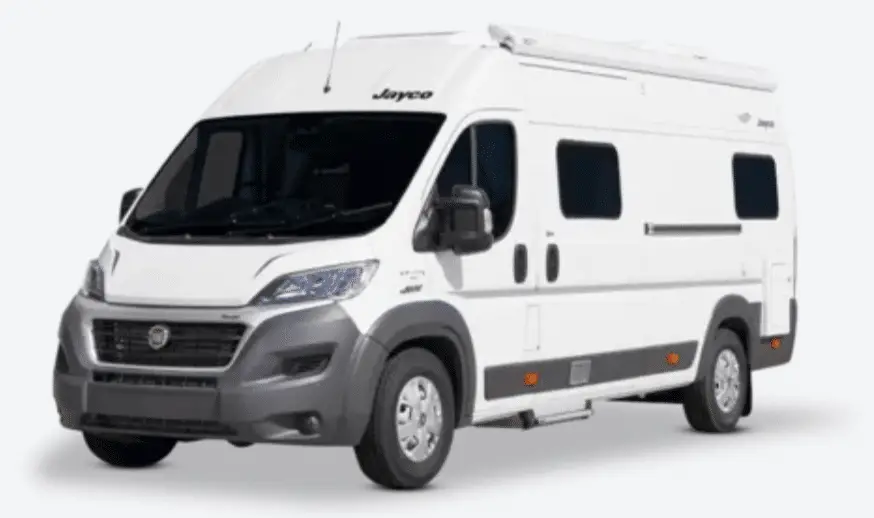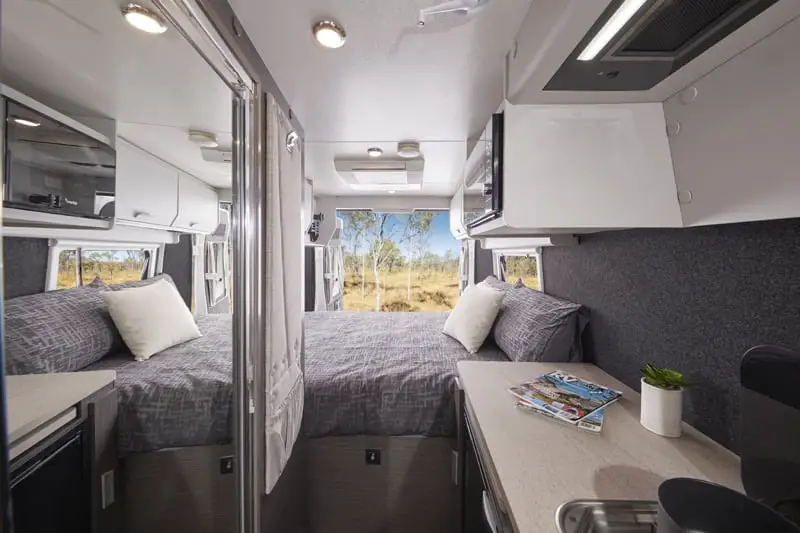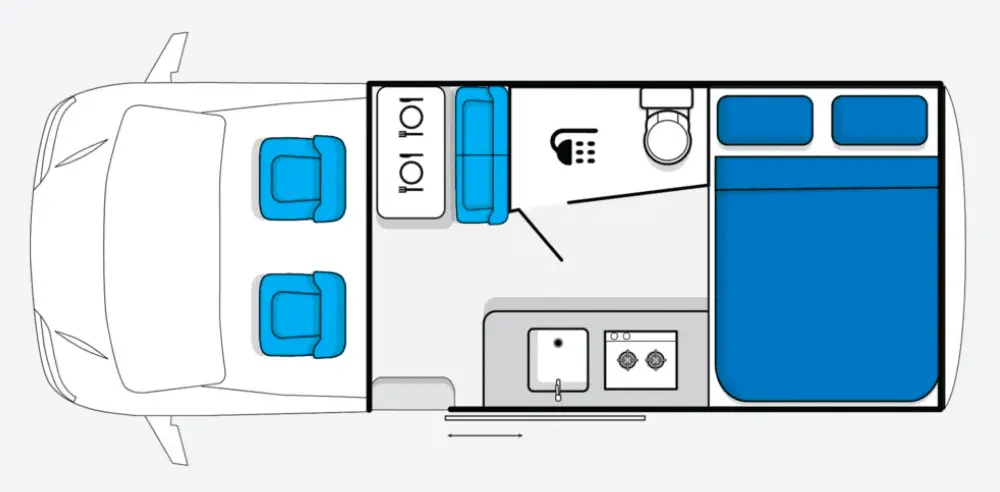 Jayco must be one of the biggest manufacturers of caravans here in Australia, but they're not nearly so well known for their motorhome and campervan range. However, their popular name and huge dealer network for the caravans probably helps them get these campers out there too.
Price: from AUD $117,500
Click here to see more of the Jayco Conqest 
Do any of these small RV camper vans fit your requirements?
Or do you have any others that you think I should add to this list? Let us know in the comments and we'll add it in.
DON'T FORGET: Save yourself hundreds of hours of research and download The RV Master List of every single RV model in the US, including links to the manufacturers websites.