I think this post will be the most helpful to all my non-US friends out there; since most of the information and online content seems to come from the USA, there are terms and expressions used all the time, that I've never heard in real life here in New Zealand or Australia. So hopefully this will shed some light on all the different RV types and their common names. Hopefully.
Ok, let's start with the term RV. In America and Canada the term RV (Recreational Vehicle) refers to a motor vehicle or trailer that is equipped with the amenities that you would find in a normal house. Obvious things like a place to sleep, cooking facilities and often a toilet and shower.
Whereas the term 'motorhome' is more commonly used in the UK, Australia and New Zealand. However, a motorhome only refers to a motor vehicle, not any of the trailers that require towing.
In Europe they have all these other words for RVs that I can't even pronounce. The point is, there are lots and lots of different terms, but then again there are even more different  types of RVs!
The reason I've called this site RVObsession (and not 'Motorhome Obsession' or 'Campervan Obsession') is that RV seems to be the term that covers the most types of 'homes on wheels', whether motorised or not.
I already think I've bitten off more than I can chew.
And I can just hear the RV veterans saying, "Oh here we go again Mabel, another newbie trying to explain the difference between all the different vehicles. Doesn't she know that you'd have to write a whole book on all the different types of RVs and even then, everyone calls them different things… even when they're in the same country!?"
So don't worry Mabel, I'm just gonna stick to the main RV types, so that my fellow Antipodeans can get a handle on what most of these RV websites are talking about.
RV Naming – USA/Canada vs Australia/New Zealand
To help us all understand the different terms that are used around the world, I've created this little table to try and explain the crossover of names.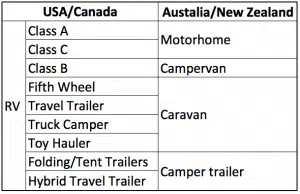 Update: Trying to figure out the names around the world is just too dang hard! I only really know what we call these in New Zealand / Australia, so I'll just stick with what I'm familiar with. If anyone can fill me in on what other countries call these, I'm all ears! (And will happily update the table accordingly).
Class A
A Class A RV is a motorhome build on either a commercial truck or bus chassis, or a specifically designed motor vehicle chassis. It resembles a bus in design, with a flat front end and large windows.
They can be either diesel or gas (petrol).
The Class A is the largest of the RV types and can be quite luxurious. When slide-outs are included in the design, the interior can be very spacious.
Class B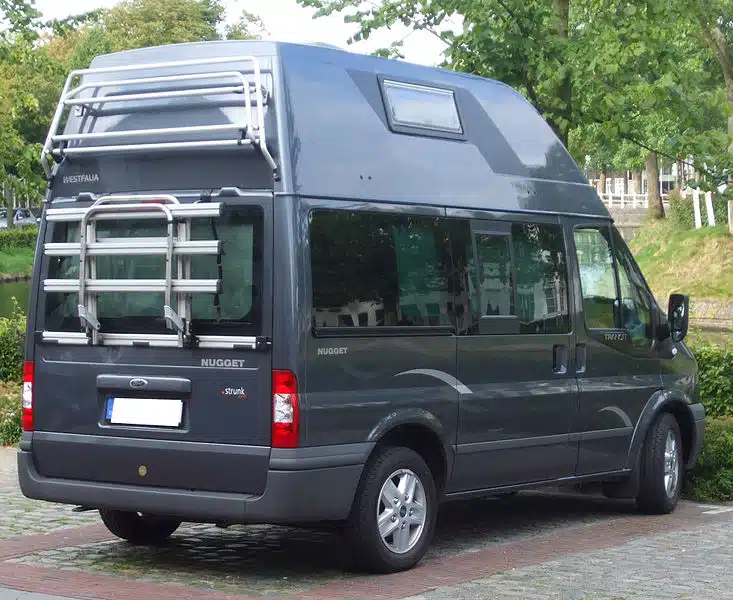 Generally built on a van chassis the Class B is what we would call a campervan in New Zealand. They're really popular here because they're small and manoeuvrable (considering we have heaps of narrow and winding roads and not a whole lot of wide open highways) and reasonably fuel efficient.
I'm a bit enamoured with the Class Bs myself. It could be the result of growing up in New Zealand where there are lots of campervans spilling out hippies and surfers that seem to not have a care in the world. I wanna be one of them. 🙂
Roadtrek have an awesome range… I wish we had these here in NZ.
Class C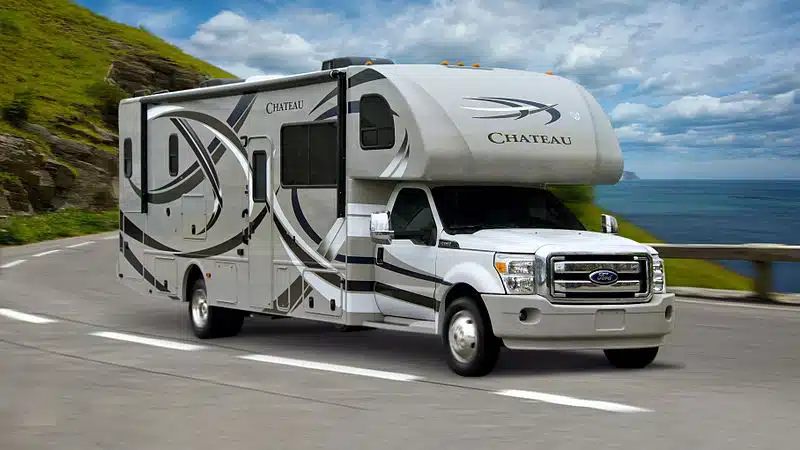 This is where the technical terms get a little, well, technical. Wikipedia tells me that 'a Class C motorhome is built upon a minimal truck platform with a forward engine and transmission connected by driveshaft to a rear axle that propels dual-mounted rear wheels.'
But to me, a Class C is the one that had the area above the drivers cab which is used for sleeping or storage. Here are some Class C RVs from Winnebago.
Travel Trailer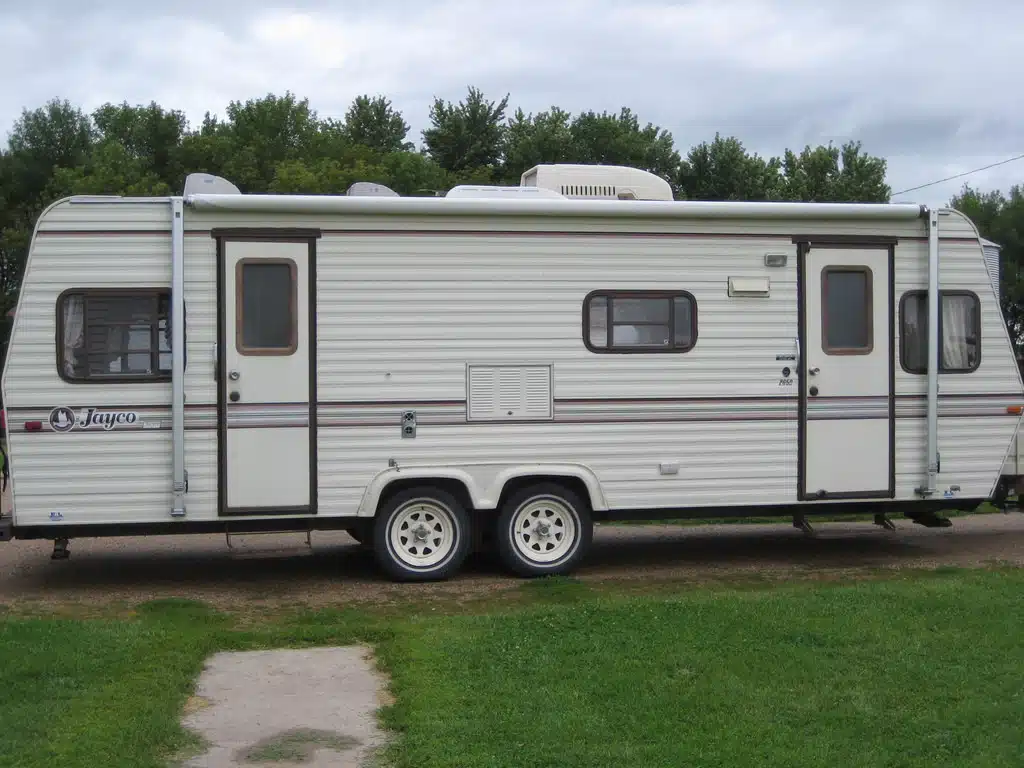 We (in NZ & Australia) call them a caravan, but the travel tailer is an RV that is designed to be towed behind another vehicle (like a pickup truck or SUV).
Travel trailers come in a myriad of different styles and set-ups including teardrops, hybrids, off-road trailers and toy haulers (I talk about toy haulers below). Wikipedia has a good article on the different types of travel trailers (as if you haven't seen that already… I mean, if you searched google for travel trailers you would have got to wikipedia long before you got to this site! :-P)
If you think that the travel trailer (caravan) might be the right type of RV for you, you may enjoy seeing these lovely restorations of old (I mean, vintage) trailers and Airstreams:


Fifth Wheel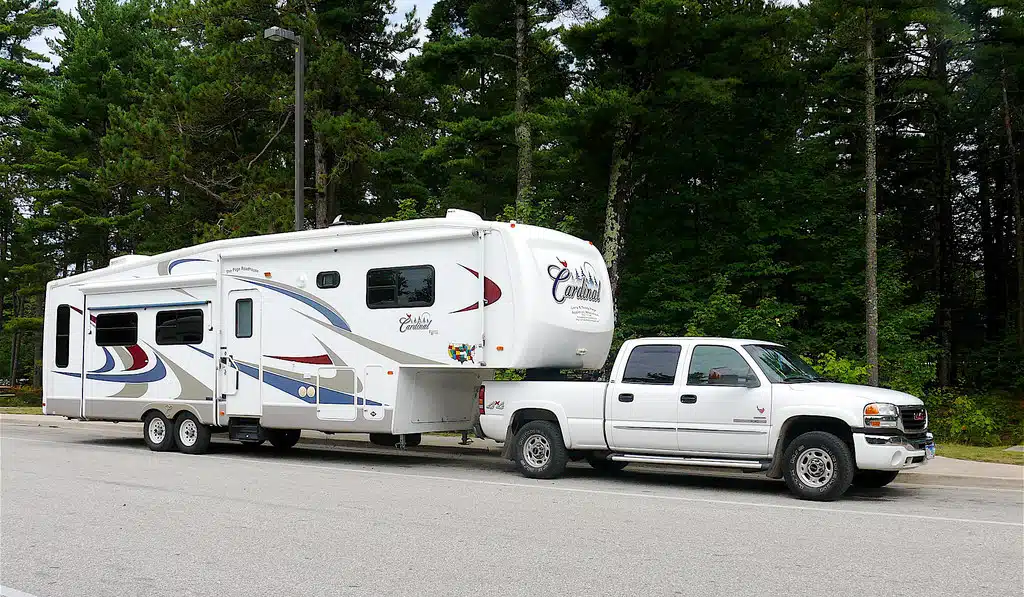 The fifth wheel is also a tow behind RV, but the difference is the way that it is hitched. Part of the body of the trailer extends over the bed of the pick up truck, reducing the overall length of the rig. Here's the Jayco range of fifth wheelers.
If a new fifth wheel isn't in the budget at the moment, what about buying an older model and renovating it to exactly how you want it?

Truck Camper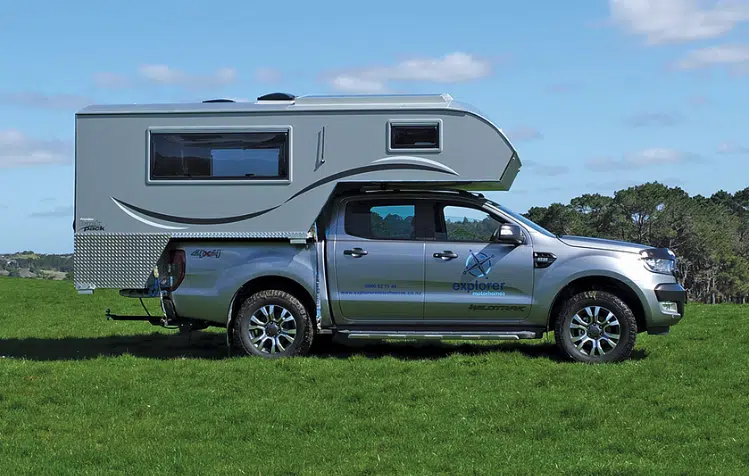 A truck camper is a unit that can be temporarily loaded on to the bed of a pickup truck (or ute, if you're in NZ). These are great if you already have the truck for your work vehicle, adding a truck camper makes it multi-purpose.
The truck camper above (isn't she just a beauty!) is by a NZ manufacturer called Explorer Motorhomes. This is the kind of truck camper that makes me think I could cope with such a small space. Great design is the first priority and I think these guys have nailed it.
Folding/Tent Trailer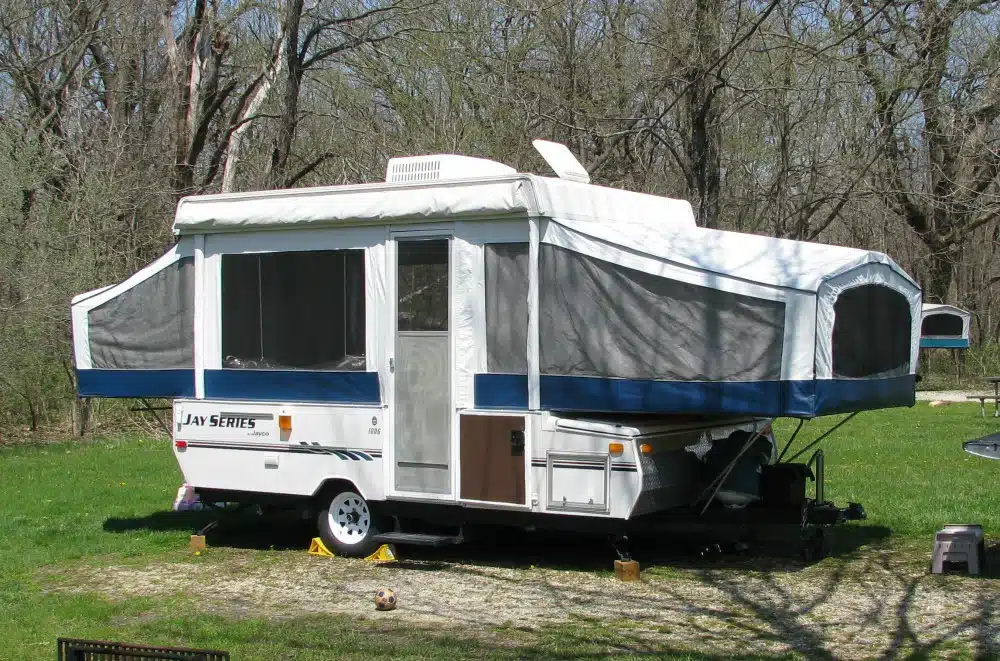 Called camper trailers in New Zealand and Australia, these are particularly popular in Australia because they are often made to be rugged, perfect for off-road adventures. The off-road versions go through some pretty punishing (and exciting!) deserts, mountains and forests so keeping it all contained in one small trailer is ideal.
Here's an extreme off-road Australian made camper.
Toy Hauler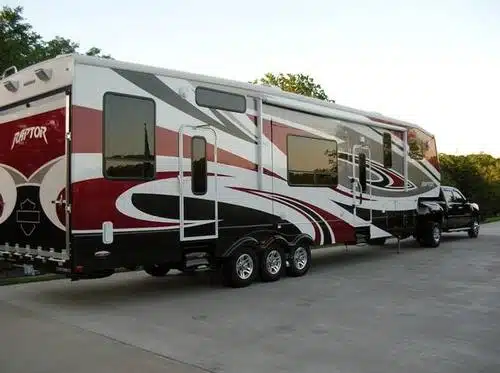 The toy hauler is usually a fifth wheel or travel trailer that is set up to haul, well, your toys. Toys beings things like motorbikes, bicycles, ATVs (quad bikes if you're in NZ), kayaks etc. Situated at the back of the rig, the space has a rugged floor (i.e. not carpet or pretty tiles) and the back often drops down and becomes a ramp to roll the toys up into the rig. The space is well set-up for multi-function so that you can drop down a bed or seating. Here's an example of toy haulers.
So there's my quick rundown of the different types of RVs as understood by a Kiwi reading a gazillion USA-based RV blogs and manufacturers websites.
Of all the different types of RVs, do you have one type that suits your lifestyle the best?
Happy hunting in finding the best set-up for you!