RV table ideas
There are a few different types of RV dining tables that you can choose from, depending on your needs and preferences. 
If you're in a large fifth wheel or Class A, you're going to have a lot more options open to you, than if you have a 20ft travel trailer or a Class B camper van.
But whatever size RV you have, there'll be an RV table that will suit you and the way you like to live and travel.
So here are a few RV table ideas to get you started.
This post contains affiliate links. Please see our disclosure for more information.
Fixed tables
Fixed tables are a more permanent solution, and are great if you have a large RV or entertain often. Of course it does mean that you can't move the table around, but chances are that there is only one place in your RV that the table will fit anyway.
Pedestal table
Pedestal tables are great since you don't have table legs getting in the way of you sliding in and out of your seat. While they are in a fixed location, it is possible to remove the table from there (and store it somewhere else) and you can often adjust the height.
Another benefit of a pedestal table is that you can just buy the leg and attach whatever table top you like.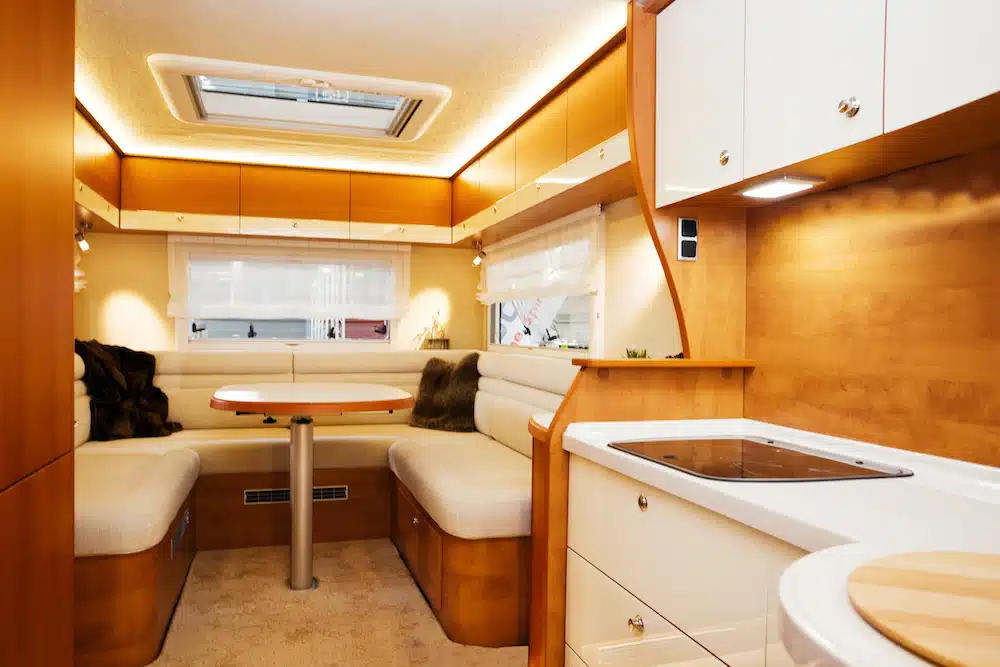 Adjustable RV table
There are lots of different brands of adjustable RV tables, but Lagun is probably the most well known in the RVing world.
The leg of the table may be in a fixed location but the beauty of these types of tables is that the table top can be swivelled around in all directions.
Bench / Bar
With all of the RV renovations I've looked at, I've seen a few people opt for a bar set-up. It makes sense to me, that if you're going to be parked at a nice view, it would be great to be able to sit at your dining table (bar) and look out at the view.
You could even install a bar that folds down, freeing up extra space when you need it.
Dinette
Movable tables
Free standing table / Skinny table
With so many dining tables to choose from online, you're spoilt for choice when it comes to a free standing dining table. Just look for something that fits your space (maybe consider something a bit more narrow), is lightweight and can be assembled once you get it inside the RV.
Foldable tables
Foldable tables are a great option if you want to save space, as they can be easily stored away when not in use. If you have a small RV, then a foldable table would be ideal.
Fold-down table – from the wall
I'm sure you've seen examples of tables that are folded down from the wall.
I really like these ones that can be created with artwork on the back
Or there's this one that converts from shelves on the wall, to a table.
Dinette / Credenza
Folding table
Sometimes, it's the simple solutions that work the best.
Camping table
Extendable tables
Extendable tables are perfect if you need extra space on occasion, but don't want a larger table permanently taking up space in your RV. These tables can be extended to accommodate more people, and then retracted when not needed.
DIY Expandable Table
Katie from Mountain Modern Life has a great tutorial on creating an expandable table. You can check it out on her Mountain Modern Life blog.
Drop leaf table
A few things to keep in mind when looking for an RV table:
Weight of the table – the challenge is always to keep the weight inside your RV to a minimum. So this is likely to impact that size of table that you purchase, and what material the table is made from.
Size of table – don't forget that you're going to need to get your new table inside your RV! Make sure that it can be assembled once inside the RV, and that all the pieces are going to be able to fit i the door.
Conclusion
No matter what type of RV dining table you choose, make sure it is the right size for your RV and your needs. With so many options available, you're sure to find the perfect table for your home on wheels.