Ah, the great outdoors! Who doesn't love getting outside and exploring nature? If that's you then let's chat about all-terrain campers. Designed for more remote, and sometimes off-road, camping, these rugged homes-on-wheels are becoming more and more popular. But, what's all the fuss about?
What Are All-Terrain Campers?
In simple terms, all-terrain campers are just like your typical RV, but with a bit more "grunt", not just in power but in every area of it's design. They're built to handle much more difficult terrain and harsher conditions than a regular camper. Whether you're facing a hot dry desert, a muddy forest track, or a steep rocky trail, an all-terrain camper is specifically designed for these challenges.
What sets them apart from regular campers is the ability to handle all kinds of terrain, and this is due to things like heavy-duty suspension, reinforced chassis, higher ground clearance and they usually have 4×4 capabilities built-in as stock standard. These things have come a long way since the first RVs rolled out, and their advancements in technology make them way more comfortable and capable than ever before.
Benefits of All-Terrain Campers
Now that you have a rough idea of what they are, let's go a bit deeper into why would you want one?
Freedom to explore: With an all-terrain camper, you're not limited to pre-assigned camp grounds where you get told where you can and cannot camp. You can go into places that the rest of the crowd can't, or won't, and this opens up a whole world of possibilities.
Flexibility: Fishing, hiking, bird-watching, or just chilling with a book in the wilderness, an all-terrain camper allows you to camp closer to where you wanna be and gives you the flexibility to do it all in comfort.
Comfort in the wild: Speaking of comfort, just because an all-terrain camper is rougher and tougher than a regular camper, doesn't mean you have to be. You can still have all the comforts of RV living (including a toilet) and enjoy the best of both worlds.
What Makes It An "All-terrain" Camper?
Here are some defining characteristics:
Durability: In order to withstand the bumps and scrapes of off-road life, they're built with much more durable and high-quality materials.
Off-road capability: The suspension is designed to much tougher and give you higher ground clearance, and usually have a 4×4 drivetrain, some of which are permanent 4×4 and some you can switch back and forth between 2WD and 4WD.
Off-grid essentials: Going off grid means less access to power and running water so an all-terrain camper usually has options like gas stoves, solar panels, outdoor kitchens, outdoor solar heated showers, etc. Things are less "grid reliant".
Popular Models of All-Terrain Campers
Let's have a quick look at a couple of the more popular all-terrain campers:
EarthRoamer LTi Explore
I couldn't even try to summarize this beast into just a paragraph or two; so go and check this one out for yourself. https://earthroamer.com/new-lti/explore/
It's like they took every off-road RVers wish list and put it into one vehicle.Combining a rugged, powerful four-wheel drive Ford F-550 chassis and 6.7L turbo diesel V8 engine with a luxurious and high-tech interior.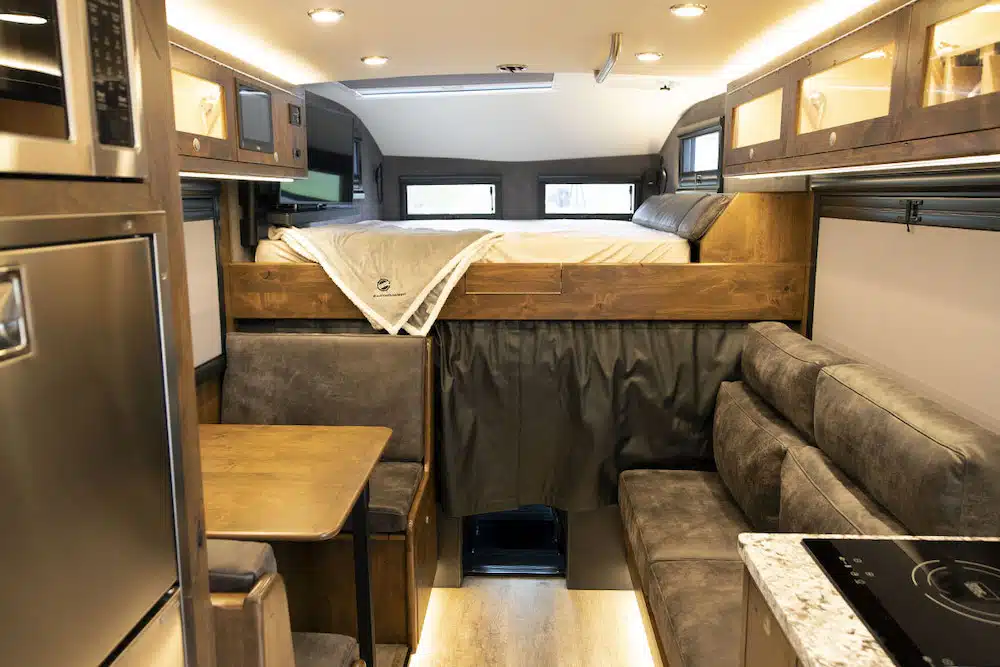 Global Expedition Vehicles Adventure XT
Built on the Dodge Ram 550 chassis, there is so much to love about this all-terrain camper. With it's great off-grid capabilities, this RV will get you to those remote locations, and let you stay there for extended periods of time.
https://www.globalxvehicles.com/adventure-trucks.html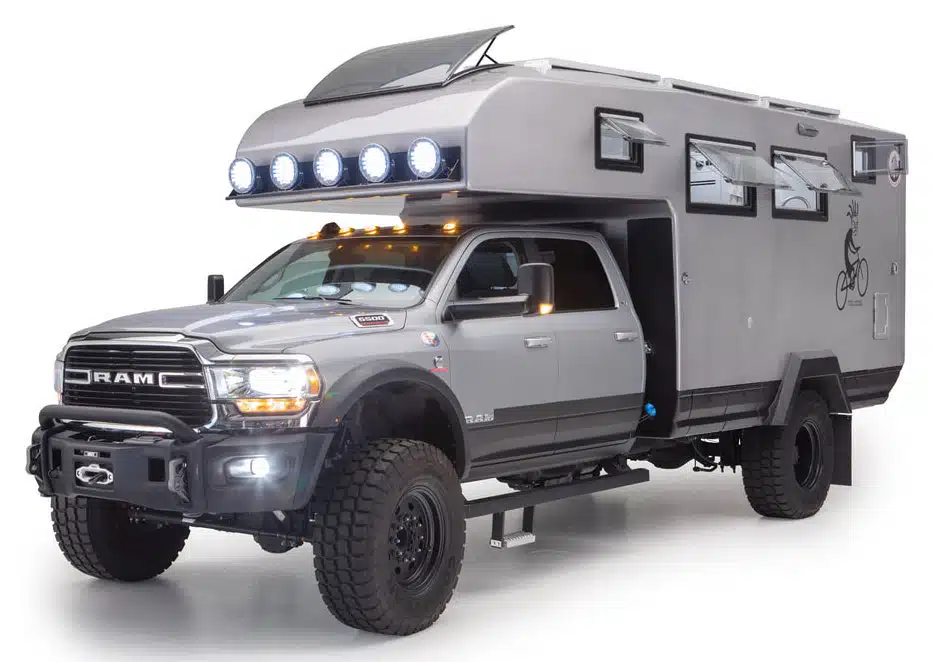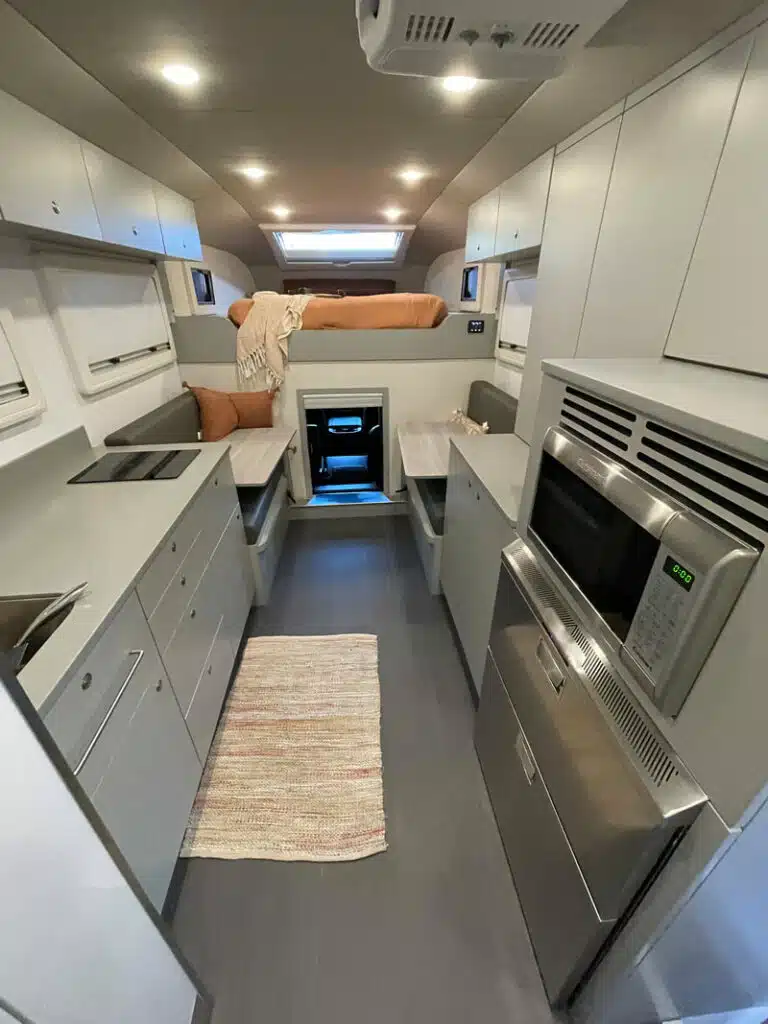 EarthCruiser Terranova
Built on either the Ford F350 or RAM 3500 the Terranova is both smaller and lighter than its counterparts. Being able to lower the roof down ensures that you have a more streamlined vehicle for travel, but all the space and comforts when you're at camp.
https://earthcruiser.com/vehicles/terranova/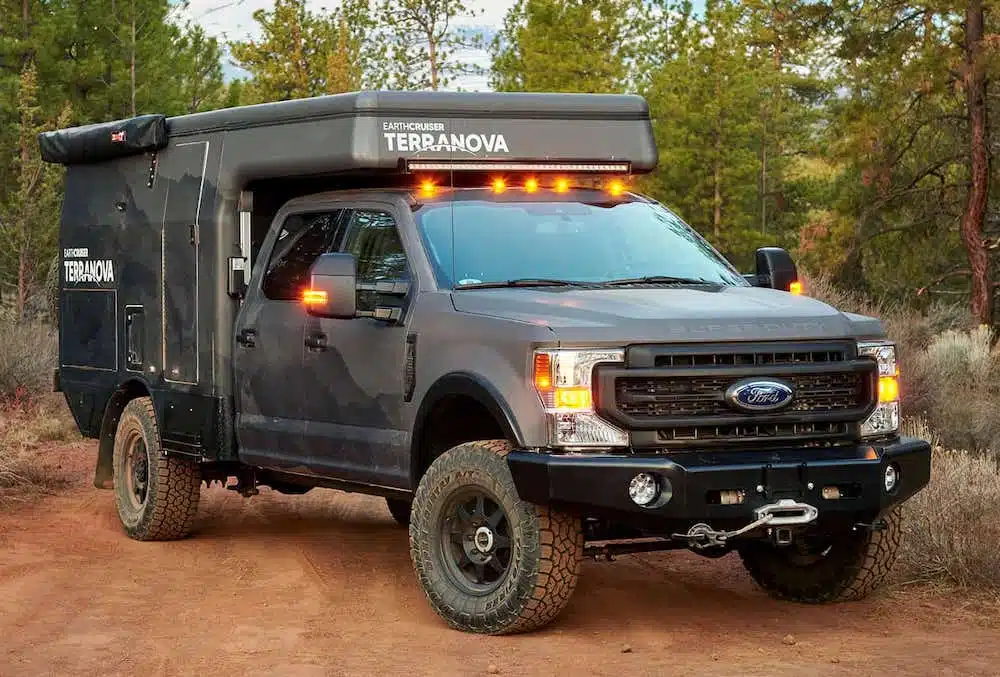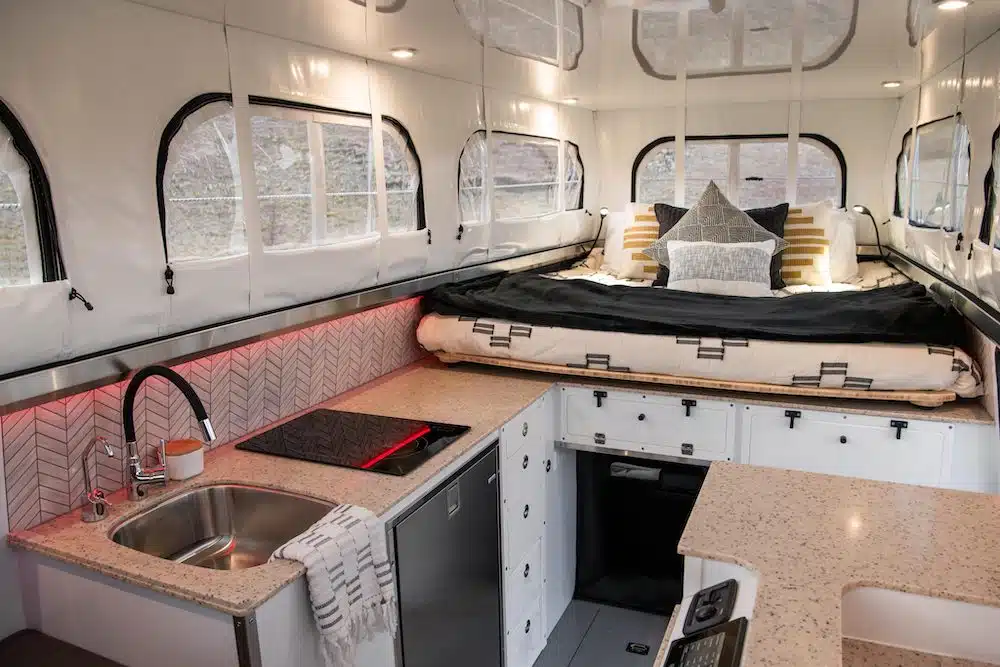 Just remember that each make and model has its own strengths and weaknesses, so it definitely pays to look around and see what's out there so you can figure out exactly what you want or need.
Maintenance Tips
As with any RV, or any vehicle at all, keeping it serviced regularly is important, but we realize not everyone is a certified mechanical engineer, and obviously, there's not enough room here to go into a full mechanical masterclass on how motors work, or how to duct tape a protruding piston rod after it's blown a hole through the bottom of the engine block…
However, there are a few basic essentials, that anyone can do, that will ensure nothing easily preventable goes wrong in between services, and keep your rig alive while you're out in the wild, enjoying the outdoors…
So here's a quick video that will give you a good idea of the kind of things you need to keep an eye on:
Are They Worth The Investment?
Let's be real for a minute: all-terrain campers are not cheap. But, when you look at the freedom they give you, the memories to be made, and the money to be saved on things like accommodation, eating out, etc. there's plenty of reasons to argue that they are worth the investment.
You could buy a cabin for the same amount of money, but can you pack up the cabin and move to another location for a change of scenery? Can you travel the countryside in a cabin?
Like anything else, it comes down to what your idea of the perfect getaway is. If you love the adventure and freedom of being out in the wild, with the ability to move around and explore new places, but you still appreciate the comforts of an RV, then an all-terrain camper might just be a game-changer for you and your family.
What are your thoughts?
Let us know in the comments what your idea of the perfect all-terrain camper is or any experiences you've had with them.