The gift giving season is fast approaching, so I thought I'd get super organized (for once) and take a look at the christmas decorations that will work specifically for our RV.
This will be our first christmas in our caravan and I'm looking forward to adding some RV christmas decorations to our interior; but since christmas is in the middle of summer here in Australia, I'm also going to be searching for some outdoor christmas decorations as that's where we'll be spending the majority of our time and socializing.
This post contains affiliate links. Please see our disclosure for more information. (FYI – all the photos are links to Amazon products, so if you see something you'd like more information about or to purchase, you can just click on the photo and you'll go to that product on Amazon.)
RV themed decorations
I don't want to go overboard on the RV themed ornaments, but since we now live in an RV and it's such a big part of our lives and I'm so excited, nay obsessed (!!) about the topic, I would like to pick out a few specifically RV ornaments.
This one is the closest to our caravan:

But it will depend on your RV type:
Christmas Decorations on a Smaller Scale
There's no reason why you can't have all your favorite Christmas decorations, but they'll all be smaller than what you can fit into a house.
These Christmas trees are all less than 1 metre / 40 inches tall, so they can sit on the floor, or a countertop if needed.
A friend of mine has the most beautiful Christmas decorations I've ever seen (for a house, but it would still work in an RV, and even better I think).
Instead of having a Christmas tree in their small apartment, she had a Christmas branch.
It was just a tree branch with no foliage on it, from which she hung beautiful white and crystal and silver ornaments and lights. It was understated and elegant, and didn't take over the room. Since the branch was bare, you could see and appreciate each of the ornaments, which were special and significant to her and her husband and their lives.
It was quite similar to these types of decor:
Wall decals
If you have zero floor space, you could add some decals to walls (if you have some spare space) or to the windows of your RV.
Cushion Covers
We've got an over-abundance of cushions in our caravan, so putting on Christmas cushion covers is going to be easy, practical and stylish.
Outdoor Decorations
And now here are some christmas decorations specifically for the outdoors. We'll be sitting among ours, in the balmy weather of an Australian summer; but for our Northern Hemisphere friends I think you'll just get to enjoy these as you're coming or going from your RV!
(And even though Christmas is in the heat of our summer… we still have lots of decorations with cold and snow themes. Go figure!)
Make your own!
I'm not very crafty when it comes to things decor (or anything really). But creating something on my computer, I can do!
I've seen people create themed artwork, or take beautiful pictures and put inspirational quotes on them, so I figured I could do the same for some Christmas decor.
This way, I can have exactly what I want (i.e. no frills and flounces) and be in a design that I prefer. This is what I came up with…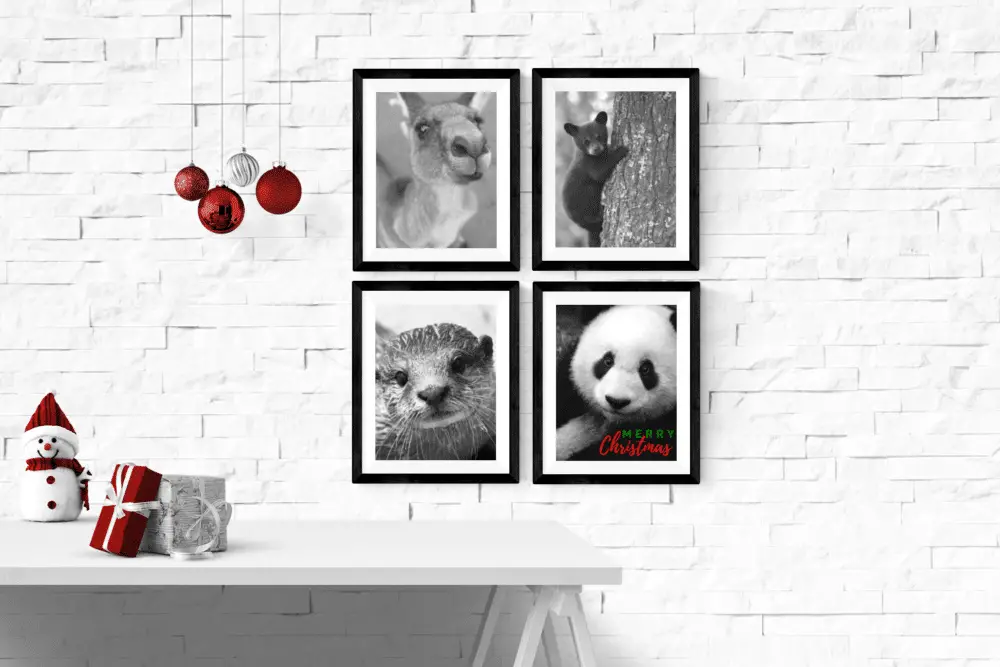 I love these Christmas Cuties (especially that hilarious kangaroo) and it's just a subtle christmas greeting.
Are you organized for Christmas yet? Hopefully this will give you some ideas for your RV christmas decorations!
Pin for later