Here are the best gifts for RV owners… that they won't re-gift as soon as you're not looking.
When you spend a lot of your time in an RV it doesn't leave much space for belongings that aren't vital in the running of everyday life. Having little space only allows for the best of the best to stick around, and this list of 34 best gifts for RV owners is each guaranteed to clear a space on the shelf for some more goodies.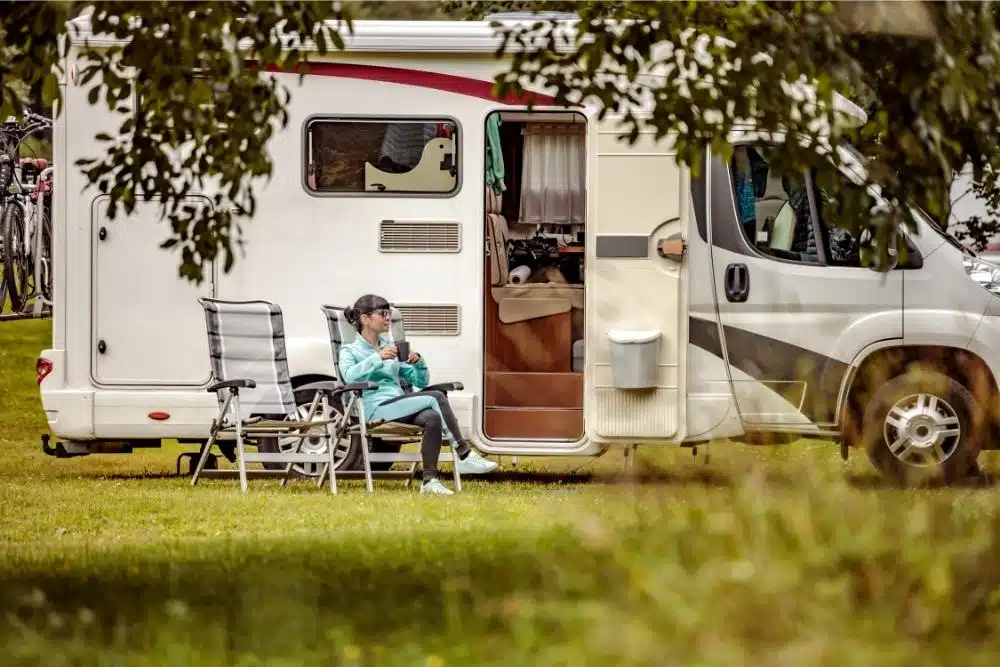 This post contains affiliate links. Please see our disclosure for more information.
1. RVminders
When you are manning an entire RV, there are a lot of things that you have to remember to do to keep things running smoothly. These RV reminders are snap bands that snap onto the steering wheel. There are 10 of them with keywords such as 'Doors/Vents/Windows' and 'Hookups', they jog your memory and you know exactly what needs to be taken care of.
There are also two straps that are blank so that you can write any specific reminders that you need. Once you are finished with them, they straighten out and can be neatly packed away. 
2. Retro RV shaped cutting board
RVs have wonderful little kitchens where plenty of cooking can take place if you feel like taking a pass on s'mores. A chopping board is an essential part of any kitchen and this one is particularly special because it is in the shape of a camper. Not only is it fitting for motorhome lovers but it is also made out of bamboo and is resistant to moisture and doesn't dull knives.
3. RV Hacks 400 ways to make life on the road easier, safer, and more fun!
How could you pass on learning tips and tricks that make RV living easier and more organized? This book guide is the perfect gift for those who are just beginning to dip their toes into the world of RVs.
The authors, Marc & Julie Bennett have been RVing for years, and this guide is a follow up to their very successful Living the RV Life: Your Ultimate Guide to Life on the Road book.
It demonstrates easy hacks that can be used for cleaning, organizing, and even decorating. It also goes into plenty of detail on topics such as how to calculate the tail swing and how to keep the RV centered on the road. 
After driving all day, there's no better way to unwind than kick back with a glass of wine, a stemless glass of wine for that matter. Having no stem makes them easier to pack away in the tight places of RVs and are less likely to wobble and fall if you hit a bump. The glass is dishwasher safe and the text on is engraved by hand, making it resistant to being worn off. 
Being very practical as well as having a hint of novelty create a perfect combination for this RV gift. They are two camper-themed kitchen towels and both have endearing camper images and quotes on them. They are 100% cotton and are perfect for drying dishes, hands, /orand spills. 
There are a lot of memories to be made when you are traveling and writing them down in a journal is a great way to look back on them and reminisce. This RV-themed journal can be the special place for all your RV adventures, is has prompts such as 'Departing from', 'Route taken', and 'Places to remember for next time. There are also pages of lines that are free for any extra notes you want to add.
7. Marshmallow Roasting Sticks Kit
If you are traveling with children, then these marshmallow roasting sticks are a camping essential.  They are collapsible from 34-inches down to 10-inches. The length of these roasting sticks is what makes them perfect for children as they can roast their marshmallows over the fire from a safe distance.
The colors are bright and bold, which not only makes them fun but also easy to keep track of their owners. 
8. Battery Operated Candle set of 9
Small spaces and unsupervised open flams are not a good mix, it can take mere seconds for the flames to spread and cause catastrophic damage. However, with these nine battery-operated candles, you can have the gentle flicker that a normal candle would have but also be able to go about your business without having to keep an eye on it.
Each candle is powered by two AA batteries which are not included and last for as long as 300 hours. You can control them with a remote a timer is also included.  
9. US States Travel Tracker Sticker Map
As you drive all over the place, it can become a blur of what places you have visited. It's one thing to make note of them in a diary but stickers are a lot more fun. With this travel tracker sticker map, you can place stickers of each state that you have visited.
It is rewarding to see the once white US background turn into a beautiful, colorful display of states showing images of their unique, popular attractions. This sticker map is made out of vinyl and can be placed on windows or walls without leaving any damage.
This gripper clip holds up to 12 spice jars and keeps them secure and safe from falling over. That is a lot of jars to be taking up space on a countertop so the fact that they can be tucked away on a cupboard door is a massive win for those living or traveling in an RV.
It is mounted with adhesive which allows you to stick it to any surface you prefer, you can also get creative and dot the three separate strips around the kitchen instead of having them underneath each other and can easily be trimmed to fit your specific layout. 
It's no secret that RVs are huge and parking them can be stressful, even for those who are experienced. This wireless backup system will not only give you a wide 120° angle view of what is behind you but will also supply infrared night vision, live streaming and intelligent IR cut filters.
It is operated by a 7-inch anti-glare touch screen and has a reliable 2.4GHZ connection between the camera and monitor. This camera can also act as a security device as it has a motion detection feature that alerts you of any movement outside the vehicle when you are stationary. 
12. RV TV Mount
This TV mount is ideal for saving space as well as finding a more suitable place for the tv as you don't have to prop it on anything or have it crammed awkwardly in the corner. The articulating arm can be moved around for viewing pleasure and folds away when you are done.
It securely holds the tv in place and is built to withstand the vibration caused by driving. There is a slide-in plate that allows for easy attachment of the TV to the mount and there are adjustment knobs to enable fine-tuning for the desired angle. 
13. Portable Waste Holding Tank
This tank is odorless, leak-free, portable, and has a waste holding hose, these features make a strong choice for a gift that is practical and will get used often. It is used to transport waster from the RV to a dump station which can be a lifesaver for when you are parked too far away.
It comes with oversized wheels, making the journey to and from the dumping station smooth, and the durable, large handle leaves less strain on the body. It also has a tank rinser and strong hooks that can be attached to your RV ladder when not in use.
If you have a pull behind RV then it's very likely you'll need mirrors that extend out so you can see behind your rig. Not being able to properly see when driving an RV is not only dangerous but also makes the experience a lot less enjoyable as you are craning your head to make sure you don't hit anything or anyone. 
This universal bar towing mirror kit will work on most vehicles and can be removed when not in use.
If RV owners do not already have a windshield cover then this will open their eyes to a whole new way of sleeping. This product covers the whole windshield and drops the interior temperate by 10 degrees. When staying in hot places such as Arizona, that 10-degree difference will let you sleep peacefully without overheating.
The windshield cover also supplies complete privacy and there are corner pockets that prevent theft by hooking over the edge of the doors so that when they are shut, the cover cannot be removed. The magnets and upper corner sleeves hold is securely in place and makes it very easy to install.  
This is a practical and must-have gift for those who love RVs. They will be thankful to have such a useful little tool that could get them out of some tough spots during their adventures. Other than being a pressure gauge, this tool also has an LED flashlight, a seatbelt cover, a car window breaker, and a red safety light.
It is compatible with most vehicles and having a small, compact design means it can be stored in a toolbox or a glove compartment. 
17. Heavy Duty Leveling Blocks
This practical gift of leveling blocks comes in a pack of ten, with a storage bag and is used for leveling both single and dual wheels, tongue jacks, hydraulic jacks, and tandem axels. They can be stacked with interlocking leveling blocks and have solid bottoms to keep them sturdy and level at all times. Each block measures 8.5-inch x 8.5-inch x 1-inch
Fabric repair tape has a perfect place in an RV first aid kit. It can be used on awning tents, furniture, and even sails. It is weather, water, and heat resistant as well as flexible and tear-resistant. It can be used for less urgent circumstances as well such as repairing kites and umbrellas, this is because it can be applied to a variety of different materials and blends in with them.  
19. Repair Tool Kit
A 168-piece repair tool kit with high-quality tools can get come to your rescue in several different circumstances. Each tool is made from high-quality steel and finished in high-polish protection making it anti-corrosive and durable. Whether it's for DIY projects, mechanics, construction work, or car repair- there is a selection of tools in this kit that will be just what is needed to get the job done easily and efficiently. 
This tool has three LED lights, an extendable neck that reaches 22-inches, and a useful belt clip so you never have to go without it. This product makes searching and picking up small, fiddly items a lot easier.
The head has a powerful magnet inside for retrieving things such as screws, nuts, and bolts which can lead to major inconveniences if lost. The telescoping neck is flexible to 360° and can maneuver around tight, awkward places, and if these places are also dark then the three bright LED lights will offer much better visibility where other flashlights can't. 
21. Wheel Covers
When you are set up in a new spot and plan to stay for a while, these wheel covers should be put on to protect the tires from the sun and rain. They are made out of durable, vinyl material which keeps the wheels in good condition and thus gives them a longer lifespan. They are secured over the wheels by click-close straps that keep them snug and secure. 
22. Telescope Extension Ladder
Ladders are usually heavy, bulky, and difficult to put away without it falling or getting in the way, but this telescopic extension ladder puts these woes behind. Since it is made out of aluminum alloy it weighs only 24 pounds but despite this can hold up to 330 pounds.
It can also reach heights of 12.5 feet but depends on what model you get. It can be easily retracted back and has a button feature that gently shrinks the ladder from its full length. Since it is only three feet high when fully retracted, this ladder would fit well in an RV. 
It can get a bit spooky when you're sitting around the campfire at night, and bumping into the steps and chairs is never fun. If you add an exterior light to the side of the RV then you don't have to experience these situations again.
The light is made from environmentally friendly materials and technology and is designed to withstand a wide range of operating voltage. Another positive to this product is that once you attach it to your RV you don't have to worry about it for a long time as it has a 60,000-hour life expectancy which lasts a lot longer than a standard bulb. It has an on/off switch and is easily installed. 
24. RV Keyless Entry Door Lock
This keyless door lock is an essential for anyone with an RV, it adds a lot of security, and knowing that It is made of zinc-alloy and flame-retardant nylon material will give you a great peace of mind that no one is going to be able to get through it without you knowing.
The lock is keyless and there are three options for locking and unlocking the device – the keypad, wireless fob, or the keys used to unlock and lock the handle. It takes ten minutes to install and there are clear instructions on how to do it included in the packaging. 
25. Exterior Quick Connect Sprayer
This gift idea is simple but very effective. It is a faucet that you can use as a showerhead, clean the RV, wash the dishes, or water the plants. It is resourceful and clean because the hose is designed to not leak if you disconnect it and keep the water inside until it is used next. The hose is 15-foot long, has knobs that are easy to turn, and has seven spray settings, making it a very versatile and adaptable product. It is installed by connecting it to the exterior spray box and can be used straight away. 
These LED lights can be used on RVs, awnings, and trailers for either decorating or practical purposes. The white color tone is bright but still gentle enough to be used inside for brightening up small spaces.
They have a low power consumption and they are energy-saving which makes them have a lifespan of 50,000 hours. The LED strip can be bent and twisted into whatever shape it needs to be and is insulant and weather resistant. They are fixed in place with double-sided adhesive which is on the back of the strip
You do not have to worry about maintaining a cellphone reception as you travel to new places if you have a good quality GPS. This GPS has a screen size of 8-inches with a high-resolution touch display, it can also be orientated to be portrait or landscape. It alerts you to any road warnings, sharp turns, weight limits and will even pick the best route for you depending on the size and weight of the RV. It can be controlled with your voice, allowing you to stay focused on the road. 
27. Car Vacuum
Vacuums take up a lot of space and can be difficult to navigate in small spaces but this car vacuum weighs just 2.4 pounds and is portable. It comes with three attachments and despite its size, has a large dust bin capacity that can handle dust, ash, and food spills. It has a 16-foot cord and uses the 12v aux outlet for its power. 
28. Mixing Bowls with Airtight Lids
These nesting bowls save a lot of space and keep things looking organized by nesting into one another. The sizes that these bowls come in are compatible with a standard size refrigerator shelf, pantry, and cabinet. They are rustproof, fingerprint-proof, and don't retain any bacteria, stains, or odors.
The bottom of the bowls have silicone on them which keeps them from moving around and falling to the floor as you drive. The food inside these bowls is kept fresh with the airtight lids and should be washed by hand to keep them so. A spreader spatula, flexible spatula, basting brush, egg whisk, egg separator, and six measuring spoons are also included in this set, all with bright colors to add to your kitchen. 
29. 24-Piece Kitchen Wheat Straw Dinnerware Set
Once you have cooked your food with the help of the airtight mixing bowls, you'll need something to eat it on. This is a 24-piece kitchen set that is made from natural wheat straw, this is a sustainable and healthy alternative to plastic and foam products.
They also don't smash or chip if they fall to the ground during transit, and they are easily stackable with the space-saving design and smooth edges. As if it could not get any better, this dinnerware set is dishwasher and freezer safe as well as easy to clean, and light enough for children to hold. The set comes with six plates, cups, bowls, and dessert plates. 
30. Outdoor Portable Gas Fire Pit
What RV owner could turn down a compact and easy propane campfire that lets you forget about smoke, ash, and firewood? It is set up in a few minutes and requires no tools, it includes a cover and carry kit and a ten-foot hose to keep the propane tank cylinder at a safe distance. The flame height can be varied with the chrome valve knob and the lava rocks enhance the flickering you associate with any campfire. 
31. Portable Grill
If you've had enough with marshmallows and cooking in the RV kitchen, then it's time to roll out this portable propane grill. It has three adjustable burners and has precise temperate control so you never have to burn another burger again. It is easily lit with a simple button press and the grilling area is large, fitting multiple different food items which is perfect for parties where you have a lot of mouths to feed. Once you are done, it is easy to transport it to the next location due to its quick-fold legs and two wheels. 
Sit down with your perfectly cooked burger in this collapsible camping chair. It is an ideal addition to a camping trip and is lightweight and compact allowing you to squeeze it into those tight RV spaces. The frame is made out of aluminum alloy and can hold up to 320 pounds. You can also get it in a range of different colors. 
This is a must-have, and if RV owners do not already have a first aid kit on hand then now is the time to add it to the essentials. This first aid kit is made by the leading manufacturer of first aid kits in the USA and meets all of the FDA regulations as a medical device. It features easy slide latches that keep it locked in place and the inside is organized for quick access. The kit is compact, portable, and can be taken anywhere. 
When there is an emergency and you need more than a first aid kit, a phone signal booster can be vital for getting help. If you are traveling or have stopped somewhere remote, there's a good chance that your phone will struggle with getting any signal. This signal booster is compatible with any phone carrier such as AT&T, T-Mobile, Verizon, Sprint, and more. 
From this list of 34 best gifts for RV owners, there have been recommendations that cover almost all of the aspects of RV life from decorating to cooking to emergencies, and with these high-quality products on the market, there is bound to be one or two (or three) that would make the perfect gift.
See the Getaway Couples gift ideas below. They're quite different to our list but you may find something you love there too!