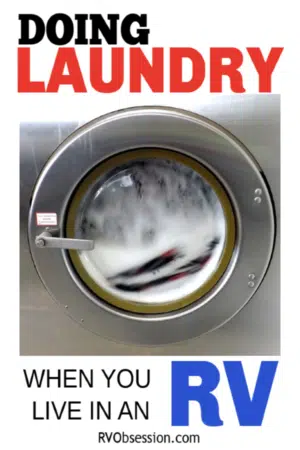 Does anyone enjoy doing laundry? Let alone doing laundry when you live in an RV?
It's annoying enough when you live in a house and you have to go and find all the laundry, stick it in the machine, remember to come back and take it out of the washing machine and into the dryer, or in our case, go and hang it out on the line, remember to get it out of the dryer (or off the line… BEFORE it rains), iron it, fold it, put it away in your closet … only to find it back in the laundry basket in what seems like mere nano-seconds later!
But then try doing all that when you're living in an RV… and ESPECIALLY if you don't have your own washer or dryer. Then the logistics of having to make a trip to the camp laundry or the public laundromat are added to an already tedious task.
Can you tell I'm not a fan of doing laundry?
But it's a necessary evil so in this article I'm going to take a look at the 4 main options for doing your laundry when you live in an RV. They are:
An electric powered washer / dryer set-up. You know, the normal stuff you have in a house.

Portable (but still electric powered) washer only.

Manual washers. There are a few different nifty gadgets that help you do this.

Going somewhere else to get your laundry done; such as the campground laundry room or a public laundromat.
Now just before I get started I want to point out one thing, that may or may not be relevant… we live in Australia and even though most/many homes do have dryers, they are not a must-have necessity for us. 90% of people will hang their clothes up on a washing line and dryers are generally only used when it's raining and there isn't somewhere under cover to hang your washing. (Yes, I did make up that 90% statistic, but it makes my point. 🙂 )
But I think that my North American readers use a dryer all the time which is why you all have a washer and a dryer, unlike here in Australia and New Zealand where we'll often just have the washing machine.
The other difference is that I don't own an iron… but that's not an 'Australian' thing… that's just a 'Michelle' thing! I'm sure I'm an embarrassment to my mum, or my friends when I turn up for a coffee date in something un-ironed, but I just don't care. I probably should, but I don't. So I buy clothes that don't need ironing and hope for the best. 🙂
Okay, enough of revealing my shortcomings, let's look at your options…
This post contains affiliate links. Please see our disclosure for more information.
1. Electric powered washer / dryer set-up in your RV
If you have an RV that's big enough, having your own laundry in your RV is certainly the easiest of all these options (well, apart from having someone come and pick up all your laundry, take it away, bring it back all cleaned, ironed, folded AND put it away for you!). So here are some different options for you to consider:
Washer and Dryer
Wouldn't it be great if you could just have a washer and dryer in your RV that's just like the one in your home! But let's be real, a side by side washer and dryer takes up a ton of space, uses loads of power and water and just isn't practical in an RV.
You could probably have a washer / dryer stack though, like this set:
RV Washer Dryer Combo
According to the internet, the jury is still out on having a washer dryer combo. Some hate the things because they:
Only take small loads

Take ages to wash and dry

Shake the RV

Need to be vented (not all do)

Use too much power/water to be practical

Cost too much
All valid reasons I'm sure. But others have countered those arguments with:
Small loads are fine, you just do laundry more often

Even though it takes a while to wash and dry, at least it's all done in one machine and you don't have to come back mid-way through the process to transfer wet clothes to a dryer.

The shaking RV only last for a little while during the spin cycle.

Not all RV washer dryer combos need to be vented.

Power and water usage is fine when you're in an RV resort. If you want to use your machine while boondocking you will likely only have enough power for the wash cycle and you'll have to line dry your clothes.

Cost is recouped (eventually) by not having to pay for camp laundries or laundromats.
The ever informative and interesting Jason & Nikki Wynn of Gone With The Wynns fame, talk about the washer/dryer combo that they had in one of their RVs, and how much they love it. You can read their article here.  https://www.gonewiththewynns.com/easy-rv-laundry
Here are some of the options for washer/dryer combos that are suitable for RV use:
2. Portable Washer Only Options
Since we only really have washing machines (not dryers) in our caravans and motorhomes here in Australia, a cheap little machine will often do the trick nicely. As long as you can get most of the work done by a machine, with minimal intervention by a person, and the clothes come out clean, then we're pretty happy.
If you're also looking for washer only option, these portable washers could be the go. I like them because they're cheap, light and small. They're good for people like us who live in a tiny caravan (a mere 14ft) who don't have room inside for a washer. But this could be stored in the tow vehicle and easily brought out on laundry day.
And these twin tub options, which I'm not so keen on as they still look like a bit more work than I care to do, but hey it's still better than having to hand wash or make the trek into the laundromat.
3. Manual washer / dryer set-up
If you're just looking for something to upgrade you from having to do hand-washing, then these might be perfect for you.
With minimal water usage, and no power (except of course your good ole biceps) these RV washers are perfect for boondocking situations or when you're inbetween laundromat visits.
If you don't want to hand-wring your clothes (either those biceps are in need of a rest, or the fabric requires something a little less forceful) these glorified salad spinners could be for you. 😉
One suggestions I hear almost constantly on facebook groups here in Australia, is to do your laundry in a bucket on travel days. Here's how it works.
Get a bucket with a lid
Fill it with with water, your dirty clothes and a dose of wool wash
Set it somewhere where it will get bounced around the most; maybe the shower, on the A-frame of the caravan/travel trailer or in the tow vehicle. (Obviously not the bed or the couch… that IS obvious, right?)
Travel
When you get to camp, wring out the clothes and hang up to dry.
Apparently, the use of wool wash means that you don't have to rinse the clothes and the agitation of being on the road is enough to get the clothes clean. Worth a try, huh!
Clothes Lines
I couldn't finish off this section on manual washing without doing a bit on how to line dry your clothes. As I said before, here in Australia, this is the number one way to dry clothes.
Sure you could string up a rope between trees, but we all know that in RV resorts and caravan parks, this is strongly discouraged… well actually, it's usually banned. So the most common ways we dry clothes are:
A line under the awning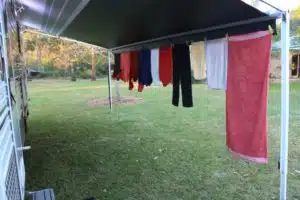 A clothes airer / drying rack
I've been seeing this foldable clothes line EVERY. WHERE. Like, every second caravan seems to have one. There must have been a special on at Bunnings (our hardware megastore) or something.
But other options I see are these types:
4. Campground laundry room or a public laundromat
This last option is the one that we use.
We love it if the camp ground we are staying in has a laundry room, we take our laundry there put it in the machine and come back half an hour later to unload it and hang it up on the communal washing lines. It's easy and relatively hassle free.
Whenever we're free camping / boon docking or in a caravan park that doesn't have a laundry room, we have to go to a public laundromat, sit there while our washing is washed and either take it back to hang on a line or wait while it dries.
I'm not gonna lie, it's a pain in the butt having to go to the laundromat. But we just make sure we have our phones or tablets with us to keep us entertained.
Here's a couple of things I've learnt about laundry rooms and laundromats:
Have plenty of coins – they don't always have coin machines in there so we have a little container that all our $1 and $2 coins go in to
Bring your own laundry detergent – buying it from them is super expensive
Read the signs to make sure your don't put your clothes into the machines that are designated for work clothes or pet blankets
Get used to the idea that some laundromats are cleaner than others. Usually there's only one laundromat in town, so if it's not very well maintained or cleaned then you might find your clothes smell weird of end up with washing powder residue (that's the experience we've had) but it's either that or dirty clothes. I don't really know the answer to this dilemma… except to have your own washing machine!
If you leave the laundry room while your clothes wash, make sure you come back BEFORE the cycle finishes. There are some people (who are waiting for your machine) who will take your clothes out THE SECOND the cycle finishes. Grrr.
Wow, I didn't think I really had that much to say about doing laundry in an RV! But as you can see, there are many options for getting your clothes clean, you have to find the option that suits you and your family, your rig and your lifestyle.
Alright, I'm off to the laundromat now. 🙂