With these storage ideas for RV closets I'm going to presume straight off the bat, that if you already know that closets in an RV are generally MUCH smaller than the ones in your house. That's kinda obvious, right?
So when it comes to closet space, you'll need to think carefully about
what you want to bring
on this trip and how you're going to fit it in the closet.
Let's start with a few tips that will make this task a lot easier.
Only bring the things you need! That's probably a no-brainer; but if you're anything like me, you can so easily convince yourself that you need a suitcase full of 'just-in-case' clothes and shoes.  If you're planning on becoming a full-time RV'er, then your priority is going to be to de-clutter!
We have a post all about helping you to downsize from a house to an RV.
In all of my research on this topic, the most common theme that has come across, is that hanging closets are great but they are the least efficient way of storing the most amount of clothes. So if there is limited clothes storage space, the hanging space is best converted to some kind of shelves, drawers or cubbies.
This post contains affiliate links. Please see our disclosure for more information.
RV Closet Storage Ideas
Organise Your RV Closet with Plastic Drawers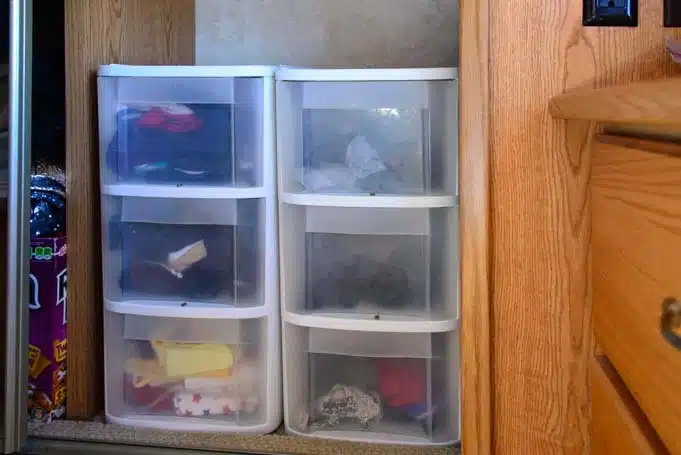 Idea from Roads Less Traveled – see source below
Adding plastic drawers to the closet area are a quick and easy way to give you more places to store your clothes. This is especially great if you have a tall closet and you're not using the space at the bottom.
You can buy so many different types of light weight drawers. They don't have to be plastic, you can get them in fabric too. But make sure you measure your space first, to make sure the drawers are going to fit.
Plastic Drawers on Amazon.com


Add Stacking Storage Bins to the Closet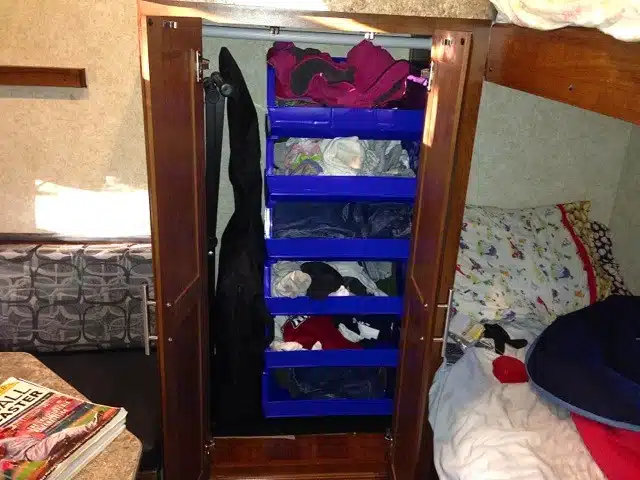 Idea from Ditching Suburbia –  see source below
If you don't want to be bothered with pulling drawers in and out, these storage bins are a great idea. And because they're stackable, you just add as many as you need for your closet space.
Find stacking storage bins here
Stacking Storage Bins on Amazon.com




Turn the Closet into a Cupboard with Shelves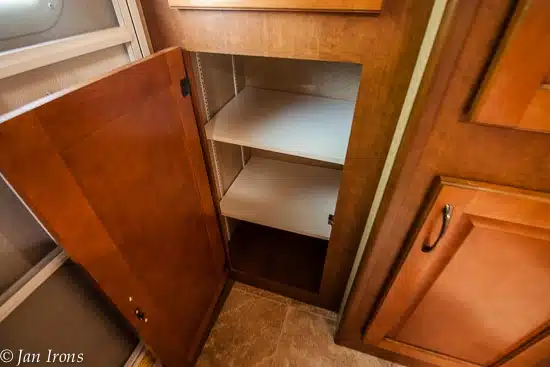 Idea from Trailer Traveler – see source below
This may require a little more handyman/woman skills, but this cupboard space can now be used for all sorts of things.
Hooks on the Inside of the Closet Door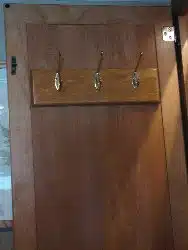 Idea from Back Road Travelers – see source below
This is a nice simple one; by adding hooks to the inside of your closet door you can add the items that you use quite a lot so you don't want to have to keep putting them on and off a hanger.
If you have zero handywoman skills like me, you can use these Stick On Hooks, but make sure you get the heavy duty ones.
Hooks on Amazon.com




Hanging Storage Cubbies
We have one of these hanging storage cubbies in one half of our caravan (travel trailer) wardrobe and it works great. It's a very simple solution that is cheap and no fuss. It means that we can store folded clothes in the cubbies, and still have room to hang the very few dresses that I own, and the button up shirts that Ben owns.
Hanging Storage Cubbies on Amazon.com



Wire Baskets Inside the Closet Door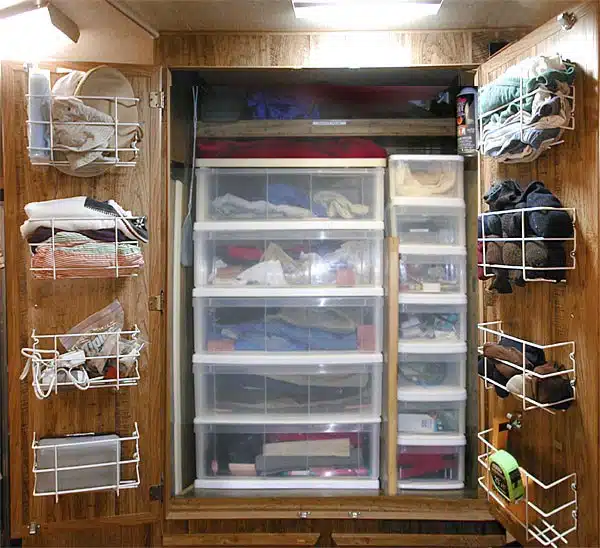 Idea from Travels with Gertie – see source below
By adding wire baskets to the inside of the closet door you have a perfect space for all those small items that you use all the time. Like underwear and socks!
Wire Baskets (to hang on the door) on Amazon.com



Use Space Saving Hangers

Idea from The Scenic Route – see source below
Do yourself a favour and don't use bulky clothes hangers. These space saving hangers are still strong and sturdy but they don't take up nearly as much space. They are covered in a velvety type of material so that your clothes don't slip off like they do with normal metal hangers.
Space Saving Hangers on Amazon.com
I hope that this has given you some storage ideas for RV closets that you can use in your own RV wardrobe to maximise space.
Happy (and cute!) traveling.
---
If you're still stuck for storage space ideas, then check out this book by Ashley from RVInspiration.com. She loads you up with heaps of tips and tricks for getting the most out of the space that you already have in your RV.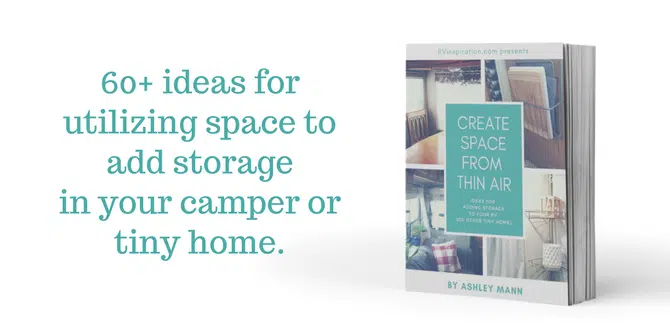 ---
Sources
Organize Your RV Closet with Plastic Drawers: Roads Less Traveled
Add Stacking Storage Bins to the Closet: Ditching Suburbia
Turn the Closet into a Cupboard with Shelves: Trailer Traveler
Hooks on the Inside of the Closet Door: Back Road Travelers
Hanging Storage Cubbies: I thought of this one myself!
Wire Baskets Inside the Closet Door: Travels with Gertie
Use Space Saving Hangers: The Scenic Route
Save to Pinterest