I've been on the hunt for the best small kitchen appliances for the RV… and I mean for the word 'small' to apply to both the appliances, and the size of the kitchen!
As we all know, RV kitchens are often tiny affairs. Even the most plush RV is limited in it's kitchen size, and that's why I personally want to find the smallest appliances for the kitchen.
Kitchen appliances are totally wrapped up in our own personal preferences, taste and lifestyle. While I want the convenience of a coffee-pod machine, I am certainly not a coffee connoisseur so a cheap little machine will be perfectly adequate for me. Coffee masters, on the other hand, would be horrified at my choices and will probably gladly give up convenience, counter space, precious water and power supplies to achieve their perfect brew.
But they don't need or want the blender that may be an absolute must-have for someone else.
It's all about what's important to you.
So the idea of this post is to provide you with some ideas and examples of the small appliances that you might consider for your RV kitchen.
How You Plan to Travel
Just before we get started, I want you to think about how you travel/want to travel.
If you are the type of traveller that will almost always go into an RV with full hook-ups, then you will be more than happy to have any electricity-hungry appliance that makes your life easier.
You may refrain from using your propane (LPG) and opt for electrical appliances anytime, since you're hooked up to electricity anyway.
Or maybe you're an avid boondocker/free-camper but doesn't have oodles of battery power or solar, so you'd rather use the propane and save the electricity. Or you may prefer to have mostly 12volt Appliances for Your RV Kitchen.
Just keep this in mind as you search out your appliances. The BEST small kitchen appliances are the ones that you USE, no matter what it is.
This post contains affiliate links. Please see our disclosure for more information. (FYI – all the photos are links to Amazon products, so if you see something you'd like more information about or to purchase, you can just click on the photo and you'll go to that product on Amazon.)
Small Coffee Maker
Okay, let's start off with the most important part of the day. As I said before, I love to have a coffee in the morning but it's not the end of the world if I can only have an instant. So really, making sure it's a small size and doesn't take up too much counter space is all that matters to me.
Look at these little numbers…




Blender
My husband is a fan of his green concoctions, blending up an array of bright green and healthy drinks everyday. So a blender is high on the priority list.


Now, this next one is hardly small. Holding a massive 72oz (that's a bit more than 2L) BUT, here's where personal preference comes into play. Having a good blender is really important to my husband. Our current (but dying) one holds 50oz (1.5L) and he makes up one batch which he drinks throughout the day.
The beauty of blenders is that they are tall rather than wide, so they don't have a huge footprint. I think I can swing him some counter space for what's important to him. 😛
Pressure Cooker / Slow Cooker / Instant Pot
Everywhere I look, it seems that RVers are spouting on about the wonders of the Instant Pot. Every. Where.
It cooks faster and is easy to use, encouraging people to eat healthy home (RV) made meals instead of convenient takeaways. If it was just a fancy pressure cooker, I don't think I'd bother. But they have new versions which are also a slow cooker (big win in my books!), a rice cooker, steamer, yoghurt maker and more.
Now, I'm interested…
Oh, and I'd hardly put this in the 'small appliances' category! BUT since it does so much you might be using it all the time. In that case, it might be worth it.
I think I might be more interested in trying out a thermal cooker. If you've never heard of these, they are a slow cooker where you get the process started by browning/heating the food in the pot on your normal cooker, then you put into this thermal casing and leave it to slow cook for the rest of the day.
It sounds ideal for a day of travel where you don't have to keep it powered (it continues to cook in it's own heat) but it's ready to go once you've arrived at your destination, set up camp and had your happy hour drink. 🙂
Here's two examples of what I mean (don't forget you can click on the picture to go through to Amazon for more details):

Electric Kettle
This is the same as the blender IMO, you'll want to go tall rather than short and wide, to save on counter space.

Toaster
Same dealio, just a small toaster will be adequate, especially if you're just a couple, like us.
However, if you've got kids (especially teenagers), methinks you're going to need at least a four slice toaster. Cos if you're anything like my family, you'll be going through toast at a very rapid rate!

This one is an interesting contraption that might be perfect for the boon-dockers. Pity it only does one piece of toast at a time though. That's not exactly conducive to happy mornings, in my opinion!
Ice Maker
Now, this one is completely foreign to me. But I read A LOT of blogs by RVers and I've often seen them talk about their ice-maker and how they couldn't live without it.
I've never seen one in real life.
And I've never heard of anyone owning one here in Australia or New Zealand. We just put ice-cube trays in the freezer and woe betide anyone who uses the last piece of ice and doesn't refill the tray!


Organizing Your RV Kitchen
It may be great having all these small and convenient kitchen appliances, but if you've got no room to fit everything then you might need to first think about how you've got your RV kitchen organized and whether you're making the most of the storage that you do have.
Here are some of the posts that I've written that will help you get your kitchen organized in the first place.


And Ashley has given us access to this great resource for creating storage solutions from thin air!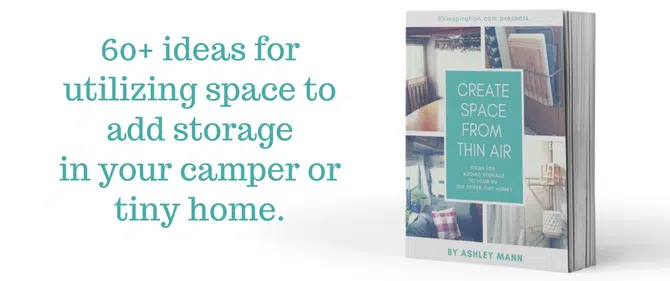 When Searching for Appliances Online
This is probably obvious to everyone already, but I didn't realise that hen you're doing your search, if there is a particular color you want, just add that to your search term, and you'll get HEAPS of options in your desired color. How awesome is that!
Also, you might want to think about covers for your machines. (I'm the kind of person that is more likely to cover my appliances with an old tea towel rather than spend money on a nice cover. But then I've never had compliments on my decor. Ever. I wonder why?)


Are there any other small kitchen appliances (or small appliances for small kitchens ;-)) that you would recommend? Let us know in the comments.