Fun camping and RV gadgets
One of the most exciting parts of owning an RV is getting to give it a personalized makeover with the accessories and RV gadgets that matter to you.
Sure, getting to traverse the country is pretty cool too, but to make you the envy of the RV park, you're going to need a gadget or two.
In this article, we are going to showcase a series of products that make life more enjoyable on the great open road. From the uber practical to the flashy and fun, once you're done with this list, your RV won't know what hit it.
This post contains affiliate links. Please see our disclosure for more information.
A specialized camping blanket is a must-have for your RV. Of course, you could just get inside the RV and tuck up under your bed covers when it's cold out, but where would the fun be in that?
Get Out Gear's lightweight, warm, and waterproof blanket will allow you to stay outside and soak up the stary night sky while remaining cozy and content.
Cooking in the RV is nice and all, but when you're frying up a towering pile of bacon to feed the family breakfast, it can get a little stinky. This Blackstone tabletop grill features a large 17" griddle to comfortably fry the bacon, eggs, and tomatoes all at the same time.
When the weather's warm and you'd rather be outside taking in your surroundings while cooking up a storm, this powerful and heavy-duty gas grill will be there.
The Camco 30-amp voltage protector may be an expensive investment, but can you really put a price on your RV's electrics?
This nifty little gadget is purposed with putting up a barrier of defense between suspect electrical boxes, power surges, and your RV. Don't leave your RV's power supply to chance, let Camco give you the camping confidence you deserve.
This pop-up screen tent in alpine green is great at giving campers protection from the elements. It erects in 45 seconds flat and can fit a family-sized table and four people comfortably.
Not only will it keep the pesky insects at screen's length, but it will also offer respite from the harsh summer sun and the odd downpour. If you've got young children these are especially handy to shelter them from the storm.
Spending hundreds of dollars on fitting a ceiling fan in your RV is silly when you can be sleeping cool and pretty with this rechargeable battery-powered fan instead.
We know how prone RVs are to overheating in the summer months, which is why we are super excited about this one. On a full charge, it can last up to 40 hours at a time and can be recharged while you're cruising to your next camp spot.
There's also an LED light built into the head of the fan to offer a cheeky night light when required.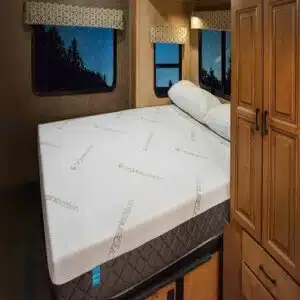 No matter what the RV manufacturers tell you, in general, stock RV mattresses leave a lot to be desired where a good night's kip is concerned. They are often either too thin, too hard, too small, or all of the above.
Mattress Insider knows this, which is why they've designed a luxury range of gel memory foam RV mattresses. Made of high-grade memory foam and wrapped in organic cotton, consider this the Rolls Royce of RV mattresses.
Having already helped over 20,000 RV owners get a proper night's rest, this above-and-beyond mattress is ready to be shipped out nationwide in a range of sizes right now, which begs the question – what are you waiting for?
A premium cooler is one of the best investments you'll ever make on the road. RV fridges are inherently small, just fitting food staples at the best of times, and if you also have drinks that need chilling, forget about it.
Forget about it, that is, until you make the clever decision to pick up the Yeti Tundra 35 and designate it as the drink-chilling station.
The high-grade insulation of the Yeti Tundra is known to keep ice frozen for days at a time, giving you plenty of time to polish off that case of beer. Even as a spill-over for food and supplies, this is a sophisticated cooler that looks good, and cools better.
We know, nothing can match the magic of a real-deal campfire, but this portable fire pit comes pretty close. Not only does it do away with dirty ash, excessive smoke, and the expense of firewood, but it also comes CSA-approved for use in most fire bans.
There's also a natural rock lava set included in the one-time price of this fire pit to make it look and feel like the real thing. The only thing you'll need to pick up is a 20-lb propane gas bottle to complete your safe and practical fire pit of dreams.
Although these levelers may not be the most fun RV accessory on this list, they are definitely one of the most practical, and practical can be fun right?
This well-priced 10-pack of interlocking levelers is designed to withstand tremendous amounts of weight and can level off even the big boy RVs of America.
Ditch the splintery chunks of wood you've got stowed in your RV's storage compartment, and safeguard your RV the right way, the Tri-Lynx way.
Do you know what's better than one zero-gravity reclining chair? Well, that could only be two zero-gravity chairs of course.
Be the envy of the campground, as you and your partner kick back in this super comfortable reclining duo that will have you relaxing as you've never relaxed before.
Lightweight, foldable, and coming with a detachable tray that features two cup holders to secure your afternoon tipple, this is the ultimate camping chair to bring along for the ride.
The saying that a man is only as good as his tools rings true where RVs are concerned, and this cordless drill is a very good tool.
Not only does it make lowering and stabilizing your trailer jack so much easier than cranking it by hand, but it will also come in handy when there's a creaky cupboard that needs fixing.
The drill features a compact 20V Max rechargeable lithium battery that is both light and effective. The 11 position clutch provides precise drilling and is suitable for everyday materials like wood, metal, and plastic.
Turn your morning brew from zero to hero with the Barista Pro by Breville. It features an integrated 4-part system that does everything your local barista would do, but from the confines of your RV kitchen.
No need to go scouting around on your travels for barista-made coffee that likely won't hit the mark, this machine offers you specialty coffee on a brushed stainless steel platter.
Sleek, modern, high-functioning, if there was ever a reason to splash out on something special that will serve you day in and day out, it's this thing.
Walkie-talkies are a must-have for RV owners who travel in convoy. Being able to communicate between vehicles at all times is one of the key components to safe and easy travel, and this 3-pack from Motorola is up there with the best.
Not having to rely on phone signal, and, or internet service to get a quick message across to your RV peers can be a matter of life or death (and no, we're not joking).
On a lighter note, they can also be a fun and practical means of communication between your family when camp is set up and the kids go off exploring.
Show off your travel stripes with this fun and interactive state sticker travel map. Using an adhesive backing, this vinyl map can be stuck to the most prominent wall in your RV to make sure nobody misses it.
The fun part involves sticking each state's flag onto the map once you have visited it. This will help you to reminisce on all the amazing RV adventuring you've done over the years, as well as show off what a seasoned traveler you are to your campground buddies.
Winter RV life can be a nice and cozy time if you've got the right tools at the ready. This space heater by Dreo is a compact portable heater that will take the edge off the winter chill.
Designed to be sleek and inconspicuous, your guests wouldn't be silly for mistaking it for a portable speaker. Notable features include 70° of oscillation, a digital thermostat, LED display, and touch control.
Don't go on living out your winter's on the road tucked under the covers, let this modern heater warm the RV and your bones.
Anything that can pop up and pop back down again is useful when camping, and this recycling bin is one of those things.
Great for families who find it a little too easy to fill their RVs trash can in less than a day, this portable bin offers the equivalent of a 30-gallon trash bin – saving multiple trips to the campsite recycling point.
The canvas fabric is easy to hose out and clean and can be conveniently snapped shut using two velcro straps when not in use.
No matter how well you drive your RV, there will always be that odd occasion where braking suddenly will have your kitchen crockery clinking, clanking, and hopefully not breaking.
These plastic plate stackers have been designed to put an end to your slip-n-slide stakes of plates. This set of two comes with a small and large universal plate size and includes a heavy-duty non-slip backing to safeguard their place in the cupboard.
These microfiber travel towels by Youphoria come in a wide array of funky colors and are a true heaven-sent for savvy campers.
Not only do they dry super quick to ensure you won't be walking to the showers with an already soggy towel, but they also pack away astonishingly small.
Economy of space is everything in an RV and these lightweight travel towels that each come with a draw-string carry bag will pack down to a fraction of your standard towel's size.
Leading on nicely from the space-crushing travel towels, we've got these wall-mounting shoe racks to save you and your RV even more space.
Gone are the days when you have to worry about tripping up on the pile of shoes at your RV door, this practical 3-pair shoe organizer is purposed to keep doorways clear and clean.
With a heavy-duty self-adhesive backing, you can also keep your RV walls and doors drill-hole-free, and fit the rack in a one, two, breeze.
If you're camping with kids and you don't already have a spork set in circulation, then consider this a call to the sporks. This colorful set of 8 sporks is made from BPA-free plastic and comes with a handy draw-string carry bag that makes transporting easy-peezy.
Not only do they come with both a fork and spoon head on each end but they also have a serrated edge built in to cut through soft foods. Save on dishes and time spent washing up and convert to the spork side of camping, you'll be thanking the lucky stars you did.
RV kitchens, although priceless, don't exactly come with an abundance of bench space. In fact, you'd be lucky if there's even a bench at all in some of them. That's why this collapsible dish-drying rack is so valuable for RV users.
Its ability to collapse and be stored out of sight and mind when not in use will keep what little countertop you've got clean and free. One nifty feature of these racks is the snap-in drainer board that will put an end to any wayward water soaking through your benchtop too.
This brass RV water pressure regulator is designed to give your RV good water flow and you peace of mind.
By regulating the water pressure that comes into your RV, this savvy gadget can safeguard your RVs plumbing from bursting a pipe under undue stress.
It's also universally compatible, fitting almost all U.S water sources and threads. Don't take a chance on your RVs water supply and pick up this premium pressure valve today.
Equipped with a 240Wh lithium-ion battery pack, this portable power station has got your charging needs covered.
Perfect for camping trips when you're pitched up for a few days without a reliable power source, this tool of today can be powered by the sun. There's no escaping the fact that our modern lives, even when camping, can often rely on charge.
So instead of making life hard for yourself, invest in this power station and keep your family's laptops, tablets, phones, and speakers hooked into the solar-powered power source.
For those of us that need to work online even when travelling, being able to set up your workstation in the most comfortable spot, is gamechanger.
Maybe you're in a van and rather than converting the bed to a dining table every day, you can work from bed with the portable laptop desk.
You can even work outside from your camp chair wile overlooking a beautiful view (and maybe that's motivation to get through your work as quickly as possible to you can enjoy the area you're in.)
The perfect way to get out on the water without having to haul kayaks or a small boat with you.
An inflatable stand up paddle board is easy and quick to inflate, has some great features like a spot to mount your GoPro and bungy cords to attach any hear you want to take with you.
It's the ultimate RV gadget!
Summary
You know what they say about home is where the heart is, for proud RV owners, their hearts are forever longing to be cruising in their home on four wheels.
There's nothing more pleasing for us RV lovers than to see our humble abodes turning into the RV of our dreams, one RV gadget at a time.
We hope this article gave you some inspiration to make your next RV adventure the best one yet.