There's just something about a campfire, isn't there.
We don't need to talk about the romance of them, or the childhood memories they bring up. Just thinking about them we can already feel our cheeks warm with the orange glow (and our backs freeze from the icy breeze), we remember the conversations, the laughter, the singing.
And now, with this RVing lifestyle, people think that you're sitting by a campfire roasting marshmallows every single night!
But we know it's not true. In lots of places fires are not allowed, or there are no fire pits, or it's just too dang cold to be outside anyway. Or maybe there's a state-wide fire ban, as is often the case here in Australia during the summer months.
We've found that there are been numerous camp sites that have only only camp fires IF they are in a fire ring or fire pit.
So rather than take our chances with finding a fire pit already there, we bring a portable outdoor fire pit with us. Here are some of the different options you can get.
This post contains affiliate links. Please see our disclosure for more information. (FYI – all the photos are links to Amazon products, so if you see something you'd like more information about or to purchase, you can just click on the photo and you'll go to that product on Amazon.)
Ozzie Made
I have to start with a portable fire that is reasonably popular here in Australia.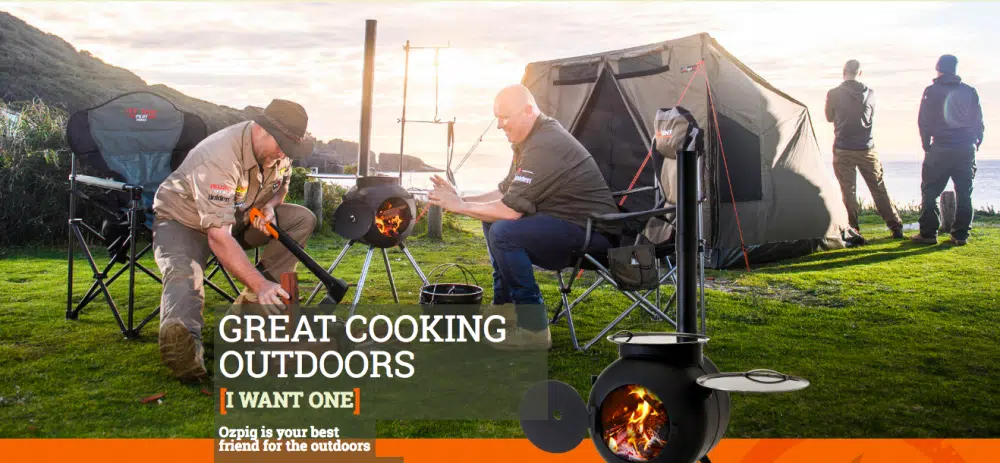 I personally, could not be bothered with this level of campfire/cooking/ambience creation.
While the Ozpig might be quite popular, it's not nearly as popular as people just making their own version of a portable fire pit.

While I would love my own home-made number, I don't have the skills so I'll be resorting to what can be purchased online..
Portable Fire Ring
Sunnydaze Big Sky Campfire Ring, 36 Inch Diameter – comes in four pieces that can be easily put together/pulled apart and transported.
Camco 51091 Portable Campfire Ring – this one can be folded up to be transported
SILVERHERO Foldable Campfire Portable Fire Pit Ring 4 Panels Stackable Heavy Iron and Finished with High Temperature Paint with Carry Bag, Black – if you prefer square
Sunnydaze Wild Moose Campfire Ring, 36 Inch Diameter – I really like how this one doesn't have tall walls, allowing plenty of that heat to warm up my legs. 🙂
Off The Ground Fire Pit
Here in Australia, we are often limited to off-the-ground fire pits only. In that case, these are the types you'd need:
Rootless Portable Outdoor Fire Pit : Collapsing Steel Mesh FirePlace – Perfect for Camping, Backyard and Garden – Carrying Bag Included (Medium) – Lightweight, portable and collapsible
UCO Flatpack Portable Stainless Steel Grill and Fire Pit – I love how this one can be used as your BBQ grill too, if you want. (And if you can be bothered with a coal BBQ rather than just using a propane/LPG BBQ.)
Quick Grill Medium: Original Folding Charcoal BBQ Grill Made from Stainless Steel – This one looks plenty sturdy, but is still portable.
Snow Peak Pack & Carry Fireplace – Another light and portable option
UCO Grilliput Firebowl – or how about a bowl!
Think about what suits your style of travel/camping best
Of all the options, I would have to go with the fire pit that packs down the smallest and also can be easily used for cooking. I reckon it would need to be strong enough to hold a pot of stew or even a dutch oven (filled with yummy dessert!), so probably this one:
You see, if I'm going to go through all the drama of finding the firewood, hauling it to our site, cutting it to size and tending the fire… and then putting up with ALL THE SMOKE… then I'm going to want to make the most of that fire and cook on it!
What do you think? Will you bother with taking a portable outdoor fire pit with you?
Pin to your RV or Camping boards