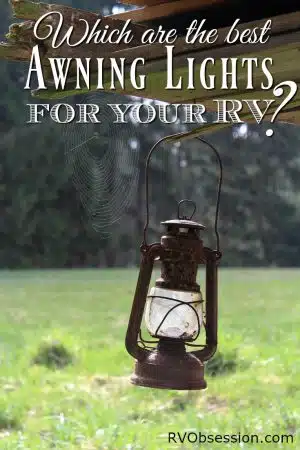 As I've mentioned before, we don't have an RV yet (BIG emphasis on yet… I yearn for the RV lifestyle but they're just so dang expensive here in NZ..anyway, I digress) but as I look through gazillions of websites and countless pinterest images, there's one little feature that has piqued my interest and as I read up more about them I realise that these little things might make life quite a bit nicer.  RV awning lights (in case you hadn't guessed from the title ;-))
I would suppose that when you're living the RV lifestyle, the area outside your little home becomes important and useful, especially during nice weather. If you've made the effort to set up a little patio area with an RV mat, your camp chairs and maybe a picnic table, then chances are you're going to want to utilize that space.
And part of utilizing the space may include hanging outside on a balmy evening, enjoying some drinks with new friends and conversations. Lights would be handy in this situation.
Oh, and lights would also be handy when you've spent the day out exploring and come home to a completely dark campsite and you can't find your keys and trip over the boots you left at the front door.
So let's have a look at some of the different types of awning lights that are available and figure out which would be the most useful and practical for you and your rig.
This post contains affiliate links.
LED Light Bar/Porch Light
These lights look like they're the brightest and most practical for illuminating an area (not just making it look pretty).
Continuous Light Strip / Awning Rope Light
To me, this seems like a really practical and elegant lighting solution. Small, easy to install, power efficient and many of them come with a remote so you don't even have to go searching for the light switch!
These come in coloured lighting too, so your RV can be the local party hotspot! If you are, and you're parked next to me… I'll be making a hasty exit from that spot as soon as I can! Just sayin'.
Hanging Patio Lanterns
I personally like the look of these ones the best, but I just get the feeling that they would be a pain to have to put up each time. And then if it got windy you'd have to bring them down. I really wanted these to be a good solution, but light-wise I don't think they're the best, and having to set them up each time? No thanks. Why does pretty have to come at such a cost!?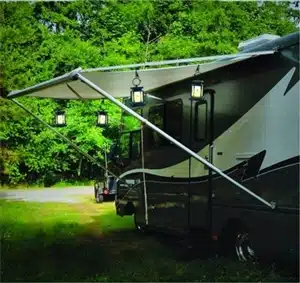 Fairy Lights – Solar Powered
I think these would look really pretty! Not enough light to cook a BBQ under, but I'm sure they'd be fine for just sitting outside having a drink and a yarn, and enough light for you to A) find your RV if you're coming home late at night and B) get your keys into the keyhole so you can hurry up and collapse into your snuggly bed after an adventurous and fun-filled day.
Can't say I'd be enthusiastic about having to set them up and pull them down every time we move though.
Have you thought about what type of RV Awning Lights you'll use? Or what have you already installed? Do you have any recommendations?