There are so many different types of small camper, and there are so many different names commonly used by different people for each and every type. So one name might mean something for one person, and something totally different for someone else.
But we'll try our best to describe each one and point out the differences so that you can make the most informed decision possible.
---
This post focuses on small campers but you can read all about the larger RV types here:
RV Types – An In-Depth Guide
---
Ok, let's start with the most common generic type of small camper, and then move onto a couple of the more specific types, like pop-ups and truck campers.
Small Campers
Also known as:
Mini campers
Compact trailers
Tiny campers
Micro campers
Small travel trailers
Ultra-lightweight trailers
Pod trailers
Teardrop trailers/campers (based on their unique teardrop shape from the side)
Polydrop trailers/campers (same as a teardrop but with straight lines instead of curves)
The small camper style RVs have definitely gained some popularity over the last few years due to their simplicity, low cost, and versatility.
The teardrop style trailers are very small, very lightweight, and very streamlined due to their aerodynamic teardrop shape when viewed from the side. They typically have enough space for a double bed and some basic storage inside, and usually have an outdoor kitchen built in to the back inside a rear hatch.
Micro-campers and Ultra-lightweight trailers are similar in size but tend to have a little bit more living space inside and can sometimes fit a small indoor kitchen, a dinette that converts into a bed, a compact bathroom, and sometimes even a small sleeping loft. However, not all models fit all of those features into the one unit. You may have to pick and choose which amenities are the most important to you.
These are all on the smaller end of the size scale, obviously, and you'll find they can range any from 10" to 20" long and not much wider than a double or queen size bed.
Small Camper - Pros & Cons
Pros
Drivability & Parking: Being so small, these campers are very easy to tow and park on small roads and tight spaces.
Fuel Efficiency: Their very lightweight naturally means you'll burn through less fuel when towing one.
Versatility: You won't need a large SUV or pickup truck. Most everyday vehicles shouldn't have a problem towing one of these.
Affordability: Requiring less materials and labor to manufacture means less overall cost to purchase, maintain & operate.
Cons
Limited Space: Small campers have limited living and storage space so they're not great if you have a family or group.
Limited Amenities: Less space means less room for amenities and some models don't even have a bathroom.
Exposure to Weather: A common way to get around the limited space issue is to have an outdoor kitchen that attaches to the rear of the trailer… therefore, wet weather can make life a bit miserable sometimes.
No Separate Bedroom: In a teardrop camper you usually have zero floor space as there is only room for a bed. Some slightly bigger models will have a small dining area that converts into a bed. But the bottomline is, the bedroom IS the main living area.
Pop-Up Campers (including A-Frame Campers)
Also known as:
Tent trailer
Folding camper
Fold-down camper
Collapsible camper
Expandable trailer
Pop-up campers are defined by their ability to expand and collapse by way of foldable arms and slide-out rails making them nice and compact to tow around, but more spacious when parked and set up.
They usually have some kind of hard base and canvas walls that expand outwards, creating the living and sleeping areas, and generally range in length from 8" to 16" when closed.
A-frame campers are a subtype of pop-up camper and are defined by their unique triangular shape. When fully set up, they look more like a small A-frame house (hence the name). Their sides are made of a solid material rather than canvas, providing more insulation and protection from the weather, but are still on the smaller end of the scale when compared to other pop-up campers.
Both types of pop-up generally sleep 2 to 4 people, depending on how much you want to spend, and both are easily towable with most vehicles due to their compact towing size.
Pop-Up Camper - Pros & Cons
Pros
Towability: Their ability to fold down and become even more compact than other small campers makes them less wind resistant when towing.
Spacious: Modern manufacturers' creative designs can turn a small looking trailer into quite a spacious living space.
Affordability: The canvas walls make them much cheaper to produce than hard-sided RVs and therefore cheaper to buy.
Home Storage: When collapsed, they are much more easily stored in a standard garage space than most RVs.
Cons
Setup & Packup: If you're moving constantly, the extra setup and packup time required for these can sometimes be a bit repetitive.
Exposure to Elements: The canvas walls have zero insulation from cold and heat, compared to a hard-sided RV.
Limited Amenities: Toilets and showers are not usually included in a pop-up camper. If you're lucky, some models will have some kind of small kitchenette.
Durability: Canvas walls are much more susceptible to wear and tear than a hard-sided wall and therefore generally have a shorter lifespan.
Truck Campers
Commonly referred to as:
Slide-in camper
Pickup camper
Camper shell
Truck-bed camper
Pickup truck camper
Over-cab camper
Cab-over camper
Being a unique type of small camper, these required their own section here to more easily explain what defines them.
Their most defining feature is that they have a separate, purpose built living space in the form of an oversized box, or cab, that attaches directly onto the bed of a pickup truck, essentially turning the truck into a miniature motorhome.
They come in all shapes and sizes and are custom built to fit individual makes and models of pickup trucks.
Some slide on with rails, and others are simply lifted onto the truck bed and bolted down.
They are usually built tall enough to stand up in, and most models extend over the cab/roof of the truck where you will usually find the bed.
Despite their odd looking compact size, it's not uncommon for them to include amenities such as small kitchenettes, dinettes that convert into a bed, ample storage space, and sometimes even a bathroom, as well as extra features like external slide-outs to increase the usable living space.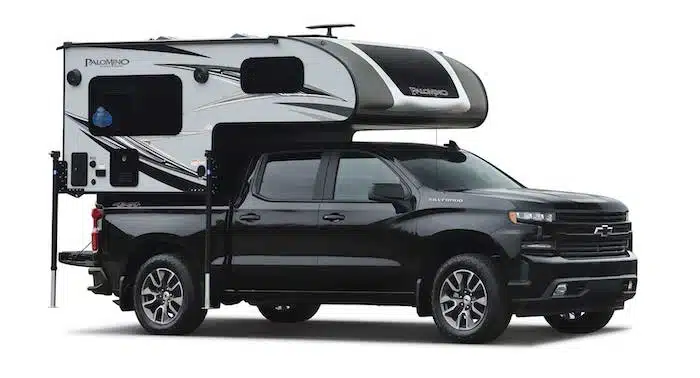 Truck Camper - Pros & Cons
Pros
Mobility: Truck campers are probably the most mobile and versatile of all RV types because they provide the capability of a pickup truck (especially a 4x4) along with the convenience of an RV, making them perfect for off-grid camping in hard-to-reach spots.
Drivability: Since the camper is in the truck bed, it's just like driving a regular pickup truck so there's no special skills or licenses required, and it even allows you to tow something behind, like a boat… or even a travel trailer.
Convenience: No need to setup and packup when you arrive at the campsite or move on to the next one. Plus, the camper section can be detached and left behind, leaving your vehicle free for everyday use.
Space Efficiency: Being custom designed, every square inch of usable space is used very effectively with very little waste. 
Cons
Limited Space: However, as well designed as they are, the overall usable space is still pretty small compared to most RVs and you wouldn't want any more than 2 people inside.
Requires Pickup Truck: Needless to say you will need some kind of pickup truck to house the camper section, and depending on how big and complex you go, not all pickup trucks are capable of carrying some of the larger sized ones.
Accessibility: Generally you can stand up inside a truck camper but the door to get in and out is often elevated and sometimes smaller than a typical RV door. So if you don't like steps or ladders, then they might not work out for you.
Balance & Center of Gravity: We did just say they are easier to drive since it's just a regular vehicle and you're not towing anything, but something to think about is how you load up the inside of the camper section. Bad weight distribution can cause stability issues and therefore handling issues on the road.
Summary
Small campers, pop-up campers, and truck campers, are a good balance of mobility, simplicity, and affordability. They manage to condense the comforts of home into a compact, road-worthy package, and present a low barrier of entry to those new to the RV life as well as a compact alternative for more experienced campers.
Their overall advantages being their efficient size, ease of mobility, and convenient parking and storage.
Now that you're up to speed on small campers, you can read all about the larger RV types here:
RV Types - An In-Depth Guide