Having an RV is a dream for many Americans – it promises the freedom of the open road, stunning vistas, and endless memories, whether you're traveling solo, with friends, your partner, or your family.
No one said it would be easy, though – living in a small space, often with multiple people, and with all the things you need for your travels at times can feel cramped and stressful. This article will guide you through all the hacks and accessories you require to ensure that your plethora of belongings stays tidy (and in one piece throughout your journey).
Whether you're a full-timer living out of an RV, or just vacationing, there will be something on this list to help you save space, stay clutter-free, and keep all your lovely belongings safe.
This post contains affiliate links. Please see our disclosure for more information.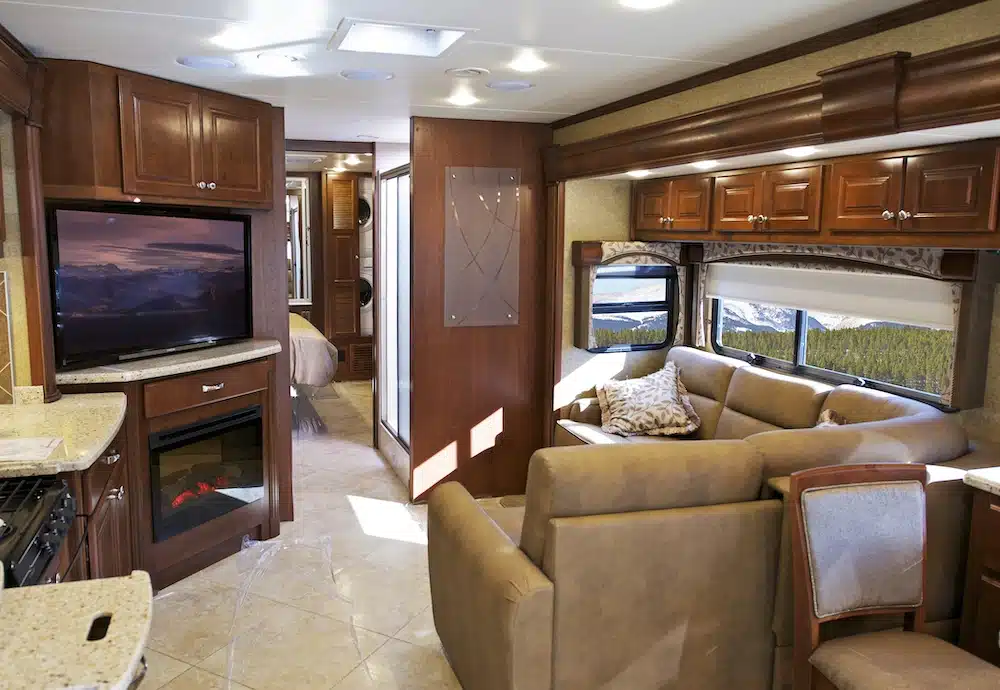 Purge items that aren't useful

. In this modern age, we love to acquire stuff. Unfortunately, this isn't especially compatible with RV life, as, without a doubt, the biggest challenge facing RVers is the limited space. If you're living full-time in your RV, we suggest assessing what you haven't used in the last year and throwing it out, as it's probably not an essential item. If you're using your RV for vacations, then it's probably best to do a big purge after every trip to keep on top of it. 

Have a place for everything.

Okay, this one might be a bit easier said than done, but finding a place for absolutely every item in your RV (including ones you don't even think about, like keys, gum, and toilet roll), is the only way you'll be able to stay on top of the organizing. When things aren't in use, they should have a home within the RV that everyone knows about and that everyone will stick to. Dedicate one afternoon for your family to get together and choose the designated place for everything –  that way, they'll stick to it too, and you won't be the only one keeping your home organized!

Create a cleaning rota.

Yes, we're taking it back to your student days – when you're stopped in one place for a while, it is worth putting a list of chores on a rota, so that mess and dirt in your RV don't build up, and everyone does their fair share. Small spaces, such as your RV, do get dirty quickly, especially if people are traipsing in and out through the day, but thankfully are easy and quick to clean. 

Set up a firm routine.

With life on the road, routines can often feel futile and difficult to maintain. But, it is really beneficial to maintain a small routine. For example, after breakfast, you could take 15 minutes to tidy the bedroom and do the dishes,  which constitutes your own little morning routine. 

Buy an over-the-door trash can. Floor trash cans can take up a lot of valuable space, and going without a trash can is a massive annoyance. To avoid these problems, put your trash can over the inside of a cupboard door.  This trash can also has a sealing lid, to keep your RV smelling fresh.
Elpheco Over the Door Bin
Bungee your bin to the wall. If the over-the-door trash can is just too small for your busy RV, you can strap your bin to the wall using bungee cords and eyelet hooks, so that nothing goes walkabouts on the road. No one wants a spilled garbage can! 
Collapsible kitchenware. Using collapsible kitchenware, like kettles, bowls, water bottles, colanders, and even pots, can save you a huge amount of valuable cupboard space. They get bonus points for being plastic, as no amount of bumpy roads will make them chip or crack.
Collapsible, Leak-proof Water Bottle
Collapsible Colander
Collapsible Pans Set
Pegboards are your best friend. When you can't get collapsible items, pegboards are a great way to vertically store difficult items like pots and pans. Though a bit pricey,  they're a fun way to organize your RV stylishly – just make sure you don't take corners too fast, or things might go flying.
Pegboard
Suction cup your bathroom

. Small bottles or shower racks with suction cups are a wonderful space saver for your bathroom. Stick all your toiletries to shower walls using suction cups. It's also essential to keep things lightweight and small, to avoid clutter. Consider swapping toiletries to their solid bar forms, and using suction cup soap dishes.


Suction Soap Dish
Wall Mounted Suction Bottles
Suction cups are great out of the bathroom too. They can be used as hooks to hang things without putting holes in your RV walls.  Hang up coats, keys, dish towels, etc., to conserve cupboard, floor, and surface space. The vertical axis is your buddy – make sure that you use it!
Suction Hooks
Fold-out spice rack. You never want unseasoned food,  but bulky spices can be an issue on the road.  Buy a fold-out spice rack to save on cabinet and counter space,  as well as keep your spices easily accessible.


Foldable Kitchen Organizer

 

Spice gripper clips. If a foldout spice rack isn't for you, consider these strong spice gripper clips that can be attached to the inside of cupboard doors to organize your spices, and are guaranteed to cling onto jars without any spillages.
Spice Grippers
Wall-mounted mason jars.

You can easily set up a system for food storage by securing mason jars to ceilings or the underside of cupboards. This keeps them accessible without having a cupboard taken up by bulky glass jars. 

Use tension rods vertically

. By using curtain tension rods vertically inside cabinets, you will be able to store chopping boards, trays, plates, and anything else that's flat for more efficiency.  You can purchase tension curtain rods at your local homeware or hardware store.

Stackable containers. Maximize cupboard space by using stackable square or rectangular containers. This way you can store cereals, pasta, and snacks without their bulky packaging. Some shops will even refill your containers, often for cheaper than their disposable packaged companions – saving you money and helping the planet.
Square 4-Quart Storage Jars
Use towel rods for pan lid organization

. Awkwardly shaped pot and pan lids can be difficult to store efficiently, but the installation of curtain rods to the back of cupboard doors can fix this problem. Just slot your pan lid in, so it's held up by the handle, and away you go. 

Magazine rack can organizer.

Use wide magazine racks to hold all your canned food in place, both to maximize your cupboard space, and to stop them rolling around wreaking havoc in transit. 

Fridge bins.

To organize your chilled produce, you can use small storage bins, so you can group types of food. The removable bins make accessing things easy. Just make sure you measure up before purchasing anything because RV fridges differ in size. 

Use wire shelves in cabinets. Using wire shelf racks in cabinets can hugely increase the amount of available space for food storage. You'll be able to fit two layers of food storage, rather than just one, into the same size space.
Wire Shelving Units for Inside Cupboards
Command strip holders. Organize brooms, mops, dustpans, and brushes with command strip broom gripper tabs.  Upright storage means more space for you, and they won't fall over whilst you're traveling.
Broom Holder Command Strips 
Collapsible laundry baskets. Space-saving collapsible items strike again. You can use a collapsible laundry basket to do all your washing so that once you have finished with it, it can just be slotted away easily and efficiently under a bed.


Collapsible Laundry Tote with Handles

Make a storage headboard.

If you're crafty and have a sewing machine at your disposal, you can make a storage headboard with pockets to keep all your bedside essentials in, without the need for a clunky bedside table. 

Bedside Caddy. If a storage headboard isn't for you, then you can use a caddy nightstand to store all of your usual bedside belongings, easily accessible without the need for shelves.


Caddy Bedside Organizer

 

File fold your clothes.

Clothing can take up an excessive amount of space in your small RV wardrobe if you're not careful with how you fold it up. Take a leaf out of Marie Kondo's book and file fold for space optimization. 

Use a coat hanger and curtain/shower rings to store hats.

Hang your baseball hats on shower rings attached to an old clothes hanger. Pop this by the door, so that you remember to pick one up on your way out. 

Velcro your remotes.

Keep your remotes organized by attaching Velcro squares on the back of them, and on the side of the living room units – this will mean that you always know where they are, and they won't slide about when your RV is moving. 

Buy a lamp with power outlets.

A mess of wires is unsightly and difficult to organize when in a conventional home, and this is only exacerbated by the small space and limited outlets in an RV. Table lamps with power outlets built mean you won't have to be reaching down to plug in devices constantly.




Power Outlet Table Lamp

 

Peel and stick cord organizers.

If wires are still bothering you, then cord organizers will be perfect for you. They'll keep your wires in place and out of the way, avoiding annoying tangles.


Peel and Stick Cord Organizers
Just add more storage

. Sometimes, as with big families, or those who need a lot of equipment (like athletes who do adventure sports), organization will only go so far, and more space is needed to keep your RV tidy. If you think this sounds like you, then it might be beneficial to invest in a tow cargo carrier, for extra space. 

Over the chair pocket organizers. Using all the space in your RV is essential, and an often overlooked area is behind the seats. Use these bib-like seat organizers to store essentials that need to be close by whilst driving, without cluttering up your cabin.
Seat Organizer
Utilize your tow vehicle.

If you're a serious RVer, you might pull a tow vehicle behind your RV. You can use this to store all the things (like tents, surfboards, or kayaks) that don't need to be in your everyday living space. Get a lockable roof box or roof rack to ensure security. 

Hidden pull-out surfaces.

If you're handy, you can install hidden counter space or bedside tables in existing furniture. These can be pulled out to use as chopping boards, laptop rests, or tables for a lazy all-day breakfast in bed. 

Vacuum sealed bags. These are essential for when you're trying to pack light –  they minimize the size of anything packed away in them, making them perfect for sealing away seasonal clothes when the weather isn't suitable.
Vacuum Seal Storage Bags
Use a DVD binder.

If you're still old-school, eliminating the bulky CD and DVD packaging will save you tons of space – you can get hundreds of discs in a far smaller space. 

Make all your media digital.

Alternatively, you can store all your entertainment digitally, with subscriptions to sites like Netflix, Hulu, Spotify, and Amazon Prime. This is the ultimate organization hack, as there's nothing to organize – what a dream! Just make sure you have a strong internet connection, or you'll be left with nothing to do on rainy days! 

Magnetic tape is used to store metal items. Cheap and easy to install, magnetic tape can be used to store metal items (such as knives in the kitchen, or tweezers in the bathroom). Just make sure you pack everything away properly before setting off – movement can dislodge items like knives, which can be dangerous when loose in your RV.


Magnetic Tape

 

Plastic drawers in closets.

Ideal for storing foldable items, like t-shirts and sportswear, plastic drawers are a cost-effective and space-conserving way to store items of clothing. Additionally, if you get low-rise drawers, you will still have enough room to hang non-foldable items, such as shirts or jackets,  above, making it an ideal storage solution.

Use every inch of your RV.

Yes, we do really mean every inch –  especially on traveling days. To protect kitchen appliances, like coffee machines for plug-in kettles whilst traveling,  you can use an unconventional part of your RV.  when not in use, the shower will make a great location to store items that usually reside atop the kitchen counter. 

Install bungee cords across shelves using eyelet hooks

. This will stop any of your belongings from flying across the RV whilst you're in transit. Not only does this include safety, but also means things will (hopefully) stay nicely organized and unbroken. 

Outfit your sink with a dish drainer rack.

A durable dish drainer designed for RV sinks is essential when you're on the road. You'll be doing a lot of washing up after every meal, but won't want to take up counter space with all your drying pots and pans. This is the ideal size for your home on wheels.


Mini Dish Drainer for RV Sink
Charcoal air purifier

. These little activated charcoal sacks will become your best friends on the road. With multiple people (and maybe some animals) living in the same confined space, your camper is bound to get a bit stinky. These eco-friendly air fresheners will work to absorb any smells,  keeping your van smelling fresh.


Bamboo Charcoal Air Purifying Bags
Mount your devices.

Use command hooks to suspend your phone or tablet in a convenient place, so that it has a home when not in use, when charging, or when you want to watch your favorite shows hands-free.  

Swap out your bed frame for something more useful.

Bed frames take up a lot of space, so picking up something with additional storage is essential and living in a small home.  Look for beds with pull-out drawers,  or that lift for access to a storage box underneath.
See more tips for organizing your RV in the video by Five2Go below.
What's your favorite way to organize your RV?