RV Kitchen Accessories to make your life easier
Anyone who owns an RV will know that space is a premium. Whilst it is incredibly freeing and exhilarating to be able to pack your life up into one neat vehicle and hit the road, it also poses some serious challenges.
Finding that you have forgotten to pack some crucial items can leave you feeling compromised. At the same time, packing too much will leave you swamped and disorganized.
That is why the key to any RV holiday or expedition lies in the three Ps: planning, preparation and positive vibes.
Selecting the right RV kitchen accessories and gadgets will make a huge difference to your experience on the road, because after all, the kitchen is the heart of any home.
You want accessories that are compact, multifunctional, safe, and energy efficient. At the same time, you want to feel like you have the necessary modcons so you can enjoy your usual home comforts, even when you are miles from civilization.
In this article, we tackle the first of the three Ps for you. We list 30 must-have accessories which will meet all your RV kitchen needs and will make cooking and cleaning onboard so much easier.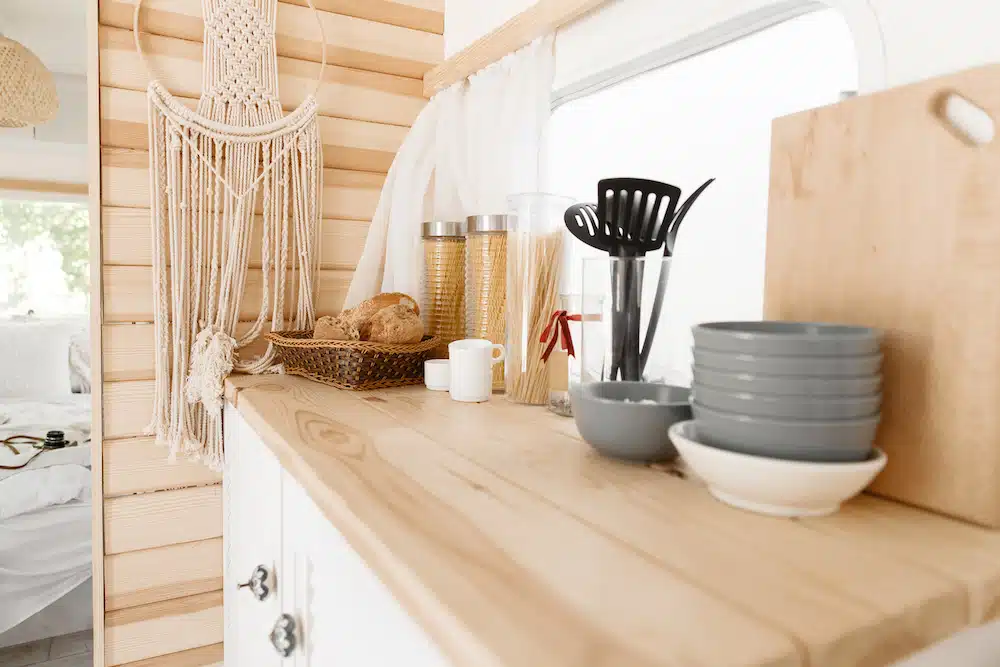 You will feel organized and in control with these nifty kitchen gadgets, and will be able to enjoy your time on the road with minimal stress, mess and effort. Let's go!
This post contains affiliate links. Please see our disclosure for more information.
Right, let's start with the very basics. Every camper needs cutlery, and many people think you can save space by using "sporks" and double-ended options, but we don't think that's necessary.
This magnetic cutlery set allows you to enjoy full sized knives, forks and spoons and still save space.
They cleverly fit together thanks to their magnetic connection points, so they won't end up tangled and scattered in the cutlery drawer.
They are made from 7075-T6 aluminium which is extremely lightweight and extremely strong. This cutlery won't snap and break on you like many camping options will. Definitely a MUST-HAVE!
Sticking with the basics, this crockery set is made from wheat straw which is virtually unbreakable. This means you won't need to worry about plates and bowls smashing to pieces every time you turn a sharp corner.
They stack inside each other neatly, which will save cupboard space, but they are also a decent size, so you won't have to skimp on your portions just because you're on the road.
Best of all, wheat straw is an eco-friendly material, so you can eat your meals with a clear conscience. Now that's a MUST-HAVE!
This 4 pack of stainless steel cups will get used more than you can imagine. Their 12oz capacity is perfect for an evening bottle of beer, and the 16oz is perfect for keeping you hydrated on your travels. Their stackable design means that they won't take up lots of room in the kitchen cupboards either.
They are BPA free, won't rust, and pretty much unbreakable, making them a great RV-friendly choice. It is true that they are advertised as kids cups, but we think they are a definite RV kitchen MUST-HAVE!
Of course, steel cups won't cover all your drinking needs, and if you are anything like us, you will definitely need a coffee mug in the mornings! These stainless steel travel mugs are perfect because they come with fitted lids so you won't need to worry about spillages, even when driving over bumpy terrain.
They have double wall vacuum insulation, so will keep hot drinks hot and cold drinks cold for longer than your average mug. And their handles are easy to grip and comfortable. For all your hot beverage needs, these mugs are a MUST-HAVE!
When there isn't much room for measuring jugs and weighing scales, it doesn't mean that you can't still reach the culinary heights you do at home.
These collapsible measuring cups not only fold down to become flat, but also stack on top of each other. They are attached to a handy ring, so they are always kept together – which makes switching between them easy and convenient.
The units measure both solids and liquids, and they are accurate, so your cookery can be as precise as you like. The silicone makes them durable and easy to clean, and it is also food-grade so completely safe to use. If you love to bake in your RV, these cups are a MUST-HAVE!
Speaking of keeping your kitchen accessories on a keyring, this 5 piece gadget keyring is seriously handy. The ring holds a miniature grater, bottle opener, pizza cutter, peeler and garlic grinder, all of which are kitchen essentials that you are likely to forget to pack. But they all come in so useful (especially the bottle opener!).
Each gadget is small enough not to take up lots of drawer space, and yet large enough to get the job done effectively. The ergonomic design is easy to grip and the stainless steel elements are strong, sharp and durable.
You can hang them on a kitchen hook, or pop them in the cutlery drawer, and save your cupboard space for chocolate!
Unless you intend to survive off fast food and sandwiches for the entirety of your trip, you will need to equip your RV kitchen with the basic utensils.
This 10 piece set is great, because it has all the spoons, tongs, whisks and spatulas you could need and they're all made from food grade silicone.
The silicone makes them able to handle high heat over the stove or the grill, and also means that they are hygienic, durable and lightweight.
We love the red color choice for these utensils, because you won't lose them easily, and you won't accidentally leave them behind when you decide to cook outside.
They have holes so they can be hung from kitchen hooks, but they also fit perfectly into a single cup stand for easy storage too.
This set of three mixing bowls is a must have for your RV kitchen due to their space saving stackability and their useful range of sizes. You can use them as mixing bowls, salad bowls, and the little one can even be a cereal bowl.
They are made from stainless steel so are durable, unbreakable, and easy to clean. The silicone bottom makes these bowls non-slip. So you can place them on your surfaces securely and they won't slide about.
The best thing about this set, however, is that each bowl has its own airtight lid. This allows them to double as food storage containers that can be put in the fridge, the freezer, or the kitchen cupboard.
These bowls can also be popped in your rucksack and used to transport food to picnics, barbecues, and on hikes.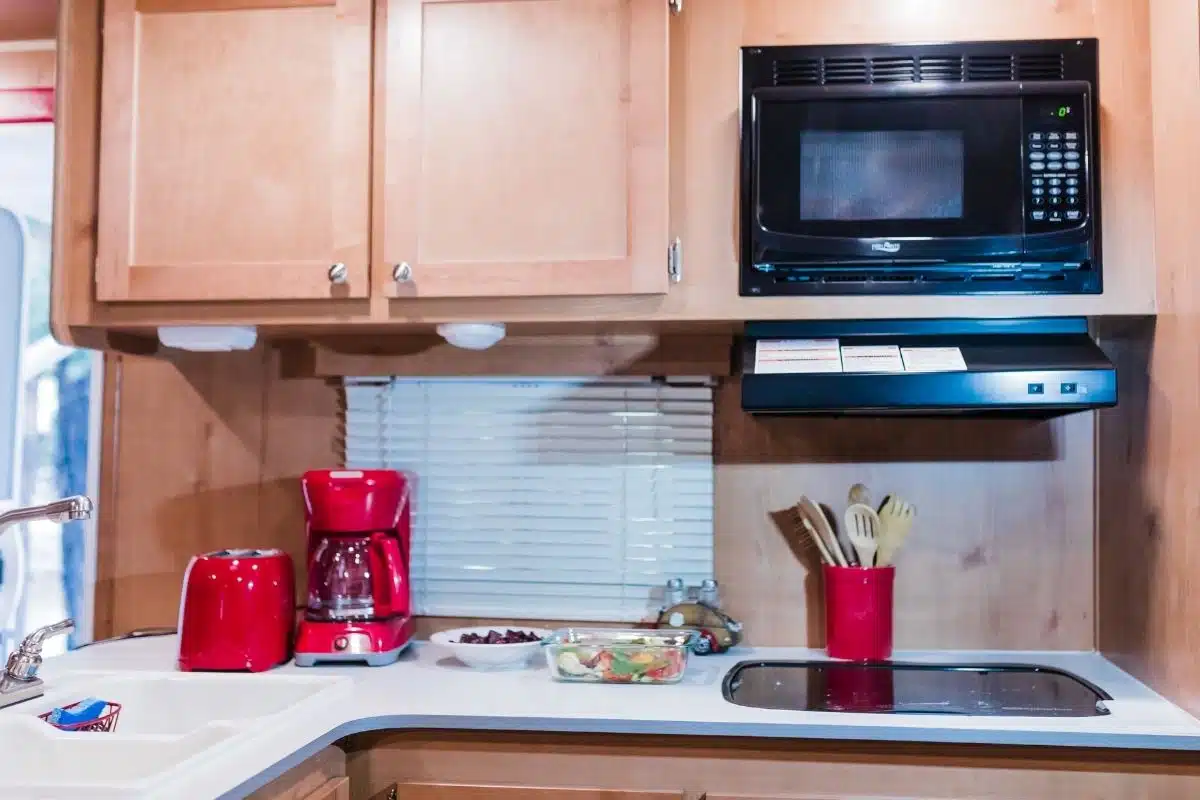 This cookware set includes a saucepan with plastic lid, frying pan with glass lid, and skillet pan with glass lid. These pans are a good size, allowing you to cook reasonable portions of food, unlike many camping options.
However, their size does not mean that they will take up unnecessary space in your RV kitchen. That is because these pans have removable handles. When the handles are detached, the pans stack neatly inside each other.
The plastic lid fits tightly around the saucepan, enabling it to be used as a food storage container when it isn't being used on the hob. This kind of versatility is essential, and really makes this cookware set a MUST-HAVE item.
Colanders and strainers are kitchen items that always seem to take up tons of room in the cupboard. That is why this collapsible colander is so ingenious.
It is made from silicone that is heat resistant up to 212 degrees Fahrenheit, so it won't melt when you decant your steaming hot pasta or rice into it. Better still, it folds down into a flat formation so it can be stacked on top of your plates very easily.
Better still, this two-set includes two differently sized colanders, suitable for both large and small jobs. You will be able to rinse your fruit and veg, and strain your spaghetti, without any trouble at all.
Since corn on the cob is one of the most popular snacks to enjoy when camping or hiking, we couldn't resist adding these corn forks to our list of MUST-HAVES. These little gadgets are great, because they slot together in pairs. This keeps the sharp pins safely out of poking distance, and also means that they never get separated and lost.
The handles are brightly colored and easy to grip. The stainless steel pins are strong and sharp, and the eco-friendly plastic handles are heat resistant, so your fingers won't get scorched no matter how toasty your cob maY be!
One of the most important necessities for any RV expedition is clean water. That is why it is so essential that your RV kitchen is kitted out with a high quality water filter / purifier.
There is no better choice than Berkley when it comes to water purifying technology, and their 8.5 liter filter is the perfect size for an RV kitchen. The unit holds enough water to keep 1-4 people hydrated all day.
This filter has 2 black purifying elements, which each extract bacteria and imperfections from your drinking water. You can add more elements if you like in order to purify your water more quickly.
The more elements, the faster your water will purify. The tap at the bottom of the unit is well designed and allows you easy access to the clean water supply.
Best of all, this unit is lightweight and highly portable, so perfect for all your camping and traveling needs.
We all know how important it is to have a delicious cup of coffee in the morning, especially when you are on the road, and this Bozeman percolator coffee pot will enable you to do just that.
The percolator doesn't need any plugging in or switching on, but instead you simply heat it over your RV kitchen stove.
The process of percolating doesn't even require filters (although they are optional) so is an incredibly easy and simple way to make a very tasty coffee. This pot is made from high quality stainless steel and can make up to 12 cups of coffee at any one time.
You will be able to enjoy a sense of authenticity and nostalgia as you use it, and then enjoy a delicious beverage to boot! Now that's a MUST-HAVE accessory!
This next RV kitchen accessory might seem like a luxury, but we can assure you that you will get so much use out of it you will soon consider it a total essential! The Instant Pot slow cooker has a 7-in-1 functionality, making it a seriously versatile and handy piece of equipment.
The slow cooking function is ideal for stews and hot pots, as you can leave your ingredients to soften throughout the day whilst you get on with all the fun activities you have planned. It really is a case of loading the pot and then leaving it to do the rest.
It also seers, sautes, cooks rice, pressure cooks, makes yoghurt and warms food through. The unit has a super simple control panel with clearly labelled display settings, so even the technophobes among you will be able to work it easily.
The inner pot is completely removable for easy cleaning, and the whole unit is surprisingly compact, so won't take up too much space on your kitchen surfaces.
For another "essential luxury" accessory, look no further than this Ninja personal blender. It is slender in shape, so won't take up precious kitchen space, and it performs so many useful and exciting functions that you will certainly get your money's worth out of it.
With this blender you can start each day on your RV expedition with a healthy and nutritious smoothie. The pro blades are sharp and strong enough to slice through and blitz most fruits and veg, and puree beans and pulses for sauces and dips.
You can blend ingredients to create cocktails, milkshakes, smoothies, dips, sauces, soups, juices, and even cookie dough.
The control panel is simple and effective, and best of all, the blender container doubles as a handy travel cup when you switch the blade head for a plastic sip-lid. You can blend your smoothie and take it out for the day in your backpack with this RV kitchen accessory.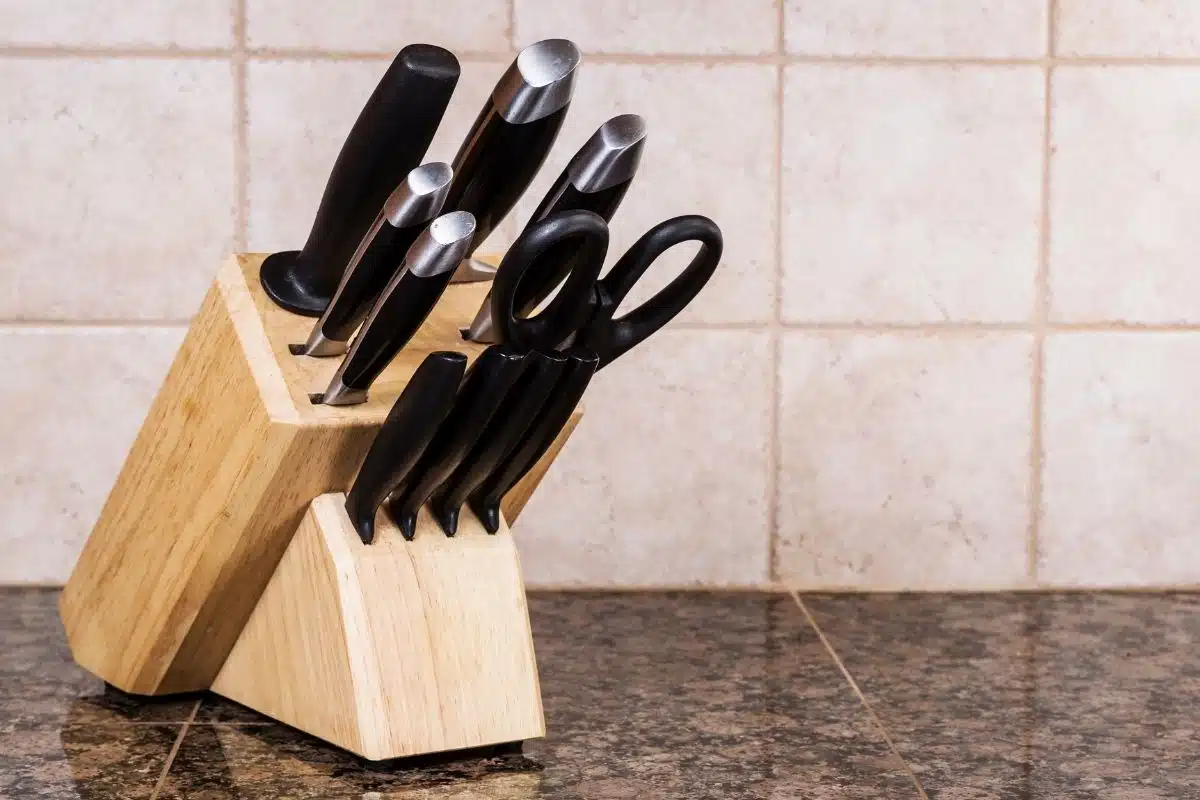 When your kitchen is on wheels you need to make extra sure that your utensils are safely stored and hazard free. That is why this color-coded knife set with blade guards is a MUST-HAVE RV kitchen accessory.
This set includes a bread knife, slicing knife, paring knife, chef's knife, santoku knife, and utility knife. All of them are sharp and high quality, made from durable stainless steel.
They are coated in colored ceramic so that each different knife is instantly recognizable and the risk of cross contamination is minimized. This is particularly important when cooking in a small environment.
The most vital part of this knife set is the blade guards. Many people think that a knife stack is the best way of storing your sharps in an RV, but the risk of the stack toppling over and the knives sliding out, makes that a less than sensible idea.
These knives can be stored in the cutlery drawer or in a pot, as the blade guards make them completely safe.
In any RV kitchen, the problem of waste disposal is a tricky one. You want a trash can that is large enough to hold your rubbish without needing to be emptied every 5 minutes, but you don't want a trash can that takes up lots of precious floor space.
That is why this hanging trash can is so ideal. It can be clipped onto the back of a kitchen cupboard door where it is easy to access at all times. From this elevated position it is easy to scrape crumbs and off cuts directly into the mouth of the bin.
Better still, this trash can is collapsible. It has a rubber insert that can be folded shut or opened out in order to increase the capacity of the bin. This means that while not in use, the trash can can lie flat to the cupboard and maximize space.
We also really like the size of this trash can because any RV enthusiast will know that if you use too large a bin bag, your food and waste will begin to smell. This medium capacity option will not stink out your compact RV kitchen area.
In the same way that the color coded knives prevent cross contamination, these color coded cutting boards are also great for organization, food hygiene and storage.
The stand has non-slip feet on each corner so it won't slide on your surfaces, and the boards stand upright inside it so they are slimline and easy to access.
Each board has a handy tag that indicates what food category it is used for. Fish, meat, fruit and veg, and bread can all be kept separate thanks to this clear and effective labelling system.
The boards are medium sized so aren't too large for small RV kitchen surfaces, and they are textured for a slip-free slicing experience. They are easy to clean and are a camping kitchen MUST-HAVE.
Drying racks and drainers are famous for taking up tons of space on the kitchen surface, which is why this next accessory is so ingenious. It is a collapsible draining bucket, so as soon as your cutlery and crockery are dry, you can flatten the unit and store it easily.
This drainer has useful compartments so that you can separate your cutlery from your dishes and keep everything organised. It also doubles as a fruit storage bowl, and as a dinner tray when flattened.
It is lightweight and compact, so very portable, and the plastic is easy to clean after each use.
Very often, fridges in RV kitchens are small and simplistic, and your food can become disorganized and difficult to access as a result.
These clear fridge storage containers allow you to divide up your goods into groups, keeping your dairy products away from your raw meat, and your fruit away from your fish.
The containers are completely see-through so you can still identify what is inside them, and the high walls allow you to stand bottles and tubs up without risking them rolling or tipping over.
Mess and spillages can be contained with these brilliantly simple storage solutions. They also each have a handle hole, making it easy for you to pull them out whenever you need to.
Many people forget to take a bucket or tub with them when they hit the road, but you will be surprised how useful having one on hand can be. That is why this collapsible washing tub has made it into our MUST-HAVE list.
Not only does it collapse down to a flat form, so it can double as a tea tray for handing out hot beverages, it is also easy to hold, lightweight and versatile.
This wash tub has an interior capacity of 4.6 gallons, meaning that you can use it to wash your clothes, your dishes, and even your dog!
After use, it is easy to empty, clean, and quick to dry, then it can be folded down to a storable size until it is next needed. Alternatively, it can be used as a dry tub to hold laundry, sports stuff and any other bits and bobs you might have lying around.
RV fridge freezers are notoriously hit and miss, so this fridge thermometer is a great way of keeping informed about the fridge's temperature. You will be able to tell instantly if and when any faults occur, as the dial is so large and easy to read.
As it isn't a digital thermometer, there is no danger of it running out of power or experiencing a glitch. It will afford you peace of mind, and ensure that your food stays cool and well preserved.
Since we all love a drink or two when on vacation, ice is very much a necessity in any RV kitchen. The great thing about these particular ice trays is that they have sliding lids.
This means that your water will not come sloshing out before it has frozen, even when you drive on bumpy roads, and it also makes these trays stackable.
The ice cells are domed, and have an easy-removal design so the cubes are no trouble to pop out. And with the lid closed, these trays can double as cool packs that can be popped inside ice boxes when you head out on foot.
And finally, for the perfect bit of space saving convenience, this hanging organizer can hold food, cleaning products, utensils or snacks, freeing up cupboards space for other things.
The unit hangs on the back of any door, leaving floor space clear. Its three tiers are great for compartmentalizing items and getting organized, and the side hooks add yet another storage solution for you to enjoy.
This unit is super easy to assemble, and it is so lightweight and useful, you will want to get one for your home as well as your RV kitchen!
Final Thoughts
And there you have it! From storage containers to corn on the cob holders, from luxury blenders to brilliant basics, this list of RV kitchen accessories will improve your travelling kitchen experience no end.
You will be able to keep your mobile home as clean, pristine and organized as your home kitchen, and you'll be able to enjoy all the delicious dishes and modcons as you can at home too. Happy camping!