Delightful & delicious dutch oven camping desserts
We all love the Great Outdoors. Climbing into your RV and driving into nature. Hiking in the open air. The campfires. The songs. The endless, clear skies.
There's nothing like it, and nothing better! Except, perhaps…a tasty campout dessert after dinner to complete your fun-filled days.
If you have a few of these sweet treats under your belt, then we can guarantee happy campers all around!
There are so many delicious desserts to choose from, and we have made a list of our favorites that can easily be whipped up in your trusty Dutch oven.
Our 27 tasty camping desserts come complete with a recipe, so you can bake them (and love them!) at your next campout.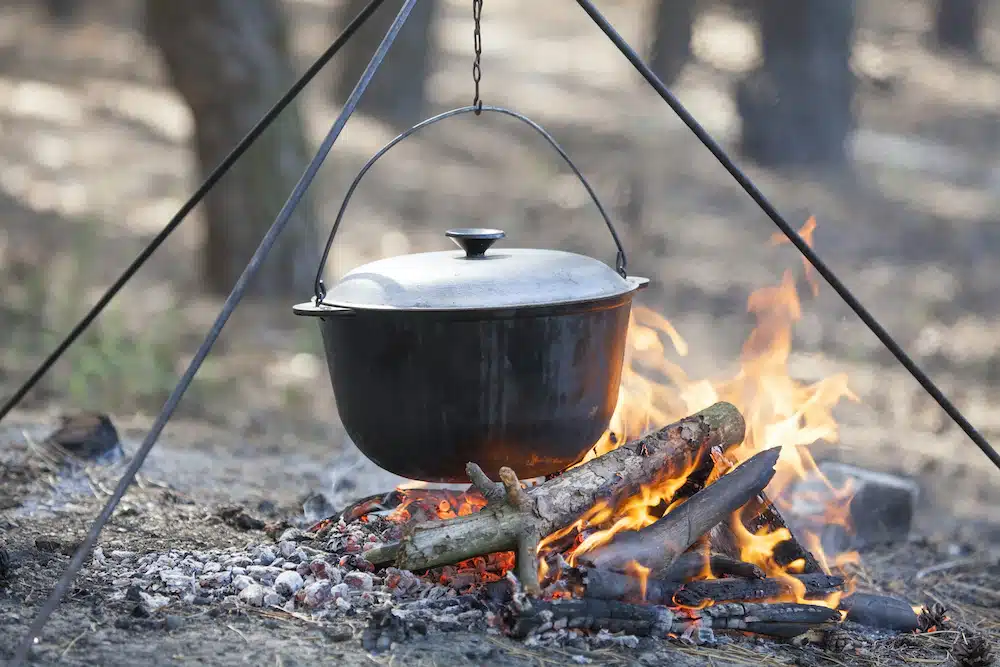 As a campout staple, the peach cobbler had to be the first on the list. You haven't truly been camping until you've made this (well, you have, but we just love this one so much we think it deserves to be baked by all campers at least once!)
Another campout staple, everyone's childhood is filled with memories of sitting in front of a campfire and making these gooey, sweet treats. But why not up your s'more game by making a s'more cake. Dessert's never tasted so good!
Got a sweet tooth? You can satisfy your dessert cravings with some tasty brownies! They have not 1, not 2, but 7 layers of deliciousness just waiting to be devoured by happy campers. Yum!
What says 'Dutch Oven Cooking' more than a Dutch baby? This popover will be a campout dessert popular with everyone – especially if filled with berries!
Everyone from seasoned campers, to family vacationers, to girl scouts will love this fresh cake.
If you love the uniqueness of an upside down cake, then we also love Dutch oven upside down peach cakes! It's the perfect summer campout treat.
Who doesn't love a classic? Dutch oven chocolate chip cookies are so tasty you'll want to bake them every night of your campout! What's more, the dairy ingredients can be swapped for non-dairy ingredients easily, so they can be enjoyed by your vegan friends and family too!
And speaking of traditional desserts, did you know you can enjoy Dutch oven cheesecakes when camping, too? This dessert is perfect for bringing some familiar, home comforts for those who don't love the outdoors as much as we do.
Baked caramel apples are a very simple dessert, but they are just as tasty as every other Dutch oven dish here! Get your first taste of fall with these sweet treats!
In fact, you should make the most of this fall season, and get into the Halloween spirit, by baking a pumpkin pie Dutch oven cake!
It wouldn't be a Dutch oven dessert list without some tasty cinnamon nut pull-aparts. These are simple and quick to make – perfect if you've had a long day hiking.
Go big or go home! If our cinnamon nut pull-aparts don't satisfy your dessert needs, why not try baking an even bigger cinnamon roll?
Want something lighter? Try a Dutch Oven berry cobbler! The blueberries give it a fresh, floral taste, so you can feel lighter than air as you gear up to sing campfire songs after eating.
This Dutch oven Mississippi mud cake is essential for those who need their chocolate fix. You'll quell that chocolate craving, and if not, check out more Dutch oven chocolate recipes further down this list.
Chocolate cake with a twist. Cherries and chocolate are the perfect combination if you want a tasty Dutch oven camping dessert – you never know until you try!
The great thing about some of these Dutch oven camping desserts is that can partly be prepared at home to make your campout cooking and cleaning a breeze! Just mix the dry ingredients together in a sealable bag. A Dutch oven carrot cake is a great example of that – and a tasty one too!
Even though you can prepare some ingredients at home, sometimes you just don't want to! Immerse yourself in the campout experience by baking the whole dessert on site, like you can with Campfire Monkey Bread – it's in the name!
Perfect for a cozy night by the campfire, waiting for shooting stars to pass you by. You'll have a blast making (and eating) coconut oil popcorn.
Banana bread may not be everyone's first choice when it comes to dessert, but you won't be disappointed if you bake this at your next campout.
Not only does Dutch oven lemon and blueberry cake taste like Heaven, it has a very quick prep time, so you can spend the evening relaxing while it bakes.
Can't get enough of lemon and blueberry? You can also try baking lemon and blueberry biscuits! Not only is this a tasty camping dessert, it also doubles as a great breakfast.
If you want a homely dessert that fills the stomach and warms the heart, look no further than the apple cobbler. It's a dessert you'll want more than once.
Pineapple upside down cake with a sweet coconut twist. Once tried, you'll wish you heard of it sooner!
Bake some tasty pecan pralines at your next campout, and RVers from all over will travel to your spot to find out where that delicious smell is coming from. A timeless classic!
You could bake a classic chocolate cake you know will be popular with your campers, or you could change it up by adding leftover marshmallows to the mix. Whatever you choose, chocolate cake is a fan favorite, and Dutch oven chocolate cake will live up to your expectations.
Another fun dessert that doubles as a breakfast. RVers will be reminiscing about trying these tasty Dutch oven treats for the first time for years to come.
And last but not least, there's the Dutch oven apple pie. Making a Dutch oven apple pie will be a great experience to share with friends and family. This is not the easiest dessert to make while camping. However, once you taste it, all the hard work will be worth it. And who else gets to say they made an apple pie while camping? Go on, you know you want to!
Final Thoughts
Who knew you could use Dutch ovens to make so many tasty treats, as well as hearty dinners?
I guess that makes Dutch ovens the perfect camping equipment. And not only for their versatility! Outdoor Dutch ovens retain heat well because they're normally made from cast iron, which comes in handy when cooking outdoors. We recommend you invest in a shallow Dutch oven, rather than a deep one, because these are the best kind for baking.
Pro Tip: Is it your first time cooking with a Dutch oven? Use charcoal briquettes for an even distribution of heat, this will go a long way!
However, like with all cooking equipment, you have to be very careful when handling Dutch ovens. Luckily, they come with a handle for safe transferring to and from an open fire, and some have legs to stand up on, so you can safely place charcoal under it to keep the fire going.
We recommend you invest in some heatproof gloves to make sure you or whoever is cooking is extra safe!
We hope you'll love cooking these tasty treats with your Dutch ovens, and don't be afraid to get creative with ingredients and create recipes you, your family, friends, and fellow RVers can enjoy! Just make sure you cook, and handle open fire safely! Now go and create some delicious desserts!